When it comes to looking for a new down alternative comforter, an award-winning comforter is sure to get your attention. The Riley comforter was named the most comfortable comforter by Good Housekeeping.
What makes this one of the best down alternative comforters? In this Riley comforter review, we'll go over its materials, how it feels, and why it just might be your new comforter.
Who will Like the Riley Down Alternative Comforter?
People who prefer down alternative options
Anyone who needs hypoallergenic bedding
People looking to use a comforter year round
Who won't like the Riley Down Alternative Comforter?
Anyone who prefers softer, rather than crisp feeling comforters
Comforter shoppers on a budget
People looking for a variety of color options
Riley Down Alternative Comforter Materials
Riley Home sells a few different comforter models. You have the option to buy their goose down comforter or a down alternative comforter. For this review, we received the full/queen sized down alternative, all season comforter. But Riley does sell this comforter in a twin/twin xl size all the way up to a king/California King size comforter.
You'll find cotton and hypoallergenic microfibers in this comforter, with the option to make it extra warm. Let's break it down.
Cover
On the outside, you'll find a 100% organic cotton percale weave cover. This style of weave gives it a matte finish and makes it feel rather crisp. Being made of high-quality cotton means this cover has some breathability, making it a good choice for hot sleepers.
It has a quilted box stitching to keep the fill from shifting around or clumping in one area of the comforter. As of right now, the color options are only limited to white.
The Riley comforter does not come with a duvet cover. However, you'll find corner loops to attach one to the comforter.
Fill
On the inside, you'll find hypoallergenic microfiber. This is an ultra-soft material that makes for a fluffy comforter.
Warmth
This comforter comes in two warmth options: all season and extra warm. The all season option should be good to use year round.
If you're the type of person who gets cold quickly, or likes to bundle up for extra warmth, go with the extra warm option.
Allergies/Allergens?
The Riley down alternative comforter has a hypoallergenic fill, so if you have sensitive allergies, this is the comforter for you.
Sleeping With the Riley Down Alternative Comforter
The first thing I noticed about the Riley comforter was how crisp the comforter was. It could be a little loud and crinkly because of this, but overall, it has a smooth feel and is very comfortable to sleep with.
If you live in warmer climates, like myself, then the all season warmth option is the best pick to go with. I tend to sleep fairly warm most nights, but I felt rather comfortable under this comforter.
Hot sleepers will love the all season model, but, if you're the type of person who gets cold quickly, or likes to layer up, opt for the extra warm model.
Riley Down Alternative Comforter Size & Price Chart
Take a look at the chart below for up-to-date pricing information. For a more budget-friendly option, Riley does offer financing as well.
| | |
| --- | --- |
| Size | Price |
| Twin/Twin XL (88" x 68") | $199 (all season), $249 (extra warm) |
| Full/Queen (98" x 90") | $269 (all season), $299 (extra warm) |
| King/CalKing (98" x 108") | $329 (all season), $349 (extra warm) |
Caring for the Riley Down Alternative Comforter
To wash your Riley comforter, you'll follow the instructions listed on its product label. Those instructions are as follows:
The Riley comforter is machine washable. Wash it in cold water with a mild detergent. Riley recommends you do about two additional washes without soap or detergent to fully get rid of any residue or suds.
Once done with the machine wash, move the comforter to the dryer and tumble dry on low. For extra fluffiness, add some dryer balls into the machine. If you don't have dryer balls, you can take the comforter out every 30 minutes or so and fluff it yourself.
RELATED: How to Wash a Comforter
How does the Riley Down Alternative Comforter Compare to Other Comforters?
When shopping for new bedding, taking the time to weigh your options is important. Here's how the Riley comforter stacks up to other comforters in the market.
Riley Vs Brooklinen
We love Brooklinen because it sells a wide variety of bed sheets and other products, but its comforter really stands out. Unlike the Riley comforter, this has a baffle box construction with a cotton sateen cover. A sateen weave will make a fabric feel not as crisp and is more tightly woven than percale.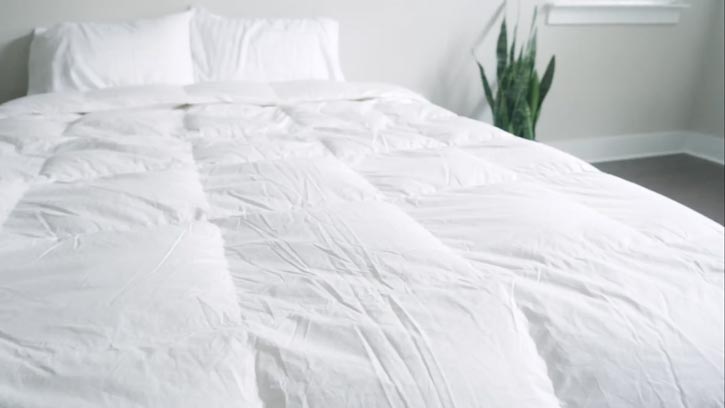 The Brooklinen comforter has a down fill, with down clusters throughout. This comforter is intended for year round use, but also has a lightweight model as well. I'd say the Brooklinen comforter sleeps a bit cooler than the Riley comforter. However, the All Season Riley comforter is still fairly good for hot sleepers.
Both comforters can act as duvet inserts, so if you prefer to have a cover, both will be good options.
Looking at the price tag, both comforters are around the price point, but the Riley comes in as the more affordable option, and will even let you finance the purchase.
Who Should Get the Riley Comforter?
People who want a down alternative comforter option
Anyone who wants a higher fill option for extra warmth options
Who Should Get the Brooklinen Down Comforter?
People who prefer a softer, not as crisp cotton sateen shell
Anyone who prefers an all season down comforter
Read our Brooklinen Down Comforter review.
Riley Vs Buffy Cloud
Sometimes a hypoallergenic comforter can also be eco-friendly. Let's see how the Riley comforter stands up to another hypoallergenic comforter, the Buffy Cloud.
Starting with materials, the Buffy Cloud is a down alternative comforter made of completely recycled materials. Buffy is responsibly sourcing their materials, and use recycled plastic bottles to create the fill for this comforter. Because of that, this also makes the Buffy a hypoallergenic comforter.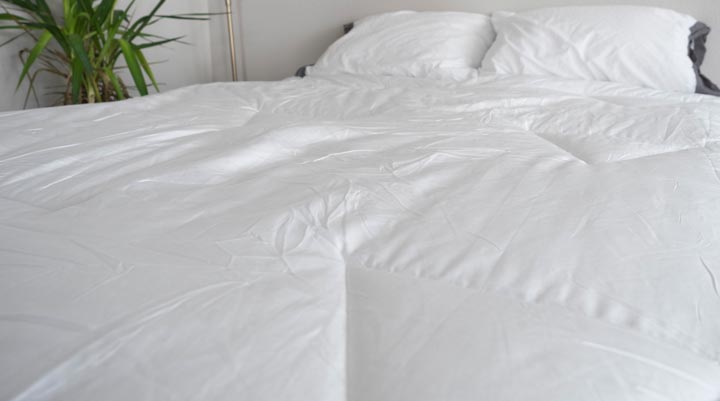 The outer cover of the Buffy comforter is made from eucalyptus fabric, with a thread count of 300, as opposed to the cotton cover with a thread count of 400 for Riley. The Buffy Cloud has a more lightweight construction and is very breathable. The Tencel outer shell is great for temperature regulation and has moisture-wicking properties, too.
The Riley comforter doesn't feature anything in terms of temperature regulation, but the all season model should be fairly comfortable for most hot sleepers. But if you get cold quickly, the extra warm model will be the best for you.
The Riley comforter is machine washable, while it's recommended that you dry clean the Buffy comforter.
Finally, in terms of price, the Buffy Cloud is more affordable.
Who Should Get a Riley Comforter?
Anyone who prefers that classic cotton feel
People looking for a warm option in their comforter
Who Should Get a Buffy Cloud Comforter?
Anyone looking for an especially eco-friendly comforter
Hot sleepers
Read Our Buffy Cloud Comforter review.
Riley Comforter Rating
Take a look at our Mattress Clarity score for the Riley Comforter!

Riley Down Alternative Comforter Review
Company Policies for the Riley Down Alternative Comforter
Here's what you can expect when you buy a comforter from Riley.
Warranty
The Riley down alternative comforter comes with a five-year warranty.
Shipping Information
Riley only ships within the 48 contiguous states, but provides free shipping.
Trial Period
Every Riley comforter comes with a 60 day trial period. If you decide the Riley comforter isn't for you, Riley's return policy is to give a full refund. This is only available to you during the trial period.
FAQs
Still have questions about this comforter? I'll answer some of the most frequently asked questions below.
Are Riley Comforters good?
Riley comforters are certainly something to consider if you're searching for a new comforter. Good Housekeeping said it was one of the most comfortable comforters. Even the white goose down comforter is one to consider. It carries the Responsible Down Standard (RDS). This means that the down is responsibly and humanely sourced.
Where are Riley comforters made?
Riley Home works with a family owned textile mill located in Portugal.
How do you wash a Riley comforter?
I recommend washing the Riley comforter in front loading, large capacity washers and dyers. These will be big enough to give the comforter enough room. Riley recommends that you machine wash cold with a mild detergent, and then do additional rinse cycles to get rid of residue.
Tony Klespis
Tony is a staff writer at Mattress Clarity where he analyzes sleep products and appears in review videos. He earned a B.A in English from Sam Houston State University and a M.A in Mass Communication from Texas State University.
When he isn't writing about sleep products, Tony loves to unwind with a good book or can be found playing Pokemon Go outside with his friends, or cuddling with his cat, Penguin. He's always down to try a new, local restaurant and try new foods.