Editor's Note: The Purple Gravity Weighted Blanket is no longer available for purchase. For a similar weighted blanket, check out our Gravity weighted blanket review!
It looks like the cool kids are teaming up with their Purple Gravity Weighted Blanket. Purple is the producer of some of the most popular, high-quality mattresses on the market. Gravity makes some of the most top-of-the-line weighted blankets.
This weighted blanket features an inner blanket designed by Gravity and a dual-sided duvet cover designed by Purple. It also comes in one weight, 35 lbs, and is the heaviest weighted blanket I have reviewed.
To find out if this is a quality team-up of two bedding beasts, read on for my full Purple Gravity Weighted Blanket review.
Purple Weighted Blanket Video Review
Watch as I personally test the Purple Weighted Blanket – it's definitely a unique experience.
The Purple Gravity Should Work For …
Those who want a blanket that offers two feels. The Purple Gravity Blanket comes with a duvet cover that has two different sides. One side features soft Mink and should be a better fit for those colder nights, and the other features a cooling fabric made for those warmer nights. Those who are looking for a weighted blanket that can work in different situations and temperatures should consider the Purple Gravity.
People who want something easy to clean. A significant benefit of duvet covers is that they can help keep your inner bedding clean, and this even applies to weighted blankets! If someone makes a mess on the Purple Gravity, it is easy to take off the duvet cover and throw it in the washer and dryer.
Those who prefer or need something extra heavy. The Purple Gravity weighs a whopping 35 lbs and is the heaviest weighted blanket I have tried out. Larger people over 300 lbs might find this to be a perfect weight, and people who just like an extremely heavy weighted blanket should like it as well.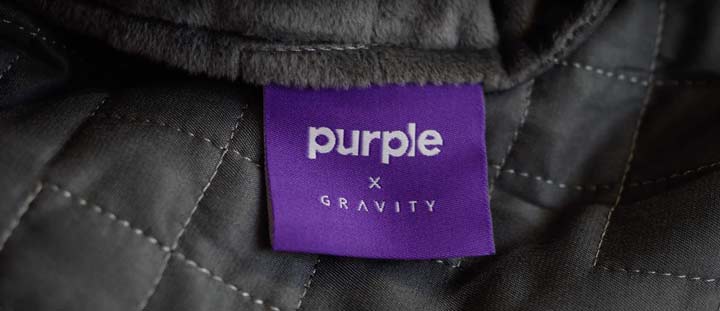 The Purple Gravity Might Not Work For …
Those who want more options. Many weighted blanket companies offer a variety of size, weight, and cover options, but this is not the case with the Purple Gravity. The weighted blanket only comes in one size and one weight, so those who want more choices should probably look elsewhere.
Lighter people and those with mobility issues. The Purple Gravity only comes in one weight, 35 lbs, and it could be too heavy for lightweight people, children, and those who have issues moving around at night. Most companies recommend choosing a weighted blanket that is close to one's body weight. Using this formula, the Purple Gravity could be too heavy for people who weigh under 300 lbs.
Those who want something more affordable. At full price, the Purple Gravity currently costs around $300. This is on the pricier side, and there are much more affordable weighted blankets out there. This is a high-quality weighted blanket, but those looking for a better value should look at another weighted blanket.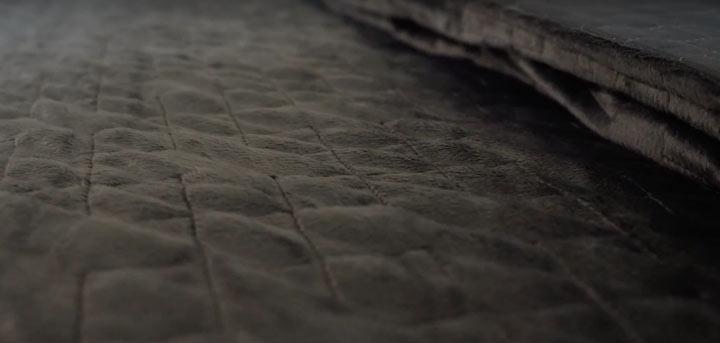 Purple Gravity Construction
As I mentioned, the Purple Gravity is available in one weight, 35 lbs. Also, it only comes in one size, Queen/King which measures 90″ x 90″.  In addition, the blanket also comes in one color, Anchor Grey. I will note that this is an exclusive Purple and Gravity collaboration, and there are other Gravity blanket options to choose from.
The Purple Gravity's inner blanket has a 100% cotton outer shell and a standard gridded stitching. The squares are about 4″ x 4″ and each contains hypoallergenic glass beads. Running along the edges of the blanket are a number of duvet tabs.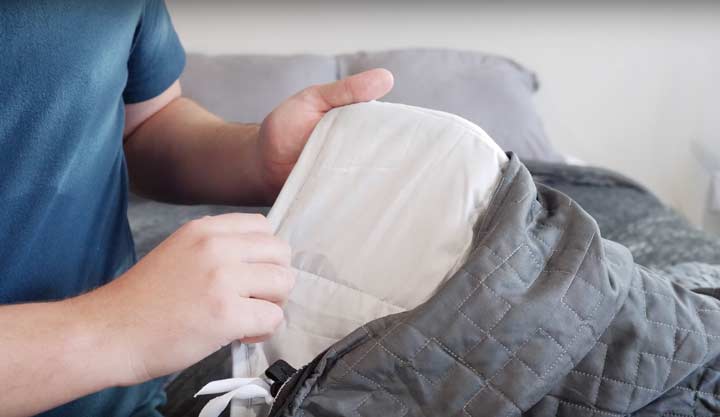 These duvet tabs are helpful in tying the blanket inside the Purple Gravity's dual-sided duvet cover. On one side, there is a Mink fabric that is soft and a bit fuzzy. On the other side, there is a cooling tech fabric that is moisture-wicking and breathable. Both sides are made of polyester.
While the inner blanket can only be hand-washed, the duvet cover can be washed and dried at home. Machine wash on cold without bleach and tumble dry on low.
Purple + Gravity Deals
Purple Gravity Weighted Blanket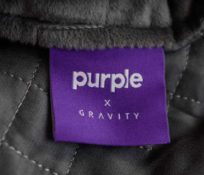 Purple Gravity Weighted Blanket
The Purple Gravity Weighted Blanket is a collaboration between two mattress/bedding giants. Click the button for the best deal on this super heavy blanket. 
My Experience
As I said above, the Purple Gravity Blanket is only available with a 35 lb weight. Most of the time, I opt for a 25 lb weighted blanket because it is close to 10% of my weight. So, the 35 lb Purple Gravity is significantly heavier than what I usually review and sleep under.
That being said, the Purple Gravity is not too heavy for me, and I am even liking the extra weight. Also, given that this is a much larger weighted blanket, 90″ x 90″, the weight concentration is not too extreme.
RELATED: Weighted Blanket Calculator
Speaking of size, the Purple Gravity is wider than I would like. I usually prefer a throw-sized weighted blanket that fits my body, not my bed. I worry that I might kick this large blanket off the bed while I sleep.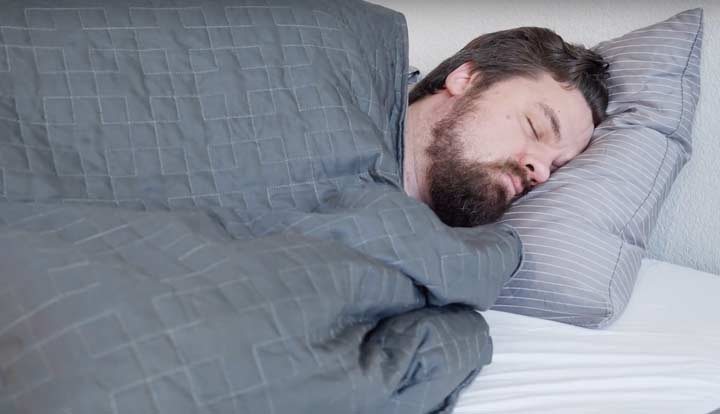 In terms of weight distribution, the weighted blanket performs quite well. I am feeling very even weight across my entire body, and there are no real dead spots or areas that are heavier than others.
I am a fan of the blanket's duvet cover. The Mink side is warm and comforting on those colder nights, and I like how the fuzzy material feels against my skin. The cooling tech fabric also feels chilly against my skin and keeps me from overheating too much under the Purple Gravity.
As a basic weighted blanket, the Purple Gravity is also very effective. With that extra weight, I slept very deeply and woke up in pretty much the same position I fell asleep in.
Final Thoughts
The Purple Gravity is a quality collaboration between two very popular brands. People looking for something extra heavy with a great duvet cover should love the Purple Gravity, but those who want options or to save some money are going to want to look elsewhere.
FAQs
How heavy should my Purple weighted blanket be?
Most companies recommend that customers choose a blanket that is close to 10% of their body weight. Since the Purple Gravity Weighted Blanket is only one weight, 35 lbs, it is a better fit for larger people and those who like something very heavy.
Will the Purple weighted blanket make me sleep hot?
The Purple Gravity Weighted Blanket comes with a dual-sided duvet cover, and one side features a cooling tech fabric. This material is designed to be moisture-wicking and to keep sleepers from heating up at night.
Will the Purple weighted blanket help with anxiety?
Studies have shown that weighted blankets like the Purple Gravity, can help lessen feelings of stress and anxiety. They do this through something called "deep tissue pressure," and can increase serotonin and dopamine levels while decreasing cortisol levels.
Marten Carlson
Marten is the Lead Reviewer at Mattress Clarity. He is a Certified Sleep Science Coach and covers the mattress industry as well as sleep science news. He is specifically interested in the connection between sleep and overall health. Marten has written for media publications like Consequence of Sound and received a master's degree in Film Studies from Emory University. He comes from Franklin, Indiana, and spends all the time he can writing, directing, and acting in films.