When shopping for weighted blankets, people may notice that they all start to look the same. They typically all feature gridded stitching and are usually made with a heavy fill, but what sets them apart?
To differentiate the many weighted blankets I have reviewed, I look for the little design details as well as the extra features. So, just at first glance, I was very excited by what I saw with the Honeybird Weighted Blanket. It comes in a throw-size (51″ x 75″) and boasts very small gridding for better weight distribution. And, of course, there's the cover, but I'll get to that later!
This Honeybird Weighted Blanket review will go over the construction of the weighted blanket, give my personal experience, and provide some key takeaways for people interested in this innovative product.
Editor's Note: Hey, friend! Unfortunately the Honeybird Weighted Blanket is no longer available. Looking for alternatives? Check out our latest review of the Best Weighted Blankets currently on the market!
Honeybird Weighted Blanket Review: Video Overview
Watch the Honeybird weighted blanket in action and see how it performs in a variety of sleeping tests.
Who Might Like the Honeybird…
Those want a weighted blanket to use all year. Let's be honest; weighted blankets have the ability to sleep hot. They have heavier fill that leaves less room for airflow than non-weighted blankets. That being said, the Honeybird sleeps relatively cool compared to many other weighted blankets available on the market. It features breathable materials and the cover's cooling cotton panel also feels cool against my skin. If someone is a hot sleeper, and they want the benefits of a heated blanket, the Honeybird could be an excellent choice.
People who are looking for a weighted blanket with great weight distribution. The Honeybird features some of the best weight distribution I have come across on the market. Its diamond-pattern stitching and smaller grids help disperse the weight evenly across the entire blanket. People shouldn't feel dead spots or areas that are extra heavy overall.
Those who prefer a throw-size weighted blanket. Some weighted blankets are made to fit a bed, while others are made to fit the body, and the Honeybird falls into the latter category. It is only available in a narrower, throw-size – the dimensions are 51″ x 75″. If people like a blanket that places its weight in a concentrated area and lets people cocoon themselves more easily, check out the Honeybird.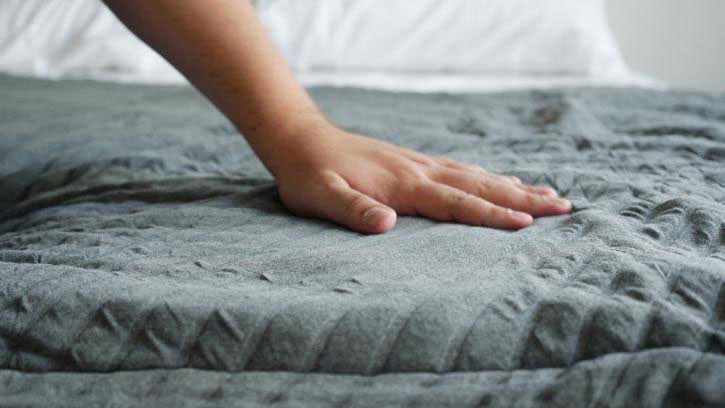 Who Might Not Like the Honeybird…
Larger people. If people are on the heavier side, over 250 lbs, the Honeybird might not be the best match for them. It is always smart to find a weighted blanket that is around 10% of one's body weight. Since the 20 lb blanket is the Honeybird's heaviest option, it is possible people won't get enough weight. Also, the throw-size might not fit a larger body.
People who need a wider weighted blanket. The Honeybird only comes in a throw-size. If people want a weighted blanket that fits the size of their bed or they want a blanket for themselves and their partner, the Honeybird might not be the best match. There are definitely wider options out there on the market.
Those who are looking for a more affordable weighted blanket. The Honeybird is a great deal overall when people think about what they're getting. However, it might be more than people are willing to spend. It is currently $195 for the 20 lb blanket and duvet cover. If people want to spend less on their purchase, there are more affordable blankets on the market.
RELATED: Best Weighted Blanket
Construction and Options
With the Honeybird, there are a few options available in terms of weight. People can choose from 10, 15, and 20 lbs. At the same time, there is only one size to choose from. The Honeybird comes in a throw-size and is 51″ x 75″ that is designed to fit the body, not the bed.
The weighted blanket itself has a smooth outer shell and features a diamond-shaped gridded stitching. Each gridded box is 4″ x 4″. Inside each box, there is some polyester fill that gives the weighted blanket some fluff. The weight of the blanket comes from nano glass beads.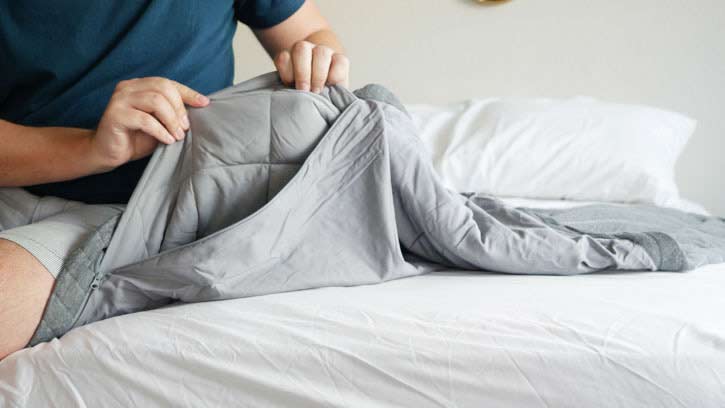 People can also opt to include a duvet cover in their purchase. The top of the cover is made of a soft, polyester blend. It has a fuzzy, cozy quality to it. The bottom of the duvet cover features a cooling cotton layer. This is meant to help with breathability.
The cover is also machine washable. People can remove it and machine wash it on a cold gentle cycle. Then people can hang dry it but should be careful not to put it in the dryer.
My Experience
When reviewing a weighted blanket, I first consider the weight options. While some companies have six or seven options with smaller intervals, there are only three choices available with the Honeybird: 10, 15, and 20 lbs. This is not necessarily a downside but it is just worth noting that people don't have many options.
If people are trying to find the right weight, they can use this simple formula: divide one's weight by 10. Then add or subtract a few pounds depending on whether they like a heavier or lighter blanket. I weigh 230 lbs so I divide that by 1o and get 23 lbs. I like my blankets a bit heavier so I usually go for 25 lbs if that weight option is available.
RELATED: Luxome Weighted Blanket Review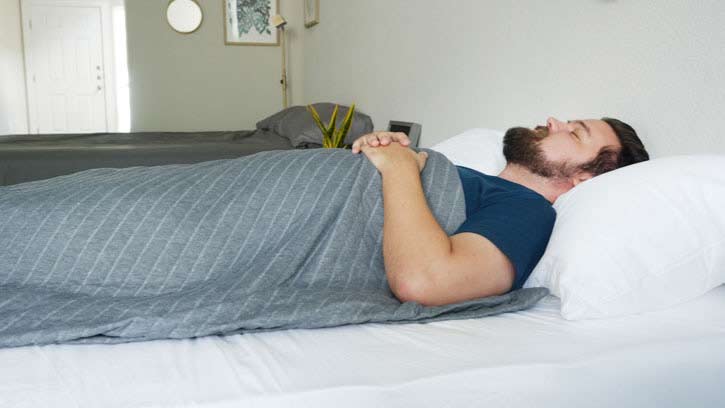 Since Honeybird's heaviest option is 20 lbs, I went with that. While this might seem light for me, it did not feel too light overall because the weighted blanket is throw-sized. This means the weight of the blanket is dispersed over a smaller surface area than it would over a full-size blanket. I generally feel a heavier weight across my entire body.
It also helps that the Honeybird has some of the best weight distribution I have seen in a weighted blanket. The smaller gridding and narrower blanket size let me feel some uniform, calming weight.
In addition, I am a big fan of the feel and aesthetics of the duvet cover. The top is fuzzy and adds a general level of comfort to the weighted blanket. Also, the cooling cotton layer feels cool against my skin. Even with the duvet cover on it, the Honeybird is not making me sleeping too hot whatsoever.
So, how well does this weighted blanket work? In my personal experience it worked especially well, and I believe it will work for most consumers too.
RELATED: What to Know Before Buying a Weighted Blanket
Overall
Honestly, I was really blown away by the Honeybird Weighted Blanket for a variety of reasons. It features some amazing weight distribution, and I love the concentrated weight that comes with the throw-size.
The Honeybird does come with a 30-day money-back guarantee, so the company really stands by its product.