While the TravelMate Neck Support Pillow is certainly an upgrade from an inflatable neck pillow, but it's not checking all of our boxes. Read on for the full review.
Buy the TravelMate neck pillow on Amazon
Who Makes It?
The name TravelMate sounded vaguely familiar when I received my pillow. I originally thought it was a company name, but on the pillow's packaging, it states that TravelMate is a registered trademark of IPT LLC. I did a decent amount of online sleuthing but was not able to figure out exactly what type of company IPT LLC is or what other products they manufacture.
I was always directed to Amazon to purchase TravelMate pillows. Aside from pillows, it looks like IPT LLC also makes seat cushions under the TravelMate trademark.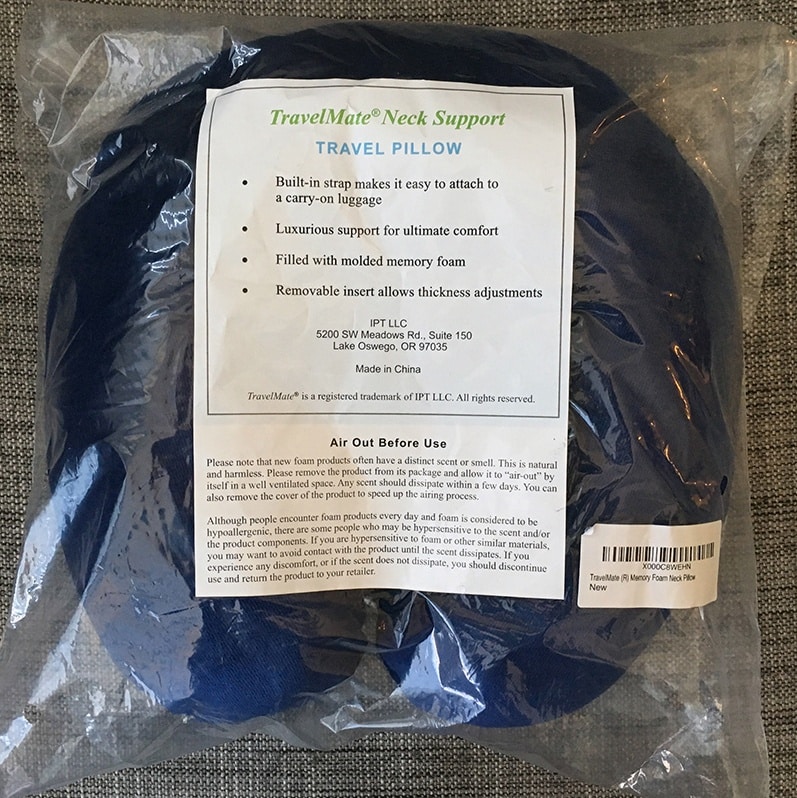 See how the TravelMate neck pillow ranks on my best travel pillows page.
Key Features
11" x 12" x 3.8"
5.9-oz weight
Memory foam filling
Removable foam insert
75% Cotton/ 25% Polyester cover
Carry-on luggage attachment
Machine Washable/Dryable
Removable cover
Multiple color options
Pros:
Loop for carry-on luggage
Removable foam insert allows you to adjust position based on preference
Zippered and removable/washable cover
Responsive memory foam filling
Soft fabric cover
Works with earbuds/headphones
Cons:
Fabric bled upon first wash
Label recommends ventilating pillow cover before use
No chin support so there's potential for your head to fall forward
Several (recent) reviews of the seam ripping
No way to compact it to a smaller size for packing
It was not dense enough to support my neck comfortably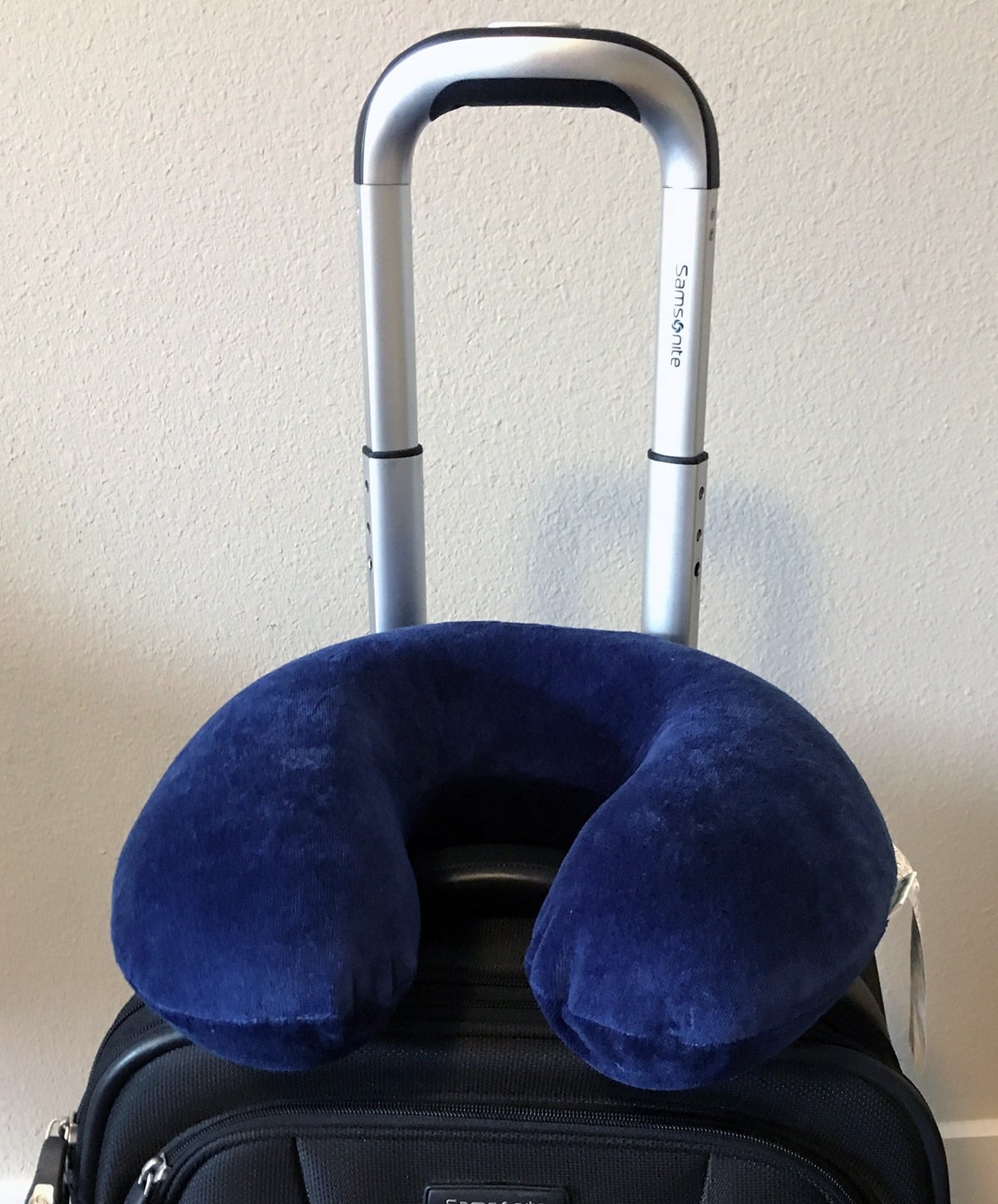 My Experience
The pillow comes in a clear package with a large white label that highlights several features of the pillow, who makes it, and a rather lengthy disclaimer about ventilating the pillow.
This is the first pillow I've seen that has a paragraph dedicated to informing me that my pillow may have a "distinct smell" that should dissipate in a few days and encourages me to remove the cover to let it "air out."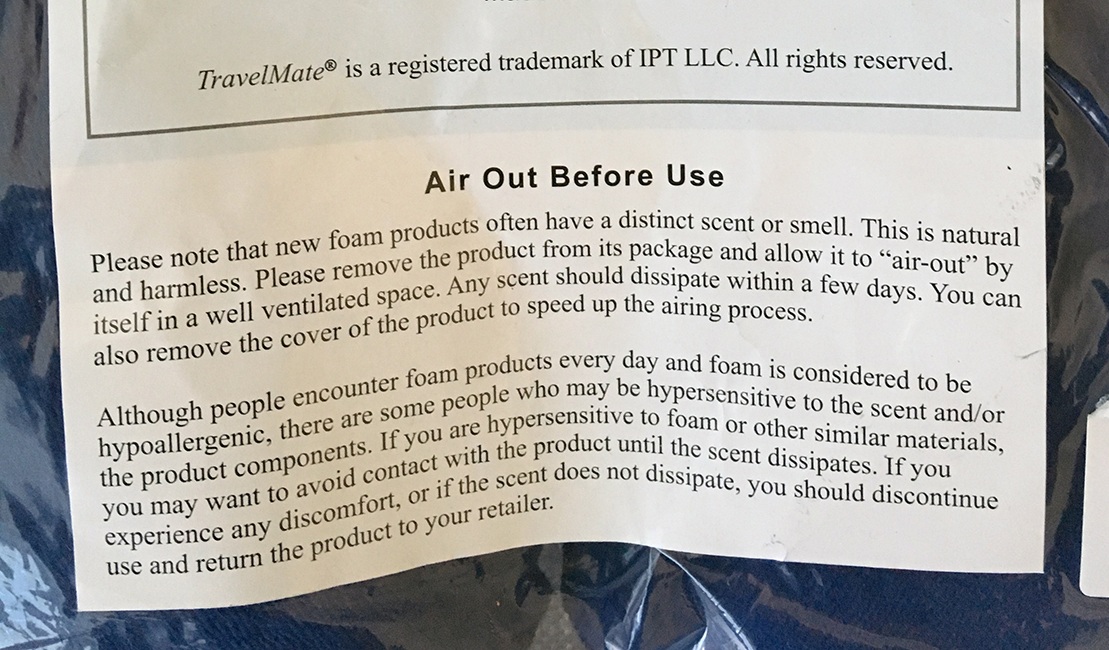 Alright, I will definitely do that. Despite the fact that the note says the smell is "natural and harmless", it seems like a lot of effort to tell me to air it out and I don't want to risk figuring out what happens if I don't.
There is another paragraph warning people with allergies to wait a few days before using this pillow as well. I don't have issues with allergies related to different scents so I had no issues at all.
I do my due diligence and let my pillow air out on my back porch for two days. After, I removed the cover and gentle machine washed it in warm water (as per instructions).
The deep blue fabric definitely bled. I used a dye catching sheet in the washer and it came out blue. My washer was also filled with small pieces of blue fabric that came off the cover during the wash.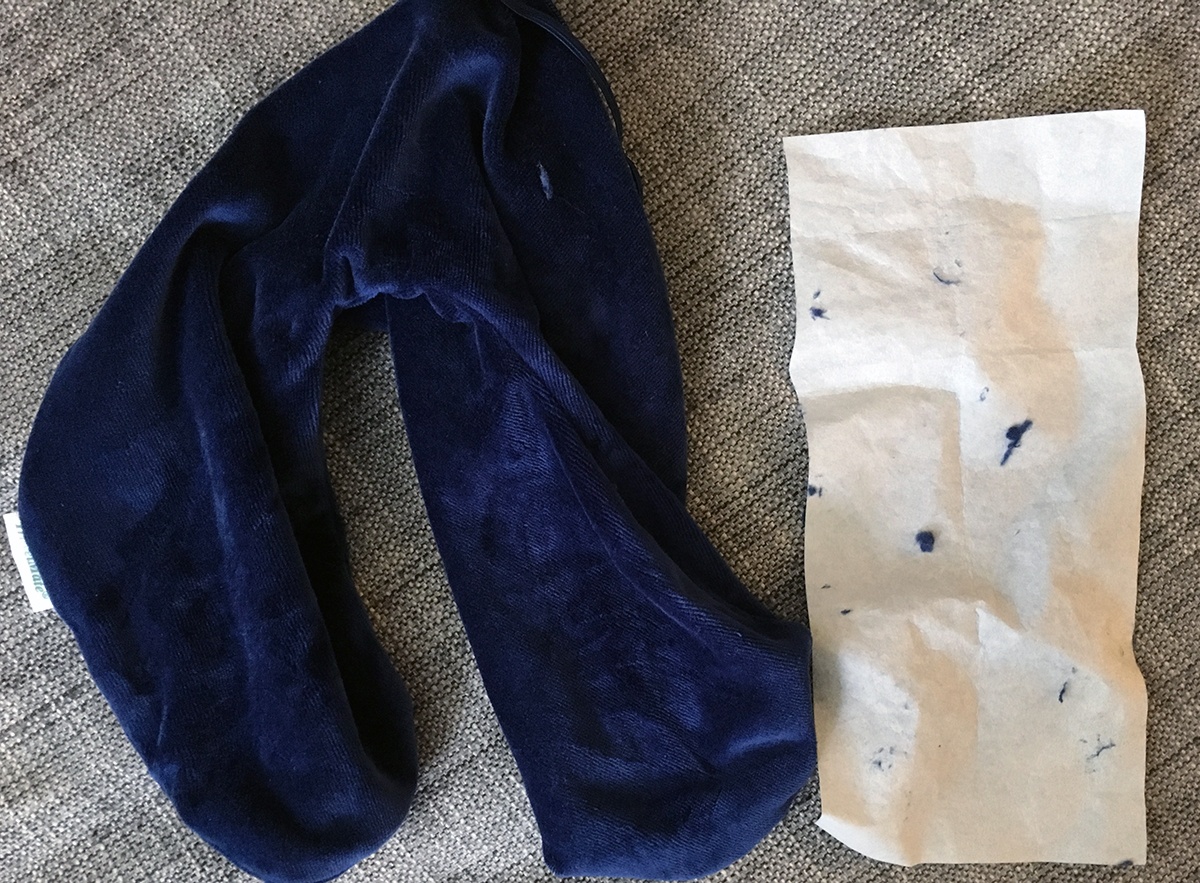 The plush fabric of the cover and squishy memory foam gives this pillow a feeling of luxury and comfort. It's got some weight to it and feels substantial.
When I placed the pillow around my neck it stayed in place and felt comfortable.
This pillow has recently been re-designed to include a removable section in the back (near the base of your spine). This removable piece of foam keeps your head from being pushed forward in a high-backed chair.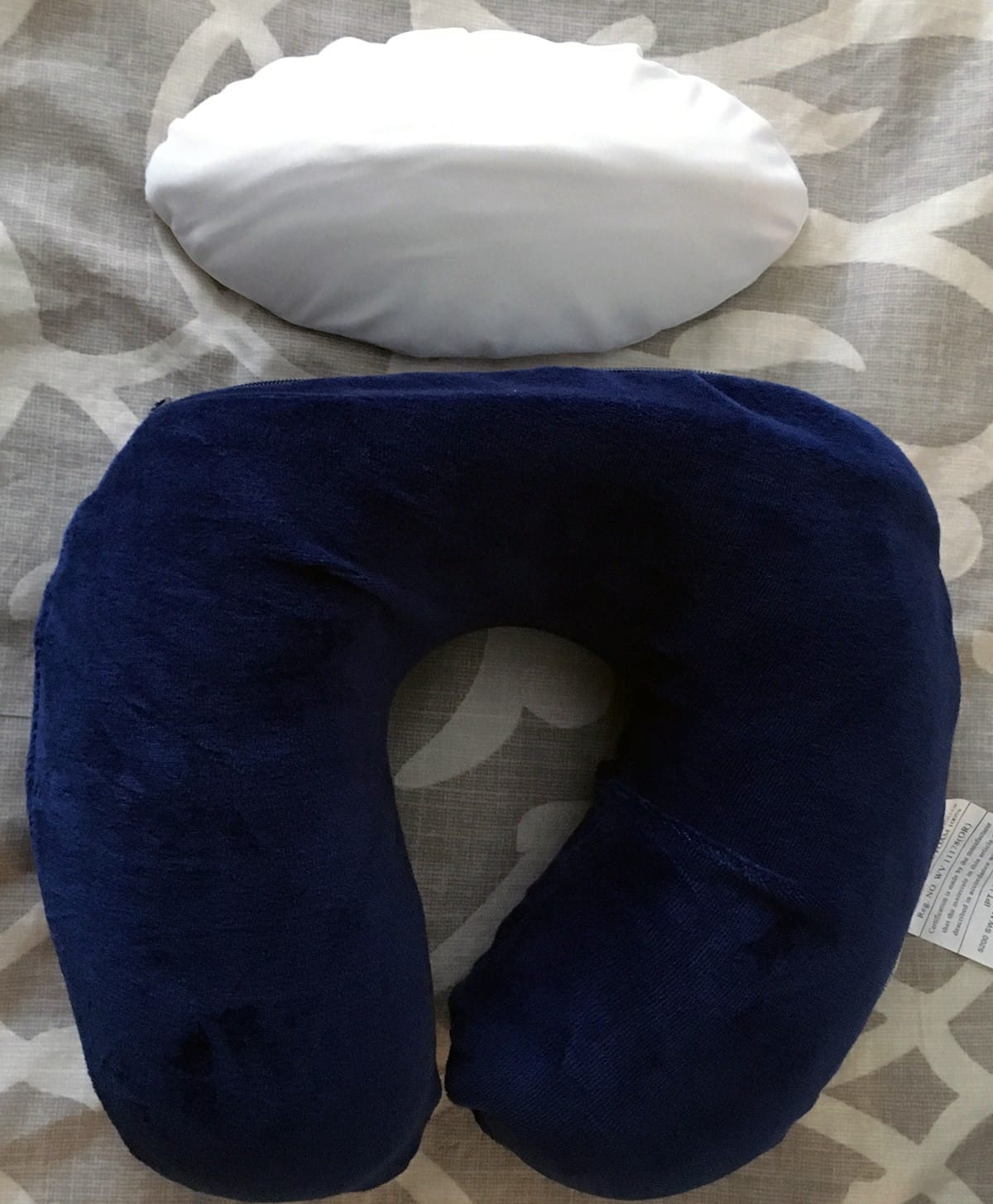 The memory foam filling is nice and I agree with the other reviewers who prefer it to the inflatable neck pillow. However, I have a hard time seeing myself being able to fall asleep with this for a long cross-country flight.
I'm a side sleeper so when I'm traveling my head tends to fall to the side and I didn't find enough support from this neck pillow to keep my neck from getting stiff. The memory foam just wasn't firm enough for me.
What I did find comfortable was taking out the removable foam section in the back of the pillow and resting my head back (while reclining slightly) in my nursery chair. The removable section stops my head from being pushed forward and provides a decent amount of support.
I'm also able to wear my headphones with this pillow and have no issues.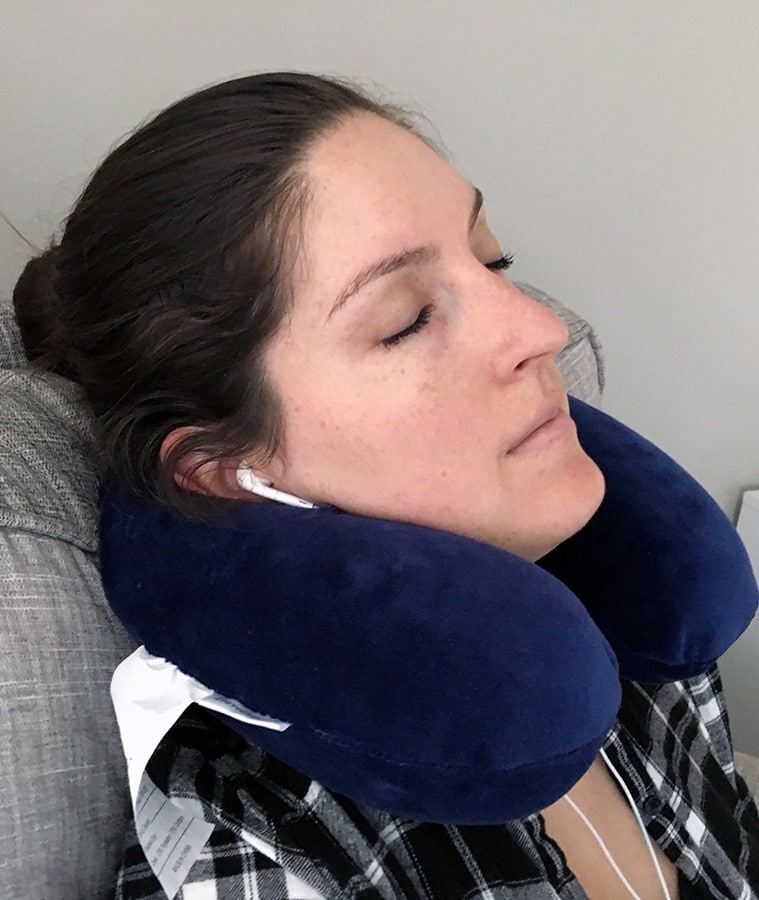 Review 0
Summary
Overall I thought this pillow was a good value for the price. It is soft and the responsive memory foam filling is nice. I like the added features that allow me to connect the pillow to a carry-on back and the removable piece of foam in the back of the pillow. However, the fabric did bleed and I wasn't able to rest my head to the side comfortably because the pillow filling was not firm enough.
What You Need to Consider Before Buying
While this pillow's memory foam filling and plush removable cover make it a nice place to rest your head, but it really is best suited for travelers who want to lay their heads back as it does not provide neck-brace level stability.
The pillow does not provide chin support so there is the potential for your head to fall forward when resting with the pillow in an upright position.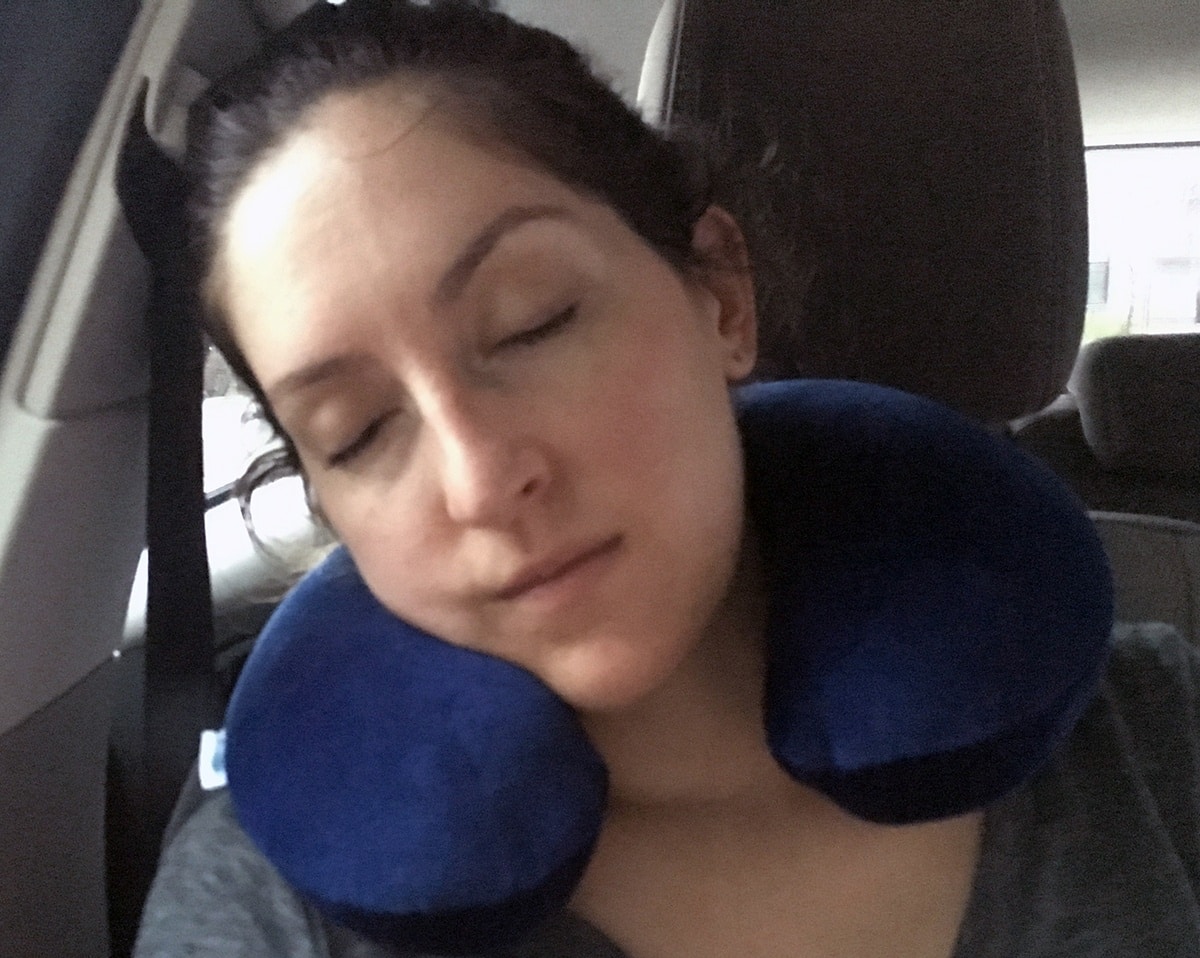 The fabric did bleed when I first washed it and a handful of pieces of fabric came out in the washer as well.
The packaging did come with a disclaimer about a "new foam smell" and encouraged me to air out the pillow before use. Keep this in mind if you're looking to purchase and use this pillow immediately.
Other reviewers mentioned the seam ripping easily but I have not had that issue yet.
Related: Best Travel Pillows
Price
Amazon has this pillow listed at $12.99 (originally $28) and I cannot find it sold anywhere else online. That seems like a good price to me for a memory foam-filled pillow that is very soft.
I like that it has additional features, like the ability to add it to carry-on luggage and to remove the cover and throw it in the wash.
Buy the TravelMate Neck Pillow on Amazon
The following two tabs change content below.
Katie Golde
Katie manages the day to day operations of the Mattress Clarity news site and reviews sleep products in addition to writing and editing sleep news.She hails from Austin, where she lives with her growing family. She is a Certified Sleep Science Coach and has a master's degree in Journalism from Northwestern University and has a background in health and science content. Her work can be found in print and online publications like Discover Magazine, USA Today and The Huffington Post.
Latest posts by Katie Golde (see all)