It's not perfect, but the J-Pillow Travel Pillow is a great option for side sleepers who are looking for a comfortable neck pillow alternative. Read on for my J-Pillow Travel Pillow review.
Get the best J-Pillow price on Amazon
Who Makes It
The J-pillow was developed by Gemma Jensen, a mother of three and former airline stewardess who drew on her experience in the airline industry to create her design. Her pillow went on to win the British Invention Show's British Invention of the Year in 2013. The J-pillow is also one of the best-selling travel pillows on Amazon.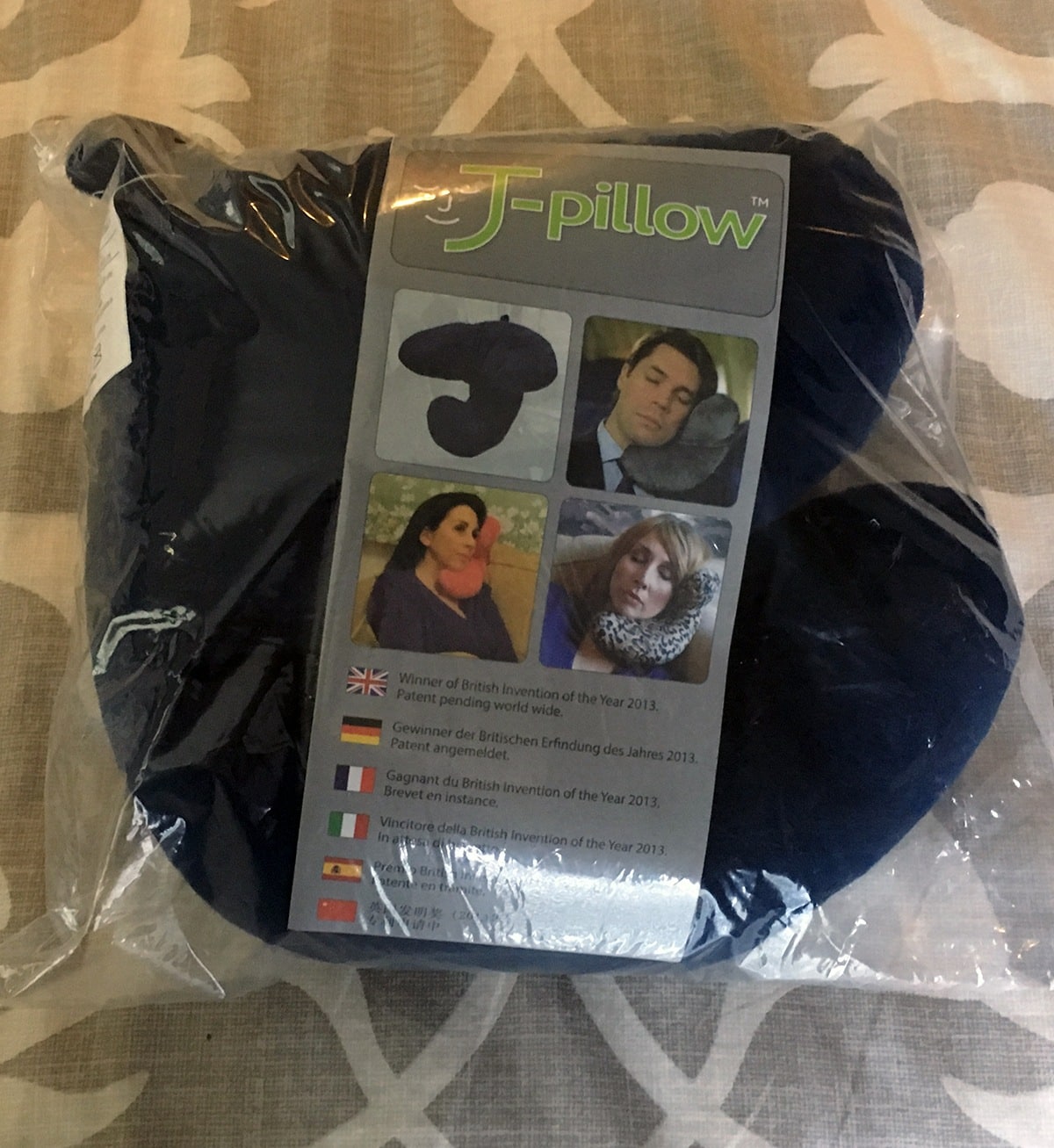 See how the J-Pillow ranks on my best travel pillows list.
Key Features of the J-Pillow Travel Pillow
11.8 x 7.9 x 13 inches
100% polyester filling
Head, chin and neck support
Plush cover that comes in multiple colors and patterns
Snap loop button for travel
Machine washable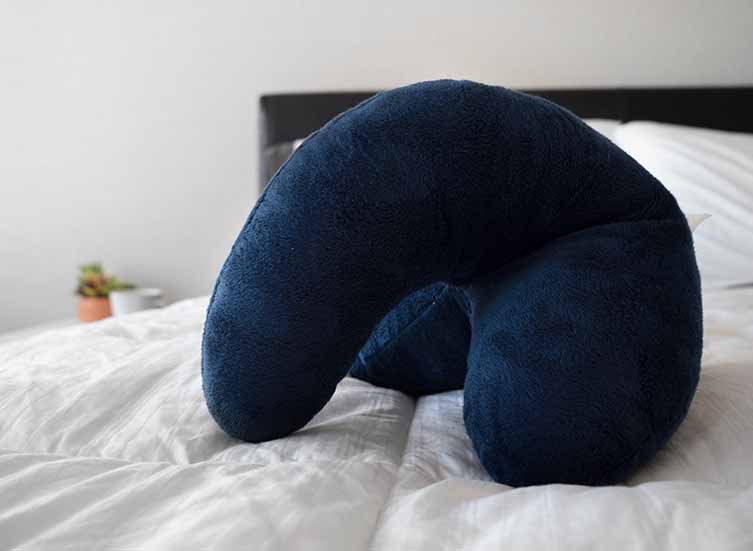 Pros:
Good for window seats
Soft and lightweight (7.5 ounces)
Machine washable
Clips to carry-on bag
Can be flipped into various positions depending on your needs (multi-functional)
Comes in many colors and patterns
Cons:
Not as comfortable if you want to wear glasses
Must wash the whole pillow, not just cover
Not an easy shape to pack neatly into a bag or suitcase
Not super firm
Did not stay on my neck/shoulder when sitting normally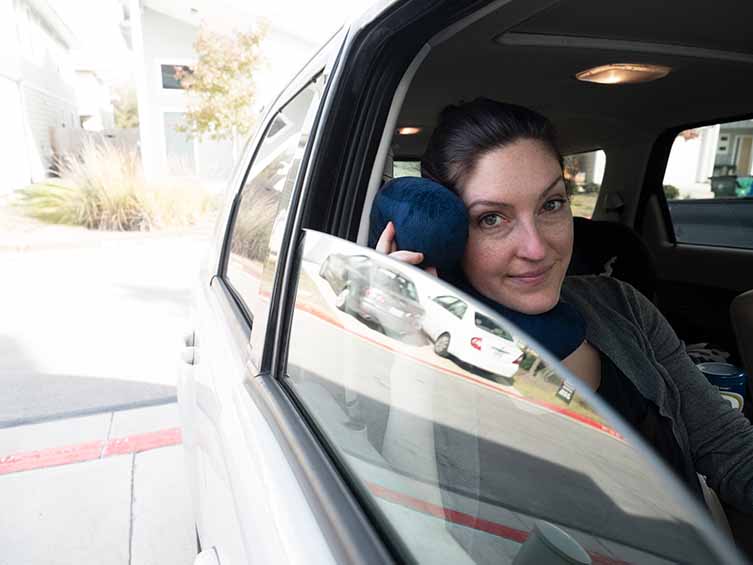 J-Pillow Travel Pillow
Summary
Overall I thought this travel pillow was very comfortable, soft and could be used in many different travel settings. I am glad the pillow is machine washable but wish it had a removable cover and different fabric options. I think this pillow is best suited for side-sleepers but those with glasses should be cautious as the pillow presses directly on the temples of the face.
My Experience
Unlike your typical neck pillow, the unique design of the J-pillow had me intrigued when I unpacked it. True to its name, the pillow is shaped like a puffy letter "J". I am glad it comes with an illustrated brochure because I had to refer to it to make sure I was using it the way it was intended.
I placed the longest section of the pillow – the part that acts like the curve of the "J" – under my chin. The shorter sections fell into place by my eye and around a good portion of my neck. As a side sleeper, the feeling of softness on the side of my face was immediately very familiar and comforting.
The pillow fabric is very soft and plush, and the firmness seems average for a pillow. When I hold the J-pillow I can pinch my fingertips together through the filling, but it immediately bounces back into shape once I let go.
See our list of the best travel pillows
I tested the J-pillow in the passenger seat of my car, in a high-backed seat in the nursery and lying down on my side on my couch.
I also tested the pillow with my eyeglasses on and off. The pillow touches the side of your face right by your temples, and I found it interfered with the arms of my glasses and I could not lay on my side and use it comfortably and wear them at the same time.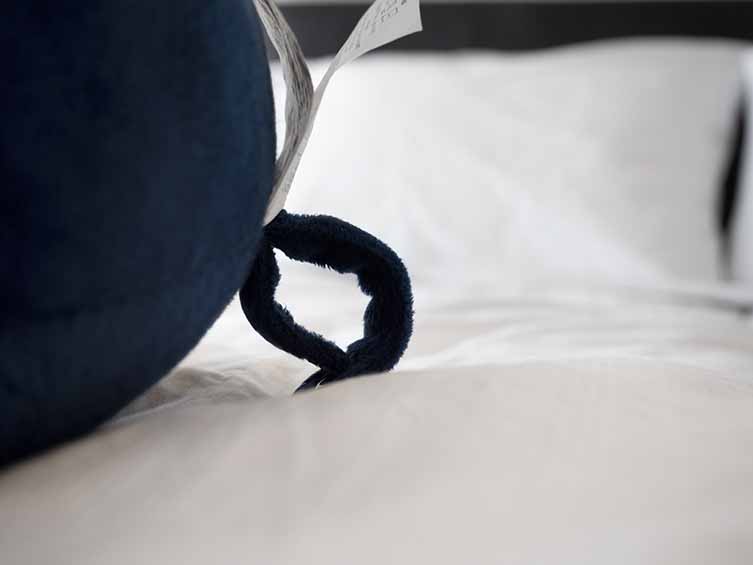 The J-pillow was very comfortable in the car when I rested my head against the window (glasses off). My only issue is that the pillow doesn't stay around your neck the way a traditional neck pillow would. The fabric is so soft it becomes almost slippery, so every time I adjusted my head the pillow would fall down.
The pillow also works in a high-backed chair, but with nothing to lean the pillow against, I didn't find it possible to nap. One thing that I liked is that it still provides more support to your neck than a U-shaped neck pillow would.
I was able to fall asleep on the couch with the pillow – which makes it a great alternative if your hotel pillow is less than satisfactory. I was surprised by how comfortable this pillow was laying down, it really cradles your head.
Another bonus position with this pillow is to place the longer section behind your neck (as opposed to under your chin). This provides more support if you're using it to sleep laying down. I think this could also be a great position if you're in the middle seat on a plane.
I did throw the pillow in the washing machine and the dryer. The instructions say to use warm water so I did a warm gentle cycle and tumble dry and the pillow came out with no wear or tear, still just as soft.
There is a small loop that allows you to snap the pillow to any carry-on case. For me, the pillow is too bulky to squeeze into a bag. If you're someone who wants to pack your pillow away, it can take up a lot of room with its strange shape. There are instructions in the brochure on how to fold the pillow to make it more compact, but it didn't seem to save much room overall.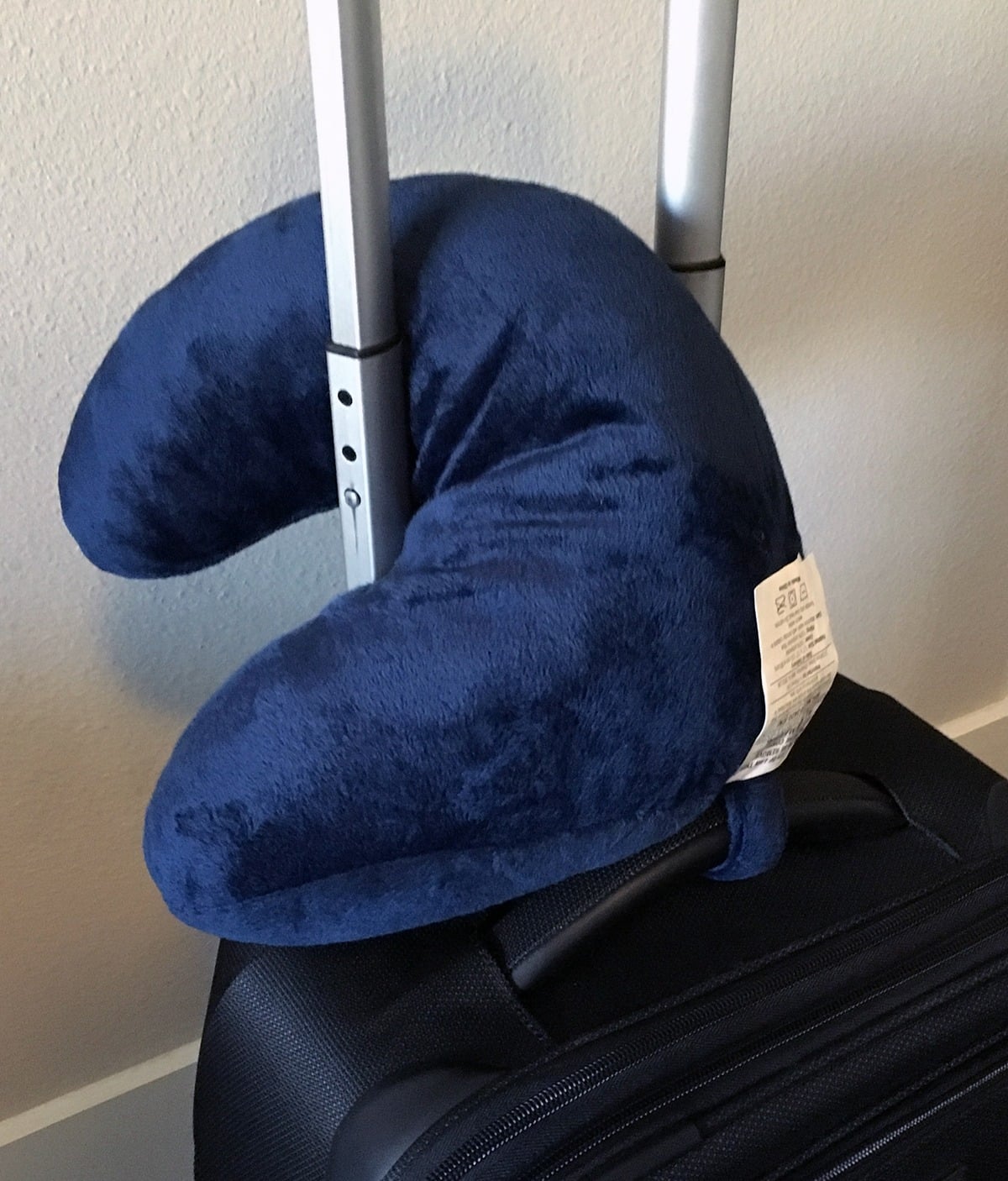 The J-pillow shape makes it a little tricky to use as a lower back pillow or to use successfully in a lower-backed chair. I wasn't able to get comfortable using the pillow in either of these positions and struggled to keep the pillow on my head and neck in a lower-backed chair.
What You Need to Consider Before Buying
This pillow is really best suited for people who are side sleepers, or people who will be using it on a window seat on a plane, train or car in a high-backed seat. It is also not very comfortable if you wish to keep your glasses on, as one of the sections rests against the temples of your face.
It's lightweight but firm enough to maintain its shape. This firmness makes it slightly difficult to stuff it into a carry-on bag and is not a space saver in those instances.
While I did like the soft, plush cover but I have two small issues with it. First, the fabric did make my head/face slip a little when I started dozing. When I walked around it didn't stay on my neck the way a traditional neck pillow would.
I would be more inclined to recommend it if it came in different covers so I could choose something with more grip.
While it is good that you can wash the pillow, it would be great if it had a removable cover that you could take off and wash/dry. This way I could buy multiple covers for one trip and not worry about having a dirty pillow on my trip.
Price
I think because of its versatility the pillow is worth the price for side sleepers. The website sells it for $60, but also lists Amazon as a retailer who sells it for a discounted price (roughly $30).
With this pillow, I know I can take it on a trip and it will keep me comfortable, but if I end up with a subpar hotel pillow I can also rely on it for support.
Another plus is that the website also offers a 30-day money back guarantee if it does not meet your expectations.
The following two tabs change content below.
Katie Golde
Katie manages the day to day operations of the Mattress Clarity news site and reviews sleep products in addition to writing and editing sleep news.She hails from Austin, where she lives with her growing family. She is a Certified Sleep Science Coach and has a master's degree in Journalism from Northwestern University and has a background in health and science content. Her work can be found in print and online publications like Discover Magazine, USA Today and The Huffington Post.
Latest posts by Katie Golde (see all)