Just spending ten minutes shopping for mattresses online, the prices for some of these products can be truly shocking! It's true that a mattress is a very important investment, but what about shoppers that aren't looking to spend so much?
Two of the most affordable, best-selling mattresses online are the Zinus and AmazonBasics memory foam mattresses.
Looking at these mattresses, they are nearly identical in terms of design and construction, as well as in price. To help out all those shoppers out there, I want to compare these two mattresses and see who should choose each one! Keep reading for an in-depth mattress comparison of Zinus vs. AmazonBasics.
CHECK PRICE

Zinus

Click the button for a great deal on the Zinus
A good choice for heavier people 
Zinus offers a wide array of mattresses

CHECK PRICE

AmazonBasics

Click the button for the best deal on the AmazonBasics
A very affordable memory foam mattress
A good option for lightweight sleepers, teens, and children
Key Similarities
These two models feature some very similar materials such as memory foam and polyfoam.
They both contain four layers and have similar overall construction.
Both mattresses exhibit a classic, slow-moving memory foam feel where sleepers will slowly sink into the mattress.
The AmazonBasics and Zinus are both a little bit softer-than-average compared to other mattresses reviewed on this website.
Key Differences
The AmazonBasics 12" mattress is more affordable than the Zinus 12″, even if only by a little amount.
Zinus appears to offer a greater number of models than AmazonBasics offers, giving more flexibility overall.
The Zinus is a bit higher quality than the AmazonBasics and contains some more high-density foams, potentially making their mattresses more durable.
In general, the Zinus is a more aesthetically pleasing mattress and seems to be put together quite well.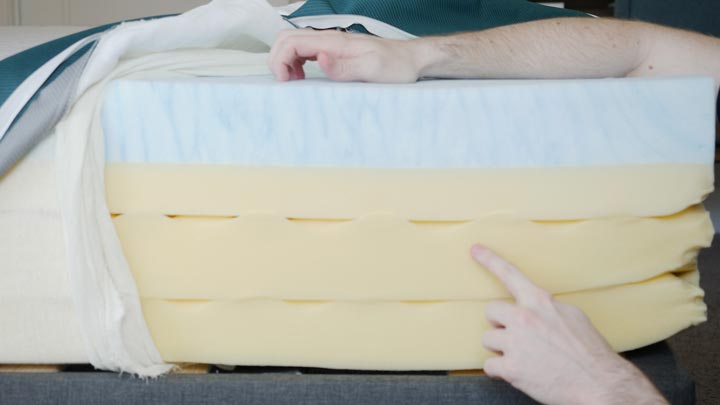 Zinus Construction
The Zinus is 12" tall and is comprised of 4 layers.
The Zinus' cover is thin and smooth.
On top, there are 3" of gel memory foam.
Below that, there is a foam transition layer.
Next, there is a 3.5" layer of high-density foam.
On the bottom, there are 3.5" of high-density base support foam.
Read the full Zinus mattress review, available here.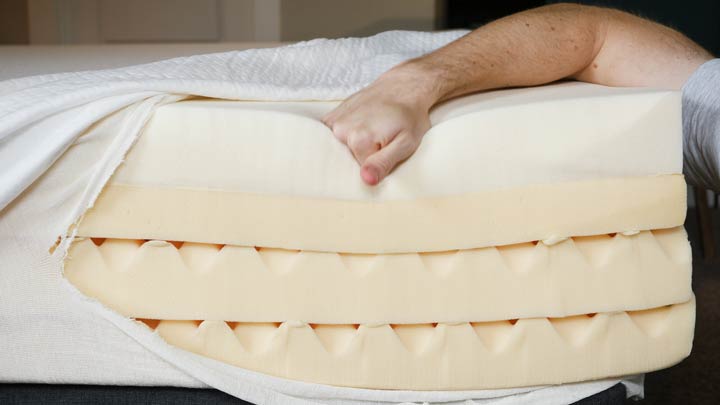 AmazonBasics Construction
This AmazonBasics mattress is 12" tall and is comprised of 4 layers.
The mattress's cover is soft and thin.
On top, there is a soft memory foam layer.
Next, we find a foam transition layer.
Finally, there are two base foam layers.
Read the full AmazonBasics mattress review
Construction Differences/Notes
The Zinus' top layer of memory foam is infused with a cooling gel, a material that is designed to assist with heat dissipation. Coupling that with the air channels found in the base layers, the Zinus shouldn't be sleeping extremely hot.
While this AmazonBasics model does not contain gel, it also has air channels in its base layers. These air channels are larger than those found in the Zinus and will allow for a good amount of air to flow through the mattress.
Both mattresses have a pretty thick layer of memory foam on top. This should give the Zinus and AmazonBasics a very similar memory foam feel that lets sleepers really sink in.
Just looking at the Zinus mattress, it is has a better presentation. The Zinus just looks like a higher quality mattress.
The Zinus seems to contain foams that are higher-density than those found in the AmazonBasics. This means it should be a more durable, more supportive mattress.
Firmness/Feel Differences
We can see above that these mattresses are very similar in regard to construction. They both have four layers, are the same height, and have soft memory foam on top.
It's no real surprise then that they have the same firmness as well! From personal experience, both the Zinus and AmazonBasics felt like a 6/10, softer-than-average. It's easy to press one's hand into the top of both mattresses quite easily before hitting the firmer transition layer.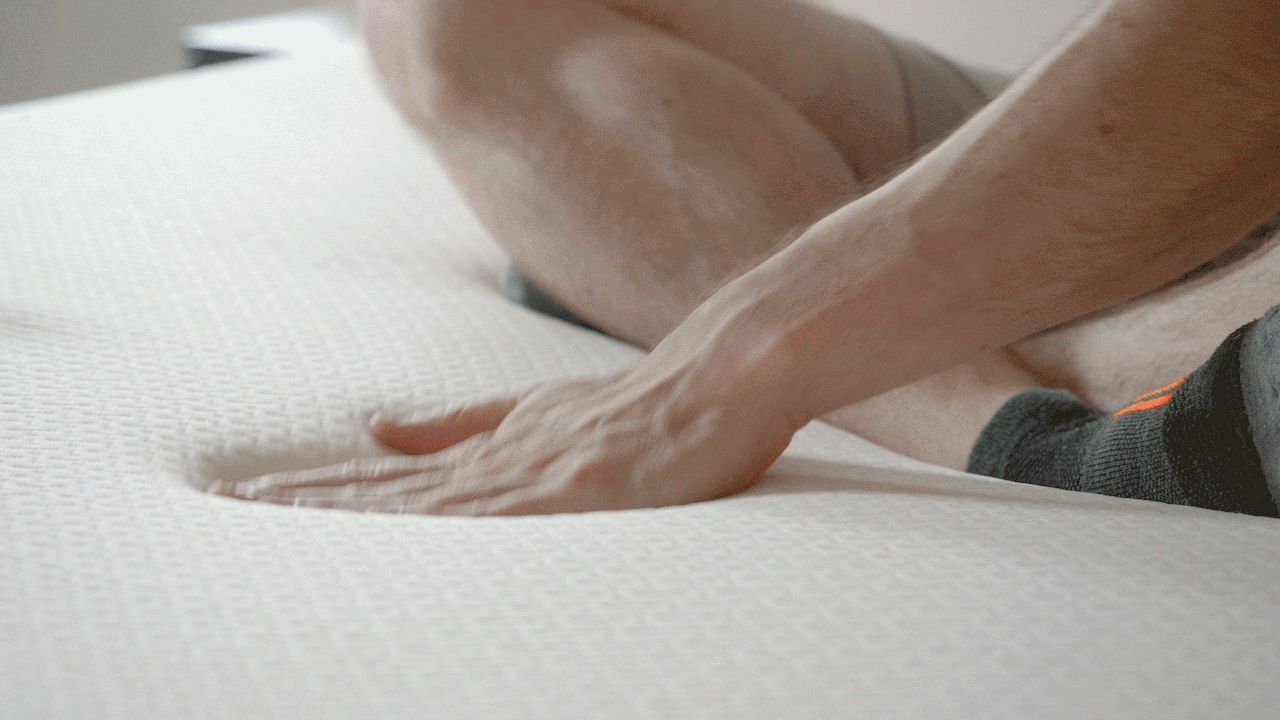 Both the Zinus and AmazonBasics feature that classic memory foam feel. Lying on both mattresses, I slowly sink in and feel the memory foam take the shape of my body.
While the mattresses are similar in terms of design, firmness, and feel, I did feel a bit different in each sleeping position. For instance, I feel better back sleeping on the Zinus. I think this is because the mattress contains some higher density foams and is offering me more support and contouring. Between the two, it is the best mattress for back sleepers.
Now, side sleeping, I feel pretty much the same amount of pressure relief on both mattresses. The soft memory foam on both mattresses lets me sink in, but I am not heavy enough to really bottom out on either mattress.
Stomach sleeping, both the Zinus and AmazonBasics are too soft. Stomach sleepers should usually be looking for a firmer mattress, and these are both softer-than-average.
Motion Transfer Differences
Memory foam is a fantastic material. It relieves pressure, contours to our bodies, and even makes it easier to sleep with a partner.
Memory foam mattresses are usually a good choice for couples because they stop motion from transferring across the mattress. This means each partner can move around at night without fear of waking up the other.
Since both the Zinus and AmazonBasics feature a thick layer of memory foam on top, I expected them both to handle motion transfer quite well.
After placing a glass of water on one side of each mattress, I then pressed into the other side, trying to make a real disturbance. With both mattresses, there was very little disturbance in the water.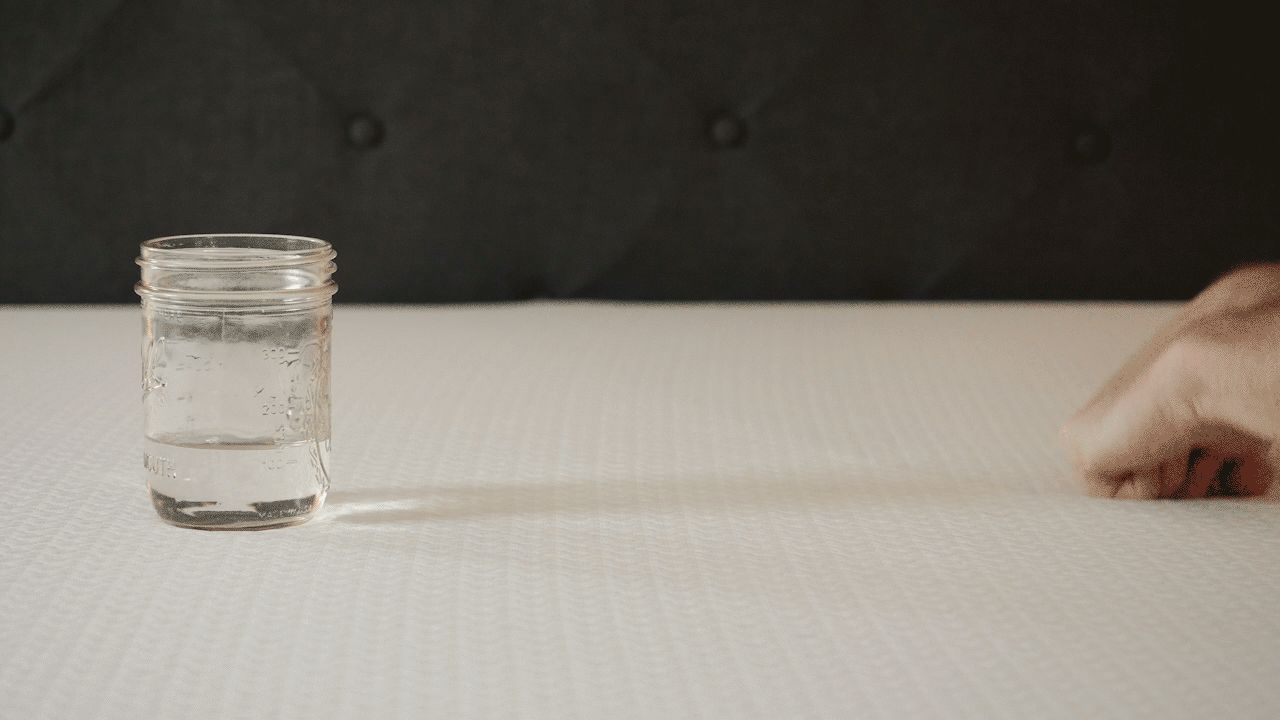 Also, I lay down on both mattresses while our other reviewer, Marten, got in and out of bed. He also changed positions and rolled around. He did not disturb me on my side of the bed.
I would say both mattresses isolate motion quite well and could be good mattresses for couples.
Edge Support Differences
While the Zinus and AmazonBasics are pretty great with motion transfer, the same cannot be said for their edge support. Edge support is also important for couples because a mattress with secure edges allows both partners to have more room at night.
When I sit near the edge of both mattresses, they pretty much collapse all the way. I don't even feel like I can sit down and tie my shoes. Also, when I lie down near the edge of the Zinus and AmazonBasics, the mattress does buckle under my weight, and I feel like I am going to roll off.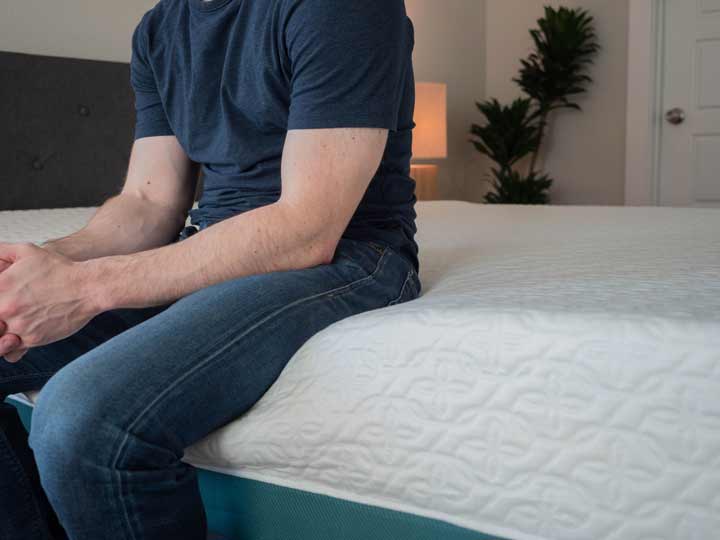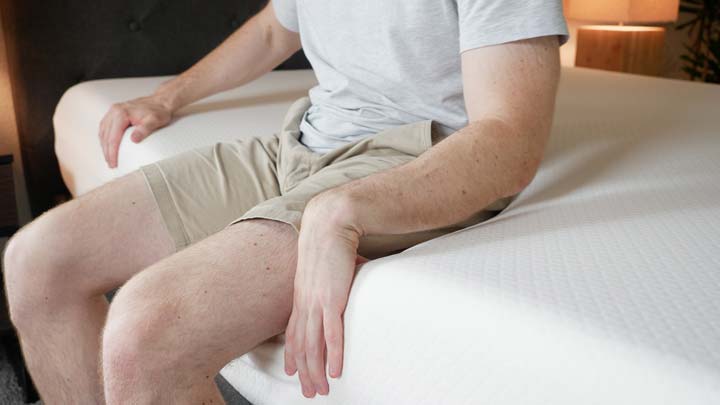 Marten's Take
When comparing mattresses, shoppers should absolutely take their size and weight into account. I'm medium-weight, about 160 lbs, so my experience with the Zinus and AmazonBasics might not be the same as someone who is much larger. Luckily, we've got a big guy on our team. Marten is 230 lbs, so let's see what he thought about the Zinus and AmazonBasics:
For me, both the Zinus and AmazonBasics felt like a 7/10, which is firmer than what Joe experienced. He thought both mattresses were softer-than-average, closer to a 6/10.
It's pretty simple to understand why I am feeling some more firmness here. My heavier weight causes me to sink further into the soft memory foam on both mattresses. When this happens, I am pushing into the transition and support layers on both mattresses, so I am feeling some more firmness than Joe did.
With my added weight, I am also having a different experience lying in different sleeping positions.
Back sleeping on the Zinus, I am not getting fantastic support. My hips are sinking in just a bit too far, and I could use some more lumbar support. That being said, I am getting some nice contouring.
Side sleeping, I am feeling a good amount of pressure on my shoulders and hips. Again, I am really driving into the mattress and not getting the cushioning pressure relief of the soft memory foam on top.
When I move to my stomach, the mattress is not giving me enough support. I feel like the center of my body is dropping into the mattress and straining my back.
Now, when I am back sleeping on the AmazonBasics, I feel even less supported than I did on the Zinus. I feel like I am unevenly sinking into the mattress. It's like my hips and butt are sinking in while my head and legs are up at an angle.
When I lie on my side, I am feeling better pressure relief than I did on the Zinus. However, I could use some more support, and I would like the foam to press up into my gaps. Without that support, I again feel pretty uneven on this mattress.
Like the Zinus, the AmazonBasics is not supportive enough for me when I am on my stomach.
In the end, I think heavier back sleepers will like the Zinus, heavier side sleepers will prefer the AmazonBasics, and heavier stomach sleepers should look elsewhere.
The Zinus Should Be A Better Fit For…
Those who are looking for more mattress options. While Amazon only offers a few mattresses in their line, there are multiple Zinus mattresses to choose from. There are a variety of memory foam, hybrids, and other designs, so customers have a better chance of finding that perfect fit.
Heavier people. While these mattresses have very similar designs the Zinus still feels like the more supportive mattress. The Zinus appears to feature higher density foams, so it should be able to handle heavier weights than the AmazonBasics.
Those who want a higher quality mattress. The Zinus 12″ does cost more than the AmazonBasics 12″, but the extra price is indeed worth it. The Zinus is, in general, a nicer mattress that contains some superior materials. Shoppers who want to spend a bit more for quality should consider the Zinus.
RELATED: Best Mattress
The AmazonBasics Should Be A Better Fit For…
Lightweight sleepers. When mattress shopping, lighter people have an advantage over larger people. Lightweight sleepers don't require as much support as larger people, so they can save some money by going with a simpler mattress like the AmazonBasics.
Kids and teenagers. Like lightweight adults, kids and teenagers don't need much by way of support. The AmazonBasics is a cheap option for a child or adolescent's bedroom.
Those who want a more budget-friendly mattress. As I just said, the AmazonBasics is more affordable than the Zinus. Shoppers who are looking to spend as little as possible should opt for the AmazonBasics.
RELATED: Best Mattresses On Amazon
Overall
Based on this information, I hope that most shoppers can make the right decision between the Zinus and AmazonBasics mattresses. They both have a lot to offer, and shouldn't be a big hit on the pocketbook. For those who want more information or even a personal recommendation, leave a comment below!
Joe Auer
Joe Auer is the editor of Mattress Clarity. He mainly focuses on mattress reviews and oversees the content across the site.
He likes things simple and take a straightforward, objective approach to his reviews. Joe has personally tested nearly 250 mattresses and always recommends people do their research before buying a new bed. He has been testing mattresses for over 5 years now, so he knows a thing or two when it comes to mattress selection. He has been cited as an authority in the industry by a number of large publications.
Joe has an undergraduate degree from Wake Forest University and an MBA from Columbia University.