Where else can one find a Magnum PI DVD boxset, an ugly Christmas sweater, and a mattress all in the same place? Amazon, that's where.
While Amazon does offer a number of mattress brands on their site, they now feature their own AmazonBasics mattresses. They carry a few options, and I received their 12-inch memory foam mattress.
This is an extremely affordable mattress, and I was wondering if this is not only a good price but a good mattress as well.
This unbiased AmazonBasics memory foam mattress review will cover everything consumers should know, including a full breakdown of the construction, the pros and cons, breathability, durability, comfort, support, motion isolation, edge support, firmness and feel, and much more.
AmazonBasics Memory Foam Mattress
Shipping Method
Free shipping
AmazonBasics Memory Foam Mattress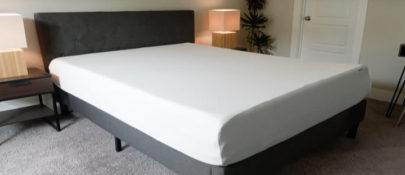 The AmazonBasics mattress is very affordable (less than $500) and could be a good match for kids and lightweight sleepers.
Shipping Method
Free shipping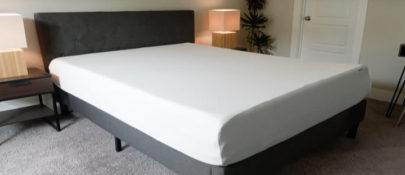 AmazonBasics Memory Foam Mattress
The AmazonBasics mattress is very affordable (less than $500) and could be a good match for kids and lightweight sleepers.
Shipping Method
Free shipping
The AmazonBasics Might Be A Good Fit For…
Those who want an affordable mattress. The AmazonBasics mattresses are some of the most affordable mattresses on Amazon. Those who need a new mattress but don't want to spend too much money should take a look at the AmazonBasics.
Side sleepers. The 12-inch AmazonBasics mattress features a thick layer of memory foam on top so, lying on my side, I felt very little pressure on my shoulders and hips. The AmazonBasics is a nice, comfortable mattress for side sleepers.
Lightweight people, children, and teens. People on the lighter side don't really have the mattress needs of larger people and, since they don't need as much support, they can usually save some money by going for a simpler mattress. The AmazonBasics is one such simple mattress, and it should be fitting for a child or teen's bedroom.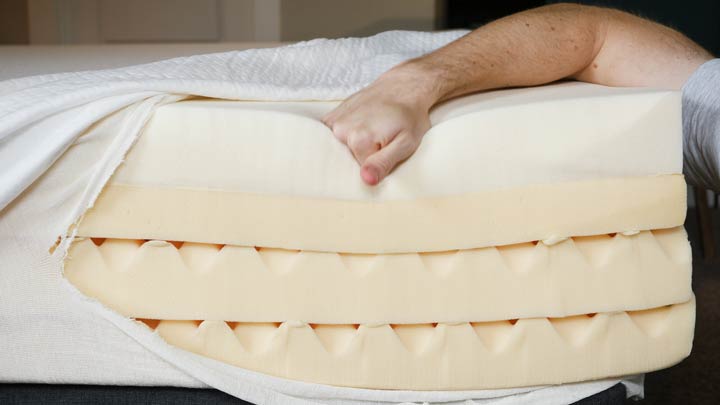 You AmazonBasics Might Not Be A Good Fit For…
Back sleepers. The AmazonBasics is not a very supportive mattress, and might not be the best mattress for back sleepers. Back sleepers usually want a mattress with a balance of comfort and support and, while the AmazonBasics has the comfort, it does come up short on support.
Stomach sleepers. The AmazonBasics is an even worse fit for stomach sleepers because of that lack of support, and many stomach sleepers could feel their hips sinking into the mattress, causing them to experience some real discomfort. Overall, it is not the best mattress for stomach sleepers.
Larger people. Again, the AmazonBasics is not a supportive mattress. Larger people usually need a firmer mattress with some sort of coils to ensure they are held up.
Those who prefer a firmer mattress. Some people just like the feel of a firm mattress, so those who like a mattress with little give might not like the AmazonBasics. The memory foam is quite soft, and most sleepers should agree that isn't a very firm mattress.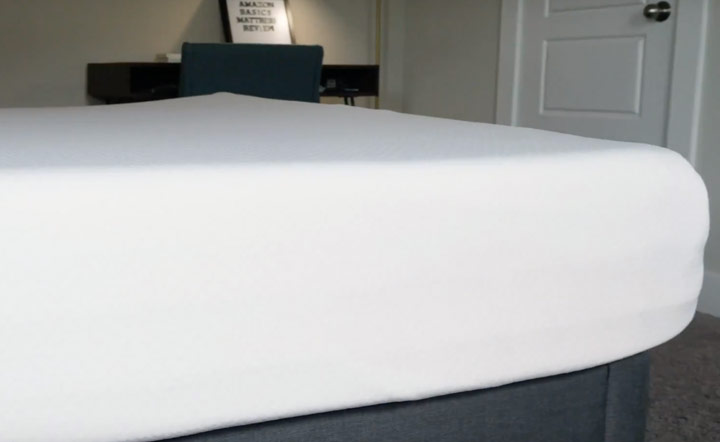 Construction Overview
This AmazonBasics mattress is 12" tall.
The mattress's cover is soft but it is also very thin and shouldn't affect how the mattress feels.
On top, there is a soft layer of memory foam that is very easy to press into.
Then, there is a foam transition layer that eases sleepers down to the support layer.
The base layer consists of two foam layers, and they are ventilated with large holes.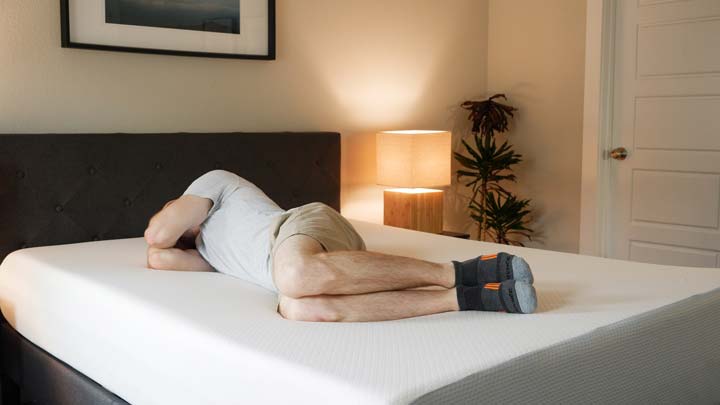 Construction Takeaways
The memory foam mattress comes in three thicknesses: 8-inch, 10-inch, and 12-inch. The 8" is their most affordable model and each successive model costs a bit more.
The thick layer of memory foam that we find on the 12-inch model is very soft and should provide a good amount of pressure relief. It is thick enough that many side sleepers should feel very comfortable.
The memory foam layer is also a bit responsive. Some memory foams are very slow-moving, so they can make sleepers feel trapped. This memory foam does bounce back somewhat quickly, so the AmazonBasics should be trapping too many people!
The ventilation found in the base layers makes the AmazonBasics ideal for hot sleepers. Memory foam mattresses can really make sleepers cook at night because they trap so much heat. This ventilation is meant to offset this overheating issue.
How Do The AmazonBasics Memory Foam Models Compare?
AmazonBasics offers three versions of their memory foam mattress, the 8-inch, 10-inch, and 12-inch. I reviewed the 12-inch model, and I wanted to comment briefly on the differences between these mattresses and who should choose one over the other.
Well, first, the main difference between these mattresses is price. The 8-inch is their best cheap mattress, and then the price goes up for the 10-inch and 12-inch.
The 10-inch and 12-inch models are thicker than the 8-inch model. That added thickness comes mostly from some extra memory foam found at the top of each mattress. With the added memory foam, the 10-inch will be softer than the 8-inch, and the 12-inch will be softer than the 10-inch.
Since the 8-inch and 10-inch models are a bit firmer than the 12-inch, they should be a good option for lightweight back sleepers and stomach sleepers. Very light people won't need the support that the 12-inch provides, so they can save some money by going with the 8-inch or 10-inch.
Being the thickest mattress, the 12-inch model should be a better choice for heavy people. It is going to be a more supportive mattress and should be able to handle heavier weights than the 8-inch and 10-inch.
Also, given that it is the softer mattress, it should work better for most side sleepers. Side sleepers should sink into that thick layer of memory foam and feel less pressure than they feel on the 8-inch and 10-inch.
Firmness And Feel
The 12-inch AmazonBasics is the softest of their models. It feels like a 6/10, slightly softer-than-average, and it is very easy to press into the top layer of the mattress.

However, larger sleepers might feel like the mattress is noticeably firmer. With their heavier weight, they could sink further into the mattress and hit the transition layer and support layers beneath that.
Regardless of size, most sleepers will agree that the AmazonBasics has that classic memory foam feel. While it is more responsive than some memory foam, it is still slow-moving and should let sleepers really sink into the mattress.
The mattress is actually too soft for back sleeping. I could definitely use more support, especially under my lumbar area, and my hips are sinking in a bit too far.
I am getting even less support when I move to my stomach. I require more support under my hips, so I feel like the center of my body is really dropping into the mattress.
All that being said, the AmazonBasics is still a good match for side sleeping. I sink into that thick layer of memory foam and feel it cushion my pressure points, so I am feeling pretty comfortable in this position.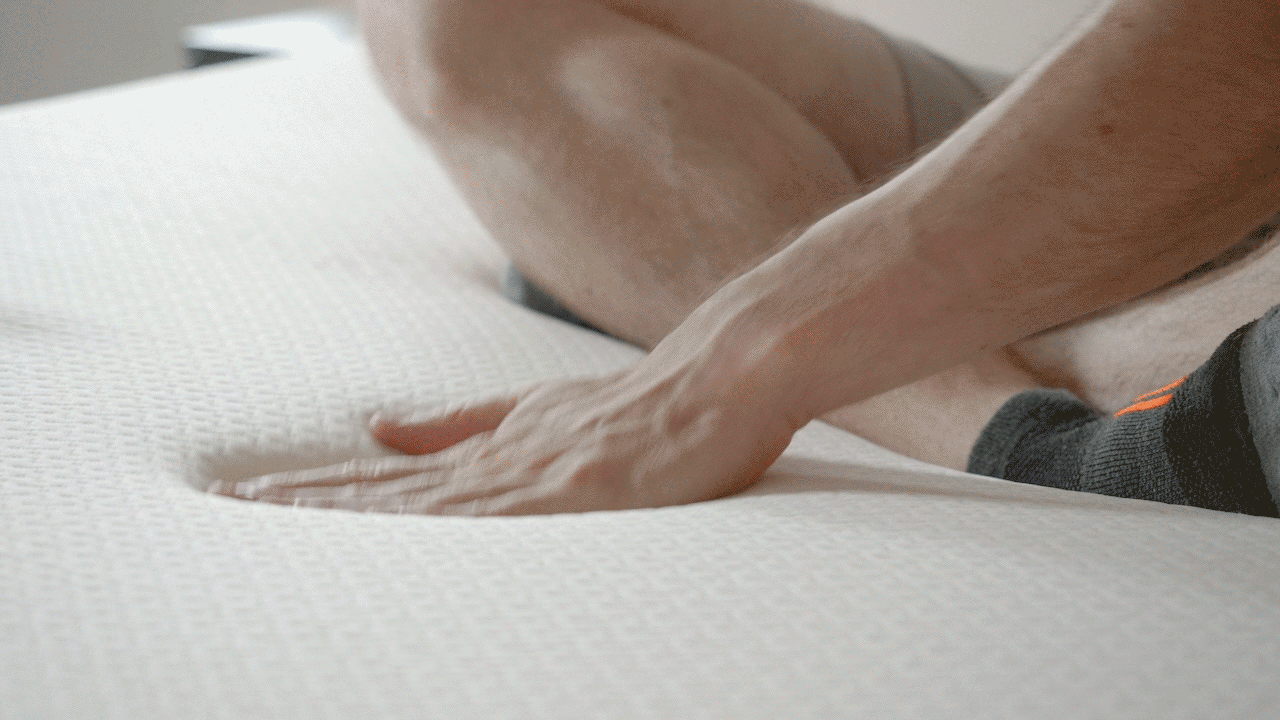 Motion Transfer
For those who need the best mattress for couples, motion transfer is so important. To ensure they sleep soundly, couples should find a mattress that isolates each partner's movements to their respective sides of the bed.
In regard to motion isolation, memory foam is really one of the best materials. It is designed to cushion and significantly cut down on motion transfer.
The memory foam found in the AmazonBasics is no exception. To test out its effectiveness, I placed a glass of water on one side of the mattress. I then pushed into the opposite side, and I did not see the glass or the water move too much.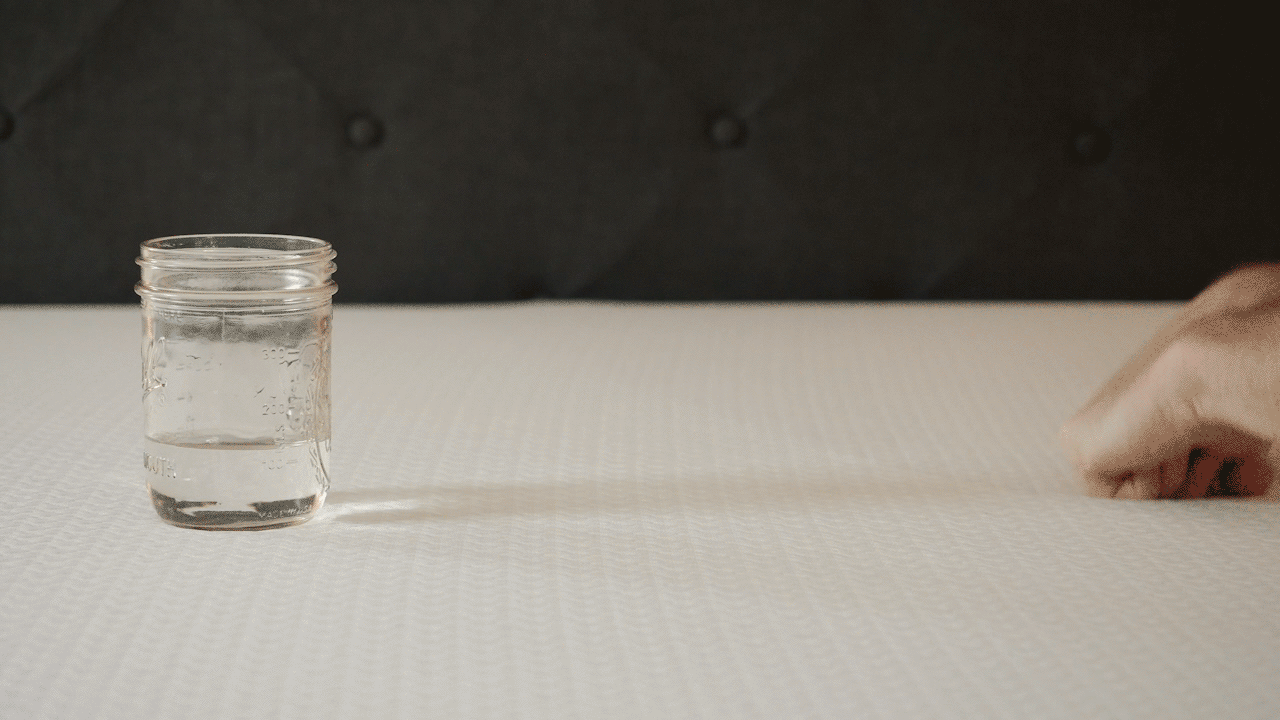 Also, I climbed onto the AmazonBasics and lay down on one side of the mattress. Marten, a member of our team, got onto the other side of the bed, moved around, and bounced near the edge. His movements really didn't transfer over to me.
Edge Support
Edge support is another important mattress feature for couples to consider. A mattress with great edge support will let both partners sleep all the way toward the edge so they don't have to be pushed together toward the center.
The AmazonBasics's edge support is not fantastic and, when sitting on the edge of the AmazonBasics, all of that soft foam pretty much collapses. The mattress is not supporting me well in this position. Also, lying down near the edge of the mattress, I do feel like I am going to be pitched out of the mattress.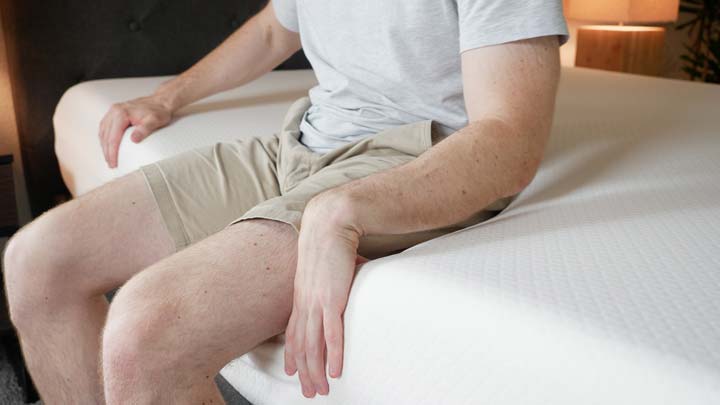 Marten's Take
When shopping for a mattress, size and weight are going to play a huge role. While a mattress might feel soft to someone lighter, it might feel much firmer to someone of a larger weight. So, I invited Marten to try the AmazonBasics out for himself and report on his experience. I am 5'9" and weigh 160 lbs, but he is 6'7" and weighs 230 lbs. Here is what he thought of the AmazonBasics:
A big issue for larger people is that they have trouble finding mattresses that are both supportive and comfortable enough. With my larger weight, I often feel myself dropping through mattresses.
I usually prefer hybrid mattresses with coils and a thick comfort layer, so when I first looked at the AmazonBasics, I was worried that the mattress wouldn't be the best fit for me.
First off, the mattress feels firmer to me than it did to Joe. Joe thought the mattress was a 6/10, but I thought it was more like a 7/10. Again, I think this is because my weight is letting me drop further into the mattress
Now, speaking of dropping, that is how I feel when I lie on my back. I feel like my hips are sinking in too far, and my lumbar area is not getting the necessary support. I feel somewhat wedged into the mattress.
I feel best when I am side sleeping on the AmazonBasics. I am feeling some noticeable pressure relief on my shoulders and hips. However, with its lack of support, the mattress really isn't filling my gaps. Like when I was on my back, I am sort of bent in at an angle.
Of course, as I expected, the mattress is not supportive enough when I am on my stomach. I am getting almost no support on my hips, so the center of my body is sinking into the mattress.
I expect if I slept on this mattress for a long amount of time, I could experience some back pain.
Unboxing The AmazonBasics
Just like every other item from Amazon, the AmazonBasics comes in a box. The AmazonBasics arrives at the door in a very tall cardboard box and, following these steps, it is very easy to open and set up.
First, ask a friend to help transport the mattress inside and to the bedroom. Once the box is in the bedroom, open it and pull out the rolled-up mattress. Then, position the roll on the bed frame or foundation. When it's on there, carefully cut through the layers of plastic. The mattress will then pop out into its full shape.
Finally, clear away the plastic and give the mattress about 24 hours to expand. Also, the mattress might have a slight chemical at first, but this should go away in a few days.
What Makes The AmazonBasics Stand Out?
The AmazonBasics is one of the most affordable memory foam mattresses out there.
The mattress should provide soft pressure relief for many side sleepers.
The AmazonBasics should be a great option for a child or teenager's room.
It features some very comfortable, slow-moving memory foam.
RELATED: Most Comfortable Mattress
Overall Rating
AmazonBasics Memory Foam Mattress
Support
Edge Support
Cooling
Motion Transfer
Durability
Trial Period
Warranty
I believe the AmazonBasics 12-inch memory foam mattress should be a good fit for lightweight people who sleep on their sides. The price also can't be beaten.
The AmazonBasics comes with free shipping and returns, a 1-year warranty, and financing as well. The company also offers 8-inch and 10-inch models.
FAQs
How much do the AmazonBasics mattresses cost?
The AmazonBasics memory foam mattresses range in price depending on their thickness and size. For instance, a Twin-size 8-inch mattress costs $165.00, but a Queen-size 12-inch costs $288.00.
Is AmazonBasics good quality?
Considering the low price, the AmazonBasics mattress is of decent quality. The foams don't seem to be very high-density, and the mattress might last for a very long time. That being said, it is a comfortable, affordable option for children and teens.
What does the AmazonBasics mattress feel like?
The AmazonBasics memory foam mattresses feel, well, like memory foam. They have that slow-moving feel that really let sleepers sink into the mattress.
Joe Auer
Joe Auer is the editor of Mattress Clarity. He mainly focuses on mattress reviews and oversees the content across the site. He likes things simple and takes a straightforward, objective approach to his reviews. Joe has personally tested nearly 250 mattresses and always recommends people do their research before buying a new bed. He has been testing mattresses for over 5 years now, so he knows a thing or two when it comes to mattress selection. He has been cited as an authority in the industry by a number of large publications. When he isn't testing sleep products, he enjoys working out, reading both fiction and non-fiction, and playing classical piano. He enjoys traveling as well, and not just to test out hotel mattresses! Joe has an undergraduate degree from Wake Forest University and an MBA from Columbia University.