There's something so nice about hybrid mattresses; they offer the soothing comfort of a foam mattress and the strong support of an innerspring mattress – I am always interested when a new hybrid mattress hits the market.
That's why my ears perked up when I heard that Wright would be releasing a hybrid model, the W2.15; I enjoyed my experience with the Wright W1.27, their luxury all-foam mattress, and I was excited to see what a set of coils could add to their already impressive mattress.
Those who are looking for a luxury hybrid mattress should read on for my full Wright W2.15 mattress review!
The Wright W2.15 Mattress Might Be A Good Fit For…
Side sleepers. The Wright mattress features three layers of memory foam on top, creating a pretty thick comfort layer – when side sleepers lie down on the Wright mattress, they should sink in a bit and feel very little pressure on their shoulders and hips, so it's a great mattress for side sleepers.
Back sleepers. The Wright mattress features both coils and memory foam and offers a nice balance of comfort and support – this is what most back sleepers should be looking for, and they should feel the coils hold them up while the foam takes the shape of their body.
Combination sleepers. With its hybrid construction, the Wright is also a good match for sleepers who change positions throughout the night; the coils should provide enough support for back and stomach sleeping, while the memory foam should offer suitable pressure relief.
Fans of medium-firm mattresses. The Wright mattress is smack dab in the middle of our firmness range, so those Goldilocks out there who are looking for something not too firm and not too soft should check out the Wright mattress.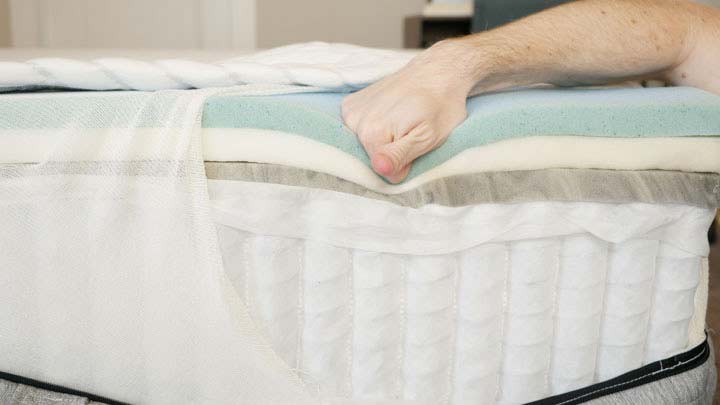 The Wright W2.15 Mattress Might Not Be A Good Fit For…
Stomach sleepers. Those who sleep primarily on their stomach might find the Wright mattress to be too soft and, most likely, they will need to find a good firm mattress to give them the hip support they need while stomach sleeping.
Fans of extra firm or extra soft mattresses. The Wright is a medium-firm mattress and is neither soft nor firm, so people who want a mattress that is very firm of very soft are probably going to have to look elsewhere.
Those looking for a more affordable mattress. At full price, a Queen-size Wright mattress is over $2,000; this is a very high-quality mattress, but it might be too pricey for some. There are definitely more affordable hybrid mattresses out there that provide a similar feel and experience.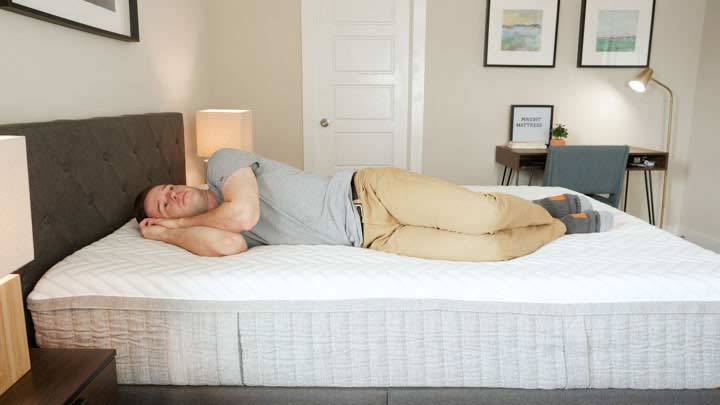 Construction Overview
The Wright W2.15 mattress is 12" tall.
The cover is thinner and should not affect the feel of the mattress too much.
The top layer is 1.5" of gel-infused memory foam.
Below that, there are two layers of comfortable ZeroG memory foam.
The support layer contains pocketed coils.
RELATED: Best Mattress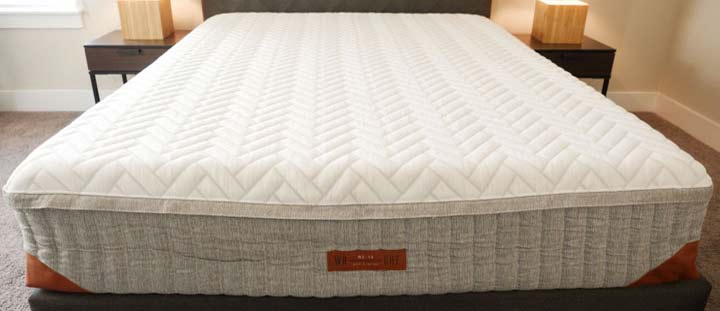 Construction Takeaways
The mattress is designed to offer a balance of comfort and support; the three layers of memory foam offer exceptional pressure relief while the pocketed coils provide solid support and response.
The top layer of memory foam is infused with gel, a material that is known for its cooling properties; this is meant to keep the top of the mattress cool and to ensure sleepers don't overheat at night.
The three memory foam layers make up Wright's proprietary Weightless Foam System: the top layer of gel-infused memory foam is very soft, but the two layers below that get progressively firmer. This is meant to ease sleepers down into the mattress giving them, that's right, a weightless feeling.
The mattress should have a somewhat balanced feel as well; the top layer should give the mattress a bit of that memory foam feel while the second two layers and coils are more responsive and make it easier to move around on the mattress.
Firmness And Feel
In terms of firmness, the Wright W2.15 felt like a 6.5/10, about average in terms of firmness. While the top layers are quite soft, the mattress gets progressively firmer as I push my hand in. The combination of memory foam and supportive coils makes the Wright a medium-firm mattress.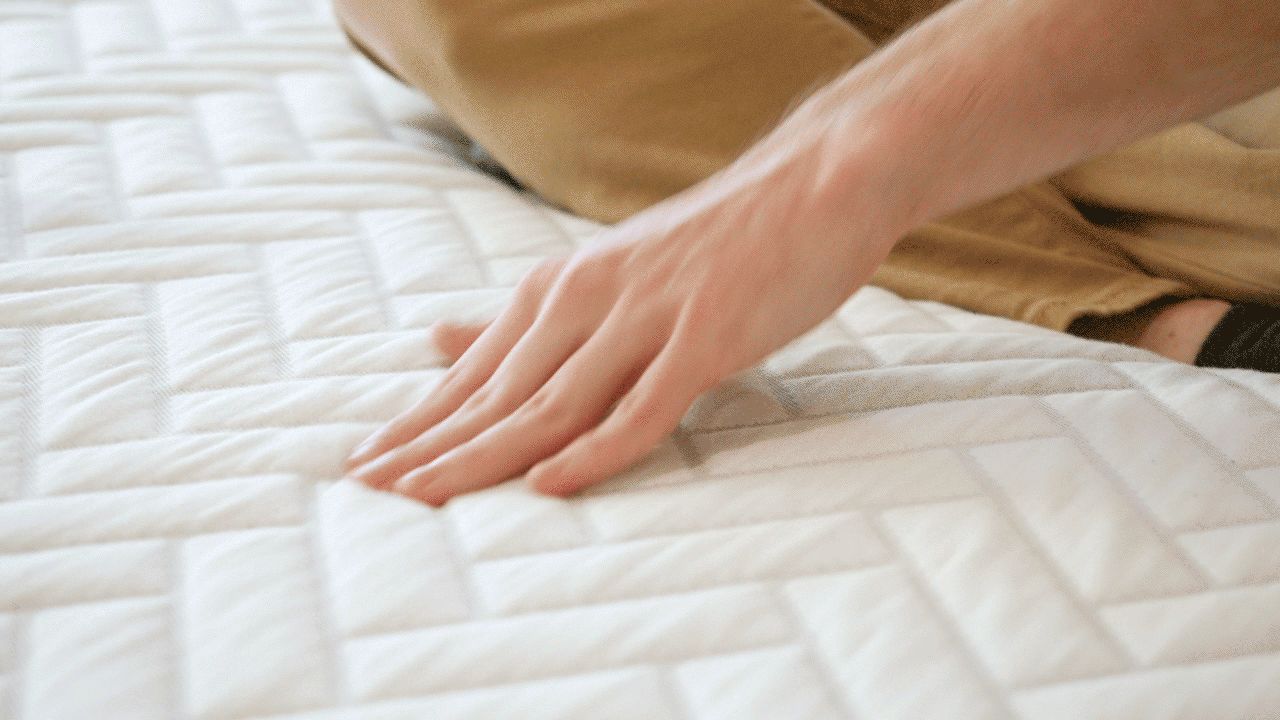 With its medium-firmness and hybrid construction, the Wright is a particularly good mattress for back sleepers. When I lie on my back on the Wright mattress, my hips sink in the perfect amount, and the bottom foam layers and coil stop them from sinking in too far. The memory foam is also conforming to the shape of my body, making for a very comfortable sleeping experience.
When I move to my side, the Wright is also offering me significant pressure relief; I sink into those three layers of memory foam and feel the pressure on my shoulders and hips melt away.
However, when I am stomach sleeping on the Wright, the mattress is too soft and not supportive enough under my hips. I feel like my hips are dipping into the mattress, and I am no longer in proper alignment.
Unsurprisingly, the Wright W2.15 has a balanced hybrid mattress feel – there is a bit of that memory foam feel on top, but I can also feel the coils down below. However, with the memory foam on top, there is very little bounce on the mattress.
Motion Transfer
Couples are going to want to consider a few things when they are looking for a mattress; one of them is motion transfer. Basically, both partners want to move around freely without disturbing one another.
When it comes to handling motion transfer, memory foam is one of the better materials out there. The Wright features three layers of memory foam on top, so I was not surprised by how well the mattress isolated motion to each side of the mattress.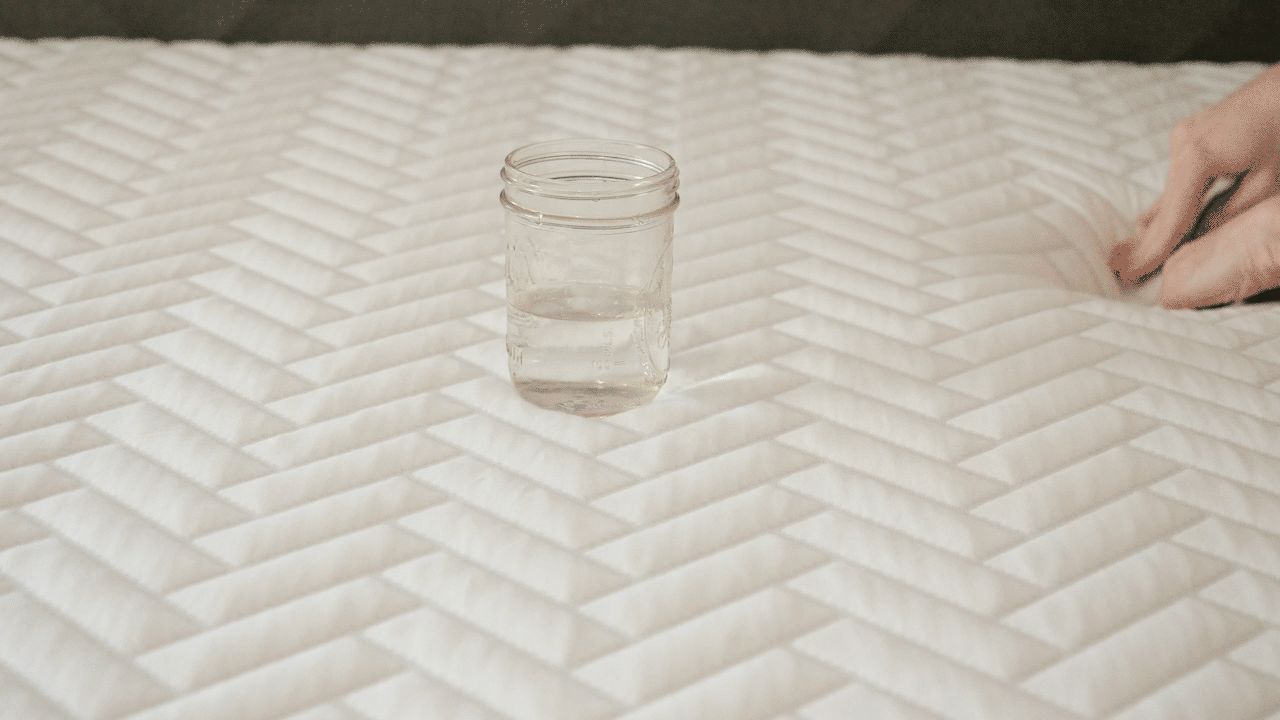 I placed a glass of water on one side of the Wright mattress, and then I pushed into the other side – the water was barely disturbed. I also lay down on the Wright while Marten, another member of our team, got in and out of bed – I did not feel his movements transfer over to me.
All-in-all, the Wright could be a good option for couples. Make sure to check out our best mattresses for couples.
Edge Support
Edge support is another mattress feature that should be at the forefront of couples' minds. A mattress with excellent edge support will make it so both partners can sleep all the way toward the edge of the mattress; without this, they will both have to sleep toward the center of the mattress.
To test out the edge support on the Wright mattress, I first sit down near the edge; it collapses, but I don't feel like I am going to pitch forward; when I lie down near the edge of the Wright mattress, I don't feel like I am going to roll off.
The Wright does feature some particularly nice edge support.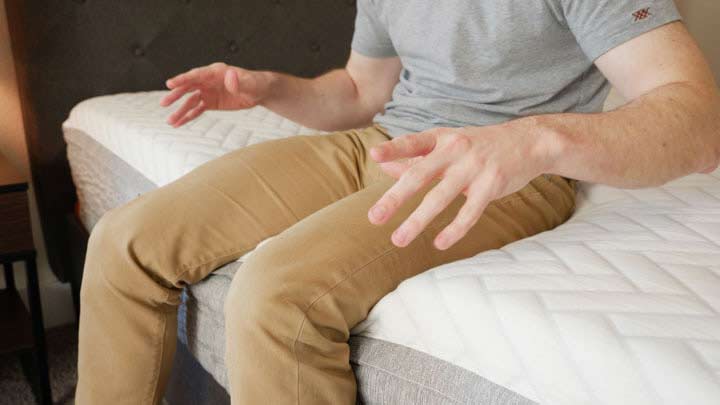 Marten's Take
I weigh 160 lbs, and I am 5'9" tall. My experience with the Wright mattress is very much based on my size. To give our readers a different perspective on the Wright, I invited Marten, the largest member of our team, to offer his thoughts. Marten is 6'7" and weighs 250 lbs, and here is what he thought of the Wright mattress:
Joe said this was close to a 6.5/10, and I thought it was more like a 7/10. As a larger person, I am pressing further into the mattress and feeling some more firmness than Joe did.
When I am back sleeping on the Wright, I feel the support of the coils and the contouring of the foam. Overall, it is a very good match for back sleeping.
The Wright has a pretty thick comfort layer so, when I am lying on my side, I am feeling some good pressure relief on my shoulders and hips. Even as a larger person, it is a good match for me.
When I move to my stomach, the Wright is too soft for me; the comfort layer is too thick, so I need more support under my hips.
The Wright should be a good match for heavier back and side sleepers, but heavier stomach sleepers should look elsewhere.
Unboxing The Wright Mattress
When ordering the Wright mattresses, customers have two options: they can opt for free in-home installation or they can unbox the mattress themselves.
We like to do things ourselves over here at Mattress Clarity, so we decided to unbox it with no extra help. That being said, I do recommend unboxing this mattress with a friend, as the box is heavy and somewhat cumbersome.
First, carry the Wright mattress box to the bedroom and set it near the bed; next, open the top of the box, remove the rolled-up mattress, and place it on the bed frame or foundation. Then, very carefully, begin to cut through the multiple layers of plastic; again, do this carefully, and don't cut into the mattress.
Once, the plastic is clear, the mattress will expand very quickly – I recommend giving the memory foam one or two days to fully expand and for the mattress to completely off-gas.
What Makes The Wright W2.15 Stand Out?
The Wright W2.15 is a luxury hybrid mattress that features some very high-end materials.
The mattress features an excellent balance of comfort and support, better than what can be found in many other hybrids.
The Wright should be a good match for back sleepers, side sleepers, and combo sleepers.
The mattress has cooling features that should keep it from sleeping too hot.
Overall Rating
Wright W2.15 Mattress
Support
Edge Support
Cooling
Motion Transfer
Durability
Trial Period
Warranty
In the end, the Wright W2.15 should be a fantastic choice for many sleeping positions and those who like a medium-firm mattress; stomach sleepers and those looking to save money should probably look elsewhere.
The Wright W2.15 comes with free shipping and returns, a 120-night sleep trial, and a 15-year warranty – financing is available as are numerous Wright accessories and another all-foam mattress.
FAQs
What is the difference between the W1.27 and the W2.15 mattresses?
Both mattresses feature the same comfort layer – the main difference can be found in the support layers; the W1.27 features base polyfoam and the W2.15 features steel coils.
Is an all-foam or hybrid mattress better?
It really depends on what one is looking for – for instance, heavier people and those with extra support needs should consider a hybrid mattress, and hybrids are usually more durable as well. However, those who don't meet these criteria can save some money by going with an all-foam mattress.
Does the Wright mattress sleep cool?
The Wright W2.15 mattress should not sleep too hot – the memory foam on top is infused with a cooling gel, and the coils should promote airflow through the mattress. That being said, those who sleep extra hot might want to find a mattress without memory foam.
How long will the Wright mattress last?
This is an estimation, but I believe the Wright mattress should easily last for at least 6 or 7 years.