Teeth grinding doesn't just impact your oral health. It can also disrupt your overall wellbeing and sleep quality. But you don't have to suffer! Night guards can help alleviate this issue. Plus, you don't even have to step foot inside a dentist office. Sporting Smiles delivers custom night guards straight to your doorstep – and for a fraction of the cost.
Eager to learn how this works? In our Sporting Smiles review, we'll detail our experience with the company's teeth impression kit, dental products, and customer service.
Sporting Smiles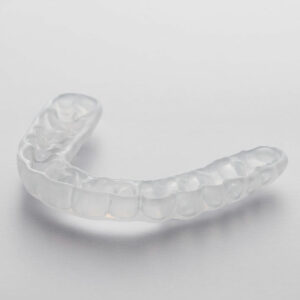 Sporting Smiles makes custom night guards, retainers, and teeth whitening trays -- no visit to the dentist required!
Mattress Clarity Score
4.40 / 5
Read Full Review
Sporting Smiles Night Guard Overview
Based in Wisconsin, Sporting Smiles creates a wide variety of dental products and ships them nationwide. In addition to night guards, they sell new retainers, teeth whitening trays, and sports mouth guards.
In this review, we'll focus specifically on their night guards. Sporting Smiles has several different types to choose from, and they each work well for different types of people. We received their best-selling flexible super hard night guard. As the company's most durable product, it's designed to help people who suffer from significant teeth grinding and clenching.
Of course, like most things, this product may not work for every person. Here's a quick overview of who may like the Sporting Smiles night guard.
Who Should Get The Sporting Smiles Night Guard?
People who don't want to visit a dentist or orthodontist
Those who moderately clench or grind their teeth
Who Shouldn't Get The Sporting Smiles Night Guard?
People who don't want to take their own dental impressions
Those who severely grind their teeth at night
How Does Sporting Smiles Work?
With Sporting Smiles, you can create your customized night guards from the comfort of your couch. Sound too good to be true? We'll walk you through the process from beginning to end.
Creating Teeth Impressions At Home
While it may seem daunting to create your own teeth impressions at home, Sporting Smiles makes the process easy. In your impression kit, you'll find one adjustable impression tray and some dental putty.
Before creating your impression, thoroughly brush your teeth and wash your hands. Then, check the size of your adjustable tray. You can easily push in the sides to adjust its width. If its too long, simply tear off the perforated section at the end.
Once you're certain the tray fits correctly, thoroughly combine the white and blue dental putty and roll it into a long tube. Quickly place the putty into the adjustable tray and place into your mouth. Bite down into the putty and let it harden for four minutes.
After the putty has completely hardened, gently remove the tray from your mouth. If you aren't sure whether the impressions worked well, you can email a photo of the putty to info@sportingsmiles.com. A representative will quickly respond and offer assistance.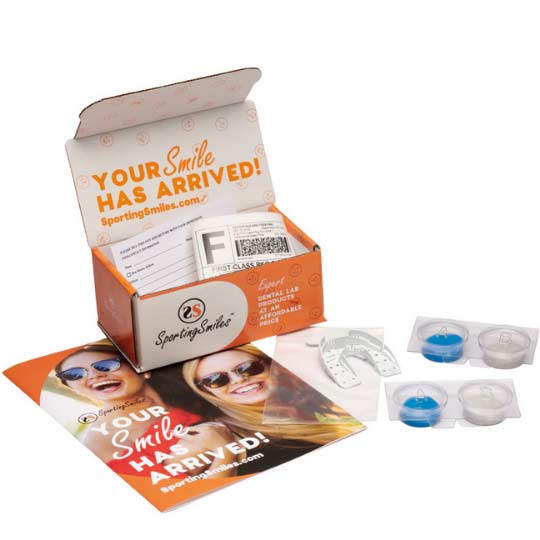 Accidentally mess up the impression? Not to worry. Sporting Smiles will mail you some replacement putty and help you troubleshoot the issue.
In our experience, creating impressions at home is simple and easy. Sporting Smiles mails each customer a thorough pamphlet explaining how to get the best teeth impressions possible. I even emailed a photo of my hardened putty to a representative and received confirmation within the same day.
It's never comfortable getting teeth impressions done, so you may want to mentally prepare for it. In our experience, it was helpful to relax on a comfy pillow and listen to soothing music during the process.
Shipping The Teeth Impressions
After the putty has completely dried, ship your impressions to Sporting Smiles using their pre-paid return label. Once Sporting Smiles has received your impressions, the completed night guard should arrive on your doorstep within 10-15 business days.
Need additional products? Sporting Smiles keeps your impressions for a year, so you can easily order whitening trays, retainers, and sports mouth guards. Plus, all of Sporting Smiles' high-quality products come with a 30-day perfect-fit warranty. If you aren't happy with your product during this period, Sporting Smiles will remake your order or issue a full refund.
Types Of Sporting Smiles Night Guards
As you peruse their website, you'll notice Sporting Smiles sells a wide variety of night guards. We've outlined the differences between the models below to help you decide which one is right for you.
Soft Grinding Guard
This soft night guard was designed for people who significantly clench their teeth and lightly grind them. Made with 3mm of EVA material, the Soft Grinding Guard feels especially soft and flexible. This night guard is available for both your top and bottom teeth.
Hard Grinding Guard
This super thin, custom-made night guard works well for people who moderately clench and grind their teeth. Unlike the soft grinding guard, this model only covers half of your tooth height. It's also thinner, using only 1mm of EVA material.
Dual Laminate Guard
The Dual Laminate guard has a soft inner layer and a hard outer layer, so it should feel comfortable and offer the protection you need. It's 3mm thick, and it should have a long lifespan.
The Dual Laminate Guard is available for both upper and lower teeth. For an additional $5, you can purchase the backcut version. This model is shaped slightly differently, and it's meant to feel more comfortable and look less noticeable.
Flexible Super Hard Guard
If you really grind your teeth at night, opt for the flexible super hard night guard. This is the model we tried out, and it happens to be Sporting Smiles' most popular option.
Made with 3mm of EVA material, this mouthguard feels both flexible and durable. It works best for people who often clench and grind their teeth at night. Like the Dual Laminate guard, this model comes in a backcut version.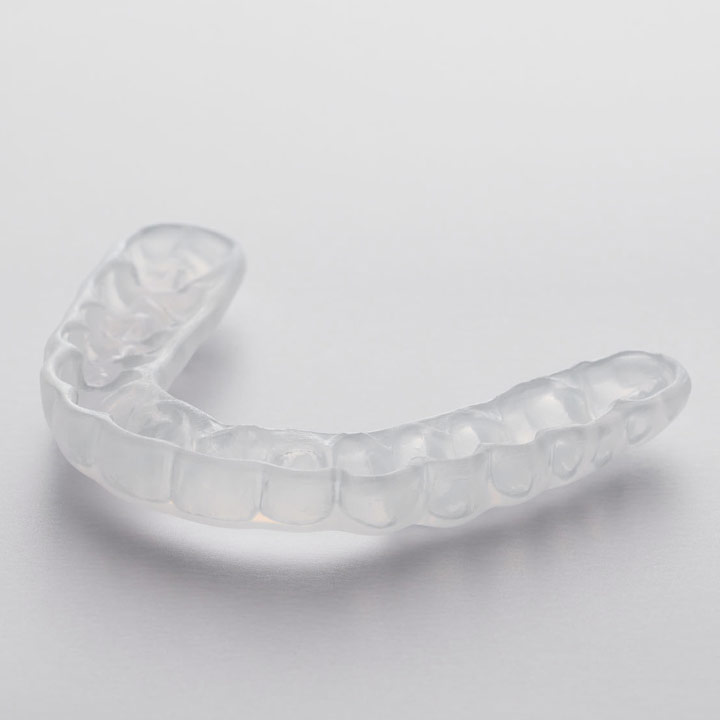 The Flexible Super Hard Night Guard is super convenient and provides excellent coverage. In our experience, this mouth guard feels especially comfortable. It fits snugly against your teeth, and it protects against grinding much better than your average over-the-counter mouth guard.
However, if you grind your teeth especially hard at night, you might need to replace your night guard often. Sporting Smiles' products are not as thick as some of the night guards you'll get from dentist offices, so it's important to assess your needs before purchasing this online night guard.
Sporting Smiles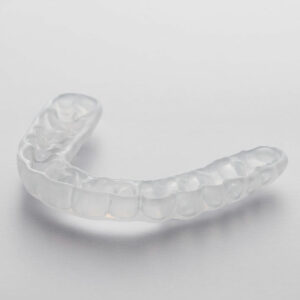 Sporting Smiles makes custom night guards, retainers, and teeth whitening trays -- no visit to the dentist required!
Mattress Clarity Score
4.40 / 5
Read Full Review
How To Prevent Teeth Grinding
Teeth grinding, also known as bruxism, doesn't just damage your oral health. It can also lead to a slew of other issues, including headaches, gum recession, jaw tension, and pain. But not to worry! There are many ways to help prevent teeth grinding.
Night Guards
Our favorite way to relieve the effects of teeth grinding? Night guards! These quality products create a protective barrier around your teeth, so you won't damage your mouth. They also help relieve morning headaches and frequent jaw tension. Plus, thanks to Sporting Smiles, you can get protective sleep gear for affordable prices and from the comfort of your home.
Reduce Stress
Oftentimes, teeth grinding is caused by stress. Before you rest your head on your pillow, take a moment to take deep breaths and calm your mind. You can even gently massage your jaw and soothe those overworked muscles. Need some more help? Check out our list of the best sleep apps.
RELATED: Will Meditating Help You Sleep?
Avoid Caffeine In The Evening
Caffeine can trigger stress and anxiety, especially if consumed before bedtime. If you're prone to grinding your teeth, this stimulating substance could make the problem even worse. For the best results, cut off your caffeine intake at least five hours before going to bed.
RELATED: How Caffeine Affects Sleep
Medications
If you continue to grind your teeth, even after trying the options above, you might want to talk to your doctor. Muscle relaxers and anti-anxiety medications can help the situation as well.
FAQs
Still wondering about Sporting Smiles? Check out our FAQ section below!
How do you use Sporting Smiles?
Sporting Smiles makes mouthguards, teeth grinding guards, retainers, and whitening trays. And the best part? You can get all of these great products without stepping foot inside a dentist's office. First, make your impressions using Sporting Smile's patented at-home impression kit. Pack up your impressions and mail them to Sporting Smiles. Soon, you'll have your own custom-made teeth product!
Is grinding your teeth in your sleep bad?
Grinding your teeth can lead to a wide variety of dental health issues, including TMJ and gum recession. If you notice yourself grinding your teeth, it's best to find solutions to alleviate it.
How do you stop grinding your teeth in your sleep?
Teeth grinding is often caused by stress. Meditation, deep breathing, and yoga can help soothe the anxiety that causes teeth clenching and grinding. Of course, retraining your habits can take a long time. For the best results, we recommend purchasing a custom-made night guard. This will not only protect your teeth, it will improve your sleep and overall wellbeing.
Elisa Regulski
Elisa is the Editor of Mattress Clarity, where she analyzes sleep products and appears in review videos. A certified sleep science coach, Elisa's sleep tips have appeared in Readers Digest, Homes and Gardens, and 21 Oak. She earned a M.A in Mass Communication from Texas State University and a B.F.A in acting from Oklahoma City University.