At first glance, it is easy to tell there are quite a few differences between Sleep Number's P-6 Performance Series mattress and their M-7 Memory Series mattress. Each mattress is made with specifically designed foam and noticeably different mattress tops. Luckily, they both offer qualities that will help keep you cool at night.
So, which one should you pick? Check out our handy guide that breaks down what you need to know about each mattress.
Key Similarities
12″ mattress profile
A variety of standard sizes – including FlexTop
Individual or dual air chamber option with DualAir™ adjustability
Both come with these optional feature:
FlexFit™ Adjustable Bases
Key Differences
P-6
Traditional plush-style design mattress top
3" of proprietary PlushFit foam
Mattress fabric is made with a breathable rayon/polyester knit blend with moisture-wicking technology for a cool sleep surface
5 zones specifically designed to contour to your head/neck, shoulders, lower back, hips, and feet
$2,599.99 for a Queen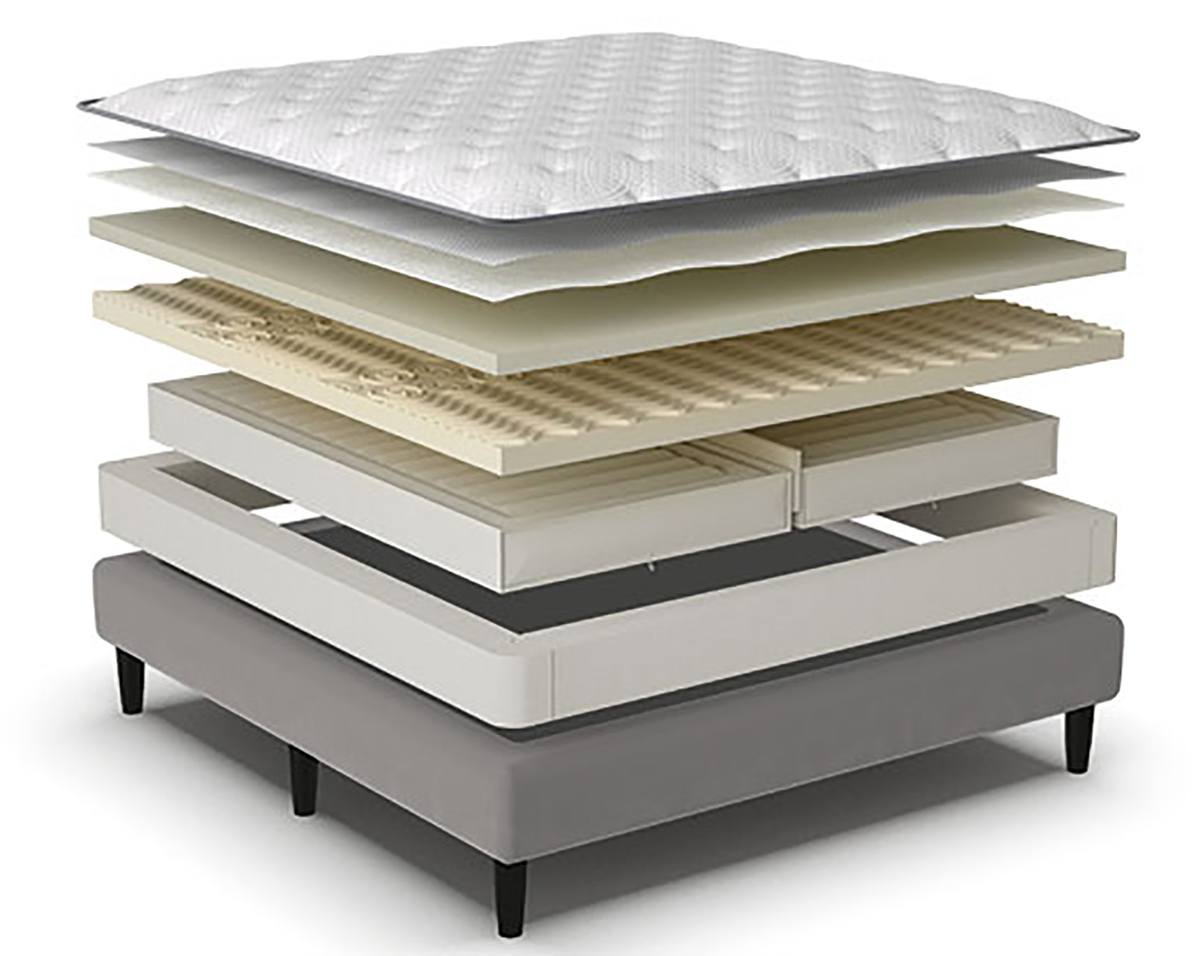 M-7
Unique soft flat cover in a grey color – no pillow top (mattress top)
2" foam layer underneath air chamber(s)
4" gel memory foam layer with CoolFit technology above air chamber(s)
Mattress fabric is made with a rayon/polyester blend fabric that is designed to be soft and breathable
Sleep IQ Technology included
$3,499.98 for a Queen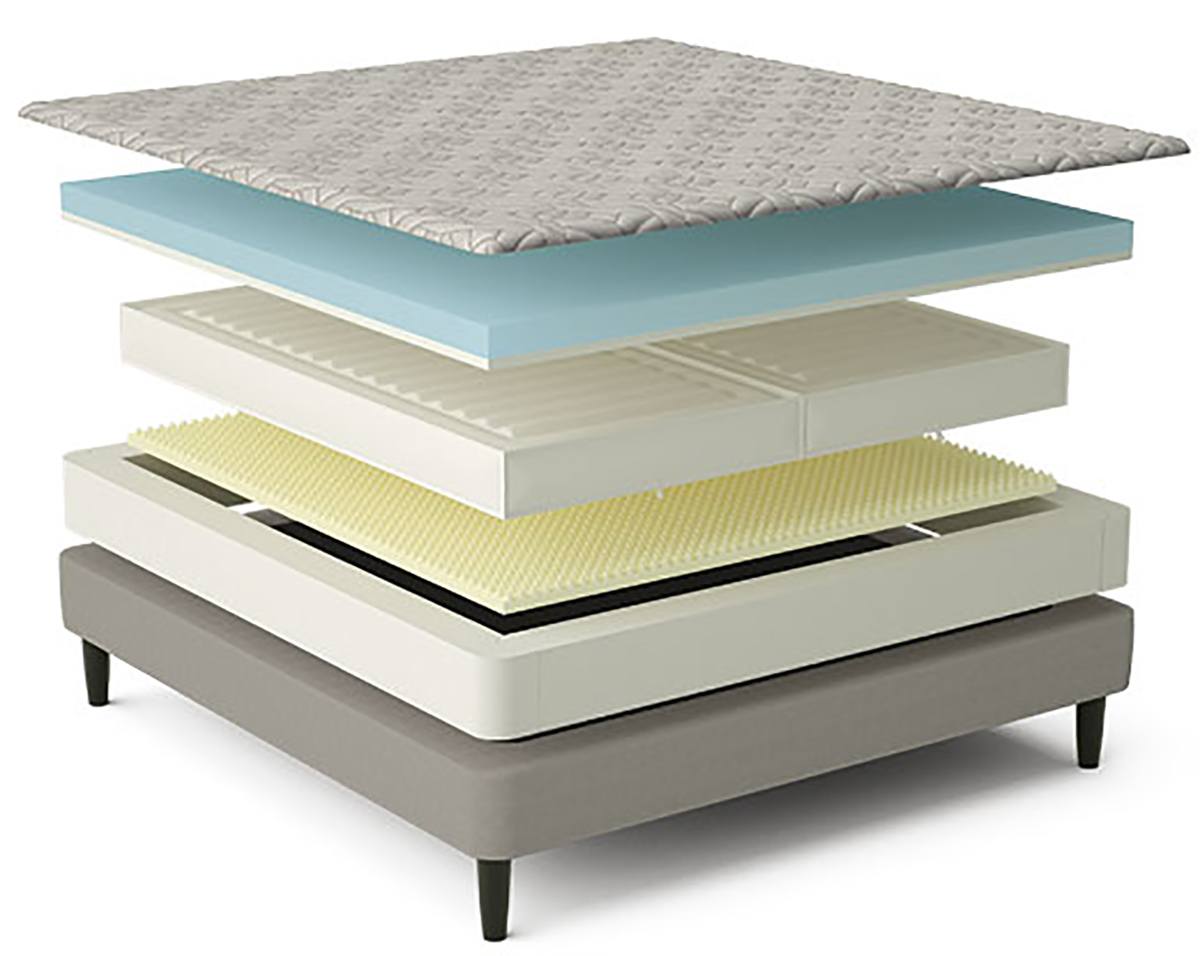 What I Found From Several Live Chat Sessions
After speaking with Sleep Number Customer Service representatives, I learned about a few extra details and clarifications that may help you decide between a P-6 or a M-7 mattress.
Mattress Top: Because of the memory foam layer in the M-7 mattress, the mattress tops will feel significantly different in these mattresses. The P-6 is a traditional plush mattress top and the M-7 is softer and flatter (and also grey in color!).
Firmness: The P-6 will be a firmer mattress than the M-7. This is because the M-7 has 4" of gel memory foam, which is less dense than the 3" of PlushFit foam used in the P-6 mattress. There is an additional 2" layer of foam underneath the air chambers in the M-7 to increase sturdiness, but you will mostly be feeling the memory foam in that mattress.
Which Should People Pick?
P-6 if…
People Want a Traditional Mattress Top. The P-6 has a rayon/polyester knit blend with built-in moisture-wicking technology. Not only will this will help keep you cool at night but it has more of a pillow top feel than the memory foam of an M-7 mattress.
People Want To Spend Less. There is a $900 price difference between Queen size P-6 and M-7 mattresses. Those who are 100% sure they want a memory foam mattress should consider the M-7 otherwise it's worth taking a hard look at the P-6 as a way to save costs.
Read our full Sleep Number P-6 review
M-7 if…
People Like Memory Foam. There is 4" of gel memory foam above the air chamber(s) in the M-7 mattress. One Customer Service representative told me that the M-7 is usually only recommended for people who sleep on memory foam and who are looking to make it adjustable – by adding one of Sleep Number's FlexFit adjustable bases.
Read our full Sleep Number M-7 review
Both if…
Someone Is A Hot Sleeper. The P-6 is made with moisture-wicking fabric that will pull heat away from the sleeper and keep them cool at night. The M-7 gel memory foam is made with CoolFit technology to keep the foam cooler. Both will keep you cool, but a Sleep Number team member told me that since memory foam tends to feel warmer, the cooling technology will help balance it out and prevent people from sleeping hot.
Personal Opinion
There is a staggering $900 difference in price between a Queen P-6 mattress ($2,599.99) and a Queen M-7 mattress ($3,499.98 for a Queen).
As a person who does not rely heavily on memory foam for a good night's sleep, I would definitely go with the P-6 mattress over the M-7. In my opinion, there is still plenty of cushioning to balance out the firmness of the air chambers.
Almost every Customer Service person I talked to recommended the P-6 over the M-7, simply because the M-7 is really best suited for those who love memory foam and don't want anything else.
The P-6 is a great option for everyone who feels like they can get over not sleeping on memory foam. It's also a good choice for those who sleep hot and want a little cushion (it has 3" of contoured comfort foam built in).
Check out our Full Sleep Number analysis.
Katie Golde
Katie manages the day to day operations of the Mattress Clarity news site and reviews sleep products in addition to writing and editing sleep news. She hails from Austin, where she lives with her growing family. She is a Certified Sleep Science Coach and has a master's degree in Journalism from Northwestern University and has a background in health and science content. Her work can be found in print and online publications like Discover Magazine, USA Today and The Huffington Post.