Serta came out with a re-design of their iComfort mattresses and bedding sets. It features a collection of memory foam beds that are all about helping people sleep cool and stay comfortable, no matter what their sleep preferences are.
The memory foam line is split into two collections: Blue and Blue Max. The Blue 500 model is the top of the Blue collection in terms of plushness (and price). What else do buyers need to know about the mattress? Read on for our full guide to the Serta iComfort Blue 500 model.
Construction Overview
The Serta iComfort Blue 500 Model is 11.25″ thick, with a blue and white TempActiv™ Touch Cover on the outside of the mattress.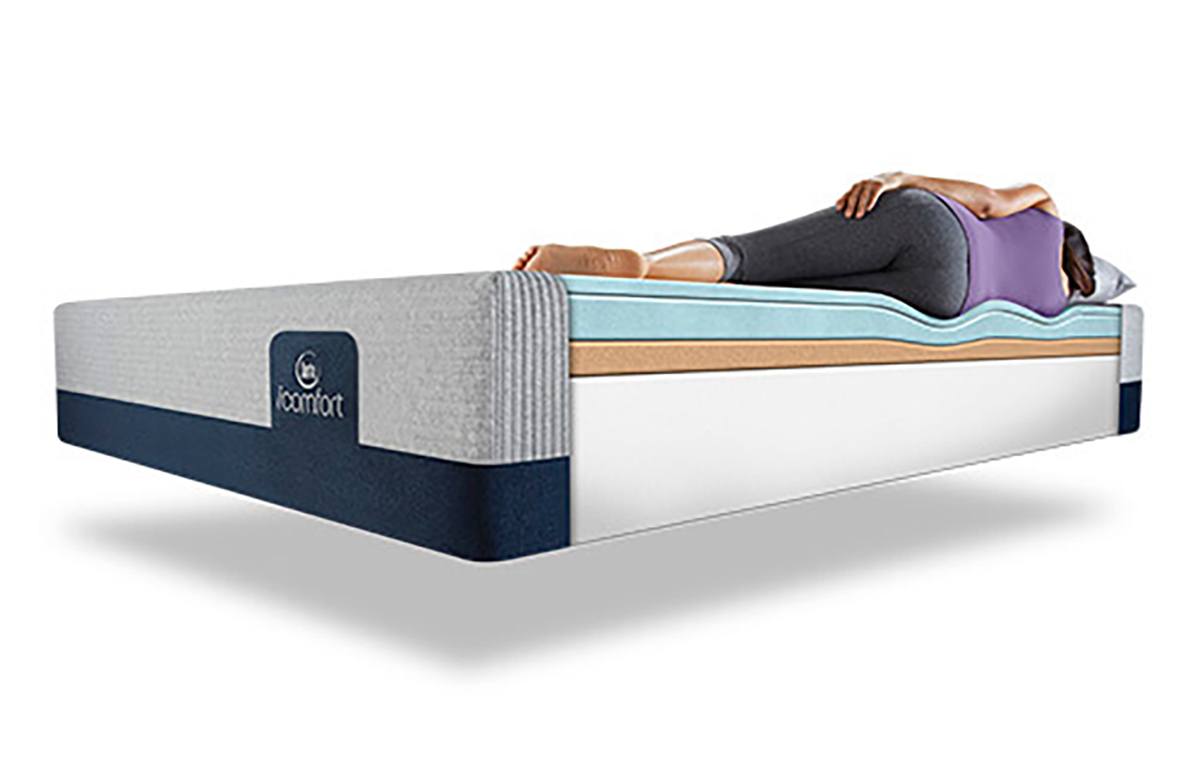 Serta iComfort Blue 500 Model
The four foam layers inside the mattress include:
.75" TempActiv™ Gel Memory Foam
2" EverCool® Fuze™ Memory Foam
1.5" EverCool® Supreme Memory foam
Plus, there is a support system of 7" Serta® Ultimate Edge® Foam Core inside the mattress.
Firmness Level
The Blue 500 Model is described as "plush" and lands at the soft end of Serta's firmness scale. It is very plush but the Blue Max 3000 Elite Plush is the plushest mattress within the iComfort line:

Plusher mattresses tend to be a good fit for side sleepers or those who need additional pressure relief.
This Mattress Might Work For …
Those who prefer a soft, plush mattress feel. This is on the softer end of the Serta offerings, it features an extra thick layer of EverCool® Fuze™ Memory Foam for supports every curve of the body. This bed is ideal for those who are looking for a mattress that is – well, plush!
Hot sleepers. There are a lot of specific design features that are intended to help sleepers stay cool. The thick, 2" layer of EverCool® Fuze™ Memory Foam has an open cell structure promotes airflow to reduce heat build-up. Plus, the Serta TempActiv™ Gel Memory Foam contains phase change materials (PCMs) that move heat away from the body during the night.
Side sleepers. Side sleepers tend to need a mattress that can contour to the body – especially in the areas that are feeling the most pressure – shoulders, hips, and legs. The 2″ EverCool® Supreme Memory Foam is high-density and designed to "cradle the body" according to Serta. It's a new material and only featured in their plusher models.
This Mattress Might Not Work For …
Fans of "bouncy" or "springy" mattresses. The Serta iComfort Blue 500 does not have springs like a traditional mattress. Instead, it's enveloping and solid and sleepers will sink into the mattress much more than they would with a hybrid or innerspring bed. Those who are transitioning from a more traditional innerspring to an all-foam bed may need to give it an adjustment period.
Those who want a firm mattress. This is one of the plushest mattresses available in the iComfort memory foam line. Stomach sleepers and those who prefer a good amount of firmness may want to consider the Blue 100 Gentle Firm or the Blue 300 Firm models.
People on a tight budget. This model retails for $1,599 for a Queen (mattress only). This makes it the most expensive mattress in the Blue line (Blue Max is more expensive). This plush mattress may not fit all budgets.
Most Common Pieces Of Praise
The layers of EverCool® Fuze™ Memory Foam provide cooling technology so that buyers enjoy comfortable temperatures at night instead of overheating.
The soft, plushy feel alleviates pressure and joint pain. Several people who experienced back pain in particular (either from age-related causes or injuries) found a lot of relief with this mattress.
Most Common Complaints
Some brand-new Serta iComfort Blue 500 mattresses may have an odor, caused by off-gassing. Buyers who reported an odor say it dissipated within a few days.
Adding a mattress topper may cause problems with the Serta iComfort 500 cooling technology. Putting a topper on top of the TempActiv™ Touch Cover and other cooling layers may prohibit the layers from keeping sleepers cool and cause the bed to feel hotter than it otherwise should.
There is a break-in period. Some customers felt that the mattress they received was firmer than the floor model but were encouraged to give it time – 30 days minimum is suggested– to break-in and get softer.
Why Pick This Over Other iComfort models?
The Serta iComfort Blue 500 mattress is one of the softest options in the Serta iComfort memory foam series of beds, making it ideal for side sleepers. It is a good choice if someone is set on a Plush iComfort memory foam mattress but want to spend less money than they would on the Blue Max 3000 Elite Plush ($2,299 for a Queen).
If someone is dealing with joint stiffness or pain-related issues from aging or injuries, many buyers who submitted reviews said they felt much relief sleeping on this mattress. Many of them also reported enjoying it on an adjustable bed, which allows sleepers to raise and lower the head/foot of the mattress to their liking.
Overall
The Blue 500 is the third most basic mattress in the 2017 Serta iComfort series. It contains three layers of memory foam, one layer of support foam, and a foam core. The cooling features include a layer of TempActiv™ Gel Memory Foam, a layer of EverCool® Fuze™ Memory Foam, and a TempActiv™ Touch Cover.
Based on customer reviews the bed seems to be a good fit for those suffering from back or joint pain or those who wanted a true "plush" bed. Because the 2″ of EverCool® Fuze™ Memory Foam are designed to contour to the body, it's most likely a nice choice for side sleepers as well.
All Serta iComfort series mattresses come with a 120-night in-home trial period.
Check out our comprehensive review of the Serta iComfort memory foam series, here. 
all images from Serta
The following two tabs change content below.
Katie Golde
Katie manages the day to day operations of the Mattress Clarity news site and reviews sleep products in addition to writing and editing sleep news.She hails from Austin, where she lives with her growing family. She is a Certified Sleep Science Coach and has a master's degree in Journalism from Northwestern University and has a background in health and science content. Her work can be found in print and online publications like Discover Magazine, USA Today and The Huffington Post.
Latest posts by Katie Golde (see all)