I can hear my dog snoring from the next room, snuggled up inside his donut-shaped bed and blissfully unaware of the world's problems. I envy that. But when I curl up inside the Plufl, I get to experience a bit of my dog's pampered life.
If you're thinking about buying the original dog bed for humans, keep reading our Plufl review. I personally tested this popular sleep accessory and assessed its construction, materials, comfort and support. 
Plufl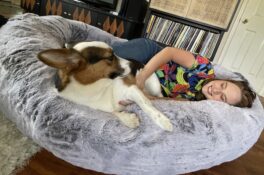 The Plufl is the original dog bed for humans, and it's perfect for mid-day cat naps.
Mattress Clarity Score
5.00 / 5
Read Full Review
Plufl Dog Beds for Humans: Pros and Cons
A few knockoffs have entered the marketplace, but Plufl is the original dog bed for humans. You may have watched their segment on Shark Tank, or maybe you've seen it pop up on TikTok. But is the Plufl worth it? Here's quick overview of the Plufl's pros and cons.
| | |
| --- | --- |
| Pros | Cons |
| Great for people with sensory issues | Not great for hot sleepers |
| Has machine-washable cover | Difficult to put together |
| Made with high-quality materials | May not fit everybody's aesthetic preferences |
| Has handles for easy mobility | Might not fit in everyone's budget |
My Experience
For me, setting up the Plufl was the most difficult part. Thankfully, my coworker Marten helped me put it all together. The entire process took 15-20 minutes, but once it was fully assembled, I could not get enough.
The memory foam is thicker than I expected – it's like your very own mattress topper! The plush pillow boosters reminded me of some of the body pillows I've reviewed, and altogether, I felt a great balance of comfort and support. But I'm not the only one who loves the Plufl. My corgi, Freddie, jumps into its soft fabric every chance he gets.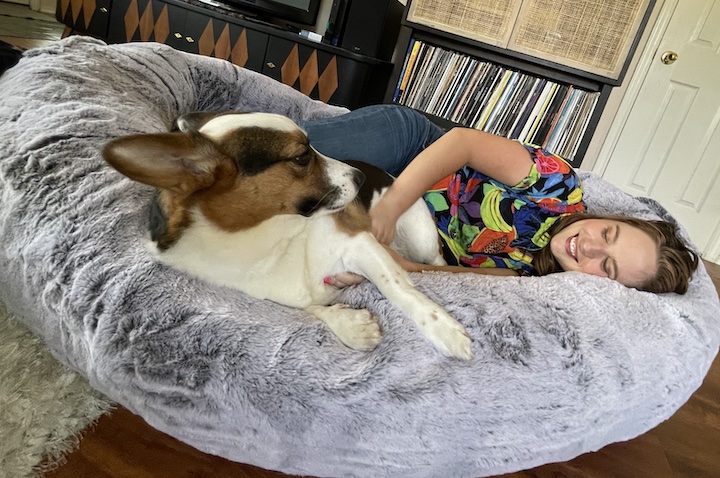 It's difficult to get out of the Plufl, and not just because it sits on the floor. Once I'm cocooned inside it, I never want to leave. The Plufl isn't just comfy – it's also a hilarious conversation starter. It's a cute addition to my music room, but it may not work for people who have specially-curated home decor. And because it contains thick memory foam and soft fabric, the Plufl may trap body heat and make some people feel stuffy.
Setting Up The Plufl
The Plufl consists of three separate pieces that are compressed and rolled into a box:
A memory foam pad
Two pillow boosters
Polyester plush fabric cover
Before putting the Plufl together, unroll the gel-infused memory foam pad and let it air out for 24-48 hours. You may notice a faint chemical smell at first, but it's no cause for alarm. This is quite common with memory foam, which is why many mattresses have off-gassing periods.
Next, place the polyester fabric cover on the ground and unzip all of the compartments. Slide the pillow bolsters through the two openings on the sides and zip them up. Then, slide the memory foam pad into the bottom compartment and zip up the sides.
Assembling the Plufl is not a one-person job. Because the pieces fit snugly inside the compartments, you'll need help from another person.
Plufl Size Chart and Pricing
| | | |
| --- | --- | --- |
| Dimensions | Weight | Price |
| 68" x 35" x 14" | 25 lb | 399.99 |
Plufl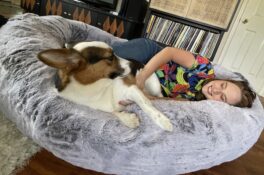 The Plufl is the original dog bed for humans, and it's perfect for mid-day cat naps.
Mattress Clarity Score
5.00 / 5
Read Full Review
Plufl Care Instructions
The polyester fabric cover is machine-washable. Just remove the outer cover and wash in cold water on the gentle cycle.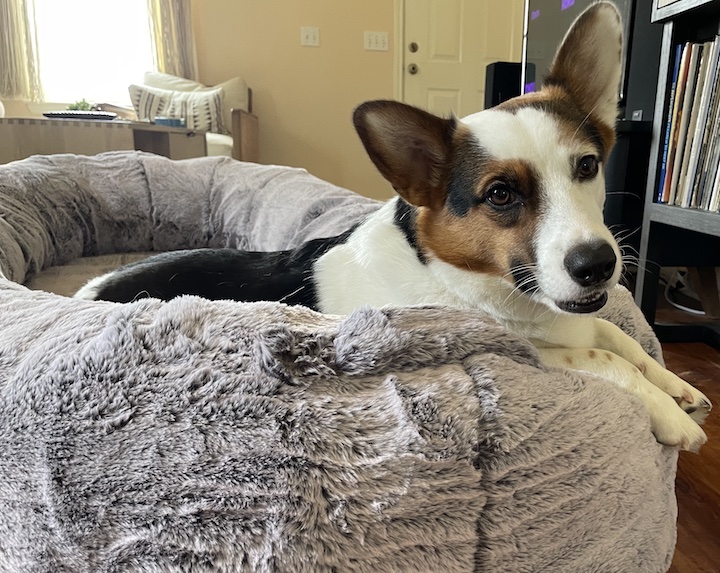 If you get the pillow bolsters or memory foam mattress pad dirty, immediately spot clean it with a solution made of equal parts hydrogen peroxide, liquid dish soap, and water. For more tips, read our full article about how to clean pillows.
Plufl Company Policies
You can't forget to read the fine print! Here's an overview of Plufl's company policies:
Shipping
Pluffl offers free shipping.
Sleep Trial
Customers have a 30-day trial period.
Returns
If you're unhappy with the Plufl, you can return it within the first 30 days and receive a full refund. 
Warranty
The Plufl is not backed by a warranty.
Customer Reviews
Amazon reviews are overwhelmingly positive. Customers love the Plufl's high-quality design and CertiPUR-US® certified foam pad. It's great for people who have sensory issues, and it works well for movie nights and camping trips.
That said, the Plufl may not be everyone's cup of tea. Marten, Mattress Clarity's lead reviewer, said the plush polyester fabric caused him to overheat. And as a person who is 6'7", the Plufl was a bit too small for him.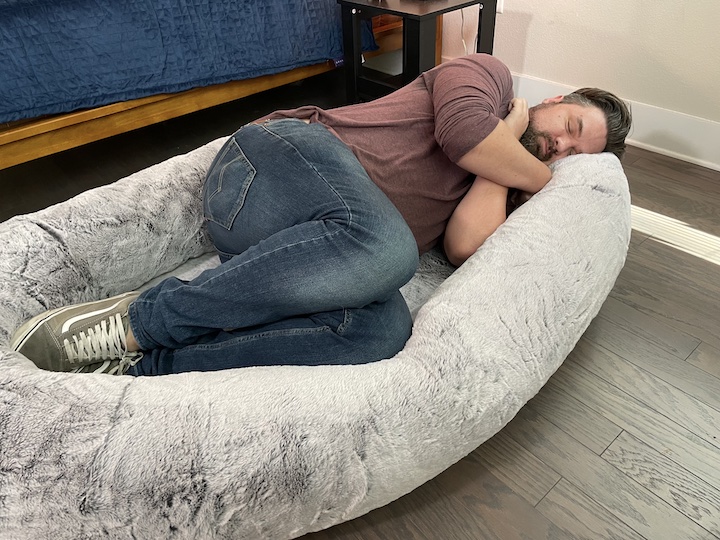 FAQs
How much does a Plufl cost?
What is the world's first dog bed for humans?
The Plufl is the world's first dog bed for humans. Many knock-offs have come into the marketplace, but Plufl is the brand that started it all.
What is an alternative to Plufl?
WROS, YAEM, and Homguava are three popular Plufl alternatives.