Editor's Note: Nectar no longer offers the Nectar Lush mattress. Take a look at our Nectar Premier mattress review to read about a similar model.
Fans of super comfortable memory foam have most likely heard of the original Nectar mattress; it is easily one of the most popular bed-in-a-box memory foam mattresses, and it is also one of my personal favorites.
Very recently, the company released a more luxurious mattress option, the Nectar Lush – it contains some higher quality components such as a cooling Phase Change Material technology. Having spent so much time with the original Nectar, I was interested to see how the Nectar would compare!
So, let's get down to brass tacks and find out just how the new Nectar Lush stacks up – read on for my full, unbiased Nectar Lush mattress review.
Nectar Lush Mattress Overview
Nectar is known for their high-quality mattresses and impressive company policies. Each bed is backed with a lifetime warranty, and customers get an extensive 1-year sleep trial. The company's original model, the Nectar, in an all-foam mattress with tons of cooling features.
But if you're looking for something a bit higher end, take a look at the Nectar Lush. This bed-in-a-box has an extra inch of comfort and tons of unique features. Let's take a closer look at this popular mattress!
Who Might Like The Nectar Lush?
Back sleepers
Side sleepers
People who prefer a medium firm mattress
Those who like memory foam
Who Might Not Like The Nectar Lush?
Stomach sleepers
Fans of firm or soft mattresses
Those who don't like memory foam
Nectar Lush Mattress Video Review
For an even closer look at the Nectar Lush mattress, check out our video review below.
Nectar Lush Mattress Firmness and Feel
In our mattress reviews, we always thoroughly review each bed's firmness level and feel. Is the Nectar Lush perfect for your sleep needs? Keep reading to find out!
How Firm is the Nectar Lush?
The Nectar Lush feels close to 6.5/10 on our firmness scale, just about medium-firm; the top comfort layer is very soft then, pressing in, one hits the transition layer and support foam which are noticeably firmer. Combining these three layers, the Nectar has a nice balance of comfort and support.
Sleeping On The Nectar Lush
The Nectar Lush is ideal for back sleeping; lying on my back, I sink in and feel the mattress take on the shape of my body. At the same time, the transition layer stops from sinking in too far and even provides some decent lumbar support.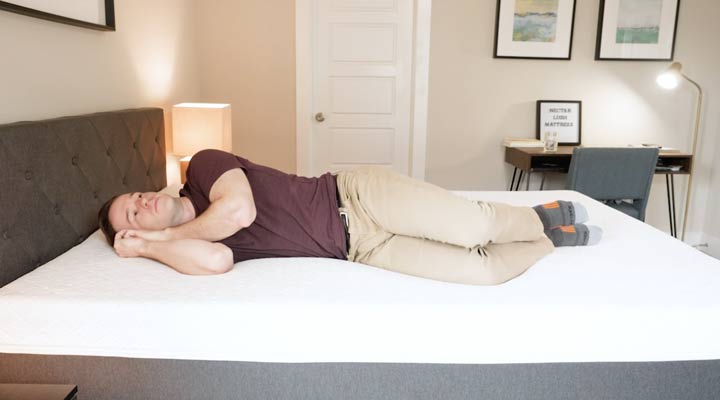 Moving to my side, the Nectar Lush is giving me enough pressure relief on my shoulders and hips; the memory foam is 3″ thick and lets me sink in without bottoming out. However, when I am stomach sleeping, this comfort layer is too thick, so the mattress is not providing me with enough support.
What Does the Nectar Lush Feel Like?
The mattress boasts that classic memory foam feel with just a bit of response. The top memory foam layer gives the mattress that slow-moving feel, but the Energex transition layer ensures that sleepers won't get stuck.
Average Weight Sleepers – 130lbs – 230lbs
When people are shopping for a mattress, it is crucial that they consider their own size and weight; that will affect how firm the mattress feels to them and how much support they receive.
Average weight sleepers should feel a good amount of support while back sleeping. The top memory foam layer gently contours the body, while the transition layer provides nice support for the lower back.
The Nectar Lush is also a great pick for average weight side sleepers. The 3″ memory foam layer provides excellent pressure relief for hips and shoulders, so side sleepers likely won't develop joint pain with use.
This mattress isn't the best pick for average weight stomach sleepers. Because of its medium firmness level, the Nectar Lush will likely feel too soft in this sleeping position. People in this category will want to find something firmer, like one of the best mattresses for stomach sleepers.
Heavyweight Sleepers – Over 230lbs
Back sleeping, the Nectar is a decent match for heavyweight people. A person in this category will likely sink into the top layer, feel the memory foam conform to the curves of their body, and get the support of the base foam.
Heavier side sleepers should feel some pretty great pressure relief from its top memory foam layer. The Nectar Lush is supportive enough to handle heavier weights, so people in this category probably won't bottom out on this mattress.
Most heavyweight stomach sleepers, however, will find the Nectar Lush is not supportive enough. People in this weight range will likely bow into the mattress and feel strain around their hips.
RELATED: best mattresses for heavy people
Lightweight Sleepers – Under 130lbs
For people who weigh less than 130 lbs, the Nectar Lush is a great match in all sleeping positions. Back sleeping, lightweight people should feel the gentle contouring from the memory foam as well as the support layers underneath. While side sleeping, people in this category should feel very little pressure on hips and shoulders. And while stomach sleeping, lightweight people should feel a good amount of support underneath their hips.
Nectar Lush Mattress Construction
Now, let's hone in on the Nectar Lush's construction and see what's inside each layer.
Cover
The Nectar Lush features a breathable cover made with high-quality fibers. Its construction helps dissipate heat and keeps the mattress feeling cool to the touch.
Comfort Layer
The top layer is 3" of memory foam that contains Phase Change Material on top. This is designed to keep the mattress cool throughout the night. Nectar Lush's top layer is soft and exhibits the slow-moving feel one finds with many memory foam mattresses.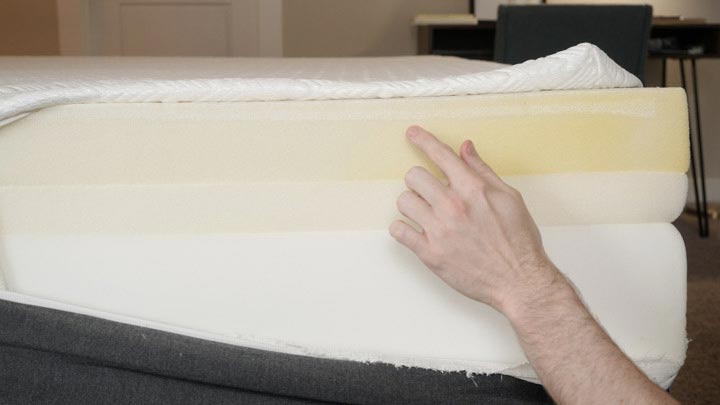 Support Layers
Next, there is a 2" transition layer made of Energex foam. This prevents sleepers from sinking too far into the mattress and getting stuck. Energex foam is firmer and more responsive than the memory foam comfort layer, so it will make it easier for sleepers to change sleeping positions.
Below that sits a base layer made with standard supportive polyfoam.
Mattress Height
The Nectar Lush is 12″ tall.
Nectar Lush Mattress Size Options and Price
Curious about the Nectar Lush's price and size options? Check out our chart below!
| | | |
| --- | --- | --- |
| Size | Dimensions | Price |
| Twin | 38 " x 75″ x 12″ | $1,398 |
| Twin XL | 38″ x 80″ x 12″ | $1,448 |
| Full | 54″ x 75″ x 12″ | $1,748 |
| Queen | 60" x 80" x 12" | $1,898 |
| King | 76" x 80" x 12" | $2,198 |
| California King | 72" x 84" x 12" | $2,198 |
If you're looking for something more affordable, check out our original Nectar mattress review.
Free Accessories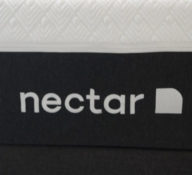 The Nectar Lush is a luxury memory foam mattress that should be a good match for side and back sleepers. You can get the best deal on the Nectar plus $399 of free accessories by using our coupon.
Nectar Lush Mattress Performance
We've learned about its firmness and feel. Now, let's see how well the Nectar Lush performs. We'll investigate its cooling features, motion transfer, edge support, durability, and more.
Sleeping Hot or Cold
Memory foam is known for trapping heat, but the Nectar Lush should not be a hot-sleeping mattress because it features a breathable cover and Phase Change Material in the top layer. PCMs like the one found in the Nectar Lush are designed to assist with heat dissipation – they absorb body heat and actually change their physical makeup to keep sleepers at a suitable temperature.
Motion Transfer
Couples definitely want to consider motion transfer when shopping for a mattress; if their mattress does not isolate their nocturnal movements, partners could disturb each other quite a bit. That's why it is a good idea for couples to find a mattress with thick memory foam on top.
Because of this, I was not surprised by how well the Nectar Lush isolated motion. I first placed a glass of water on one side of the mattress and then pressed into the other side; it barely moved. I also lay down on the mattress and requested that Marten move around on the other side, generating  a disturbance; I did not feel him moving around.
This lets me know that the Nectar Lush should be an excellent mattress for couples.
RELATED: Best Mattress For Couples
Edge Support
Couples are also going to want to keep edge support in mind when they are selecting a mattress because superb edge support will ensure that both partners can sleep all the way toward the edge of the mattress.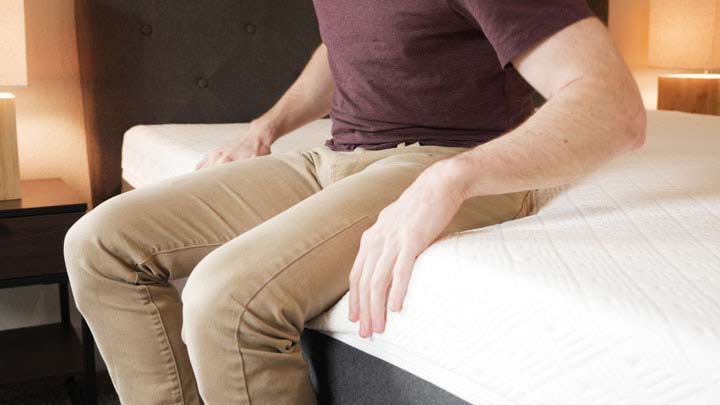 When I sit down on the edge of the Nectar Lush, the foam does collapse under my butt. That being said, I don't feel like I am going to fall forward off of the mattress. When I lie down near the edge of the Nectar Lush, the mattress is providing enough support so that I don't feel like I am going to roll off.
While I don't feel the type of edge support I have experienced on a firmer innerspring mattress, the Nectar Lush features some decent edge support.
See our best innerspring mattresses.
Durability
The Nectar Lush is made with some high-quality materials. Because of this, it should last for between five and six years.
Off-Gassing
When opening a new bed-in-a-box, it's common to notice a slight chemical smell. We call this off-gassing, and it was prevalent with the Nectar Lush. After about 48 hours, however, the smell completely faded.
Noise
We did not notice any noise when testing the Nectar Lush mattress. Because of its foam construction, we don't anticipate it creaking or creating sound over time.
Sex
Couples looking for the best mattresses for sex often want a bed that won't make them feel "trapped" inside the layers. You won't find the traditional bounce that's common with innerspring mattresses, but the Nectar Lush is pretty responsive and easy to move around on. Because of this, it would be a good option for getting intimate.
Overall Rating
So how does the Nectar Lush rank overall? Take a look at our final scores below!
Company Policies
Before buying a new mattress, it's always a good idea to look at the company policies. Below, we've outlined Nectar's warranty information, sleep trial, and return policy.
Warranty Info
The Nectar Lush is backed by a lifetime warranty.
Sleep Trial
Nectar offers a 365-night home sleep trial.
Return Policy
If you aren't happy with your Nectar mattress within the first year, you can return it for a full refund.
Common Nectar Mattress Complaints
While there are many positive reviews about the Nectar, we did come across a few complaints about the company. Most of the time, these issues related to Nectar's customer service. Many shoppers noted long delivery times and unanswered emails.
RELATED: Best Online Mattress
How Does The Nectar Compare To Other Mattresses?
Chances are, you want to look at several different mattress brands before making a final purchasing decision. Let's see how the Nectar Lush compares to some of the other popular models on the market!
And for more in-depth information, check out our mattress comparison page to compare Nectar to other mattresses like Amerisleep and Brooklyn Bedding.
Nectar Lush Vs. Nectar
The Nectar Lush contains some higher quality materials like Phase Change Material and a layer of Energex foam. The PCM dissipates body heat, helping to keep sleepers cool at night, and the Energex foam adds a bit more bounce to the mattress.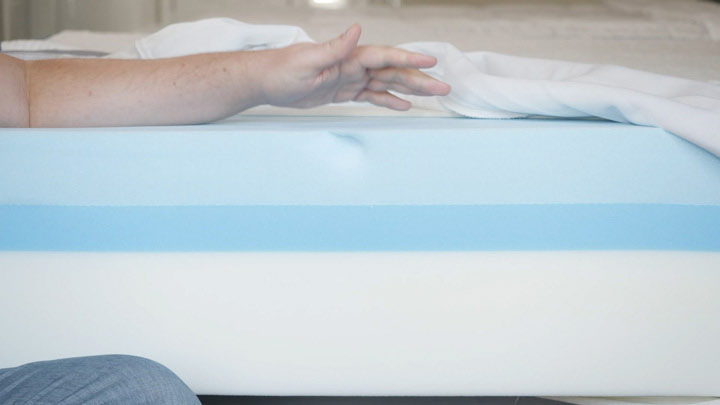 The original Nectar mattress has a classic memory foam feel and, while it does contain soft memory foam, the Nectar Lush is more responsive; it should be easier to move around on the Nectar Lush without getting stuck. The Nectar is also a bit softer than the Nectar Lush because it features a thicker memory foam layer on top – sleepers should sink into the original Nectar more than they do on the Nectar Lush.
The Nectar Lush should be more supportive than the Nectar mattress, making it a good mattress for back sleepers who require more support. This should apply to heavier back sleepers as well.
Who Should Get The Nectar Lush?
Those who like a more responsive mattress
People who want a more supportive mattress
Sleepers who want a higher-quality mattress
Who Should Get The Original Nectar?
People who like to sink into their mattress
People who prefer a softer mattress
Those who want to save some money.
Read our full Nectar vs Nectar Lush comparison.
Nectar Lush Vs. Original Casper
Unlike the Nectar Lush, the Original Casper mattress has two different models to choose from. Customers can pick between the all-foam Casper and the Casper hybrid that's made with foam and springs. But that isn't the only difference. The Casper also features zoned support in the top comfort layer. This means the bed feels firmer toward the center of the mattress and softer toward the top and bottom. In fact, the Casper is one of the best mattresses for back pain and sciatica.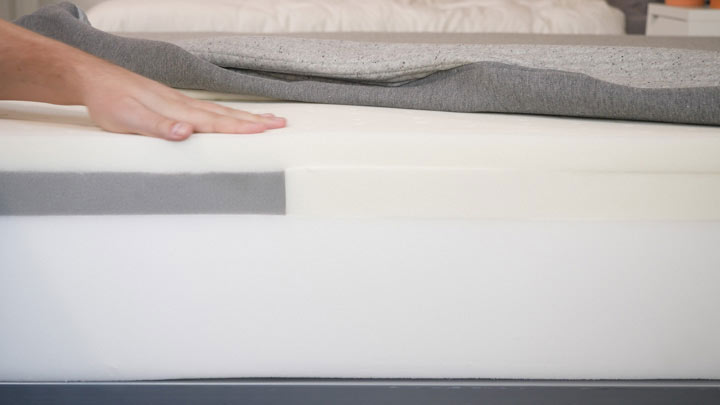 In terms of firmness, the all-foam Casper feels like a 7/10 and the Nectar Lush feels like a 6.5/10. Both mattresses are good choices for side sleepers, but stomach sleepers will want to look for something firmer. The two mattresses have a similar feel, but the Casper is slightly bouncier. Fans of a slower moving memory foam feel will prefer the Nectar Lush.
If you're looking for premium cooling features, the Nectar Lush is the way to go. The Nectar also offers a longer warranty and sleep trial period. The Casper is slightly more affordable than the Nectar Lush, but coupons can bring the prices down significantly.
Who Should Get The Nectar Lush?
Hot sleepers
Fans of a slow-moving memory foam feel
Those who want a higher end mattress
Who Should Get The Casper?
Those who want a choice in mattress construction
People with lower back pain
Those who want to save a bit of money
Read our full Casper mattress review.
FAQs
Need something cleared up? We've answered some of the most frequently asked questions below.
Do Nectar mattresses get softer?
Memory foam mattresses can lose their shape and firmness over time, and the Nectar is no different. After several years of use, owners might start to notice the mattress is softer and not as supportive as when they first purchased it.
Are memory foam mattresses any good?
Memory foam mattresses can be an excellent choice depending on one's sleeping preferences. For instance, those who sleep on their side and like to sink into their mattress are going to love the memory foam. On the other hand, people who sleep on their stomach and prefer to rest on top of their mattress might not find it to be the best fit.
Do Nectar mattresses need a box spring?
Nectar mattresses do not necessarily require a box spring. A flat frame or bed with wooden slats should be all that is necessary to support their Nectar mattress.
How long will the Nectar Lush mattress last?
The Nectar Lush contains some more durable materials than what is found in the original Nectar mattress; because of this, it should last for between five and six years. This does depend on the weight of the owners and how much they use the Nectar Lush mattress.
Joe Auer
Joe Auer is the editor of Mattress Clarity. He mainly focuses on mattress reviews and oversees the content across the site. He likes things simple and takes a straightforward, objective approach to his reviews. Joe has personally tested nearly 250 mattresses and always recommends people do their research before buying a new bed. He has been testing mattresses for over 5 years now, so he knows a thing or two when it comes to mattress selection. He has been cited as an authority in the industry by a number of large publications. When he isn't testing sleep products, he enjoys working out, reading both fiction and non-fiction, and playing classical piano. He enjoys traveling as well, and not just to test out hotel mattresses! Joe has an undergraduate degree from Wake Forest University and an MBA from Columbia University.