I've never seen anything quite like the Moon Pod – true, I have spent many an hour sitting on bean bag chairs, but this is different.
After finding great success with the Gravity Blanket, creator and entrepreneur John Fiorentino launched another highly successful Kickstarter campaign for the Moon Pod. The Moon Pod is designed to provide a zero-gravity experience similar to what one would find when doing flotation therapy – for those who are unfamiliar with the term, one floats in a sensory deprivation chamber to reduce anxiety and boost creativity.
As someone who struggles with anxiety, I was interested to see if the Moon Pod would give me that zero-gravity experience at home; to find out more about this utterly unique piece of furniture, read on for my full Moon Pod review!
Moon Pod Review: Video Overview
The Moon Pod Might Work For …
Small and medium-sized people who want something for any position. Those who are are not too large should feel very comfortable and supported while sitting, lounging, or lying on the Moon Pod – this is a very versatile, high-end bean bag chair.
People who want the zero-gravity experience at home. As I said above, flotation therapy can have certain benefits such as increased creativity and decreased anxiety – the Moon Pod could offer this experience for significantly less than a subscription to a flotation therapy office.
Those who want something easy to keep clean. The Moon Pod comes with a removable cover that can be washed and dried at home – this makes it particularly easy to maintain the Moon Pod and clean and dirt or hair that it attracts.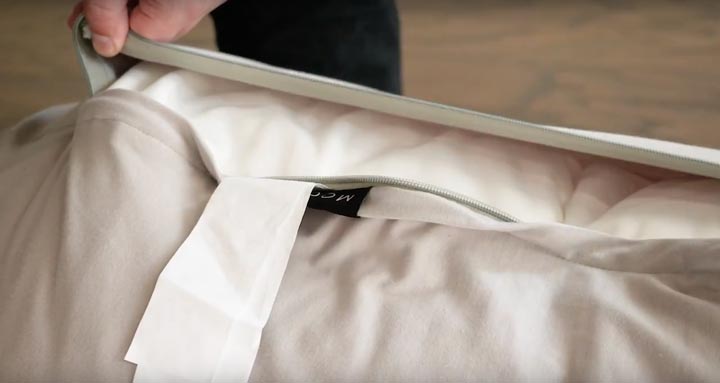 The Moon Pod Might Not Work For …
Those who are looking for something more affordable. The Moon Pod comes with a relatively high price – $400 without discounts – again, this is a high-end, versatile chair with some great features, but it might outside of some shoppers' budgets.
Larger people. While I found the Moon Pod to be comfortable while lounging, I was too big for the chair while sitting or lying down. Larger people might not get all the support in a few positions and, since the Moon Pod is made to handle only 300 lbs, heavier people might need to look elsewhere as well.
People with mobility issues. Getting out of the Moon Pod is no easy task, and people who have significant trouble moving around might need help. Even those without mobility issues could find it difficult to push themselves out of the Moon Pod.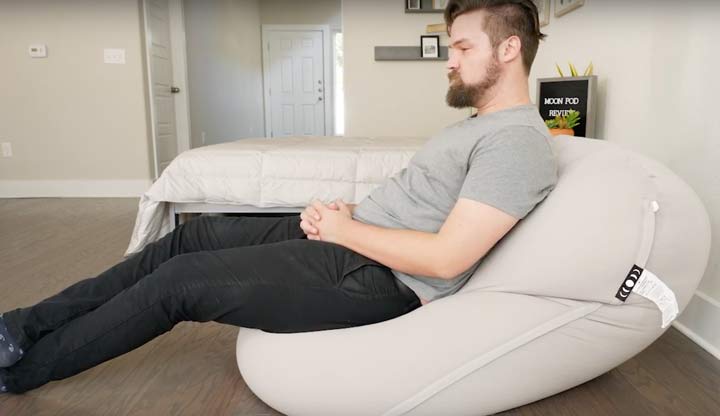 Moon Pod Design and Construction
Let's discuss what makes the Moon Pod the Moon Pod. First of all, it's available two sizes. The original Moon Pod seats one person, takes up four square feet, and weighs 12 lb. The Super Moon Pod consists of two original Moon Pods that are zipped together with a flexible cover, and it weighs about 24 lb.
A removable cover surrounds the Moon Pod and comes in five color options: Space Grey, Cosmic Ash, Rose Quartz, Neptune Blue, and Moon Indigo. Whatever cover you choose, it will be made of a very stretchy blend of spandex, polyester, and cotton.
The Moon Pod's inner cover is made of a stretchy blend of spandex and polyester – the dual membranes hold in the Moon Pod's fill, a proprietary, custom-made EPS beads. EPS (Expanded Polystyrene) beads are what one finds in pretty much all bean bags, but these proprietary beads are designed to offer ergonomic support and comfort and provide a true weightless feeling.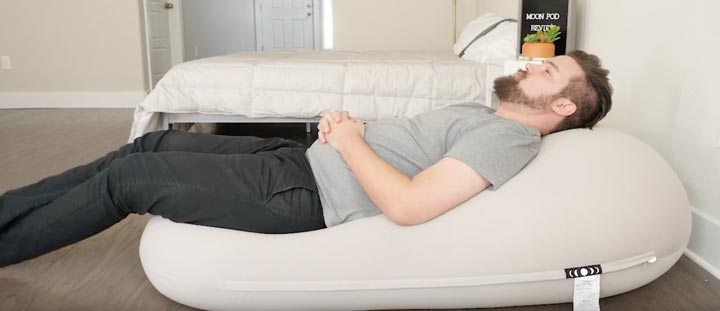 The Moon Pod's removable cover can be thrown in the washer at home – the company recommends washing on cold with like colors and tumble drying on low heat.
My Experience with the Moon Pod
Most readers probably want to know what the Moon Pod feels like – well, it's unique, to say the least. Lying back on the Moon Pod, the chair conformed to the shape of my body and, even though I weigh 250 lb, I don't drop right through to the floor. The fill seemed to mass together to support me, but it did let the heavier parts of my body sink in – it is difficult to explain but suffice it to say, I did feel pretty weightless while using the Moon Pod.
The Moon Pod did feel different depending on what position I was is; sitting on the Moon Pod at more of a 90-degree angle, my head and shoulders rose well past the top of the Moon Pod. Again, I am a much taller person (6'7″) so I feel like I need something with a somewhat taller back to give me support on my shoulders and possibly even my neck.
I felt best when I was lounging on the Moon Pod – the fill pressed up into my lumbar area and the space near my head and neck felt firm and supportive. I even felt the fill supporting my neck, and I also felt most weightless when I was in this position.
Lying down on the Moon Pod, I was again too large – my thighs, knees, and lower legs extended onto the ground so, while the top half of my body felt weightless, the rest did not. Still, my 5-year-old nephew who is obviously much smaller than me loved lying down on the Moon Pod.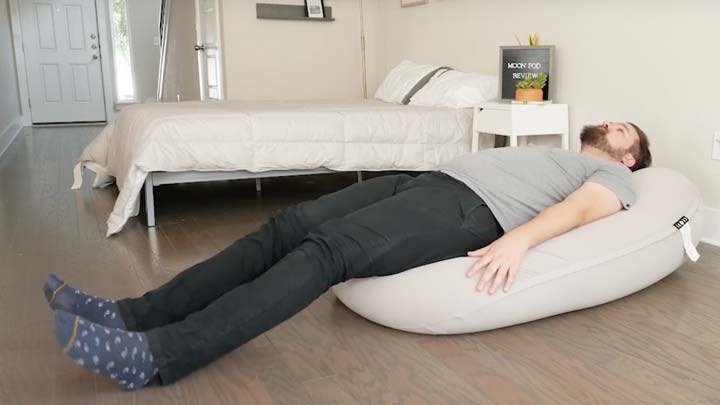 Generally, the Moon Pod is very comfortable, and I felt very relaxed while lounging on it – while it was quite difficult to actually get up after using the Moon Pod, I felt some nice tingles in my legs and I was somewhat clear-headed as well.
Also, the washable cover is a big plus because this thing attracts all kinds of dirt, hair, and other stuff; I bought a lint roller, and I also had to wash it very often.
Original vs Super Moon Pod
Not sure which one will best suit your needs? Our handy chart and pros and cons list will help you figure that out.
| | |
| --- | --- |
| Original Moon Pod | Super Moon Pod |
| $399 | $675 |
| 50-56" x 20-24" x 20-24" | 50-56″ x 40-48″ x 40-48″ |
| 12 lb | 24 lb |
Who Should Get The Original Moon Pod?
Folks who want to save money
Those who don't want to share the Moon Pod
Who Should Get The Super Moon Pod?
Couples who want to sit on the chair together
People who have more space
Final Thoughts
The Moon Pod is one of the most interesting chairs I have ever tried, and it should be a great match for people who want that true weightless feeling. However, the Moon Pod is pretty pricey and costs more than many other bean bag chairs out there.
FAQs
What is a Moon Pod?
The Moon Pod is a high-end, advanced version of a bean bag chair. It is designed to give you the perfect amount of support whether you are sitting, reclining, or lying down.
What are Moon Pods filled with?
Moon Pods are filled with high-friction custom beads. These are meant to offer you a weightless feeling when you lie down on the Moon Pod.
What does the Moon Pod feel like?
The Moon Pod has a very unique feel that provides users with a somewhat weightless feeling; people will feel like they are sinking in, but they also get some fantastic ergonomic support from the Moon Pod.
How much does the Moon Pod cost?
At full price, the Moon Pod costs $399.
Can I sleep on the Moon Pod?
Yes! In fact, the Moon Pod should be an excellent option for those who want to lie back for a nice afternoon nap; the Moon Pod offers a zero-gravity experience that should make it very easy to drift off into a particularly comfy slumber.
How long will the Moon Pod last?
According to the company, the Moon Pod is quite durable and should last for a number of years; they also offer replacement covers and will soon be offering replacement fill.
Is the Moon Pod worth it?
Although the Moon Pod comes in at $399 at full price, it provides a unique experience that a traditional bean bag can't really compete with. This may not be the best fit for larger people or those with mobility issues (it can be difficult to get out of the chair), but if you are a small or medium-sized person, the Moon Pod can be quite comfortable!