Mattress shopping can be a daunting affair. If you look online, there are thousands of mattresses to consider. Where are you even supposed to start?
Let's say you've narrowed your search to the Tuft & Needle Mint and Casper mattresses. Well, I'll tell you that you are already in a very good spot. These are two very popular bed-in-a-box mattresses and, having reviewed them both, I can say they are very high-quality.
Now, you have a decision to make. Will it be the Mint or the Casper? To help make your decision an easy one, let's compare these mattresses and find out which is the one for you.
CHECK PRICES

Tuft & Needle Mint

Follow the link for the best deal on Tuft & Needle. 
A good fit for side sleepers. 
Light- and medium-weight sleepers should find it to be a good match.

Save 10%

Casper

Click the button to save 10% on your purchase.
A great match for back and stomach sleepers. 
Should work for those who switch positions at night. 
Key Similarities
These are both all-foam mattresses and features many similarities in their construction.
They are both 12" thick, have a balanced foam feel, and are both softer mattresses.
They are sold for pretty much the same price, even when incorporating available discounts.
Key Differences
They feature some different materials in their construction, such as memory foam and soft polyfoam for Casper and Adaptive foam for Tuft & Needle.
The Casper has four layers, but the Mint has a much more simplified construction with three layers.
The Casper has a Zoned Support system, but the Mint does not, meaning the firmness of the feel of the Mint is more consistent.
The Mint has a uniform feel, but the Casper will feel firmer or softer depending on your sleeping position.
RELATED: Best Mattress 2019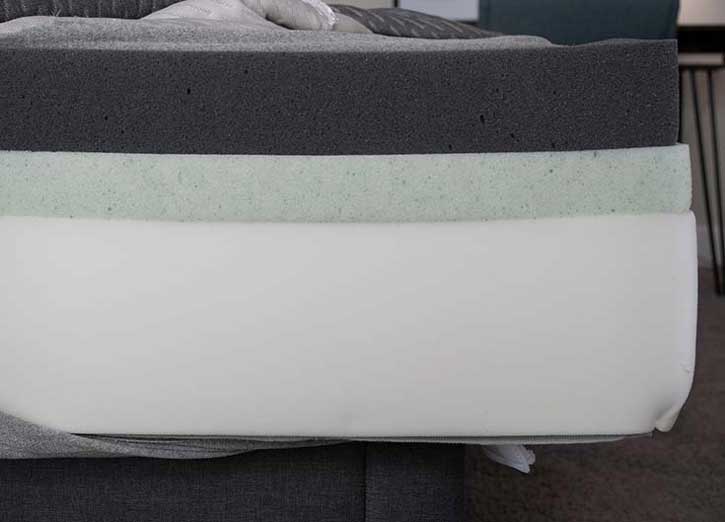 Mint Construction
The Mint is 12" tall and features three distinct layers.
First, you have a soft, knitted cover that contains antimicrobial protection.
The top layer is 3" of Adaptive Foam, which is a foam that is supposed to have great pressure relief but also be immediately responsive and breathable.
Then, there is a 2" layer of an adaptive transition layer that prevents side sleepers from bottoming out and feeling the firmer support layer beneath.
On the bottom, there are 7" of a standard base polyfoam that is seen in many other bed-in-a-box mattresses on the market.
Read the full Mint mattress review, available here.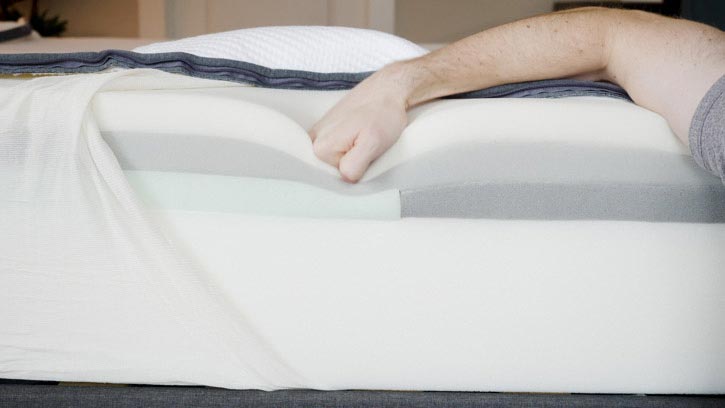 Casper Construction
The Casper is 12" tall and features four distinct layers.
The cover is soft and thin and also doesn't affect the overall of the mattress significantly.
The first layer is 1.5" of latex-like foam that is both soft and fairly responsive.
Next, there is 1.5" of fast-reacting memory foam, which provides additional pressure relief to the mattress.
Then, there is 1.5" of zoned transition foam, which is firmer in the middle and then softer underneath the shoulder area.
The base contains 7" of support foam, which is also a pretty standard layer for bed-in-a-box mattresses
Read the full Casper mattress review, available here.
Construction Differences/Notes
The Mint's Adaptive Foam feels like a combination of memory foam and latex. It is soft and offers nice pressure relief. At the same time, it has a good amount of bounce so you shouldn't get stuck.
The Casper's top layer also has latex and memory foam-like qualities. It is soft and will let you sink in, but it is also very responsive.
The Adaptive Foam is infused with graphite. Graphite can help with heat dissipation. This should keep you from sleeping too hot on the Mint.
The Casper features open-celled foams. This allows the mattress to breathe so it doesn't trap so much heat. The Casper should also be a cooler-sleeping mattress.
The Casper's transition layer is zoned. This means that the center of the mattress is firmer. This Zoned Support system is meant to give you more support when you are on your back and stomach and more pressure relief when you are on your side.
Their constructions give both mattresses a balanced foam feel. They are both soft yet responsive. However, the Zoned Support in the Casper should work better for larger people or those who have extra support needs.
Firmness/Feel Differences
In terms of firmness, both of these mattresses are close to a 6/10. They both have some soft top layers, and it is easy to press one's hand in. However, with its Zoned Support, the Casper might feel a bit firmer or softer depending on someone's sleeping position. That being said, both of these mattresses are softer-than-average.
Let's look at how it feels generally sleeping on both mattresses, starting with the Mint:
Starting on my back, the Mint is a pretty good match for me. I feel like I am getting enough support in this position, and my hips sink in just the right amount.
Moving to my side, I feel fantastic pressure relief on the Mint. The Adaptive Foam is relieving most of the pressure on my shoulders and hips. I feel very comfortable side sleeping on the Mint.
However, when I sleep on my stomach, the Mint is too soft for me. I need more support, especially on my hips.
Here is how its generally feels sleeping on the Casper:
Back sleeping on the Casper, the mattress is very supportive. The Zoned Support in the transition layer is supporting the lumbar area and the hips are sinking in a bit. I feel more supported sleeping on the Casper than with the Mint, and it is the best mattress for back sleepers.
When I am on my side, the mattress feels softer under the shoulders and hips. It is a good match for side sleeping, but I feel just more comfortable side sleeping on the Mint.
Stomach sleeping, I am getting more support on the Casper than on the Mint. The Zoned Support is supporting the hips and I also feel nice overall support.
Both mattresses have a balanced foam feel. They are both soft, yet responsive. However, the Casper is going to feel just a bit different because of its Zoned Support. It is softer in some areas and firmer in others, while the Mint, on the other hand, has a uniform balanced foam feel.
Take a look at what I thought of the Mint's firmness and feel in the video below.
Now, see what I felt about the Casper.
Motion Transfer Differences
If someone is looking for a mattress for themselves and their partner, they are going to want to consider motion transfer. When they move around at night, will their partner feel every move that they make, and when they move around, will they be disturbed?
I performed a few tests on both mattresses to see how well each handles motion transfer. I first placed a glass of water near the center of both mattresses, and when I pushed into the other parts of both mattresses, I did not see too much disturbance with either mattress.
I also lay down on both mattresses and asked Marten to move around on the other side of the mattress. He got into bed, rolled around and changed positions, and I did not feel too many of his movements on either mattress.
All in all, both the Mint and Casper handle motion transfer quite well and should be good mattresses for couples.
See how the Mint deals with motion transfer in the video below.
Now, compare this to the Casper's motion transfer from the video below.
Edge Support
For those of you who do sleep with a partner, it is also worth thinking about edge support. which is an indicator of whether someone can sit or sleep near the edge of the mattress without feeling like they are going to fall off.
Sitting near the edge of both mattresses, I do feel secure, and when I lie down near the edge of both the Mint and Casper, I don't feel like I am going to roll off either mattress.
That being said, the edge support is just a bit better on the Mint. The mattress actually features an enhanced edge support system so it's a little easier sleeping toward the edge of the Mint.
People can see the edge support differences in the photos below, which also highlight that the edge support isn't necessarily the best.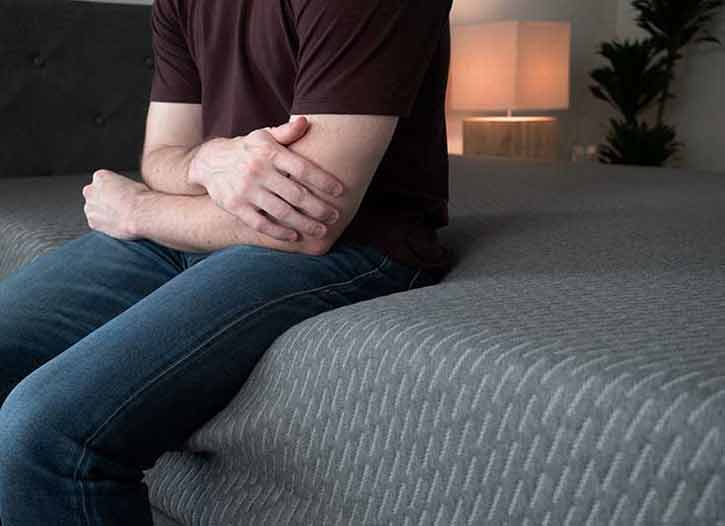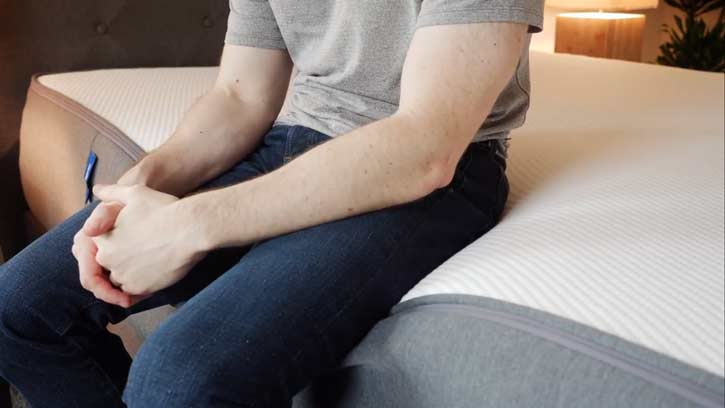 Marten's Take
Finding the right mattress can really depend on someone's weight for multiple reasons. Since I am 5'9" and 160 lbs, I think it is important to get the perspective of a larger person. That's why I asked Marten, who is 6'7" and 230 lbs, to talk about his own experience with the Mint and Casper and how appropriate they are for heavier sleepers.
Joe said both these mattresses were a 6/10 in terms of firmness, but I personally thought they were closer to a 7/10. I'm a larger person than Joe so I press further into these mattresses, and because of this, the mattresses feel firmer to me.
Here is how it feels sleeping on the Mint:
Back sleeping on the Mint, the mattress is a decent match for me, but I do feel like my hips are sinking in too far.
Moving to my side, I am pressing pretty far into the mattress and feeling some serious pressure on my shoulders and hips.
Stomach sleeping, the Mint is not supportive enough for me, because I am bowing in at the hips and not getting the overall support I require.
Here is how it feels sleeping on the Casper:
The Casper is a very nice match for me when I am on my back, because the Zoned Support is holding up my lumbar area while my hips sink in just a bit.
Side sleeping, I feel some more pressure than Joe did, but it is less pressure than I felt on the Mint.
On my stomach, I am bowing in a little bit at the hips, I am getting better support than I got on the Mint.
If someone is a heavier back sleeper, both could work well for them. Still, I personally preferred the Casper, so if someone is a heavier side or stomach sleeper, they should probably lean toward the Casper.
It's not particularly surprising that Marten preferred the Casper for both back and stomach sleeping, but I am a bit surprised that he preferred the Casper for side sleeping. Perhaps he is just too heavy for the Mint and bottoms out while side sleeping.
See our best mattresses for heavy people for more options.
Pick Mint If…
You are a side sleeper- The Mint is the best mattress for side sleepers between the two. The Casper felt nice on the side, but I feel a bit better pressure relief on the Mint.
You are a light- or medium-weight sleeper- If someone is not on the larger side, the Mint should work for them. They don't have the support needs of a larger person so the Mint should give them all the comfort and support that they need.
You prefer to sink into your mattress- Lying on top of the Mint, people will definitely sink in more than they do on the Casper. If someone likes to sleep more "inside" their mattress, the Mint is the way to go.
Pick Casper If…
You are a combination sleeper– If someone sleeps in different preferred positions or switches positions throughout the night, the Casper may be the more ideal option. The Zoned Support offers the support you need when you are on your back and stomach and some nice pressure relief when you are on your side. People should feel supported and comforted in all three sleeping positions no matter how much they weigh.
You are a back sleeper- The Zoned Support also makes the Casper ideal for back sleeping, because the center of the mattress is firmer, so people will get fantastic lumbar support. At the same time, the hips will sink in just a bit, and the top foam layers will contour quite well to the shape of the body.
You are a stomach sleeper- While these mattresses are similar in terms of firmness, the Casper's Zoned Support makes it a better match for stomach sleeping. It will provide more support under the hips so that people stay in proper, neutral spinal alignment.
Overall
If people consider the information laid out above, they should be able to choose wisely between the Mint and Casper mattresses. If anyone has additional questions about either mattress, they check out the individual reviews both on this website and on the YouTube channel. Consumers should read through this article multiple times, assess their own characteristics and preferences, and then they can make a more informed decision.
Marten Carlson
Marten is Senior Editor at Mattress Clarity. He covers the mattress industry as well as sleep science news. He is specifically interested in the connection between sleep and overall health. Marten has written for media publications like Consequence of Sound and received a master's degree in Film Studies from Emory University. He comes from Franklin, Indiana, and spends all the time he can writing, directing, and acting in films. He has directed genre short films and features. His newest film, Starlets, recently premiered at the River Town Film Festival in Clinton, NJ. He also stars in the upcoming thriller, Sour Bear. His next film, At The Hop, is a hot rod actioner with a horror twist.