It's time to get in the zone. which in the case of mattresses of course means zoned construction. Most mattresses with zoned construction are designed to offer more support when people are back and stomach sleeping and additional comfort when they are on their side.
The Level Sleep and Casper are two of the most popular mattresses that feature a zoned constructions, so many consumers wonder which mattress will be most appropriate for them.  This mattress comparison will do a deep dive into the construction and then highlight the main similarities and differences between the two mattresses to help people make a more informed purchasing decision.
Save 20%

Level Sleep

Click the button and use code CLARITY20 to save 20%
A mattress designed to deal with back pain.
A great option for back sleepers of many sizes.

Save $100

Casper

Use the code "MATTRESSCLARITY" to save $100 on your order!
A great match for heavier sleepers
Should relieve pressure for side sleepers
Key Similarities
The Level Sleep and Casper are both very popular mattresses with a significant number of reviews consumers can check out.
They are both all-foam mattresses with no support coils.
Both companies offer some impressive customer service terms such as sleep trials and warranties.
They are both two of the best mattresses for back sleepers.
They both feature zoned construction that makes the center of the mattress firmer, and different parts of the mattress softer.
They should both a good mattress for combination sleepers because of the smart zoned construction.
Key Differences
If you take discounts into account, the Casper will typically be more affordable than the Level Sleep.
The Casper is taller than the Level Sleep overall.
The Casper has four layers, with a memory foam and a latex-like layer, but the Level Sleep only has two.
Both mattresses have a zoned construction, but the zoning is more pronounced in the Level Sleep.
The Level Sleep is specifically designed to prevent and alleviate back pain issues, but the Casper is not.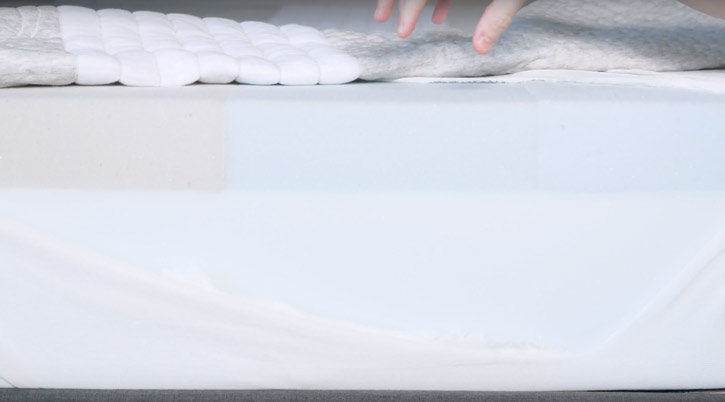 Level Sleep Construction
The mattress is 10" tall and consists of two polyfoam layers.
The Level Sleep's cover is also soft and thin and generally won't affect the feel of the mattress too much.
The first layer is a Tri-Support comfort layer and is 3" thick and features three different zones.
7" of base polyfoam makes up the bottom layer.
Read the full Level Sleep Review, available here.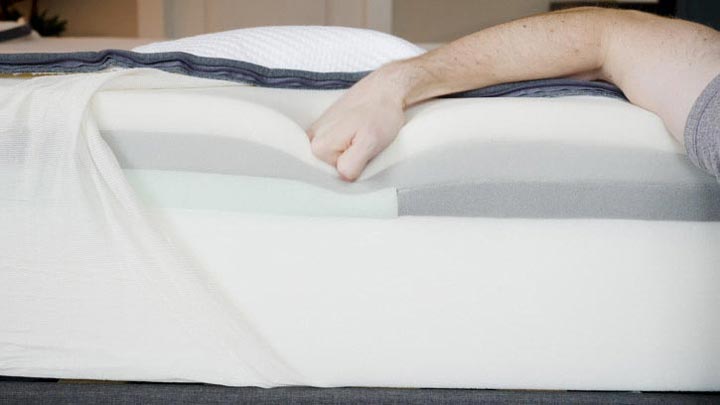 Casper Construction
The Casper is 12" tall and features four different layers.
The mattress's cover is soft and thin and also won't affect the overall feel of the mattress too much.
The first layer is 1.5" of responsive, open-celled foam that resembles latex.
Below that is 1.5" of memory foam, giving the mattress extra pressure relief and contouring.
Then, there is a 1.5" transition layer that features Zoned Support, where the middle of the mattress is firmer and the shoulder area is softer.
The base layer is made up of 7" of support foam.
Read the full Casper mattress review, available here.
Construction Differences/Notes
As I mentioned above, the zoning is going to be different with these mattresses. The Casper has a center zone that is firmer than the rest of the mattress. However, the center zone on the Level Sleep is very firm but the shoulder zone is very soft, and the bottom zone under the knees and legs is firmer than the shoulder zone.
So, the firmness of each zone on the Level Sleep varies greatly. On the Casper, the firmness difference between these zones is much less pronounced. Also, there are three zones in the Level Sleep and only two in the Casper.
While the zoning is more pronounced in the Level Sleep, the basic idea is the same. The zoning on both mattresses is meant to provide more support when you are back and stomach sleeping and more comfort when you are side sleeping.
The Level Sleep is designed specifically to deal with back pain. Level Sleep spent years creating the mattress to both prevent and lessen back pain.
The Casper has more layers than the Level Sleep. Because of this, it should be a better match for larger sleepers. The Level Sleep has the top zoned layer, and then you hit the support layer. Heavier side sleepers might have less of a chance of bottoming out on the Casper.
RELATED: Best Mattress
Firmness/Feel Differences
First off, as I mentioned, both these mattresses are zoned. So, they are going to feel a bit firmer or softer, depending on what position you are in. That being said, in general, the Casper feels like a 6/10, a bit softer than average.
It is more difficult to give a one-number score for the Level Sleep because the zones vary so much in terms of firmness. For me, the shoulder zone feels like a 5/10, the lumbar zone feels like an 8/10, and the final zone feels like a 7/10. Those are some pretty big differences!
So, let's talk about how this construction makes me feel while sleeping on the Level Sleep:
Lying on my back, I can really feel that firm lumbar zone. It is pressing up into my lumbar area and giving me great support there. My hips are also sinking in just a bit, and the mattress is just supportive overall. The Level Sleep feels fantastic when I am on my back.
Now, when I am side sleeping on the Level Sleep, that lumbar zone is filling up the gap between my rib cage and hips. It is helping to keep my spine aligned. At the same time, that softer shoulder zone is relieving pressure under my shoulder. I'm not sure that heavier people will have the same experience, however. They could drop right through that zone and feel more pressure on their shoulders.
Stomach sleeping, that lumbar zone is holding up the center of my body. While the shoulder zone of the mattress is quite soft, that is not affecting the support I am getting on the Level Sleep. I do feel very well supported in this position.
Now, let's take a look at how Casper's Zoned Support feels in each position:
When I lie on my back on the Casper, I am also feeling the support of the firmer lumbar zone. Again, my hips sink in a bit, and I am supported overall. However, the lumbar zone is firmer on the Level Sleep, so I do feel more support on that mattress. While the Casper is supportive enough, I do prefer the Level Sleep when I am back sleeping.
When I move to my side, the Casper feels a bit softer. I am feeling some great pressure relief. In general, I would say I prefer side sleeping on the Casper.
Stomach sleeping, that center zone is also providing some nice support. However, I will say that the Level Sleep feels more supportive when I am on my stomach.
The feel of these mattresses is very similar, because hey both have a balanced foam feel that is soft and also responsive. Also, with their zoned construction, they both have that varied firmness. As I said, those firmness differences are going to be more pronounced on the Level Sleep than with the Casper.
For more information about the Level Sleep's firmness and feel, check out this video:
For a closer look at the Casper and its the overall firmness and feel, watch this video below:
Motion Transfer Differences
A lot of what we have been talking about has to do with individual sleepers, but what if you sleep with a partner? Well, there are other things to consider for those who sleep with a partner. For instance, motion transfer is very important to keep in mind, which means if your partner moves around or gets out of bed, are you going to feel that movement?
I tested both mattresses to see if this motion would transfer from one side to the other. I placed a glass of water on one side of the mattress, and then I pressed down on the other side. The water was not disturbed too much on either the Level Sleep or the Casper.
Also, I lay down on both the Level Sleep and Casper and then our team member Marten would get in and out of bed on the other side as well as roll around on the mattress. He did not disturb me too much.
This lets me know that these could be good mattresses for couples who don't want to be disturbed by their partner throughout the night.
Now, let's take a look at the Casper's motion transfer with the video below.
Edge Support Differences
If someone is looking for a couples' mattress, edge support is also very important so each person can maximize the surface area of the mattress. This is a measure of how secure the edge of a mattress really is. Sitting down or lying down near the edge, will you feel secure or will you feel like you are going to fall or slide off the mattress?
Both of these mattresses collapse quite a bit when I sit near the edge, and while lying down near the edge of the Level Sleep and Casper, I don't feel very secure.
The edge support is about equal on both mattresses, but it is not that fantastic and is something to note for people who sleep with a partner.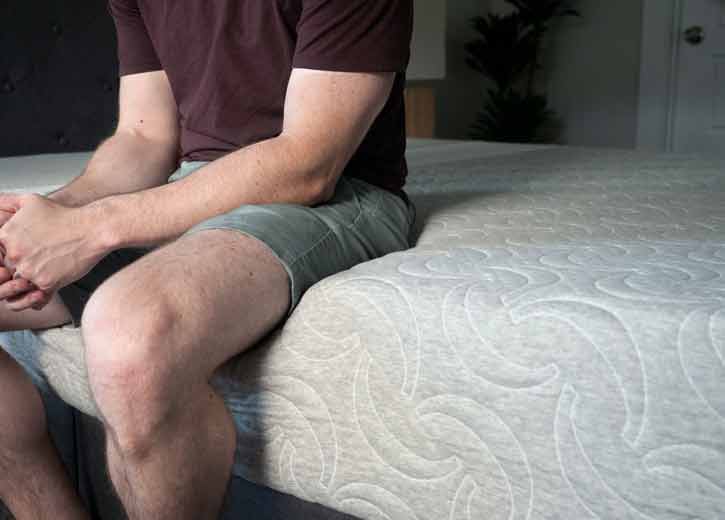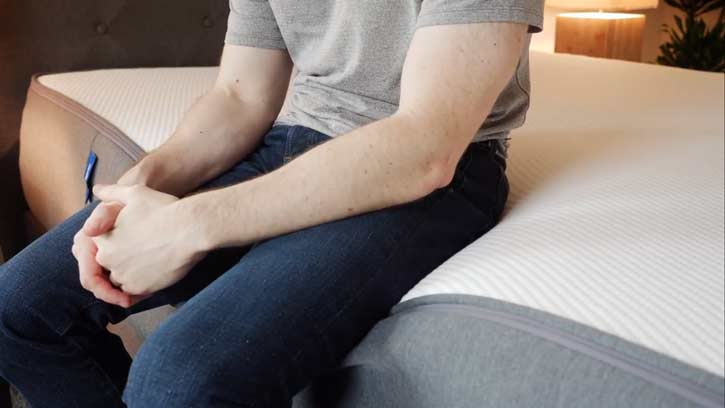 Marten's Take
My thoughts on the Level Sleep and Casper are very much based on personal experience. If you are on the heavier side, you could feel differently about both mattresses. So, I asked the biggest member of our team, Marten, to try out these mattresses and give us his thoughts. I am 5'9" and weigh 160 lbs, but Marten is 6'7" and weighs 230. Here is what Marten thought about both mattresses and how appropriate they might be for heavier sleepers:
To me, the Casper feels like a 7/10 in terms of firmness, which is firmer than Joe thought, but that is because my heavier weight is causing me to sink further into the Casper and feel those firmer support layers.
Now, with the Level Sleep, the main difference between my experience and Joe's has to do with the shoulder zone. Joe thought it was a 5/10 in terms of firmness, and I thought it was a 7/10. This is because that zone is so soft, I drop right through it and hit the support polyfoam below.
So, how do I feel sleeping on these mattresses? First off, on the Level Sleep:
Back sleeping on the Level Sleep, I am getting plenty of support and generally feel the support of that firm lumbar zone.
When I move to my side, again, my shoulder is sinking in way too far and am feeling some firmness there, and I feel out of alignment.
Stomach sleeping, that lumbar zone is holding up my heavier hips, and I am not bowing into the mattress.
Here is how I feel on the Casper:
Lying on my back, the Casper is also a great match, because I feel the lumbar support of the center zone, and I feel supported overall.
Side sleeping, I feel some more pressure on my shoulders and hips than Joe did. That being said, I feel more comfortable side sleeping on the Casper.
However, stomach sleeping on the Casper, I am not getting enough support and do prefer the Level Sleep for stomach sleeping.
So, if you are a heavier back sleeper, both mattresses are a great choice. If you are a heavier side sleeper, I would opt for the Casper, and heavier stomach sleepers should go with the Level Sleep.
As I thought, the Level Sleep would not be a good match for heavier side sleepers. Marten's weight is causing his shoulder to sink too far into the mattress, so he is feeling some more firmness there. Check out our best mattresses for heavy people to see how one's weight affects comfort.
Pick Level Sleep If…
You deal with back pain- While the Casper does offer nice lumbar support, the Level Sleep is designed to deal specifically with back pain. If you currently struggle with back pain or want to prevent it, the Level Sleep could be a great choice.
You are a light- or medium-weight sleeper who requires extra back support- The lumbar zone of the Level Sleep is very firm. If you aren't too heavy and have extra support needs for your back, take a look at the Level Sleep.
You are a back sleeper- If you sleep mainly on your back, the Level Sleep should be the better choice. Again, the lumbar zone provides so much support, you should get all the support you require on the Level Sleep.
Pick Casper If…
You are a larger person- If you are a heavier person, you might bottom out on the Level Sleep. The mattress has only two layers, so you could press through the comfort layer and hit the support layer beneath. Heavier sleepers, especially those who sleep on their side, should feel more comfortable on the Casper.
You prefer a more comfortable mattress– The zoning is so pronounced on the Level Sleep, it doesn't always feel comfortable. That is not an issue with the Casper. It has more of an even, comfortable feel.
You are a side sleeper- If someone is a side sleeper, pressure relief is so important because the weight of the body is concentrated on a very small surface area. While I did feel some pressure relief on the Level Sleep, I felt even better pressure relief on the Casper. I think side sleepers of many sizes will prefer the Casper because of its especially great pressure relief.
Overall
At this point, you should know which of these mattresses is the one for you. People should go over this article multiple times, assess their own needs and preferences, and then they can make a more informed purchasing decision.
Joe Auer
Joe Auer is the editor of Mattress Clarity. He mainly focuses on mattress reviews and oversees the content across the site.
He likes things simple and take a straightforward, objective approach to his reviews. Joe has personally tested nearly 250 mattresses and always recommends people do their research before buying a new bed. He has been testing mattresses for over 5 years now, so he knows a thing or two when it comes to mattress selection. He has been cited as an authority in the industry by a number of large publications.
Joe has an undergraduate degree from Wake Forest University and an MBA from Columbia University.