Silk sheets aren't just luxurious–they're also breathable and great for your skin! If you want to refresh your bedding, take a look at our list of the best silk sheets. Whether you're searching for something high-end or affordable, there are sheets here that will meet your needs.
The Best Silk Sheets
How We Chose Our Top Picks
For this roundup, I was able to personally test the LILYSILK and SilkSilky sheets. The other reviews are based on my vast experience as a bedding reviewer and Certified Sleep Science Coach. I assessed these sheets based on customer feedback, price points, quality and color options.
LILYSILK – Best Luxury Silk Sheets
Our Expert's Take
The LILYSILK 19-momme Mulberry silk fitted sheet is luxurious, soft and durable. Thanks to its deep pockets, the fitted sheet easily stretched around my 16" mattress. After sleeping on this sheet for a few nights, I could tell that my skin and hair felt more hydrated.
Because it's so breathable, I didn't overheat on top of this sheet. If you're a hot sleeper like myself, LILYSILK is a great option. Another perk: These sheets are available in 10 different colors and five sizes!
Pros of LILYSILK
Has a lightweight and luxurious feel
Feels cool and breathable
Softens skin and helps hydrate hair
Cons of LILYSILK
Because of its quality, it has a higher price point
SilkSilky – Best Affordable Silk Sheets
Our Expert's Take
Silk sheets are notoriously pricey, but SilkSilky sells sheets for a fraction of what other brand's charge. With Mattress Clarity coupons, you can often save as much as 29% on a 19-momme four-piece bedding set. And if you want the luxury experience, but don't want to splurge on an entirely new bedding set, you can just purchase a silk pillowcase or top sheet.
Just because SIlkSilky has a lower price point doesn't mean it's poor quality. All of SilkSilky's bedding sets contain 100% Mulberry silk, which is much stronger than other types of silk.
Pros of SilkSilky
Has a lower price point
Company sells bedding sets and individual bedding pieces
Available in 17 different color options
Cons of SilkSilky
Not good for people who prefer a plush, cozy feel
MommeSilk – Best Silk Sheets for Hot Sleepers
Our Expert's Take
At 22-momme, MommeSilk's Mulberry sheet sets are a bit heavier than others on the market. But that doesn't mean they trap body heat. Like all high-quality silk sheets, MommeSilk's bedding sets help regulate body temperature. Thanks to silk's unique cell structure, the material helps sleepers stay cool in the summer and warm in the winter.
MommeSilk sheet sets are available in six different colors and five sizes. In addition to sheets, MommeSilk sells pajamas, comforters, scrunchies and sleep masks.
Pros of MommeSilk
Heavier and more durable than others on the market
Temperature-regulating and breathable
Cons of MommeSilk
22-momme makes it more expensive than other options
Slipintosoft – Most Comfortable Silk Sheets
Our Expert's Take
Slipintosoft sheets are available in 19 and 22 momme options, but no matter which one you choose, you should enjoy its slick and soft feel. Customers have reported feeling cozy and comfortable throughout the night, and many people noted that the silk sheets helped tame their frizzy hair.
Additionally, Slipintosoft has 18 different color options to choose from, and they offer free shipping on orders over $99.
Pros of Slipintosoft
19 and 22-momme options available
Can choose between 18 different colors
Has a soft and luxurious feel
Cons of Slipintosoft
The 22-momme sheets might be too pricey for some people
Eucalypso – Best Vegan Silk Sheets
Our Expert's Take
If you're looking for a vegan option, consider the Eucalypso sheets. These bedding sets feel smooth and slick like silk, but instead of worm larvae, they're made out of TENCEL™ Lyocell from natural raw wood.
Like silk, the Eucalypso sheets help retain moisture in your skin and hair. They're also breathable and cooling like silk, so you won't have to worry about waking up feeling hot and uncomfortable.
The classic sheet set is available in nine different colors and five sizes. Best of all, Eucalypso sheets cost significantly less than silk sheets.
Pros of Eucalypso
Cost less than silk sheets
Made without animal byproducts
Have a smooth and silky feel
Cons of Eucalypso
Aren't as luxurious as real silk sheets
How to Choose the Best Silk Sheets
There are a few key considerations when shopping for silk sheets. Let's take a closer look.
Momme
When shopping for silk sheets, you'll undoubtedly see the word "momme" or abbreviation "mm." Momme, pronounced like "mommy," is a Japanese word for the weight of pure silk. The higher the momme, the better the quality. Most silk sheets fall within the 12 – 22 momme range, but the best quality silk sheets are at least 19 momme. Lighter silks are often used in scarves and blouses, but they aren't durable enough for bedsheets.
Temperature
Silk sheets are temperature-regulating, which means they feel cool in the summer and warm in the winter. That said, some people prefer to sleep in fuzzy flannel sheets during the cooler months. If you're looking for something particularly cozy, you may want to consider getting the Brooklinen sheets.
Price
Because it takes a long time to produce the material, silk sheets cost significantly more than cotton sheets. But even so, many people think the benefits outweigh the costs. Silk sheets help smooth frizzy hair and hydrate dry skin. Silk sheets also have a longer lifespan than traditional cotton sheets. Silk sheets can last up to 10 years, while other sheets tend to last between two and five years.
Pros and Cons of Silk Sheets
Still deciding whether silk sheets are right for you? Check out our pros and cons chart below.
| | |
| --- | --- |
| Pros | Cons |
| Helps smooth hair | Costs significantly more than other types of sheets |
| Keeps skin smooth and moisturized | Not vegan-friendly |
| Durable and long-lasting | Lacks a soft and cozy feel |
| Temperature regulating | |
| Luxurious and soft | |
For more options, take a look at our list of the best bamboo sheets.
Types of Silk Sheets
All of the sheets listed on this roundup, with the exception of Eucalypso, are made with Mulberry silk. But what is that exactly? Let's take a closer look at the different types of silk sheets.
Charmeuse Silk
Charmeuse silk is made from worms that are farmed for their silk. The term "Charmeuse" is not exclusive–many other types of silk are also classified as charmeuse because of how it is made.
Mulberry Silk
Mulberry silk is made by the Bombyx mori silkworm, which eats leaves from Mulberry trees. This special diet helps the worms produce the smoothest and strongest silk available. Mulberry silk feels lightweight and slick, but it won't tear as time goes on.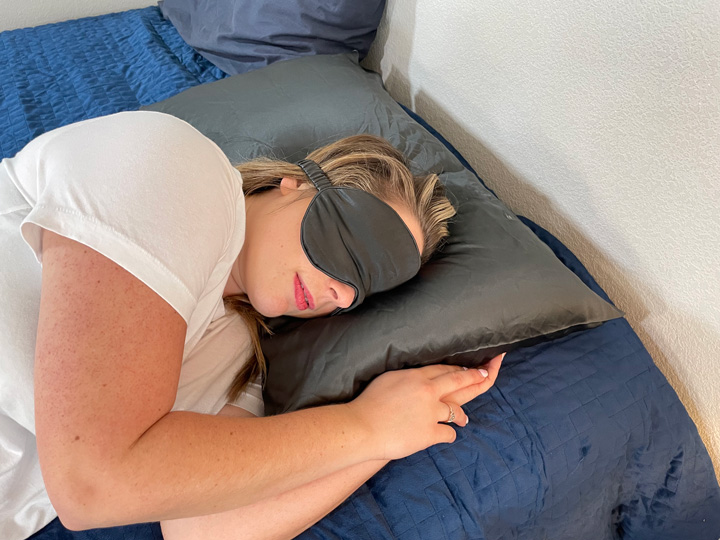 Many Mulberry silk sheet sets are also classified as Charmeuse silk, because the Bombyx mori worms are farmed specifically for creating silk.
Tussah Silk
Tussah silk, most common in China and India, is made from wild silkworms. Tussah silk isn't as durable or smooth as Mulberry silk, because the silkworms aren't fed a specific diet.
Art Silk
Often referred to as "bamboo silk," art silk is the name for artificial fabrics that look and feel like silk. Art silk is often made from a blend of bamboo and viscose, which has a smooth feel but costs less to produce.
FAQs
Are silk bed sheets worth it?

For some people, silk bed sheets are worth the high price tag. Silk sheets have many benefits. They're durable, luxurious and cooling. Many people find it also helps their skin and hair retain moisture.
How long do silk sheets last?

Silk sheets can last up to 10 years, which is about five years longer than other types of sheets.
Are silk or satin sheets better?

Some people prefer silk sheets, while others prefer satin. Silk sheets cost more, but they're much more breathable than satin sheets. Satin sheets are more affordable and they feel luxurious, but they might not work well for people who overheat at night.
What kind of silk sheets are the best?

Mulberry silk is regarded as the best type of silk. Made by the Bombyx mori silkworm, Mulberry silk feels smoother and more durable than other types of silk on the market.
How often do you wash silk sheets?

Silk sheets should be washed as often as you wash any other type of sheet – every seven to 10 days.