If you've shopped for a mattress in the last 20 years, you've probably heard the term "pillow top" more times than you can count. It often feels synonymous with luxury. After all, who wouldn't want to sleep atop a soft, fluffy pillow?
And that's not far from the truth. Pillow-top mattresses provide sleepers with an extra layer of comfort on top of the mattress and are a great option for many sleepers. But what exactly is a pillow top? And in a world with ever-expanding mattress options, is a pillow top the right choice for every sleeper? Read on to find out.
What Makes a Pillow-Top Mattress Unique?
A pillow-top mattress is an innerspring bed with an additional comfort layer sewn into the cover along the top of the mattress. This differs from mattress toppers that you purchase separately because it's a permanent feature of the mattress. A pillow top's permanence keeps it from slipping around, which can happen with separate mattress toppers.
Pillow tops are generally around 2" thick and contain cotton, fiberfill, foam, down, latex, or various other comfort materials. Most commonly, you'll see the pillow top over a traditional innerspring mattress or airbed, though technically a pillow top can be put on any bed. Because innerspring mattresses are more common than airbeds, that is what you're most likely to run into when mattress shopping.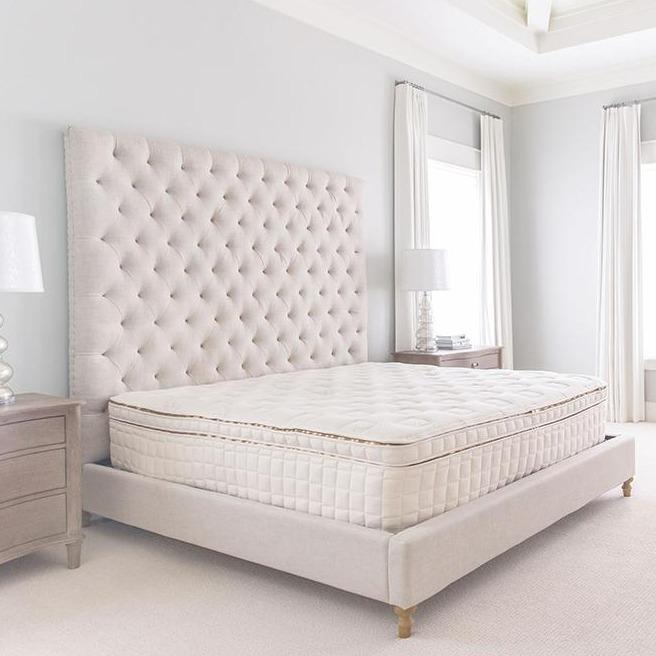 Pros of Pillow-Top Mattresses
While there are many comfortable mattresses, pillow tops are unique in their construction. Let's take a look at some of the benefits of pillow-top mattresses.
Pressure Relief
Innerspring mattresses provide great support and bounce, but they're not great for pressure relief. That's where a pillow top comes in! Pillow tops provide additional cushion at pressure points, which is especially important for side and combination sleepers. This means the mattress will conform to parts of your body like shoulders and hips, keeping your spine aligned and your joints comfortable.
Motion Transfer
Adding a pillow top reduces motion transfer from one part of the bed to another. Motion isolation is key for couples and restless sleepers, as it allows for fewer interruptions during sleep. Do note that memory foam beds offer even better motion isolation than pillow-top mattresses thanks to the motion-absorbing properties of memory foam.
Luxury Feel
Pillow tops are known for their cloud-like, luxurious feel. The exact experience varies from one model to another because these layers contain various materials. You will get a cloud-like feel from cotton, down, or ultra-soft polyfoam, or a cradling feel from memory foam.
Affordability
Compared to high-end memory foam, latex, and hybrid beds, pillow-top mattresses are affordable. Of course, there is a range of prices for all types of mattresses, but pillow-top beds are often less expensive than these other options.
Minimal Off-Gassing
All-foam beds often have noticeable off-gassing. This is the chemical smell you notice when initially unpacking your mattress, and it can sometimes last for days or more. Pillow-top beds have little to no off-gassing.
Temperature Regulation
The innerspring base beneath the pillow top allows ample airflow throughout the mattress. This breathability helps you sleep cooler than on an all-foam mattress. The specific material within the pillow top and cover also has an impact, with some pillow-top beds sleeping cooler than others.
Support
Durable steel coils are one of the most supportive mattress materials, which can help your mattress last longer and provide the extra support plus-size folks need. With a pillow-top mattress, you end up with the best of both worlds – the comfort of the pillow top and the support of the coils.
Bounce
If there's one thing innerspring mattresses have over other mattress types, it's springiness. That bounce is great for activities like sex and also for repositioning during sleep. Because pillow-top beds have a base layer of steel coils, they're much bouncier than all-foam mattresses.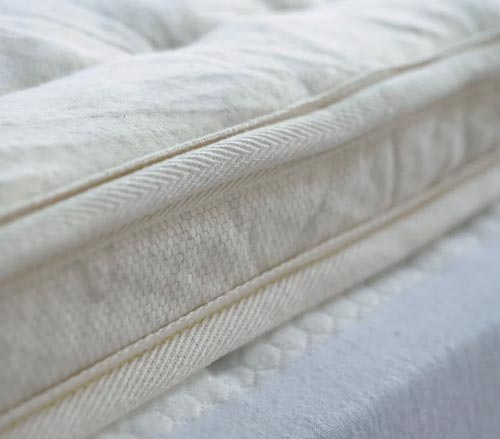 Cons of Pillow-Top Mattresses
Price
While a pillow top is affordable compared to other options, such as many memory foam, latex, and hybrid beds, it's more expensive than an innerspring mattress. This makes sense, given that the bed is literally an innerspring with the added bonus of a pillow top. But it's something to keep in mind if you're on a tight budget.
Durability
A pillow top feels like lying on top of a cloud, but unfortunately, that luxurious, plush feeling won't last forever. Pillow-top beds have a shorter average lifespan than some types of mattresses — mainly innerspring and latex beds — simply because the soft surface material becomes damaged over time.
What you may notice first when your pillow top starts to near the end of its lifespan are body impressions and sagging. Most mattress warranties cover sagging that's greater than one inch. But if that warranty has passed, it's time to go mattress shopping again.
Motion Transfer
Most pillow-top mattresses have an innerspring base, with bounciness that leads to motion transfer. This can be a problem for light sleepers. If you're a sensitive sleeper who shares the bed with a partner, pet, or child, a memory foam or hybrid bed may help you sleep more soundly.
Not Super Firm
A pillow top doesn't have the same cradling feel as an all-foam bed, but it does conform to your body to a certain degree. If you like your beds extra firm, or you find that your back does better on a firmer surface, a pillow top is probably not for you.
If this is you, consider one of the beds that made our list of the 10 Best Firm Mattresses.
Pressure Relief
It may seem strange that pressure relief is both a pro and a con of pillow tops, but it depends on what mattress types you're comparing. Compared to a traditional innerspring mattress, a pillow top has more pressure relief. But in comparison with many mattresses on the market today, such as all-foam and hybrid beds with top layers of memory foam, a pillow top falls short in this category.
Foam and hybrid beds have two or more foam layers, often designed with pressure relief in mind. A top layer of memory foam, for instance, reacts to body heat and conforms to your curves, providing a cradling sensation. When paired with other layers specifically designed for pressure relief, these beds offer a superior experience for side sleepers and people with joint pain.
Edge Support
Pillow tops can sag a small amount along the edges, especially when compared to a firm innerspring or latex mattress. You may find that a pillow-top mattress does not have enough edge support if you sit on the edge of your bed when getting dressed or if you use the edge for support when getting in and out of bed.
Not Flippable
While not all mattresses are flippable, pillow tops most often accompany innerspring mattresses. These beds are sometimes flippable, which increases their lifespan. So, if you get a pillowtop version of an otherwise flippable mattress, you're sacrificing some of that lifespan.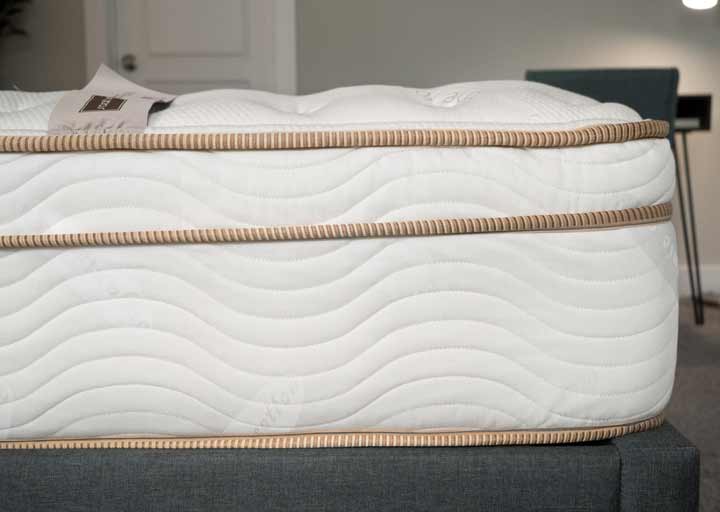 Who Should Get a Pillow-Top Mattress?
Combination Sleepers
Combination sleepers need a mattress that's easy to move around on and that accommodates multiple sleeping positions. A pillow top fits these requirements. The spring interior means you can reposition with ease, while the pillow top and coils create a balanced feel that's soft enough for side sleepers and firm enough for back and stomach sleepers.
Older Adults with Joint Pain
Older folks with joint pain do best on a mattress that lightly cushions joints without too much sinkage. The springy support of a pillow-top mattress won't leave you feeling stuck, allowing you to get in and out of bed easily. And with a top layer of pressure-relieving cushion, sensitive joints get the softness they require.
Those Who Want a Soft, Luxury Feel
Pillow-top mattresses do, indeed, feel like sleeping on top of a comfy pillow. So if you find yourself lulled to sleep by that cloud-like sleeping surface, then a pillow-top mattress may be right for you.
Hot Sleepers
Airflow is key for keeping a mattress cool, and pillow tops provide this in two ways. The innerspring base allows for healthy airflow between the coils. At the same time, the pillowtop itself can encourage breathability. Be sure to choose a pillowtop that contains breathable or cooling materials, such as cotton, wool, or latex. Some pillow tops include cooling gel for an especially cool mattress.
FAQs
Do pillow-top mattresses sag?
Pillow-top mattresses do tend to sag more than other mattresses. This is due to the plush materials along the bed's surface that compress and break down over time. You can delay this by regularly rotating your mattress, and switching the side of the mattress that you sleep on periodically if you sleep alone.
Do pillow-top mattresses wear out faster?
Unfortunately, pillow-top mattresses typically wear out more quickly than traditional innerspring beds. They can't be flipped like some innerspring mattresses, and their comfort materials can form uncomfortable body impressions over years of use. 
What is the purpose of a pillow-top mattress?
Pillow-top mattresses serve many purposes, including providing a more luxurious feel, extra pressure relief, and better cooling (compared to foam beds). They are a great way to make a traditional innerspring mattress much more comfortable than it would be on its own.
Do pillow-top mattresses hurt your back? 
Pillow-top mattresses are not known to hurt your back. Of course, every person's body is unique and we all have different needs. While pillow-top mattresses can help with pressure relief and joint pain because they provide extra cushion, that same cushion may create too much give for certain people with back pain.