There are so many things to consider when shopping for a mattress – firmness, feel, construction, budget – it's a lot! However, one of the most important decisions shoppers have to make is what mattress size they are going to go with.
Finding the right mattress size is important to ensure people have enough sleeping surface area for themselves and their partner (if they have one). It's also important to make sure that there is enough extra room in the bedroom so that the person can move around, hang out, and relax.
We're here to break down the standard mattress sizes and bed sizes, how they compare, and how to find the perfect fit – read on to find the right mattress size!
Jump To
Mattress Sizes | Twin | Twin XL | Full | Queen | King | California King | Mattress Size Comparisons | Nontraditional Mattress Sizes | Which Size Is Best? | Final Thoughts | FAQs
Mattress Sizes
While there are some specialty size mattresses out there, let's focus on the six standard mattress sizes:
| | | |
| --- | --- | --- |
| Mattress Size | Width | Length |
| Twin | 39 inches | 74 inches |
| Twin XL | 39 inches | 80 inches |
| Full | 54 inches | 74 inches |
| Queen | 60 inches | 80 inches |
| King | 76 inches | 80 inches |
| California King | 72 inches | 84 inches |
These are the sizes one will find when shopping online or in the store. While there might be some small variations of an inch or two, mattress sizes are pretty much consistent across the board. Please note that these are US mattress sizes, and sizes and names may be different in other countries.
Twin Size Mattress & Dimensions
A twin mattress measures 39" x 74", officially making it the smallest size available. Twin mattresses are great for children or adults who are smaller in stature or who live in cramped bedrooms. 
Twin mattresses are not a recommended size for those sleeping with a partner.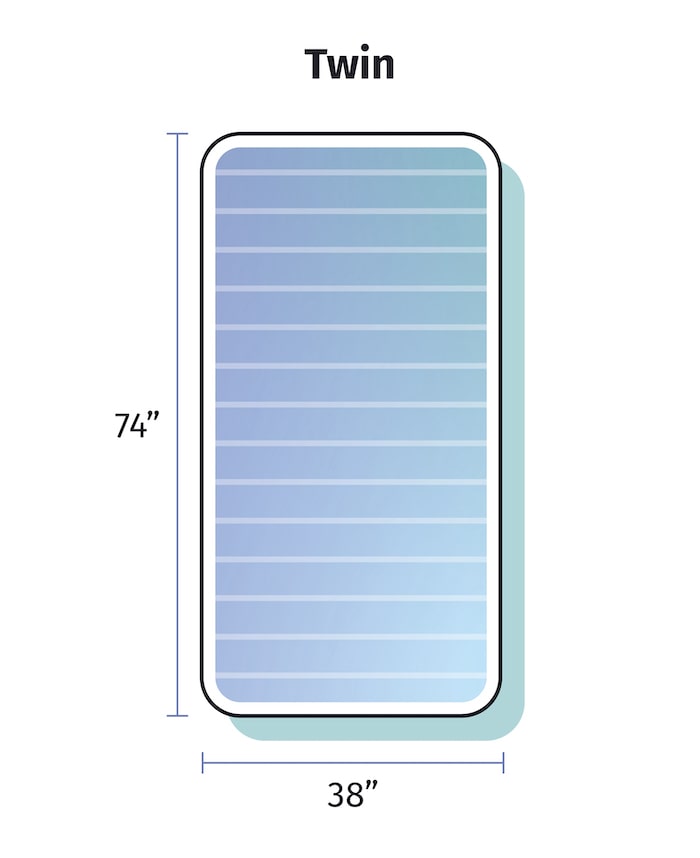 RELATED: Best Mattress for Kids
Twin XL Size Mattress & Dimensions
Twin XL mattresses measure 39" x 80". Twin XL mattresses are 6″ longer than a twin but they have the same width, which makes these beds ideal for children who are taller or for adults who have constraints with the width of their bedroom but not the length of their bedroom. 
It is also a very popular size found in most college dorm rooms.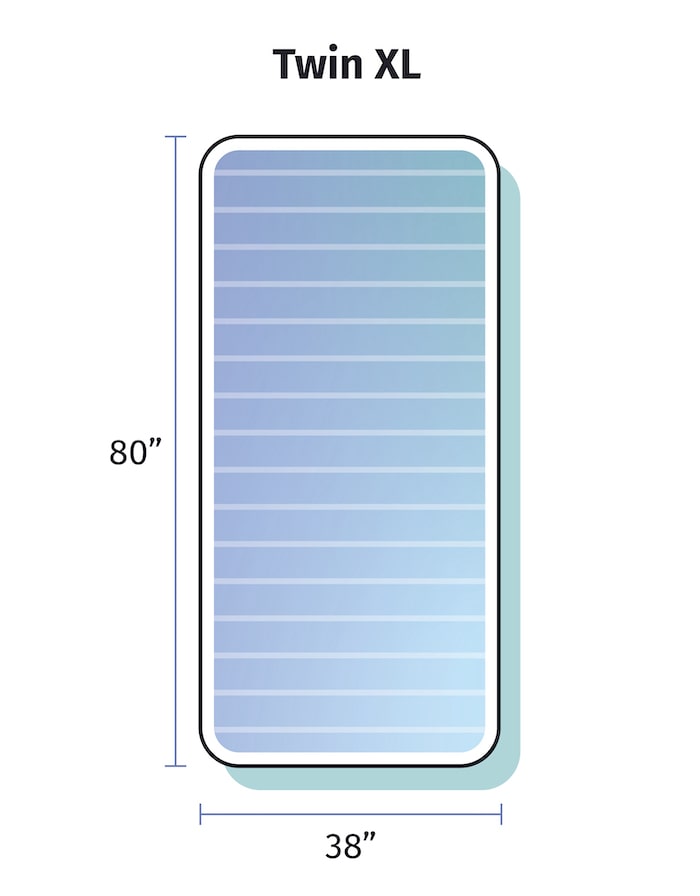 Full Size Mattress & Dimensions
Full size mattresses measure 54" x 74". A full-size mattress has the same length as a twin mattress, but it is 15″ wider. The full mattress can be ideal for someone sleeping alone who wants a little more room or for couples who are smaller in stature.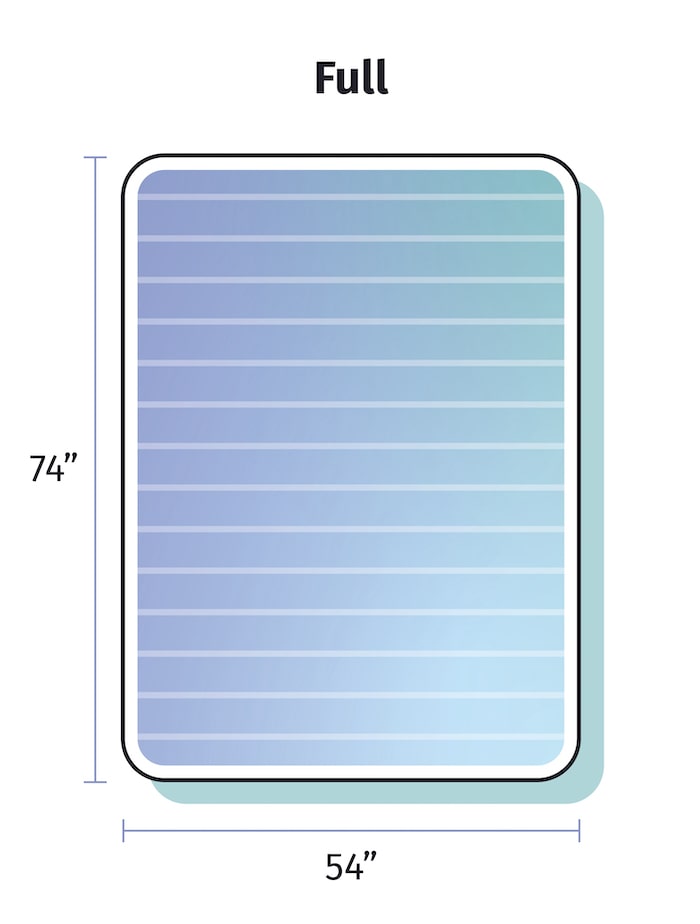 Queen Size Mattress & Dimensions
Queen mattresses measure 60″ x 80". Queen mattresses are wider and longer than a full-size mattress. A queen mattress is great for a single person who really likes that extra space and can fit it in his/her bedroom. It's also a big enough mattress for most couples.
The only reason to step up from a queen is if your bedroom is big enough to handle something larger or if you just really want the extra surface area to sleep on.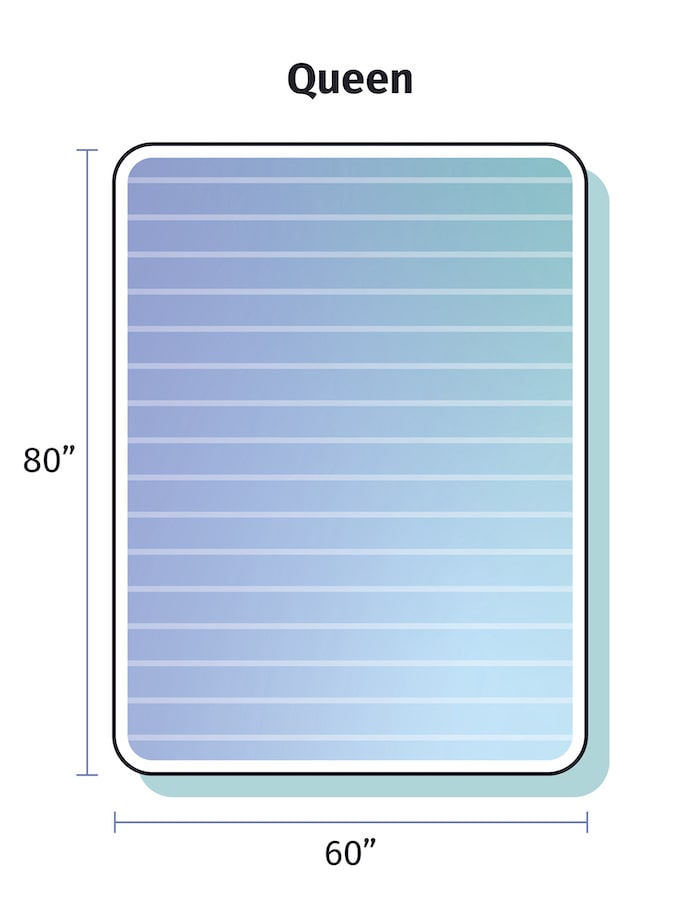 King Size Mattress & Dimensions
King mattresses measure 76″ x 80". King mattresses are the same length as a queen but 16″ wider. Couples who really want that extra space to sleep might do well with a king, but it's probably unnecessarily large for a single person. See our best king-size mattresses for some great options.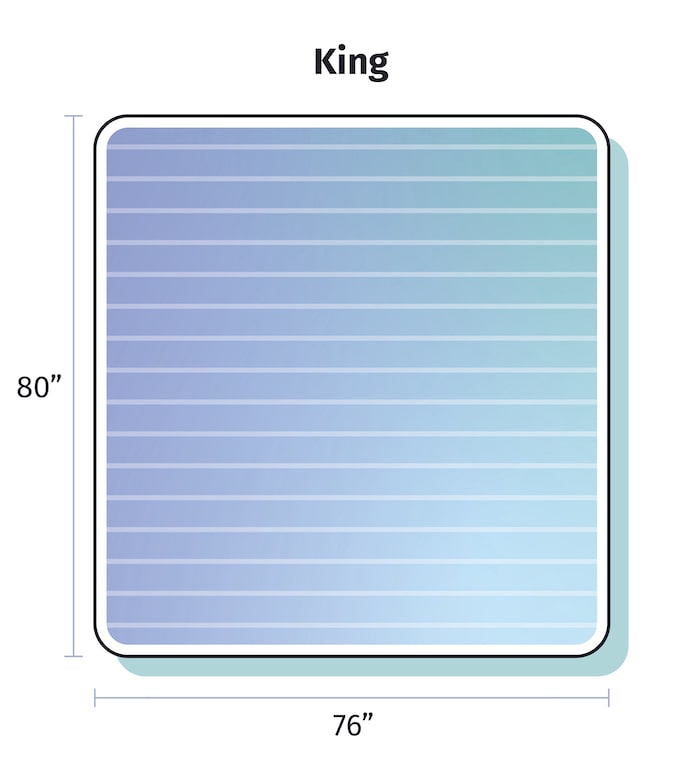 California King Size Mattress & Dimensions
California king mattresses measure 72" x 84". A California king mattress is 4″ longer than a standard king but 4″ narrower.
Many people wonder whether they should choose a king or a California king mattress. Keep in mind, king mattresses are wider, while California king mattresses are longer. King size mattresses are good for couples who want more space, and California king mattresses are good for taller people. You will also want to consider the size of your bedroom.
What's the Difference Between a King and California King Mattress?
A California king mattress is longer and narrower than a standard king-size mattress. A California king measures 72″ x 84″ while a king mattress is 76″ x 80″.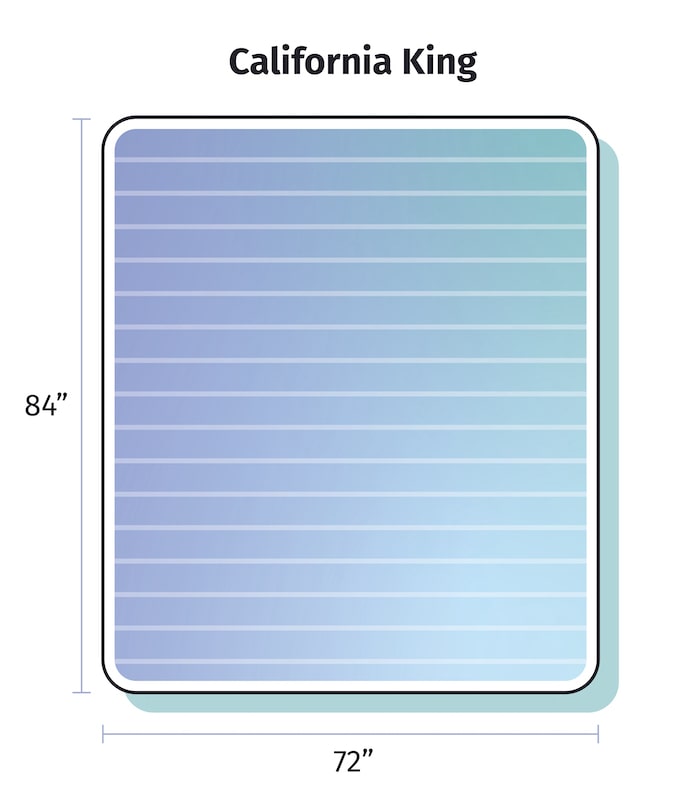 Mattress Sizes Comparisons
A lot of times, it is going to come down to choosing between just two mattress sizes. Is a Queen size mattress enough for a taller individual or are they going to need to splurge for a King? Can a smaller couple get the room they need on a Full mattress or will they need to pay more for a Queen?
Let's look at how some of these mattress sizes compare so that we can make it easier on all those shoppers out there!
Twin vs. Twin XL – A Twin mattress is going to be smaller than a Twin XL mattress and, because of this, it should work better for smaller children. Larger children, teenagers, and even some small adults should get the space they need on a Twin XL mattress.
Twin XL vs. Full – Smaller adults who sleep alone should be able to save some money by going with a Twin XL mattress. It is also a better fit for smaller bedrooms. A Full mattress will be more ideal for regular-sized adults and some smaller couples as well.

Full vs. Double

 – A full and a double mattress are actually the same size! These terms are often used interchangeably to refer to a mattress that measures 54″ x 74″.
Full vs. Queen – A Full mattress should be a good choice for regular-sized adults who sleep by themselves. Larger individuals and some couples are going to want to upgrade to a Queen mattress.
Queen vs. King – Between these two mattresses, a Queen is going to work better for individuals, smaller couples, and those with a smaller bedroom. A King will be a better choice for larger couples and those who have a larger bedroom.
King vs. California King – A King mattress is wider than a California King, so it is better for couples who want more room to move around and those who have a wider bedroom. Taller couples and those with a narrower but longer bedroom might want to consider a California King.
Looking for more comprehensive mattress size comparison guides? Check out our latest resources below!
Additional Mattress Size Comparisons Guides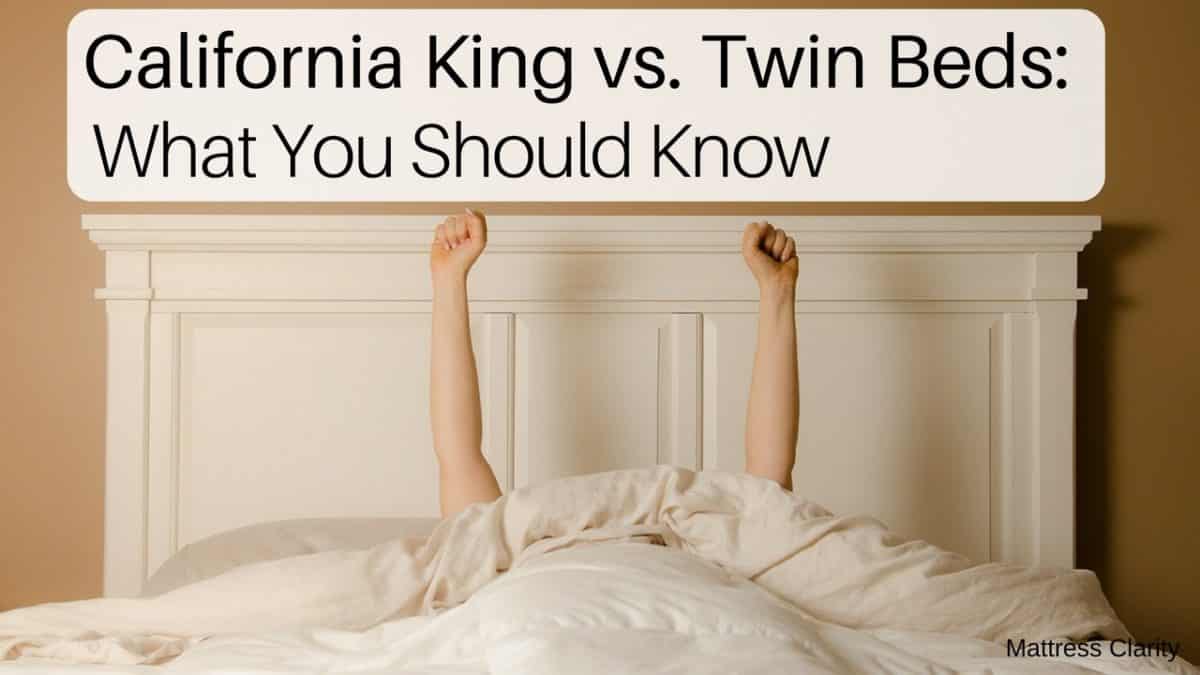 Both Twin and California King beds are popular in the bedding and mattress world, and while shoppers may not find themselves choosing one over the …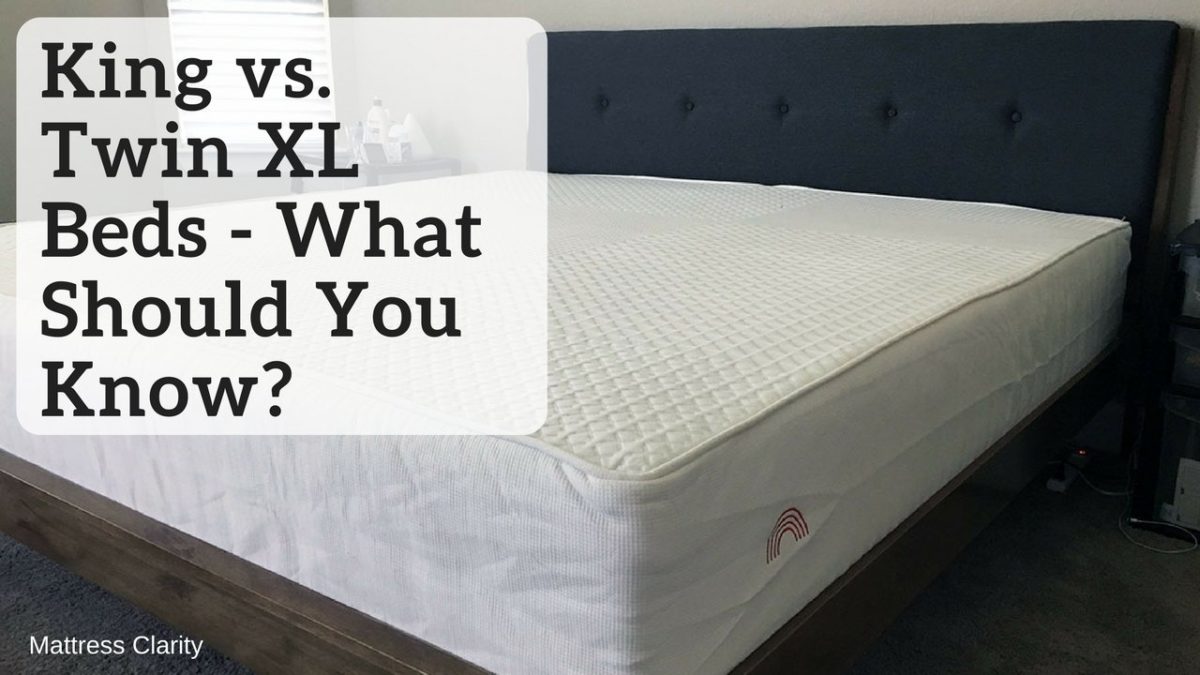 Fun fact: assemble two Twin XL mattresses next to one another and they have the identical dimensions of a King bed. The Twin XL is the same width as …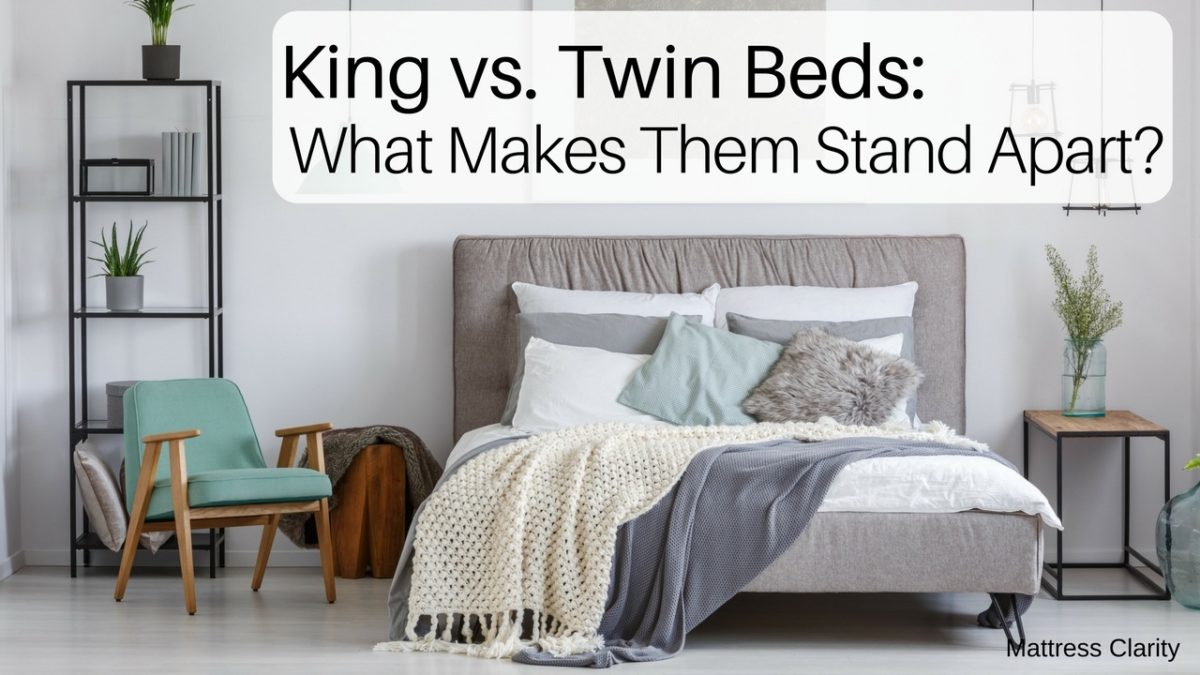 At first glance, there is an obvious difference between a Twin bed and a King bed: the size. The size of a King bed is …
Non-Traditional Mattress Sizes
While we've covered the most common mattress sizes above, we also wanted to highlight some other sizes you may come across in your mattress research. Of the ones included in the table below, Split King and Split California King are most common.
| | | |
| --- | --- | --- |
| Mattress Size | Width | Length |
| Full XL | 54 inches | 80 inches |
| Short Queen | 60 inches | 75 inches |
| Olympic Queen | 66 inches | 80 inches |
| California Queen | 60 inches | 84 inches |
| Split Queen | 30 inches | 80 inches |
| Eastern King | 76 inches | 80 inches |
| Wyoming King | 84 inches | 84 inches |
| Texas King | 80 inches | 98 inches |
| Split King (comes in two pieces) | 39 inches | 80 inches |
| Split California King (comes in two pieces) | 36 inches | 84 inches |
| Alaskan King | 108 inches | 108 inches |
Which Mattress Size Is Best For Me?
Before taking out that credit card and confirming the order, people should do a little leg work to make sure they are choosing the right size mattress. Mattress shoppers should keep the following in mind when shopping and finally moving their new mattress into the bedroom.
Measure the Bedroom
It is so important to know how much space one is working with before buying a mattress. Taking out a tape measure and getting the exact dimensions of the bedroom can help one decide what mattress size will fit best. If someone lives an apartment, they can also talk to their leasing office about the exact size of their room.
Think About Body Size
This is one of the main things that will determine what mattress size to choose, so people should consider their height and weight as well as that of their partner and then decide what mattress size will give them the right amount of space.
Budget
Money doesn't grow on trees, and no one wants to spend extra on a mattress they don't really need. For instance, unless a smaller person wants a ton of room to move around, a California King might be too much for them, and they could save serious money by going with a smaller, more affordable mattress size more ideal for their stature. It's all about finding a mattress that will give one the right amount of space without breaking the bank.
Research the Trial Period & Warranty Information
When someone is shopping online, it is pretty much impossible to try out the mattress before purchasing, and that is why it is a good idea to choose a mattress that comes with a long sleep trial. This will allow people some time to find out if the mattress is really the right size for them or if they want to go with something smaller or larger. Also, they should make sure the mattress comes with a good warranty in case there are any defects or other issues.
Plan the Mattress Move
Whether buying a mattress online or in the store, make sure to find out if the mattress can be easily moved through the front door and into the bedroom. If it is a bed in a box, move the box into the bedroom and open it there – do not open it in another room. If it is a larger, more cumbersome mattress, see if the store or mattress company offers white glove delivery. 
Final Thoughts
There's no one right answer because it typically comes down to personal preference. People looking at buying a mattress should take a look at this overview and make sure they are getting the right sized mattress that is appropriate for them.
Featured image: LightField Studios/Shutterstock
FAQs
What are the standard mattress sizes?
The standard mattress sizes are Twin, Twin XL, Full, Queen, King, and California King.
What is the size of a Queen mattress?
A standard Queen mattress is 60″ wide and 80″ long.
Is a Full size bed big enough for two?
A Full size bed can be big enough for two petite sleepers, but it will be tight. Those who need the best mattress for couples should consider a Queen or something even larger.
What are sizes like the Alaskan King, Wyoming King, and Texas King?
The specialty King size mattresses are larger than a standard King size mattress. An Alaskan King mattress is 9′ x 9′, a Wyoming King is 7′ x 7′, and a Texas King is 80″ x 98″.
What's the most popular mattress size?
Queen-size mattresses are the most popular, measuring 60″ x 80″.