Both Twin and California King beds are popular in the bedding and mattress world, and while shoppers may not find themselves choosing one over the other for the same bedroom, both mattress sizes have their specific place in almost every house. In this comprehensive guide, we put them side by side so curious buyers can see which mattress size might be perfect for your next bed purchase.
California King vs. Twin Comparison
| | | |
| --- | --- | --- |
| Criteria | California King-Size Mattress | Twin-Size Mattress |
| Size | 72″ x 84″ | 38″ x 75″ |
| Best for | Couples, individuals looking to fill a large space | Children, teenagers, shoppers on a budget |
| Price | $900 – $2,500 | $300 – $600 |
| Ideal room | Master bedrooms | Children's rooms, guest rooms |
| Pros | Fits couples, more spacious than a twin, comfortably fits taller individuals | More affordable, great for children and teenagers |
| Cons | More expensive, difficult to move | Does not fit couples |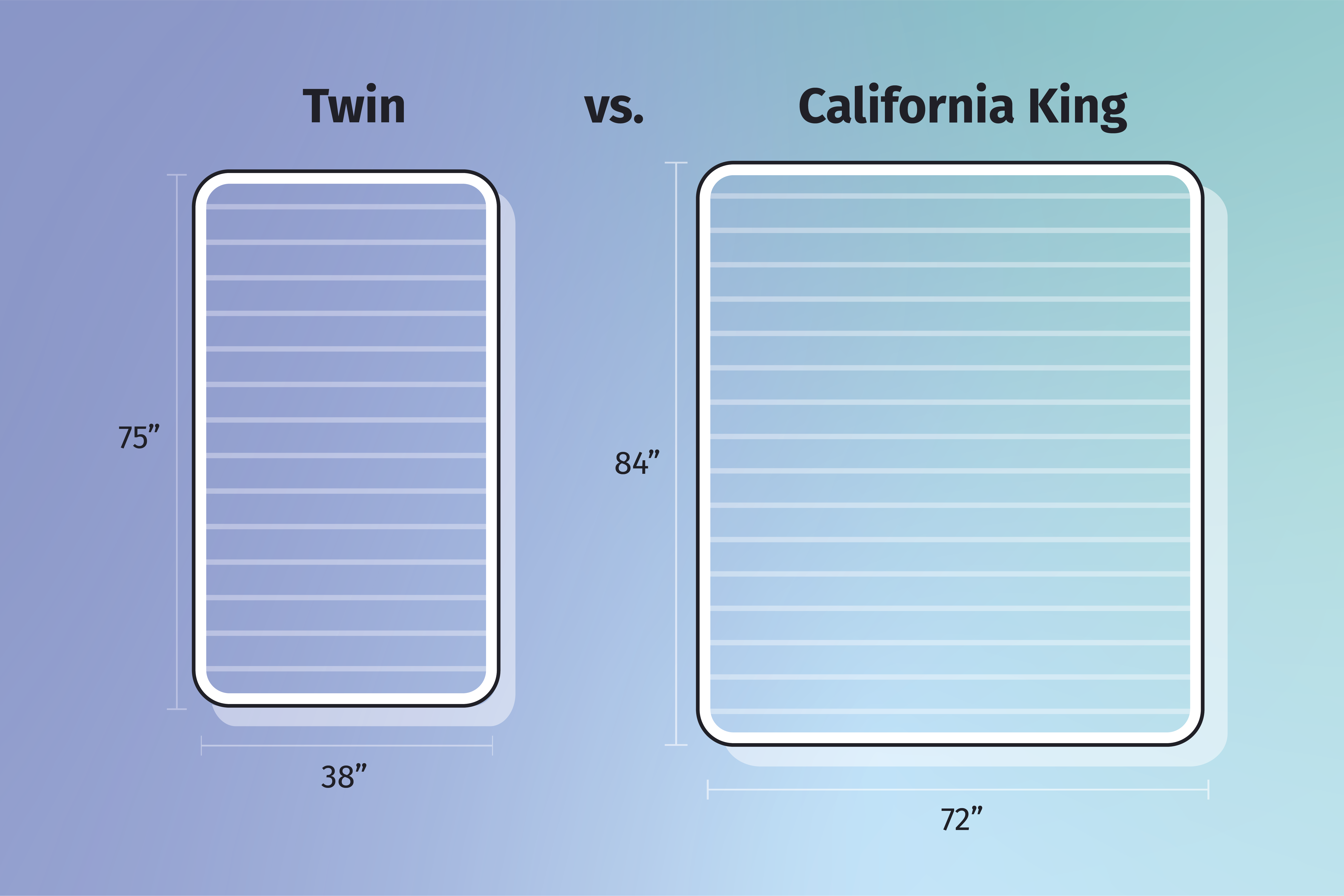 California (Western) King Bed
The California King received its name because of its popularity on the West Coast, according to the Better Sleep Council. The mattress is narrower than a Standard King by 4″ and longer by 4″, typically making this bed a superior fit for people who want more width than a Queen but are especially focused on extra length; they may have a narrow but long room or be an above-average tall person or couple.
RELATED: Best Mattresses for Couples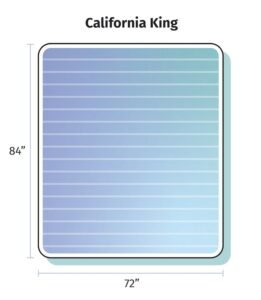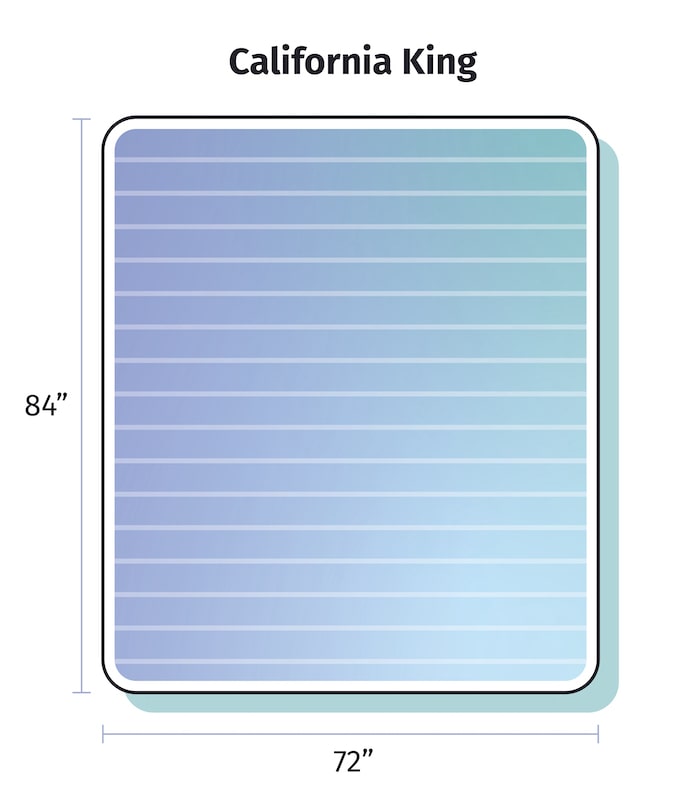 | | |
| --- | --- |
| Width | 72″ |
| Length | 84″ |
| Length | 42″ |
Additional King Mattress Sizes
Standard (or Eastern) King: This size bed tends to be best suited for couples; interestingly enough, this mattress size is the equivalent of each person sleeping in their own Twin XL bed (pushed together). The King bed offers each person 8" more sleeping room than a Queen sized bed, which makes it ideal for Master Bedrooms, but may be too large for some individuals.
| | |
| --- | --- |
| Width | 76″ |
| Length | 80″ |
| Width Per Person | 38″ |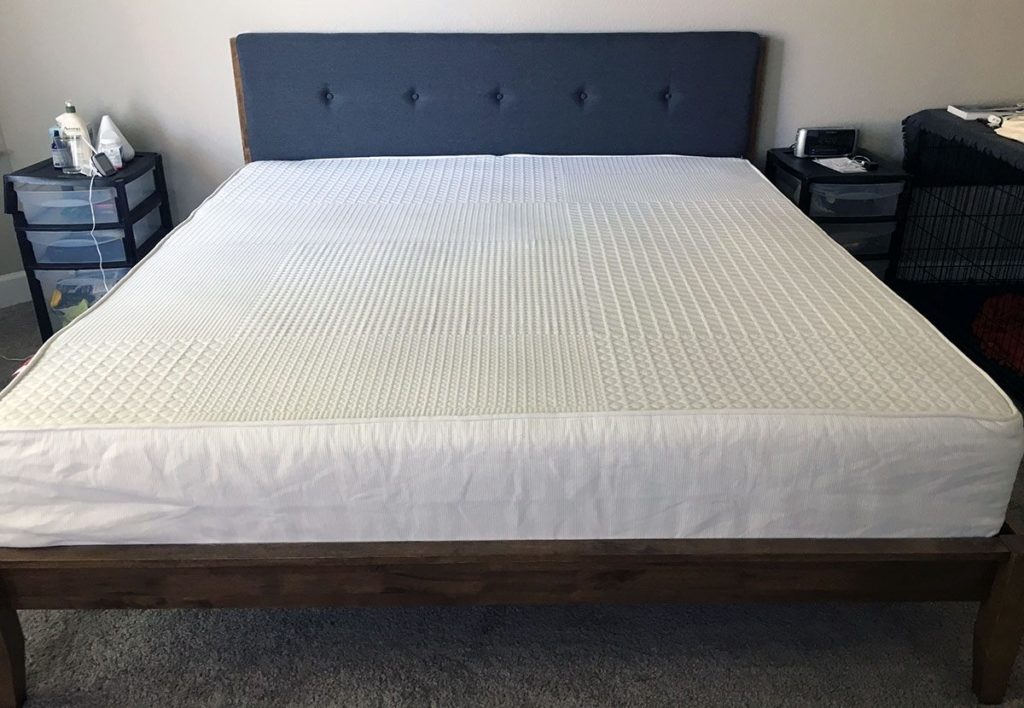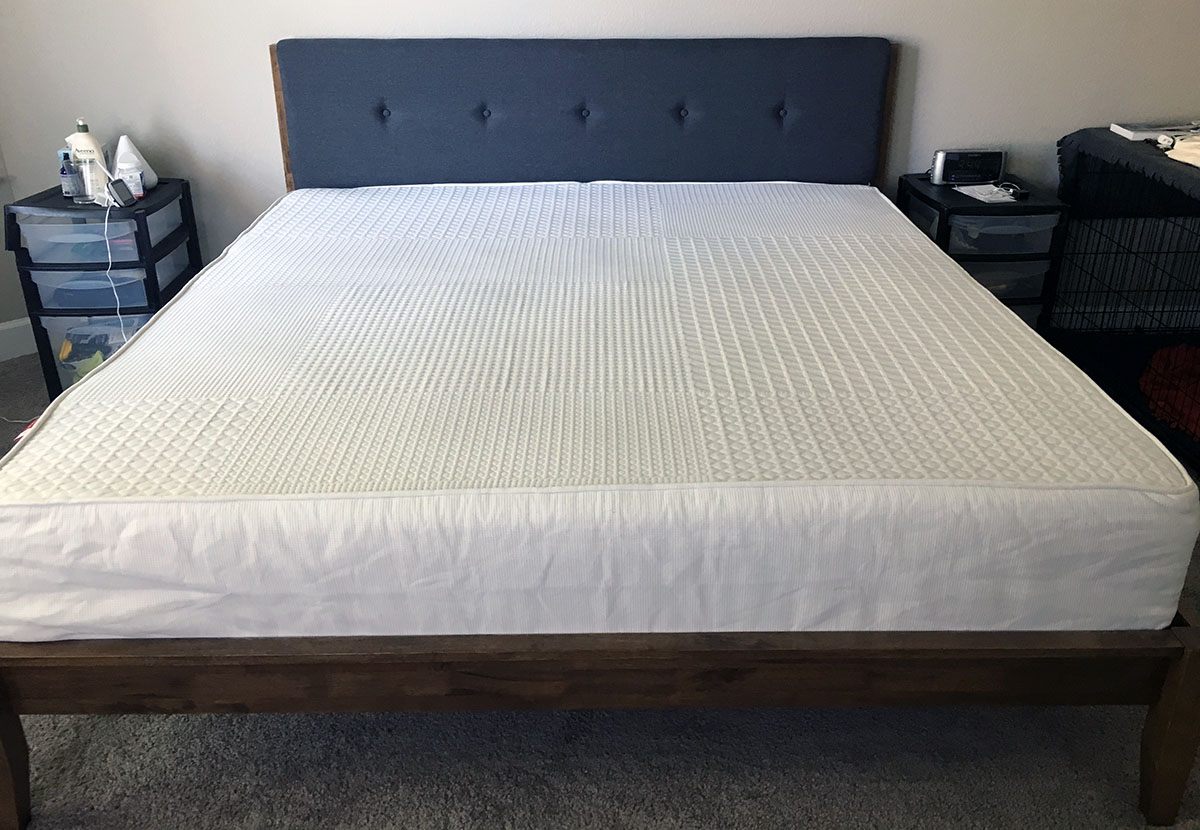 Tuck King mattress
Split King: Split King mattresses are similar to Standard Kings, but 2" wider and split down the middle, which makes them comfortable options for individuals who sleep with a partner, but are still looking for some personal space.
| | |
| --- | --- |
| Width | 38″ (each half) |
| Length | 80″ |
| Width per Person | 38″ |
Standard Twin Bed
A Standard Twin is also known as a Single bed, and is typically the next bed size up for children who have outgrown their cribs and need a larger mattress. The Standard Twin is also a great option for guest bedrooms or smaller rooms, and also traditionally works well with bunk beds because they are typically manufactured in Twin sizes.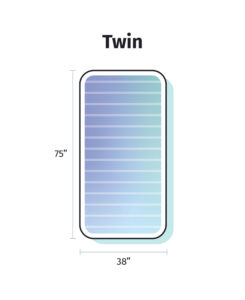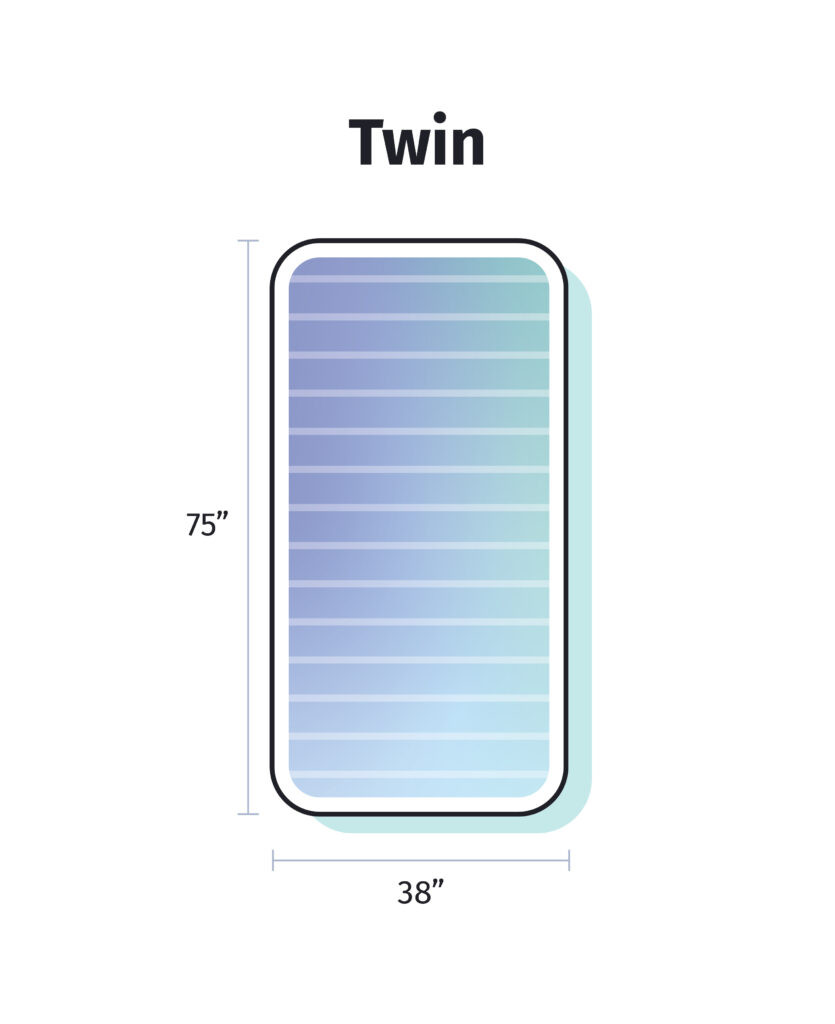 Additional Twin Mattress Sizes
The Twin XL: The Twin XL is the same width as a Standard Twin, but it's about 5″ longer, making it the identical length as a Queen or King. It is a well-suited option for college dormitories or taller children who may have smaller rooms, but travelers will also see them in hostels where multiple beds are in one large room.
What Size Is Best?
Who will like the California King?
People who are shopping for a Master Bedroom that is longer than it is wider should find the California King to be an ideal bed size. For those who are specifically looking for more space between themselves and their sleep partner will find the Standard King to be a better choice because it is 4″ wider than the CA King. Remember, the CA King offers 4″ in additional length, which may look better in a narrower but longer Master Bedroom.
People who are above average in height. California King beds enable taller individuals and couples to have a sleep experience that doesn't involve their feet dangling off the edge of the bed. If this is a priority (we completely understand), then the CA King could be a fantastic choice for taller people.
Those who have a sizable budget and can afford to spend more, CA King beds and mattresses aren't rare but they aren't as popular as the Queen bed. Shoppers can usually find a CA King size mattress with most brands, but they will also need to get bed sheets that fit specifically to that mattress because a regular King size set of sheets won't fit the bed.
Who will like the Twin?
Smaller adults or children, as we mentioned earlier, are a good match for Twin-sized beds because they are generally the next step up from a crib mattress. A Standard Twin is 38″ x 75″ (sometimes it's measured at 74″), which could be a tight fit in both directions for an average adult and nearly impossible for a couple to sleep comfortably together.
People who need a bed for a smaller room. A Twin bed will look pretty small in a Master Bedroom, which are usually one of the most sizable bedrooms in a house. A Twin will probably fit well as a replacement for a crib in a nursery or a smaller room that maybe two people share – like a child's room.
Shoppers looking to save cash. After a crib, the Twin bed is the logical next step up and the least expensive option for a bed. Some people consider skipping a Twin and heading straight to a Full/Double, or even a Twin XL, for the additional length, but shoppers save the most money going with the standard Twin.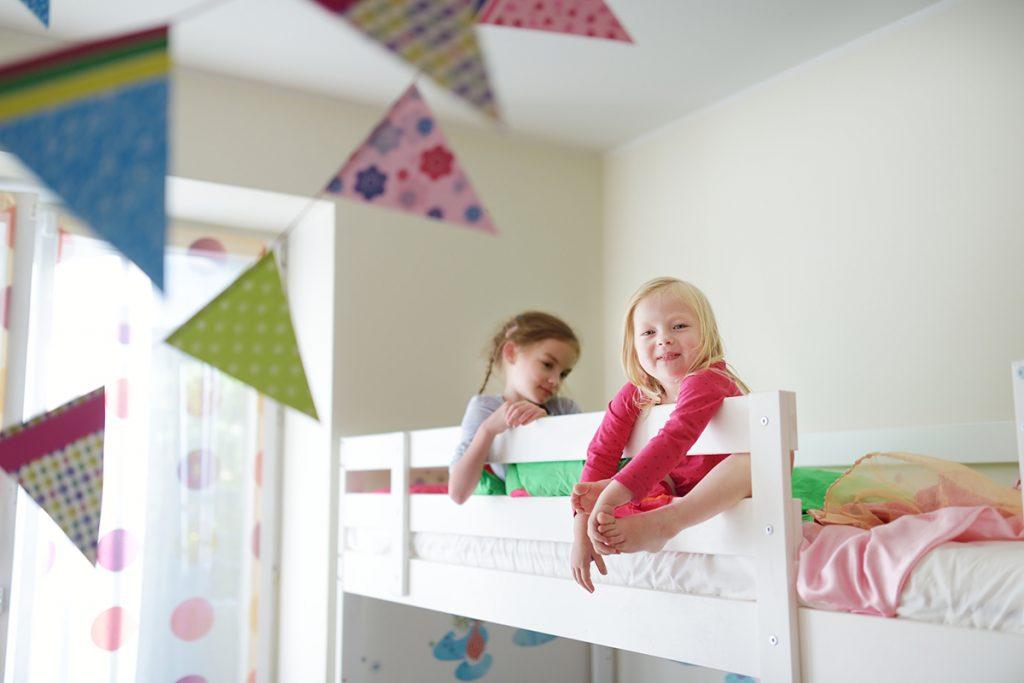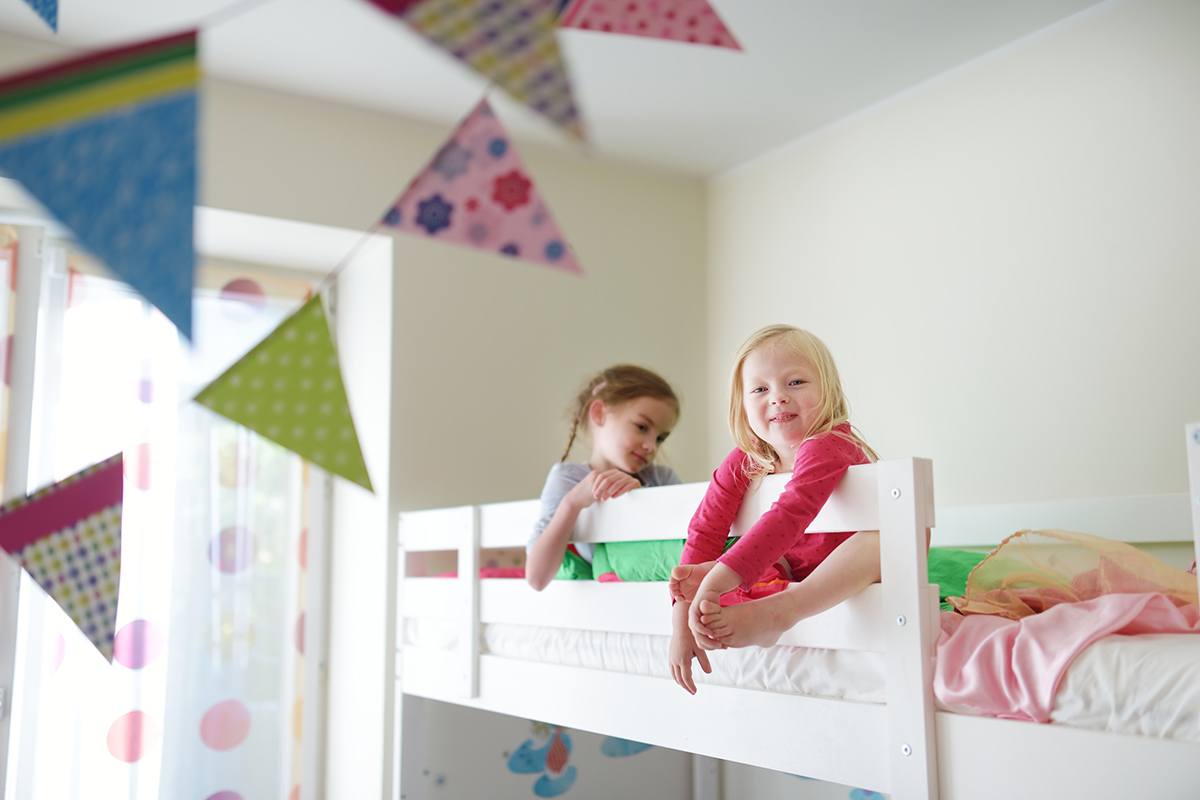 MNStudio/Shutterstock
Things To Consider
Below are some tips and things to think about before making the next mattress purchase.
Measure the space of the bedroom and leave ample room for movement. For people who are thinking about making the jump from a crib to a Twin or are ready to go big and commit to a California King bed, make sure it fits in the bedroom. This may seem obvious, but with so many options and an abundance of mattress deals out there, it's actually pretty easy to get caught up in an impulsive shopping moment and end up with a bed that isn't the right dimension for the room. An article from Th!ngz Contemporary Living says that most designers will recommend 30″ of space around the bed for movement.
Consider how to move the mattress into the room. Twin beds and mattresses won't be too difficult to get through doorways or upstairs, but a California King mattress and bed frame is no joke and may take some maneuvering – and another set or two of hands – to get into a bedroom.
Shop seasonally whenever possible. There are times during the year that mattresses and beds will go on sale. People who are on a budget but want to upgrade to a bigger bed, it might be worth waiting to make a purchase during that time. Back-To-School sales might be the best time for Twin beds and sheet sets or bundles. For mattresses, Labor Day weekend is often a perfect time for sales.
Overall
The reasons to buy a Twin bed and a California King bed do not often overlap; one is better suited for smaller adults and children, the other is the best bet for taller individuals and couples who have space and the budget. No matter what the decision, be sure to measure the living space and leave room for nightstands and other furniture to full enjoy the new bed.
RELATED: Best Mattresses for Kids
FAQs
Do two Twin-size beds make a California King?
Nope! A California King bed is longer than a Twin-size mattress (84" vs. 75"). Additionally, two Twin-size beds put together would be 76" in width, and a California King is only 72" wide.
Do two Twin XL beds make a California King?
Also no. Even though a Twin XL is longer than a Twin-size bed by 5", it is still only 80" in length, compared to the 84" California King. Additionally, two side-by-side Twin XL mattresses is 76" wide, compared to a 72" wide California King.