Nobody likes a saggy mattress. They're uncomfortable, unsightly, and expensive to replace! Luckily, there are a few tricks you can try to extend your sagging mattress's lifespan before you need to buy a new one. Read on below to learn how to fix your sagging mattress, when it's time to buy a new mattress, and why your bed is sagging to begin with.
Why Do Mattresses Sag?
Mattress sagging is a sign of normal wear-and-tear. An old mattress will eventually sag or indent where most of your body weight rested on it throughout the night. Even a high-quality mattress will sag eventually, but certain mattress materials will last a bit longer than others.
As a rule of thumb, poly or memory foam mattresses will sag more quickly than hybrid, latex, or innerspring mattresses. That's because sagging in all-foam mattresses occurs after the support foams in your mattress have softened. Sagging in latex mattresses occurs the same way, but latex is ultra-durable so the process is slower. On the other hand, sagging in mattresses that use steel support coils won't occur until those coils lose their tension, which can take longer.
Regardless of how it occurs, a sagging mattress can cause serious problems for a lot of sleepers. Sleeping on a saggy mattress often leads to back pain, but it could cause neck, shoulder, or hip pain too. So, take a look at the tips below to increase your mattress's lifespan and prevent pain and pressure points.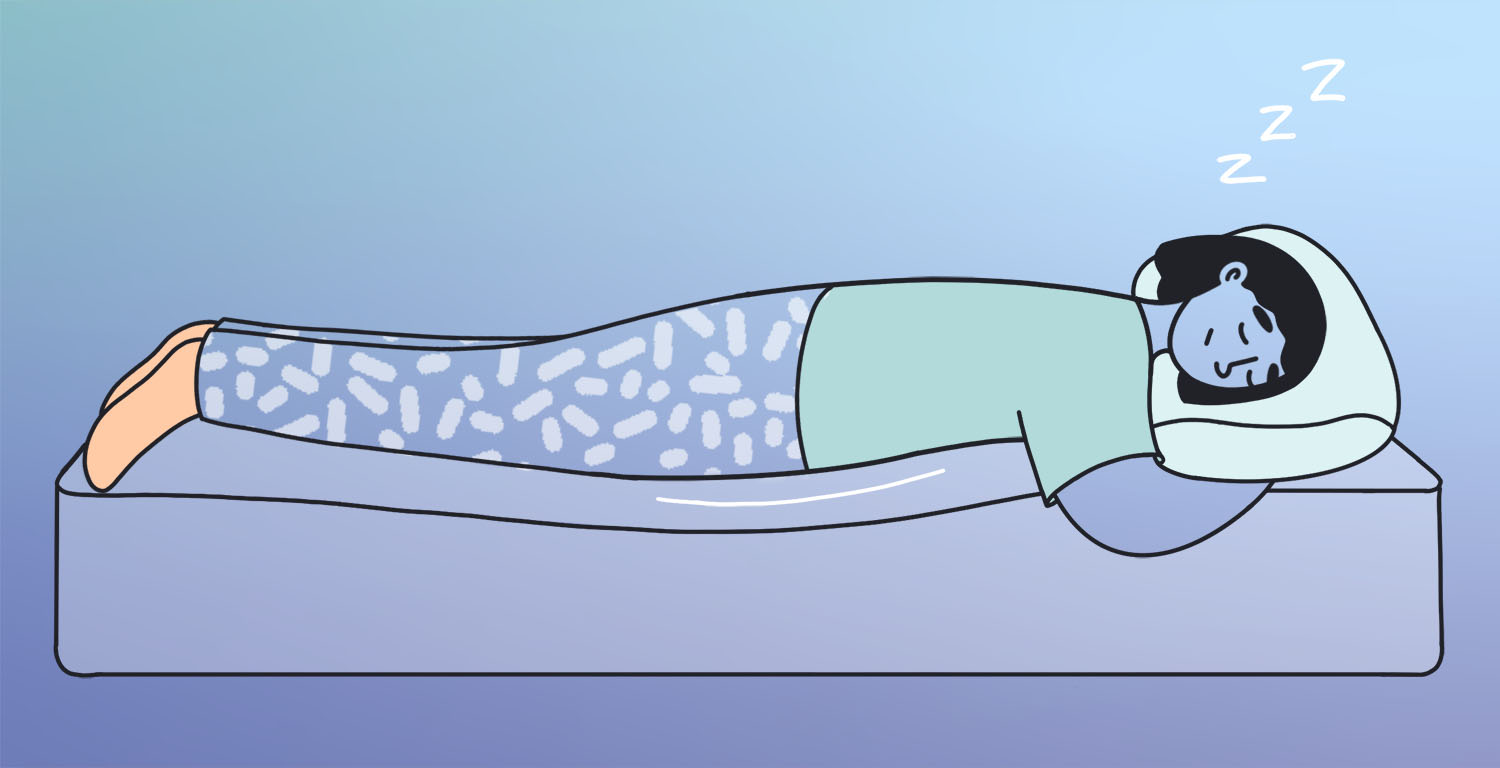 How to Fix a Sagging Mattress
Rotate your mattress

A great way to make your mattress last longer is rotating it 180 degrees every three to six months. This will help distribute your weight more evenly over time, which can prevent premature sagging issues. This method is especially helpful for side sleepers. This sleeping position puts a lot of weight on a small area of your sleep surface, so rotating your bed can really make your mattress last.
Keep in mind you should rotate your mattress, not flip it. Most modern mattresses are built from the top down, with a cozy comfort layer on top. Flipping your bed will mean you're sleeping on a hard mattress foundation layer, which will prevent you from getting a good night's sleep! (Unless you're someone who loves ultra-firm beds, in which case you should check out our Brooklyn Bedding Plank mattress review).So be sure to flip, rather than rotate to ensure you're sleeping on top of your mattress.
Use a mattress topper
Using a topper can add some extra cushion between you and your new bed, which will help prevent it from wearing out. If your bed is already sagging, a mattress topper (especially a thick, firm memory foam mattress topper) will create an even sleeping surface that makes up for mattress indentations. This makes mattress toppers a great way for shoppers on a budget to extend the life of an older bed. If you're looking to cover up some sagging areas on your mattress, check out our 10 best mattress toppers of 2022 article for some topper suggestions.
Add extra pillows

Sleeping with extra pillows is a good DIY fix for a sagging mattress. Add an extra pillow beneath your back, hips, or legs (or anywhere else you're noticing a mattress indentation) to help even out your sleep surface. Keep in mind this is a quick fix for folks struggling with pain while they try to replace an older bed, not a permanent solution.
Firmer pillows with good shape retention are the best choice for combatting mattress sagging. A durable Purple Pillow could be a good option for this.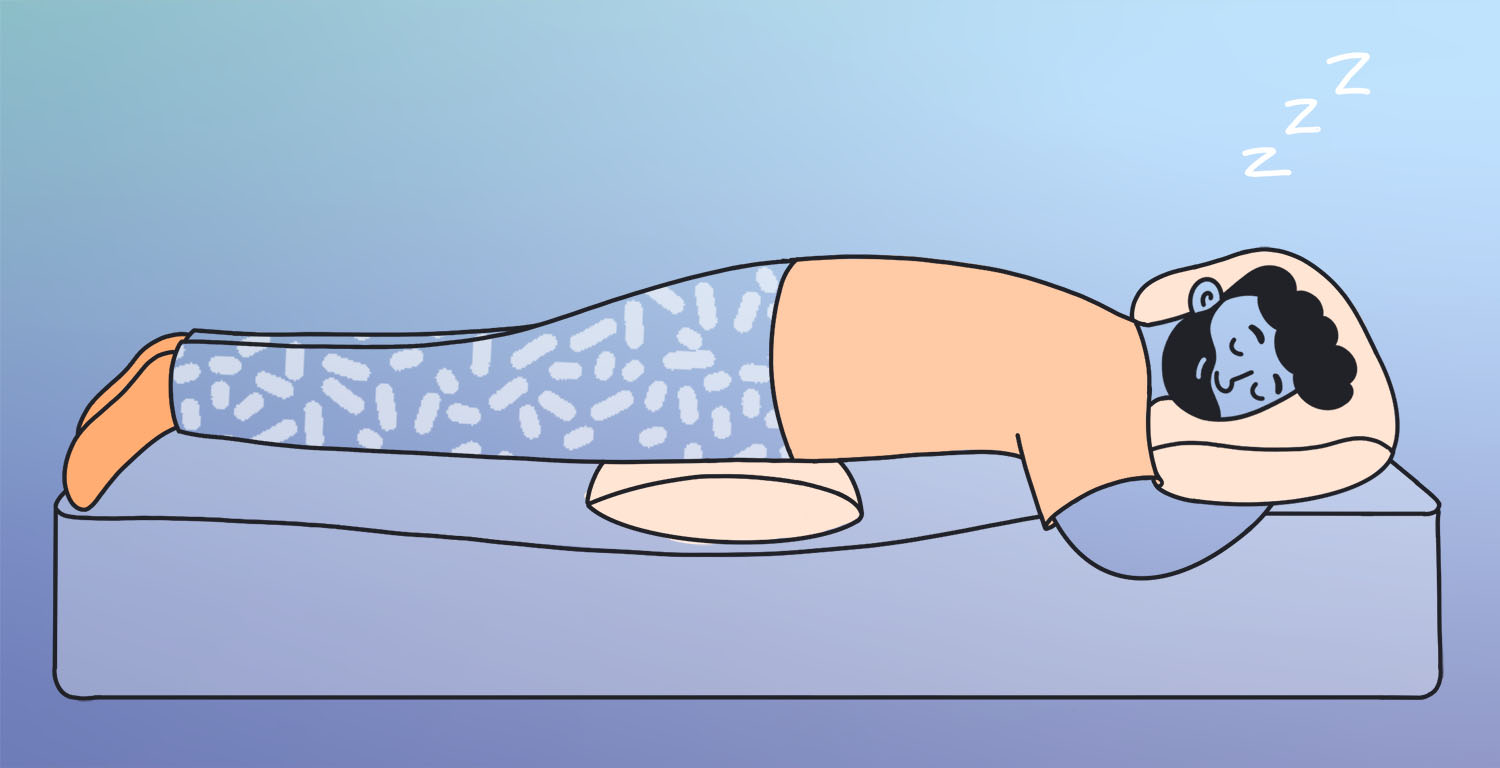 Replace your foundation 

Your bed's foundation has a big impact on how long your mattress lasts. Bed frames that hold your mattress up with thin, spaced out slats do not support mattresses as well as solid foundations. This is especially true for foam and hybrid mattresses. To improve your foundation fast, you can put a piece of plywood between your mattress and your foundation. This can offer more support quickly and cheaply.
Alternatively, you could try purchasing a new foundation that offers better mattress support. Keep in mind that many mattress companies specify what type of foundation is best for their beds. For instance, memory foam mattresses will sag more quickly if you use a box spring, whereas old school spring mattresses are best supported on a box spring. Be sure to do your research when buying a new mattress to ensure you have the right foundation for your bed. A good starting point is our article on the difference between box springs, foundations, and platform beds.
How to Prevent Your Mattress from Sagging
Check out the list below for some quick tips on preventing mattress sagging to improve your sleep quality!
Rotate your mattress 180 degrees every three to six months
Alternate what side of the bed you sleep on. This will help distribute your weight and is less of a hassle than rotating your entire mattress.

Use a mattress topper.
Sleep with extra pillows.
Replace your slatted foundation with a solid base.
Check your mattress warranty. Most mattress warranties cover premature sagging, so check yours to see if your manufacturer might replace your sagging mattress free of charge.
When to Get a New Mattress
In general, most mattresses will last about 7 to 10 years. However, this really depends on what your bed is made of and how well you take care of it. Take a look below to learn how long your bed might last based on several factors:
Mattress Materials – In general, latex mattresses will last the longest (up to 12 years). Innerspring mattresses will also last quite a long time (up to 12 years). Hybrid mattresses will last closer to 7-10 years, depending on what their comfort layers are made of. For instance, a hybrid pillow top mattress will sag much faster than a hybrid with a latex top layer. Foam mattresses will sag the fastest. Memory foam mattresses will likely last about 7 years, but budget poly foam mattresses could wear out after just 5.

Body Weight – The more weight you place on your mattress, the more quickly it will wear out. This is something to keep in mind if you share your bed with a partner who weighs significantly more or less than you. 

Sleeping Position – Side sleepers are more likely to wear out their beds quickly because they place a lot of pressure in concentrated points at the hips and shoulders. If you sleep on your side, you're likely to notice some sagging around your hips and shoulders sooner than back or stomach sleepers notice any indents.

Mattress Quality – The quality of your bed has a big impact on how long it will last. A low-quality budget mattress will wear out more quickly than a high-quality innerspring or latex bed. A good indicator of quality is your mattress warranty. Generally, high-quality beds will have warranties that last at least 10 years.
Remember to take everything above with a grain of salt. If you're experiencing pain or noticing sagging, even if it's only been a few years, it is time to replace your bed! If that sounds like you, take a look at our best mattresses that won't sag buying guide to find a comfortable new bed.
FAQs
How often should you rotate your mattress? 
You should rotate your mattress every three to six months.
Why is my mattress sagging in the middle? 
Your mattress is likely sagging in the middle because your weight has softened its top foams or springs over time. This is a sign of natural wear and tear.
What type of mattress is least likely to sag? 
Latex and innerspring mattresses are least likely to sag.
What do you put under a mattress for support? 
You can use a foundation, box spring, or platform bed frame to support your mattress. If you notice your mattress sagging, you can also try putting a piece of plywood between your mattress and your slatted bed frame for some extra support.
Madison Schaper
Madison is an ex-mattress tester and current law student. When she's not studying, she puts her accumulated mattress and bedding knowledge to good use writing articles for Mattress Clarity. A few of her favorite non-work activities include trying new restaurants, reading short stories, and watching too much reality TV.