The PharMeDoc Full Body pregnancy pillow is a C-shaped polyester fiberfill pillow that comes with a cotton or cotton jersey cover. (And you can purchase extras!) The pillow replaces the need for multiple pillows during pregnancy because it can wrap around a pregnant person and support their head, neck, back, and bump and help keep their knees aligned all at the same time. It can also work to keep you comfortable after your baby arrives.
Just how easy is it to get that cover on and off? Read on for my full review to find out.
Key Features
Dimensions: 57″ x 30″ x 7"
Weight: ~6 lbs
Full body C-shape design aligns your neck, head, hips, and back
Eliminates the need for multiple pillows
Filling: polyfill material; on the firmer side
Cover: 100 percent jersey cotton; zipper-removable

Removable cover is both hypoallergenic and antimicrobial
Comes in several colors (white, grey, and pink) and 100 percent cotton and jersey knit options
Additional covers can be purchased
Price: $39 full price (one size)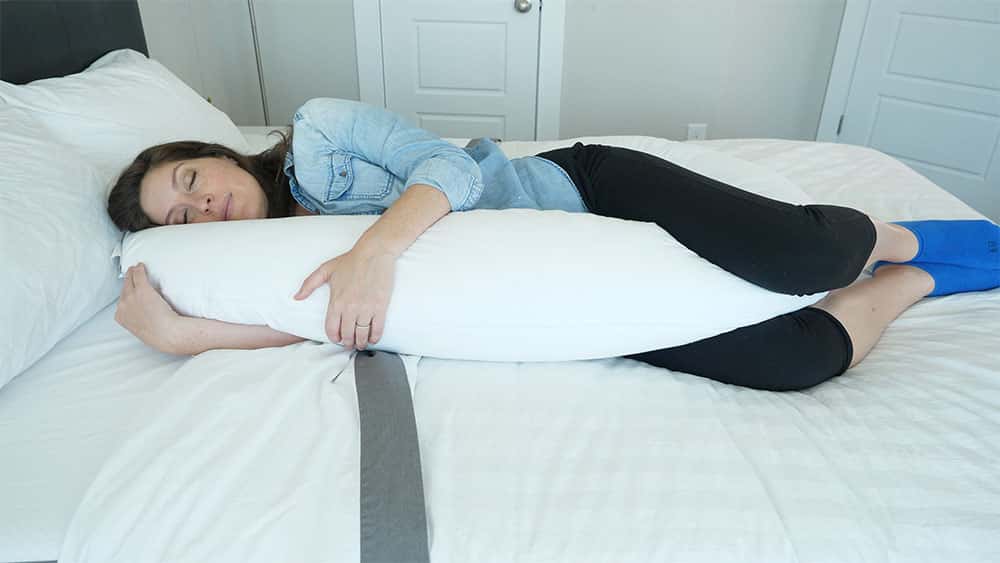 Pillow Construction
The pillow comes in one size, and its dimensions are 57″ x 30″ and 7″ in depth, which makes it a pretty tall and supportive C-shaped body pillow.
Although the pillow description says it's "adjustable," I did not see a zipper or area that I could open to access the pillow's filling (to add or remove a certain amount). When I talked to PharMeDoc they said that feature will be available starting June 2018, so you should see it as an option soon.
My pillow cover is 100 percent jersey cotton in a white color. It also comes in blue, pink, or grey, and you can buy additional covers on PharMeDoc's website or from other retailers.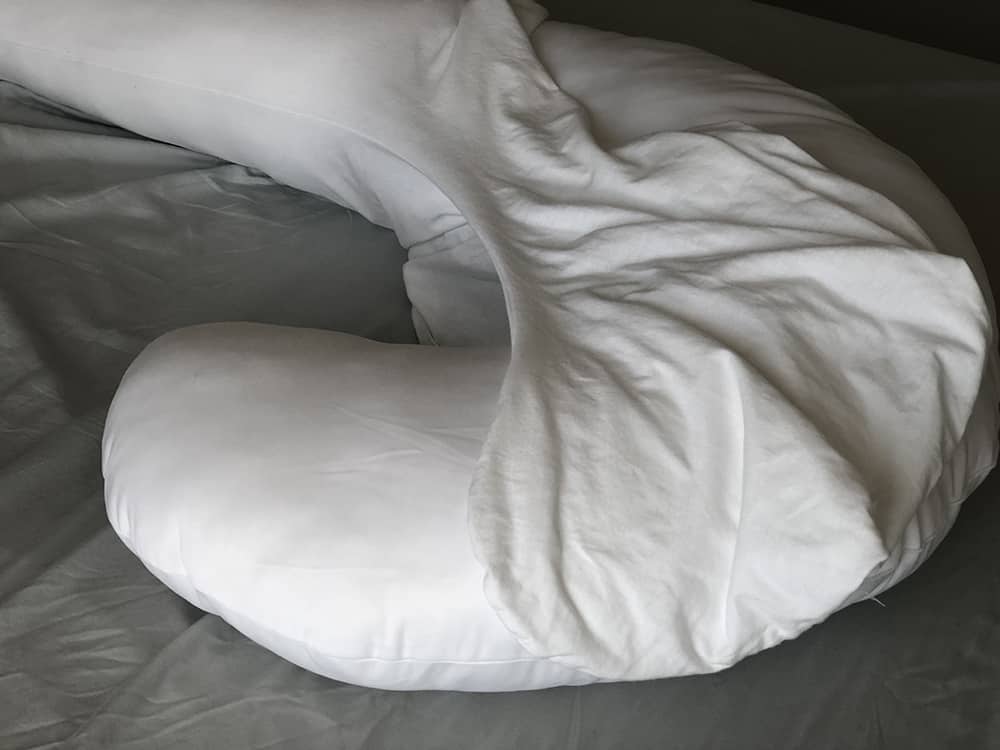 Who Makes It?
PharMeDoc has been around since 2013. The brand produces both bedding and fitness lines with the goal of supporting their customers' work, recovery, and rest and enabling people to live healthier, more balanced lives.
To that end, PharMeDoc sells a variety of pregnancy pillows, bed pillows, seat cushions, and fitness tools such as foam rollers, massage therapy balls, ab rollers, and yoga blocks.
Cleaning
Because this pillow's cover is removable, it's pretty easy to keep clean. Simply unzip the cover and toss it in the washing machine to give it a refresh. The removable cover is also dryer-friendly, so drying it is a breeze.
Care instructions may vary depending on which type of cover you purchase, so be sure to consult the tag on your pillow before washing and drying.
Pros
An easy-to-remove zippered cover that is machine washable and dryer-friendly
Versatile and replaces the need for multiple pillows
Can be used during pregnancy and postpartum
Separate covers are available for purchase

Sold through various retailers
Affordable
Cons
Not "adjustable" in the sense that you can add or remove the filling from the inner pillow casing (A truly adjustable option is coming June 2018)
Inner pillow filling cannot be cleaned in a washing machine
Limited sizes and cover options available (cotton or jersey cotton)
7″ depth may be too high for some people's heads/necks and could lead to soreness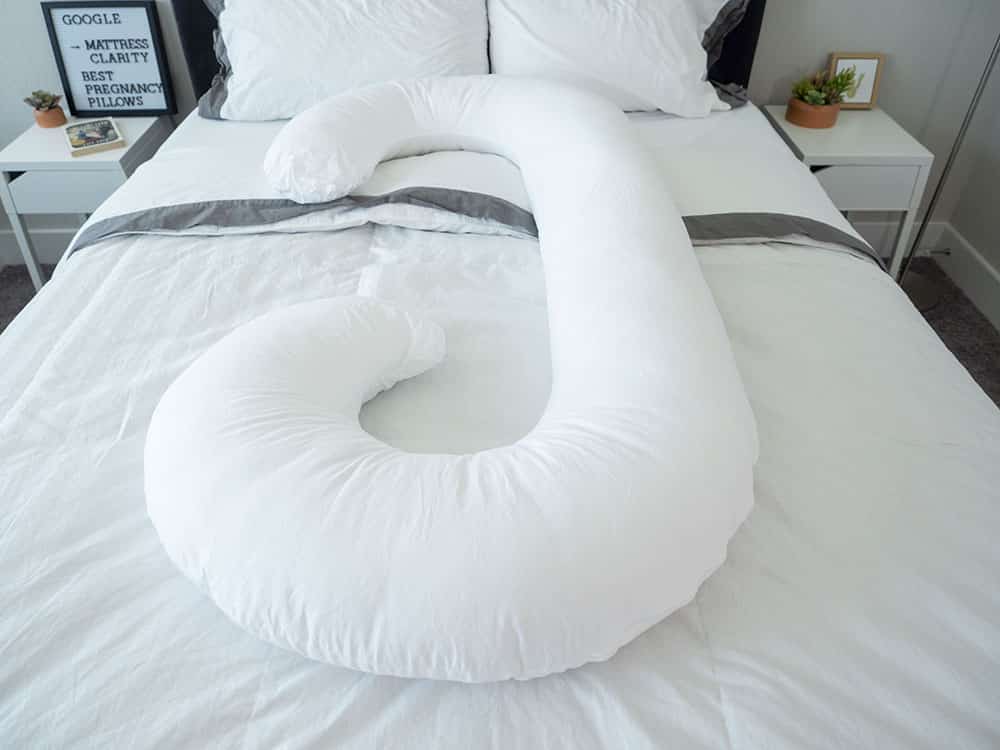 My Experience
C-shaped or U-shaped full body pillows are really popular for pregnant people because they support nearly all the areas of the body that could use extra cushioning and work to keep your body as neutrally aligned as possible, which helps prevent stiffness and soreness.
The PharMeDoc full body pillow is a C-shaped pillow that supports your head, neck, back, and between your knees. It can also be arranged to support your stomach; you can flip it around so the long side of the pillow faces you and supports your growing belly.
The filling is polyester fiberfill. It reminds me of the kind of stuffing you'd find in stuffed animals — light but tightly packaged into the casing so it provides enough support and cushion.
I am 5′ 7″ and have struggled in the past with the length of some full body pillows and their inability to reach my knees. That is not a problem with the PharMeDoc full body pillow. There is plenty of pillow to go between my legs and still curve upwards to my stomach.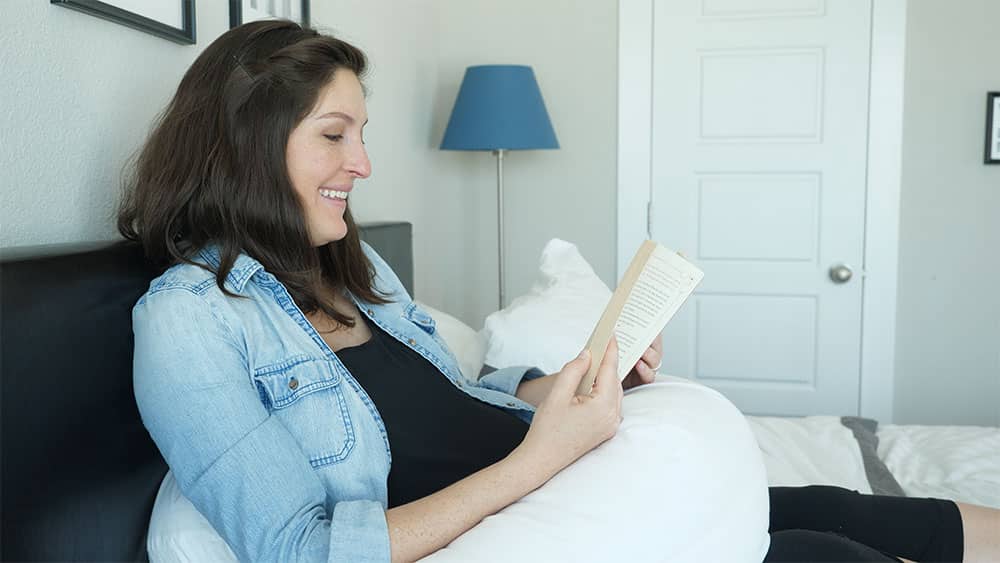 One of my favorite things about this pillow is that it has a simple zippered cover that is machine washable. The cover is easy to get on and off when needed. I also like that you can purchase replacement covers if you'd like.
I've seen a couple different versions of care instructions floating around. The care tag itself recommends air drying, but I believe there are instructions on the PharMeDoc website that say you can tumble dry low. I tried cleaning and drying the cover both ways and it came out fine.
You can use this pillow in a variety of ways (both while asleep and awake), and this versatility makes it popular. I have twisted it behind myself to keep me propped up on the couch or in bed and have also wrapped it around me at night to support my knees and to help keep me from rolling over on my back.
Overall
If you're on a budget and want to consider a simple but effective C-shaped body pillow to help support you during pregnancy, I would recommend the PharMeDoc full body pillow. There is plenty of length and the fiber filling held its own during my review. The cover is removable and you can machine wash it. (Just give it time to air dry.)
For other pregnancy pillow reviews, click HERE.
The following two tabs change content below.
Katie Golde
Katie manages the day to day operations of the Mattress Clarity news site and reviews sleep products in addition to writing and editing sleep news.She hails from Austin, where she lives with her growing family. She is a Certified Sleep Science Coach and has a master's degree in Journalism from Northwestern University and has a background in health and science content. Her work can be found in print and online publications like Discover Magazine, USA Today and The Huffington Post.
Latest posts by Katie Golde (see all)