The Cozy Bump inflatable pregnancy pillow offers pregnant people a chance to lay on their stomachs comfortably. Because the pillow is inflatable and comes with a travel bag, it is easy to take with you. (Just don't forget your electronic pump!) You can add a pillow on top of it and rest or you can text, read, and do work while laying on it.
There is a lot to know about this pillow, how it's designed, and the best ways to use it. To decide if it's something you should consider, read on for my full review.
Key Features
Dimensions: 72″ x 28″ x 9.5″
Made of a PVC fabric (a form of plastic material) that is phthalate-free, azo-free, and cadmium-free
Weight limit: 300 lb
Inflatable and adjustable pillow designed for pregnancy
The patented functions allow gravity to kick in to decompress your spine, which may help relieve back pain during pregnancy
Two separate air chambers help you adjust to your size
OB/GYN- and chiropractor-approved 
Can be used with or without a regular pillow
Comes with a "swaddle" to help support your stomach when lying face down on the pillow
Comes in blue and pink colors
One size; $75 for a pillow
Comes with a carry bag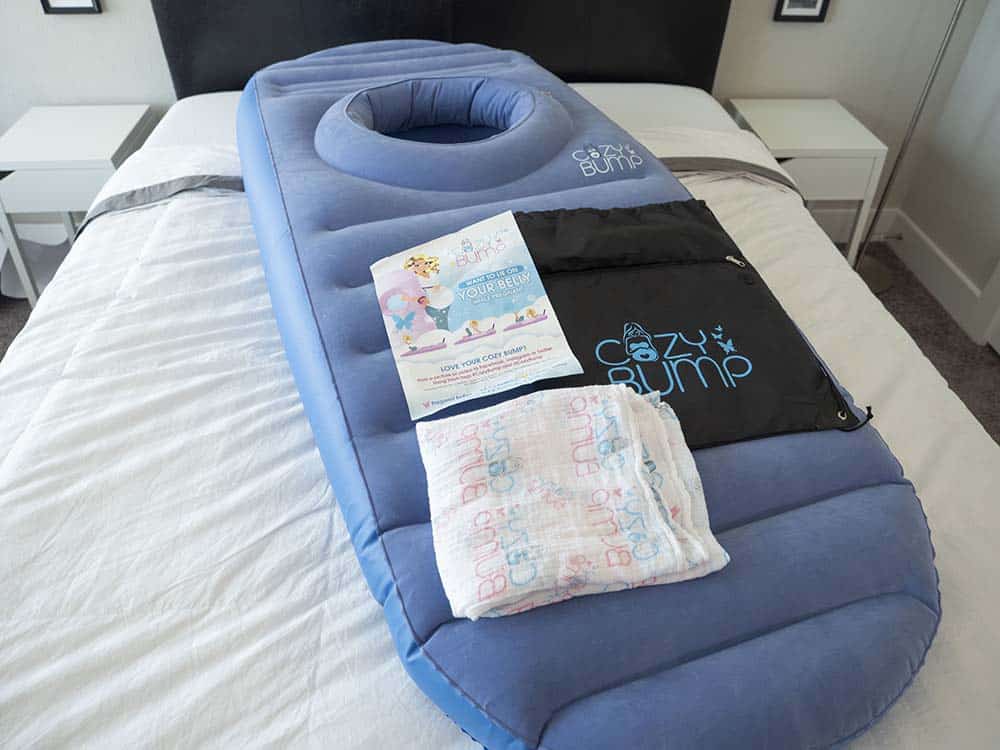 Pillow Construction
The Cozy Bump inflatable pregnancy pillow is sizable: The dimensions are 72″ x 28″ x 9.5″. It almost looks like an inflatable pool float or canoe. There is a circular opening towards the middle to place your bump. The idea is to relieve pressure on your back and decompress your spine as you lay on your stomach.
The height is broken down into layers or chambers. The first chamber is 7″, and the second inflatable chamber (around the circular opening) is 2.5″ fully inflated. The pillow is long enough that most people can fit the entire length of their body onto it — it's about 6′ tall.
The entire pillow is made of a PVC fabric that is phthalate-free, azo-free, and cadmium-free, according to the company. It comes in both blue and pink color options.
You will need an electric pump or inflator to fill the two chambers of this pillow. One chamber is the majority of the pillow and the other is a small rounded section around the open area, so you can adjust the pillow to your comfort level as you are lying on it.
It also comes with a Cozy Bump swaddle — a thin piece of cotton/linen that you lay over the opening on the Cozy Bump so that it helps support your stomach as you lie on the pillow.
Who Makes It?
The company that makes this pillow is appropriately named Cozy Bump. They specialize in the Cozy Bump pregnancy pillow as well as a few accessories such as massagers and apparel. Their pillow has earned awards from Mom's Choice Awards and Baby Maternity Magazine.
Cleaning
The company explains the best way to clean the Cozy Bump pillow on their FAQ page:
"Get a cup or bowl of hot water and mix in dishwashing soap until the water is soapy. Dip a cloth into the soapy water and then scrub the area. [Repeat] this a number of times until the stain is removed. Once [you're]done wipe down the area with a wet cloth that doesn't have soap. Allow the Cozy Bump to fully dry before putting it away. (Do not use a scrubber or anything that will cut the Cozy Bump.)"
Pros
Nice option for stomach sleepers who want some back relief
Safe to sleep on overnight (always check with your OB first)
Easy to inflate (as long as you have electronic pump/inflator)
Travel bag allows you to deflate and take with you
Lightweight
Puts you in a position to get a back massage or nap
Cons
The electronic pump or inflator is necessary and only sold separately
Taller people may feel their heads or feet hang off the ends of the pillow (around 5′ 8″ or taller)
Some off-gassing (chemical smell) means you will need to ventilate it before or after inflating
Not necessarily  sustainable overnight; some will find falling asleep on the pillow easier than others
Women with bigger chests may want to use an extra pillow
Takes up a lot of room in the bed or on the floor
Pricey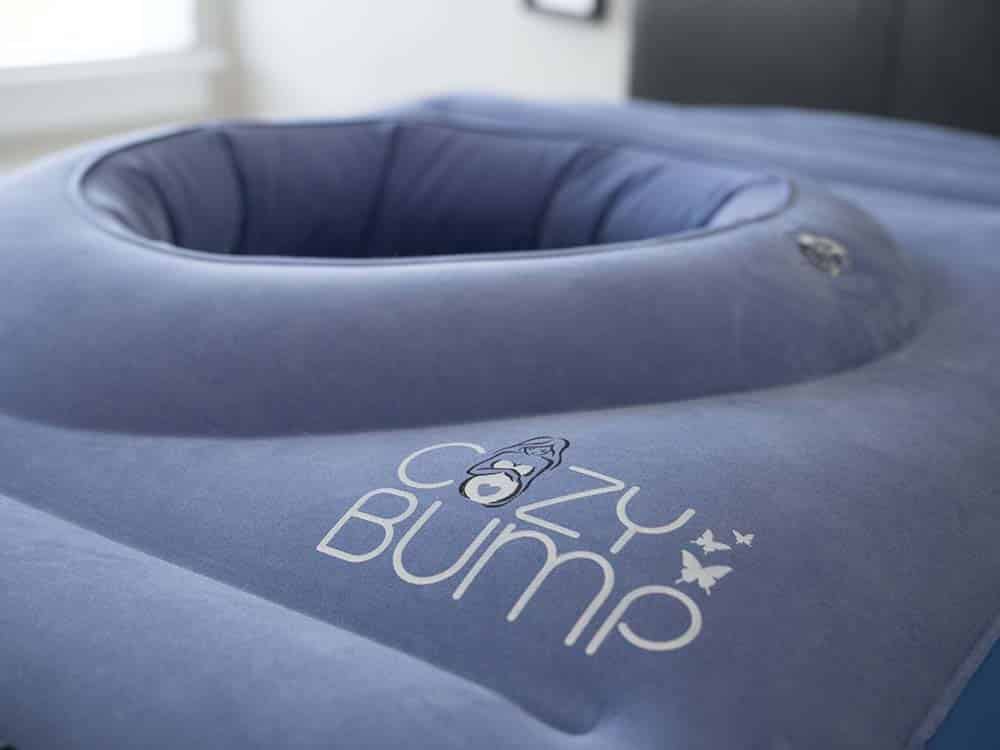 My Experience
Pregnancy can take its toll on your back — and your sleep. Towards the later part of pregnancy, many women must sleep primarily on their sides and avoid back and stomach sleeping. This can be quite a change (and not always in a good way) if you're used to mostly sleeping on your back or stomach.
The Cozy Bump promises to safely cradle your baby bump so you can rest on your stomach. At 28 weeks pregnant, this sounded pretty appealing to me and I'm glad I had a chance to review this unique pregnancy pillow.
Before you purchase the pillow, make sure you have an electric pump that will work for most air mattresses. This type of pump should work for the Cozy Bump as well. You can also purchase a pump off of the Cozy Bump website for an additional cost. Either way, you're going to need something electric to inflate your pillow — blowing it up with your mouth would be serious work.
I made sure to read all the instructions the pillow came with and watched the videos they provide online. I'd highly recommend this so you can get a better understanding of how the product is designed to help you and what it should look like in terms of supporting your body. Make sure you fully inflate both chambers first before using the pillow!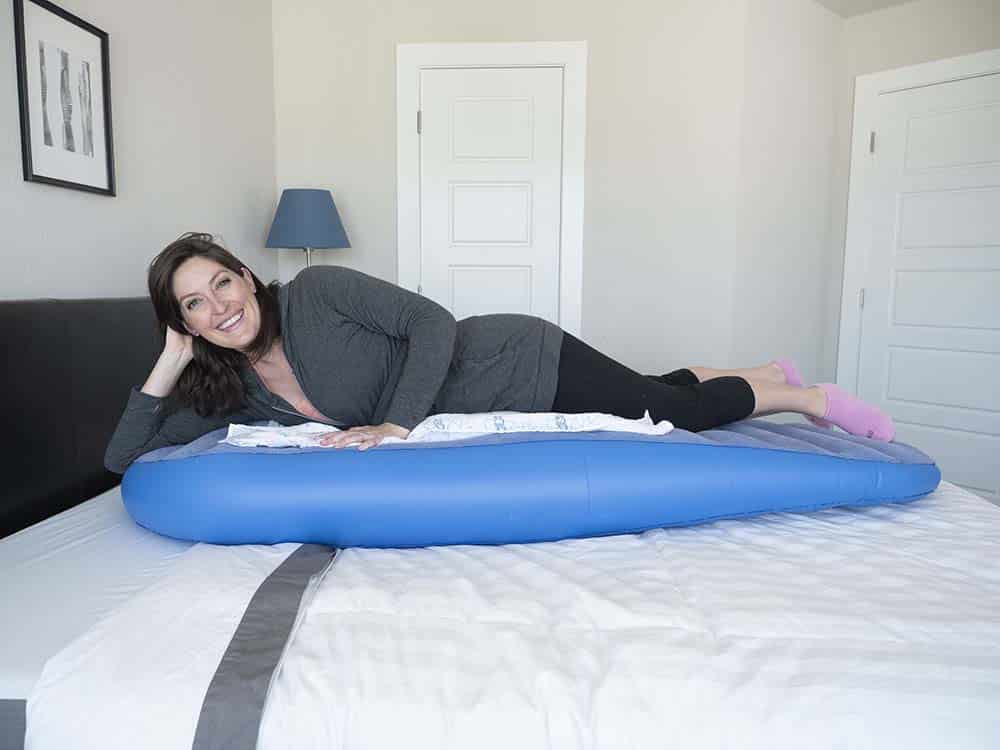 The Cozy Bump is easy and quick to inflate with an electronic pump. While the plastic material should be safe, if it has a smell when you unpack it, you can leave it outside to let it breathe before using it. Because the pillow is made from a plastic material, you can spot-clean it at best.
Don't forget to use the "swaddle" linen or a bed sheet to put over the Cozy Bump. Putting this over the opening before you lay on it adds extra support for your bump that I personally found crucial to staying comfortable. It will also help keep your pillow clean by preventing any spills from happening directly on the inflatable part.
It took me a little bit of time to adjust the smaller chamber around my bump and feel comfortable — but I did enjoy laying on my stomach again after weeks of avoiding it. I felt support from the swaddle underneath so there wasn't as much pressure from gravity on my lower back.
You can choose to use or not use a traditional pillow with the Cozy Bump. I found it more comfortable to use one when trying to rest but otherwise stayed up on my elbows to text, read, or do work on my laptop.
I really liked the Cozy Bump because it gave me a chance to change things up and take a break from sitting up, reclining on my back, or laying on my side to rest. I can see how it would work well for small periods of rest (although I was never able to fully fall asleep), but I am doubtful I could sleep through the night on the pillow.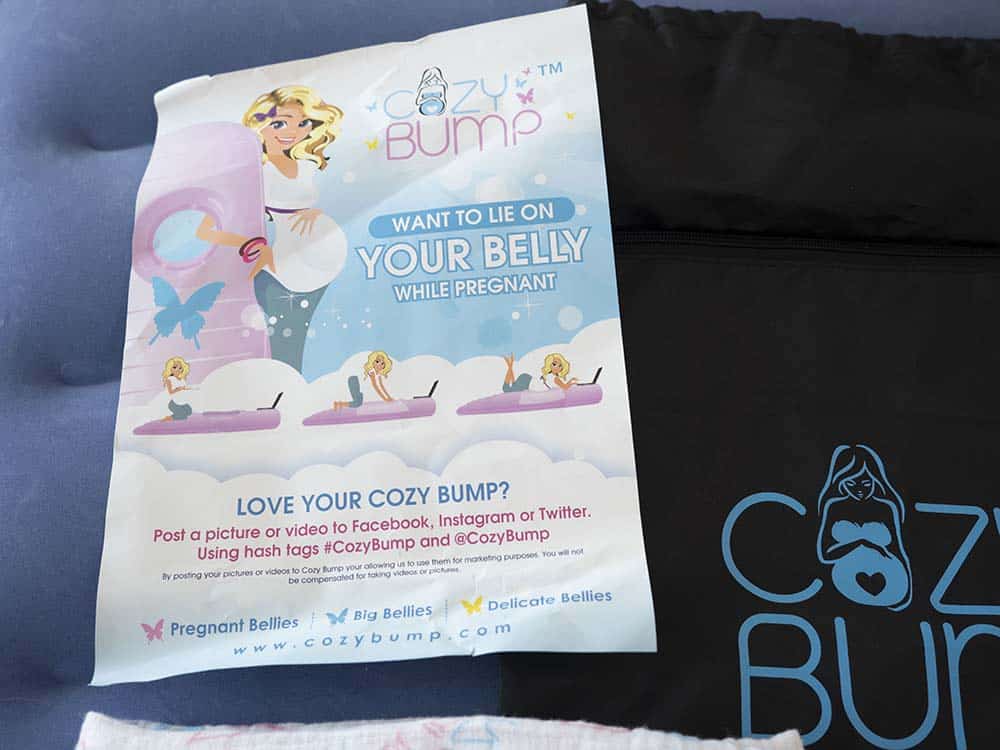 Size is a big factor with this pillow. You need the entire piece inflated to get full body support, but it takes up a lot of room. I used the pillow on the floor, but I've seen people put it on top of their mattresses as well. This would take up quite a lot of room in a Queen sized bed.
At 5'7″, my feet were just touching the bottom and my arms were resting at the top. I think this is the right size for me but anyone taller might find their feet or hands dangling off.
The Cozy Bump is an enjoyable and supportive pillow when you need a break and want to lay on your stomach. If you plan on sleeping on it overnight, I would just run it past your doctor to make sure they feel like that's a long-term option for you. Otherwise, I think it's a nice short-term pillow to rest on.
The price for the pillow is fairly high if you're only going to use it for breaks to rest. It will be up to you to decide if the relief you'd get from lying on your stomach during your pregnancy is worth it.
Overall
I can really see the appeal with the Cozy Bump and its ability to give pregnant people a chance to take pressure off their backs. While the product has been approved by an OB/GYN and chiropractor, I would consult with your own doctor if you're planning to spend the night sleeping on the pillow.
You can add or remove a decent amount of air in the pillow, and I think that affects how tight the pillow is around your bump as well as the angle of your body. You'll want to make sure everything looks like it lines up and feels right first before using it for a long period of time.
I believe that I will continue to use this pregnancy pillow for short-term use throughout the rest of my pregnancy, especially when I'm feeling back pain and when I want to change my position and rest on my stomach. I don't think it will work on my bed overnight, but there is still a lot of use for the pillow and its unique design.
For more pregnancy pillow reviews, click HERE.
[Editor's Note: The content provided on this site is for general informational purposes only. Any medical information provided is not a substitute for professional medical advice. We encourage you to consult with the appropriate health expert if you have concerns.]
The following two tabs change content below.
Katie Golde
Katie manages the day to day operations of the Mattress Clarity news site and reviews sleep products in addition to writing and editing sleep news.She hails from Austin, where she lives with her growing family. She is a Certified Sleep Science Coach and has a master's degree in Journalism from Northwestern University and has a background in health and science content. Her work can be found in print and online publications like Discover Magazine, USA Today and The Huffington Post.
Latest posts by Katie Golde (see all)