Leesa's pillow is uniquely designed with a light and responsive ventilated Avena foam filling and a soft ribbed knit outer fabric. The cover is removable and easy to clean, and the pillow won't lose its shape or go flat.
Who might find this pillow to be a good fit? Read on for my full review.
Click here to get the best deal on the Leesa Pillow.
Key Features
Standard size: 18" x 26" x 5" (comes in King and Standard size)
King size: 18" x 33" x 5"
Made in the USA
Filling: 100% Polyurethane Foam (ventilated)
Cover: 70% Polyester, 17% Viscose, 13% Nylon
Removable cover that is washable and dryer-friendly
Designed for all styles of sleepers and all body types
Price: $75 for Standard, $95 for King
100-night trial period
Included in Leesa's One-Ten Program (one pillow will be donated for every 10 sold)
RELATED: Best Pillow For Side Sleepers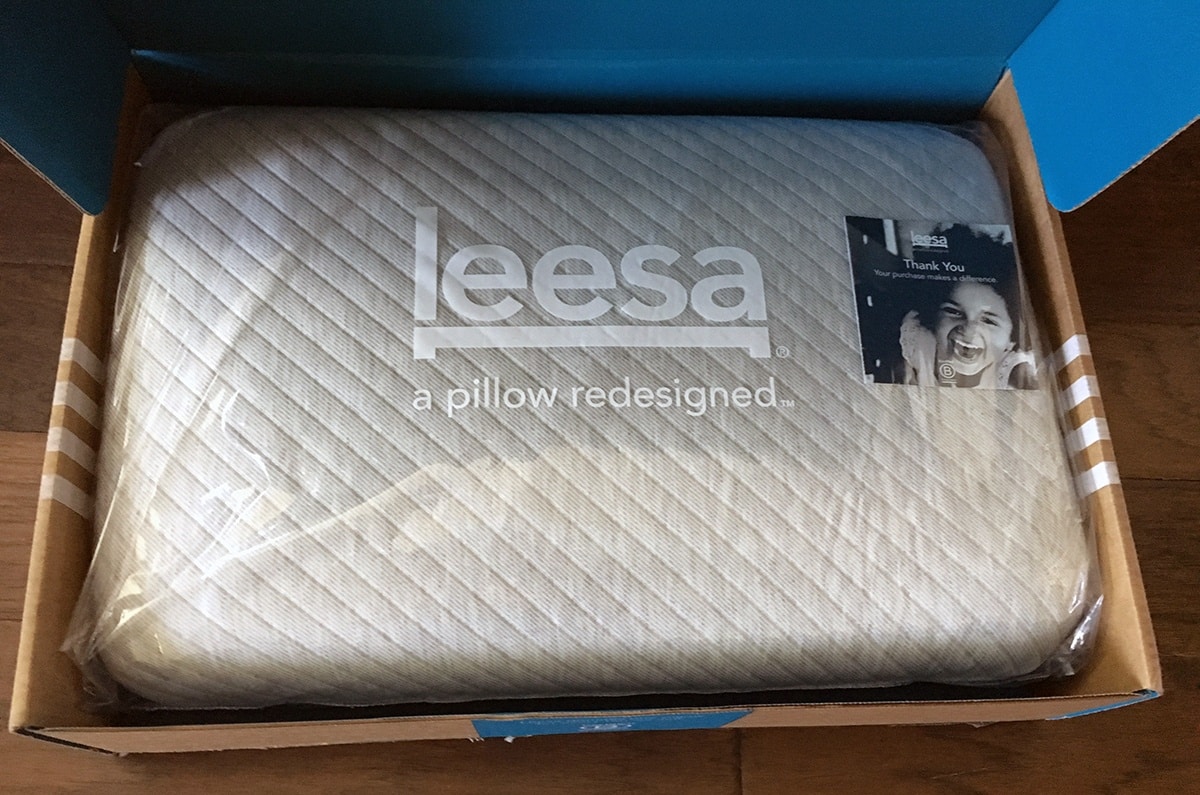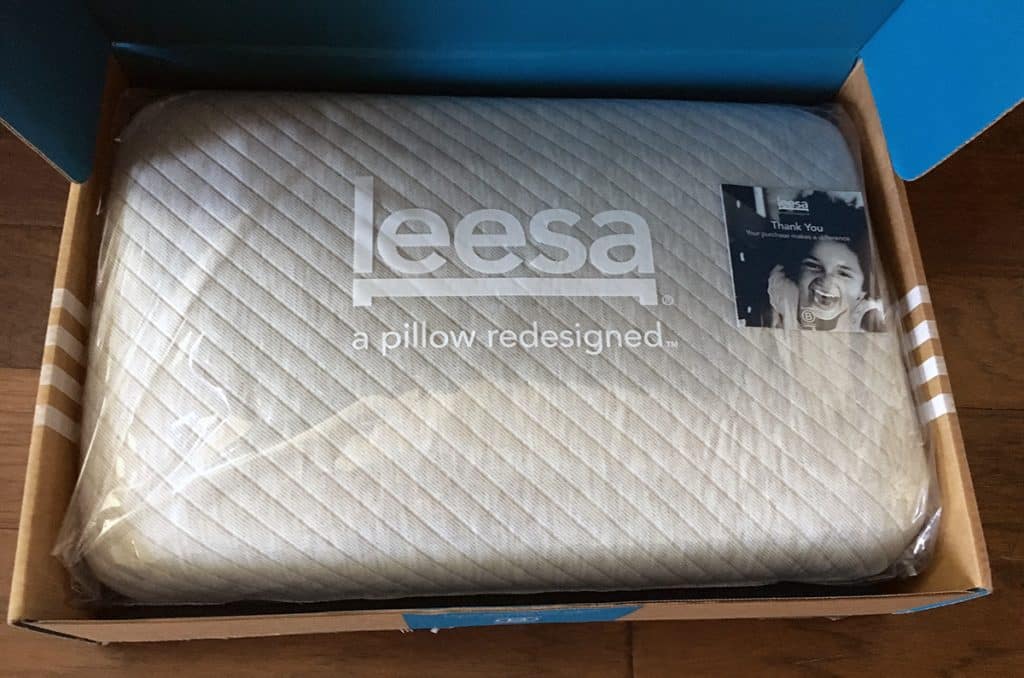 Pillow Construction
My review is for the Leesa pillow in the Standard size.
Leesa's pillow is very similar to its mattress. The pillow uses Leesa's exclusive Avena foam and their Universal Adaptive Feel to solve what the company says are two of the most common pillow-related problems: overheating and flattening over time.
The filling is a solid piece of Leesa's Avena foam. This is the same foam that Leesa puts on the top layer of its mattresses. It's 100 percent polyurethane but feels more like latex foam than memory foam. It is very light and has a very quick response, giving it that "bouncy" feel.
Leesa describes the Avena foam on its mattress this way: "specifically developed as a more durable, high-performance alternative to latex foam. The 2″ Avena® foam top layer is perforated to allow for maximum airflow and breathability while cradling you with the perfect combination of cushiony bounce, whether you're a back, stomach, or side sleeper."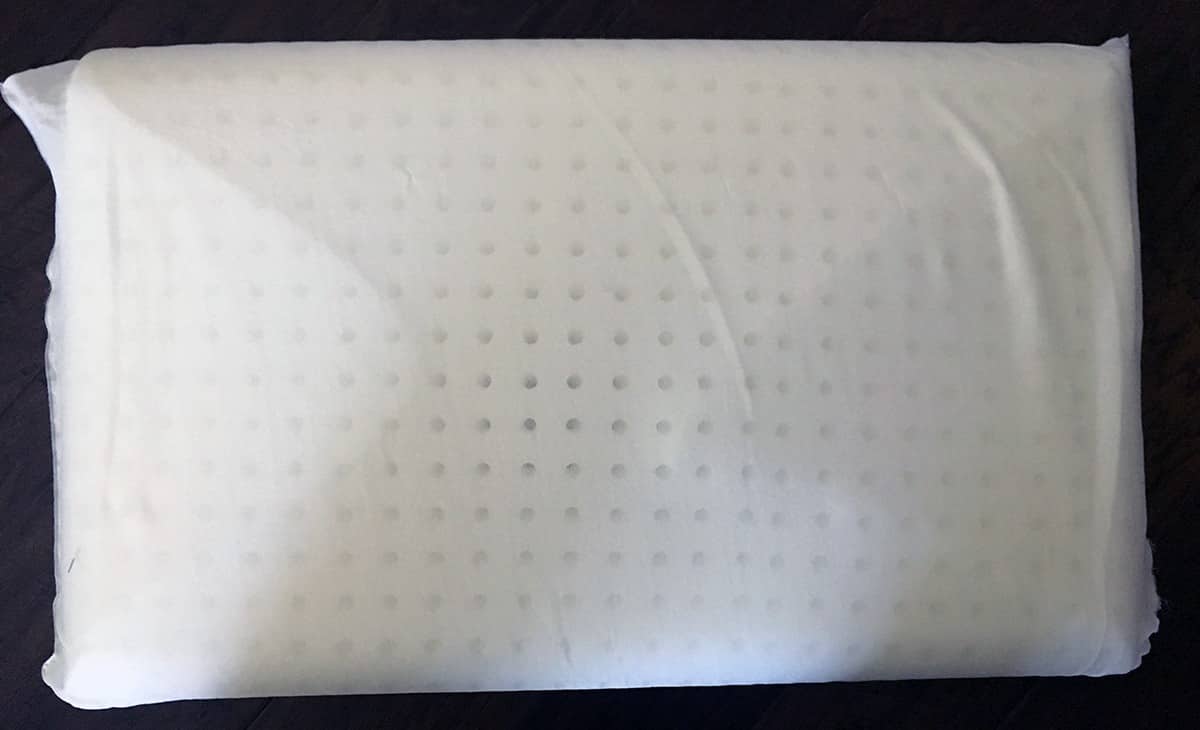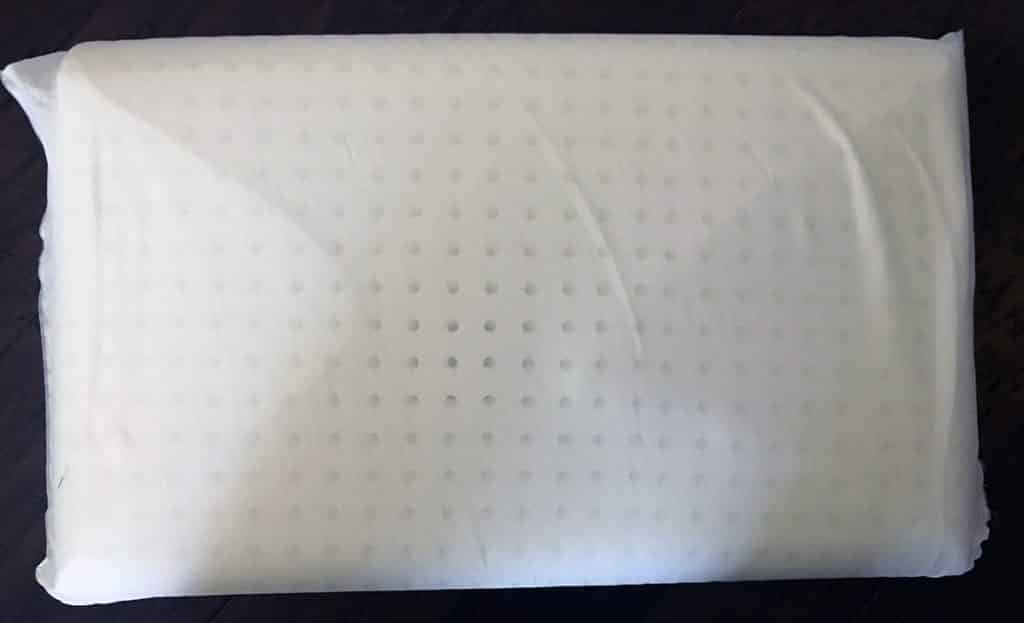 The Avena foam in the Leesa pillow is also ventilated and designed for all types of sleepers.
The pillow comes in two sizes: Standard and King. They're shaped pretty much like traditional pillows but with more rounded edges.
The cover is a soft heather gray with a zipper at one end, so sleepers can remove it and wash/dry it when needed. Care instructions say not to wash the foam filling, but one can remove the cover and machine wash and dry it on a gentle cycle.
Pros
Soft, removable cover that is easy to care for
Won't lose shape or go flat
Similar feel to latex foam for those who like responsive pillows
Standard size is a good height profile for side and back sleepers
Cons
Has some initial off-gassing; ventilation recommended
Might not work for every budget
Pillow might be too supportive for stomach sleepers
Click here to get the best deal on the Leesa Pillow.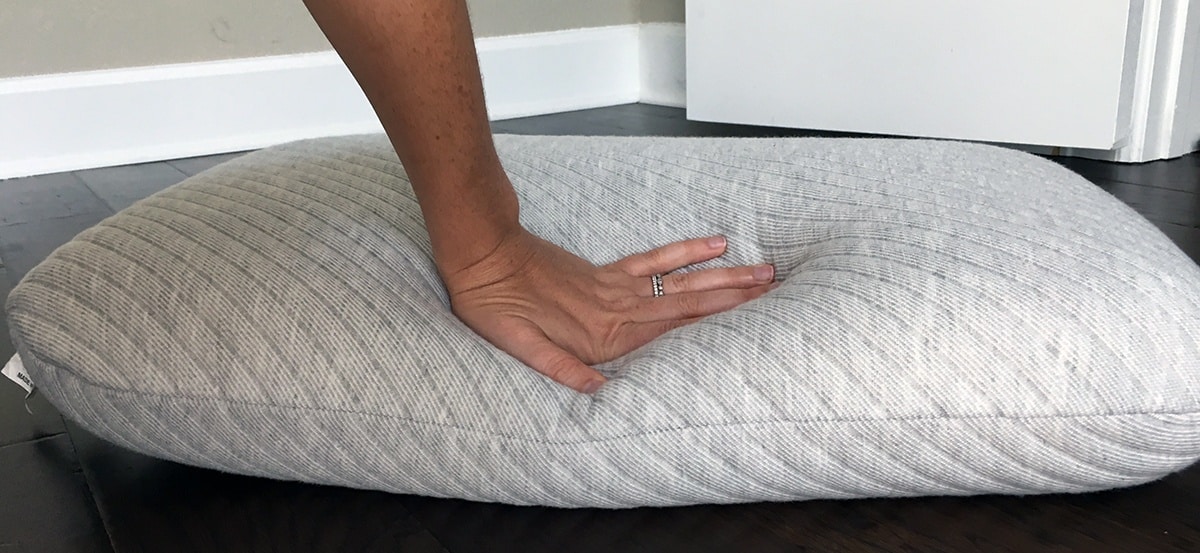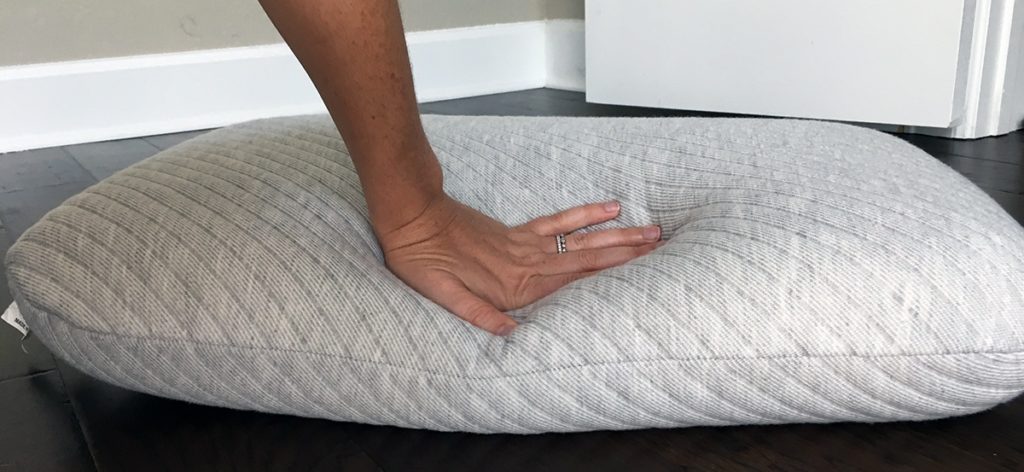 My Experience
As noted above, the Leesa pillow is filled with Avena foam, which is the same type of foam used in the first 2" layer of the Leesa mattress. So the pillow will definitely complement the mattress if a person is considering both.
The company describes the Avena foam as "a more durable, high-performance alternative to latex foam," and I think that's a fairly accurate description. It does feel very similar to latex foam in terms of responsiveness but has a more durable and substantial feel overall.
I sleep in multiple sleep positions and found myself most comfortable on my back and side with this pillow.
The solid piece of foam means that sleepers can't manipulate the shape of the pillow and it won't flatten out overnight, so the head, neck, and shoulders will stay supported by the foam all night.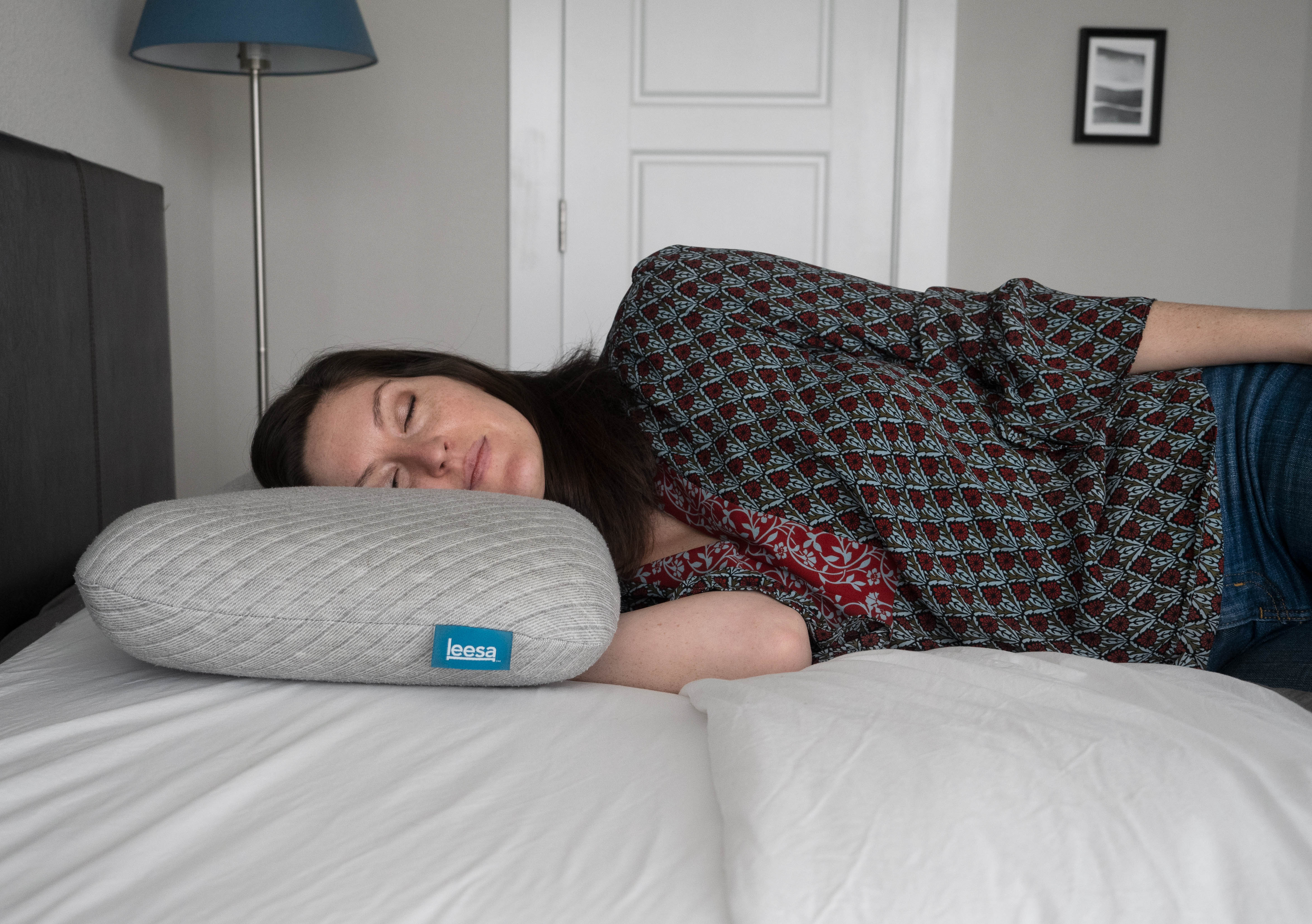 When I slept on my stomach, I had a harder time finding a comfortable position. To me, the Avena foam had a very responsive, almost "bouncy" feel that mimics latex foam. I couldn't get my head and neck to sink far enough into the pillow while I was lying on my stomach.
The removable knit cover is really soft and nicely designed, which gives the overall pillow a pleasant aesthetic and feel. It is also easy to remove and wash and dry with no durability issues.
The off-gassing was a bit overpowering for me when I removed the pillow from its packaging. I needed to wait a full 48 hours to let the pillow breathe before I could enjoy it comfortably.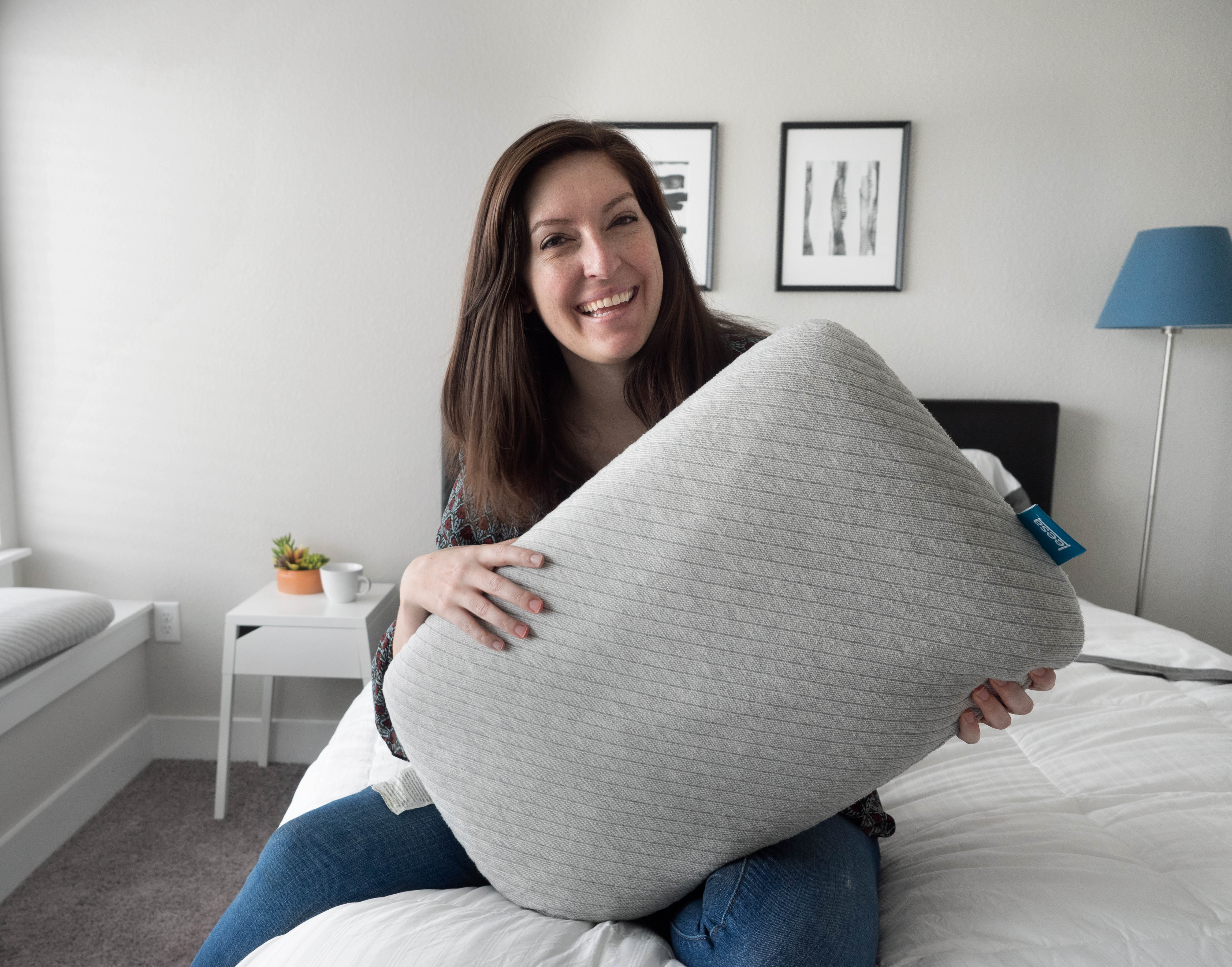 Overall
I think it's great that Leesa utilized the Avena foam to create a pillow that pairs well with their mattress. Based on my experience, I think this will be a good fit for those who:
Already like the overall feel of latex foam pillows
Want something light and breathable but supportive
Don't want a pillow that can be adjusted or manipulated into a specific shape
Typically sleep on their back or side
Are interested in making their dollar go further. The pillow is part of Leesa's One-Ten Program, which means one pillow is donated for every 10 sold
Just like the Leesa mattress, customers have 100 days to try out the new Leesa pillow to decide if it's a good fit.
The following two tabs change content below.
Katie Golde
Katie manages the day to day operations of the Mattress Clarity news site and reviews sleep products in addition to writing and editing sleep news.She hails from Austin, where she lives with her growing family. She is a Certified Sleep Science Coach and has a master's degree in Journalism from Northwestern University and has a background in health and science content. Her work can be found in print and online publications like Discover Magazine, USA Today and The Huffington Post.
Latest posts by Katie Golde (see all)