Those in the market for a made-to-order down alternative pillow need look no further than L Pillows. Simply answer a few questions and provide some details about your sleep style to the team and they'll send you a soft, a comfortable and an easy to care for pillow. Is there anything not to like about these pillows?  Read on for my full review.
Key Features
Each pillow is made to order based on answers to three questions/preferences:

Your sleeping position

Options: Back, Stomach, Side, and Multiple Positions

Fabric preference

Options: Quilted or Plain (Sateen)

Preferred pillow thickness

Options: Very Thin, Thin, Normal, Thick, Very Thick
*An additional "notes" section in the Checkout section allows you to add your weight and any additional injury/surgery or other details you want.

400 thread count, 100% cotton
Down alternative filling (Gel polyester fibers)
Hypoallergenic and antimicrobial
Made in the USA
Standard Size (20" x 26")
Double-stitched construction
100-night trial
Care instructions: Gentle cold machine wash and low tumble dry. Pillow may need to be fluffed often, if not daily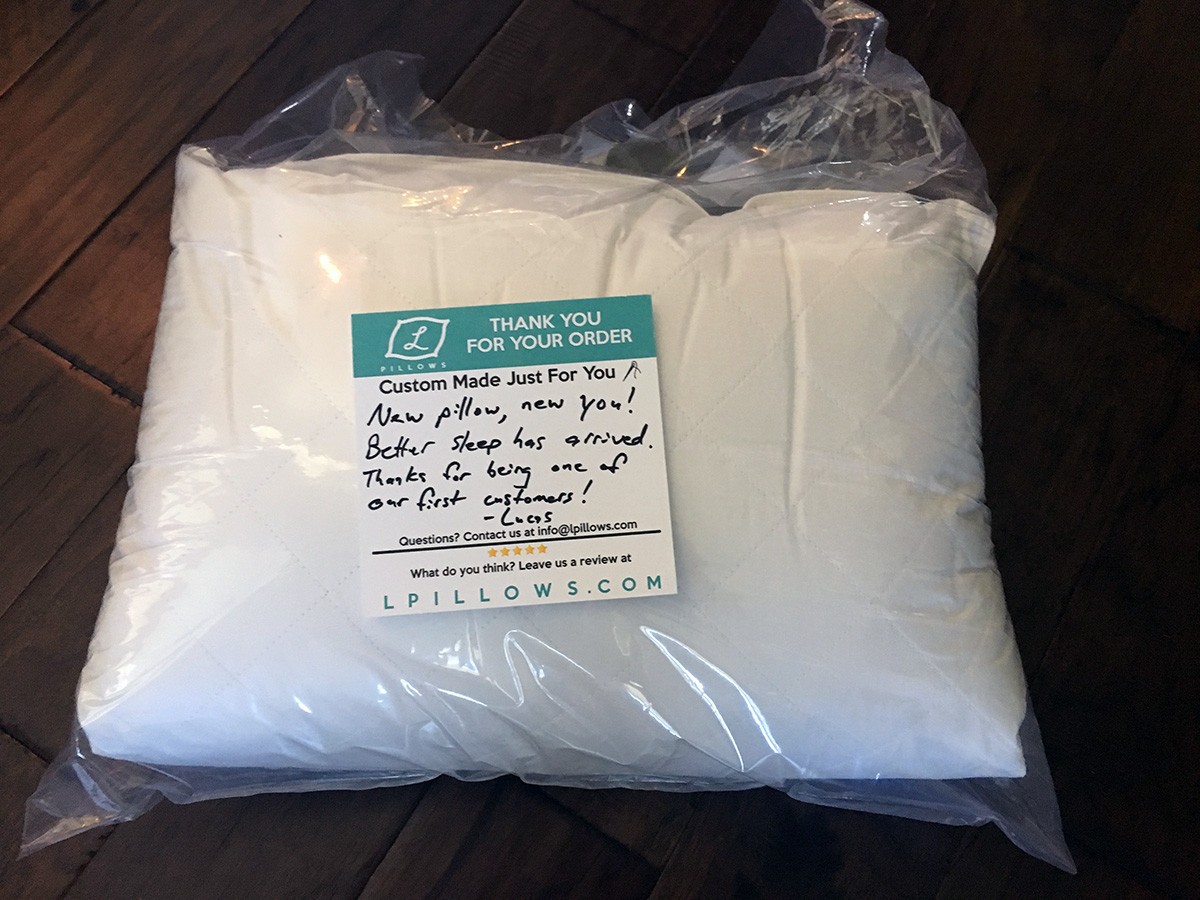 Pillow Construction
My pillow was constructed based on the following answers to the sleep questions and preferences:
Your sleeping position: Multiple Positions
Fabric preference: Quilted
Preferred pillow thickness: Normal
The pillow comes in one size: Standard 20" x 26". As requested, my pillow has a soft white quilted cover that is 100% cotton and 400 thread count.
My pillow is filled with gel polyester fibers – a down alternative – and definitely mimics the feel of down. I requested a "Normal" pillow thickness and it feels about a medium-level thickness (around a 4.5 or 5 out of 10) for a down alternative option.
Related: Best Pillows For Side Sleepers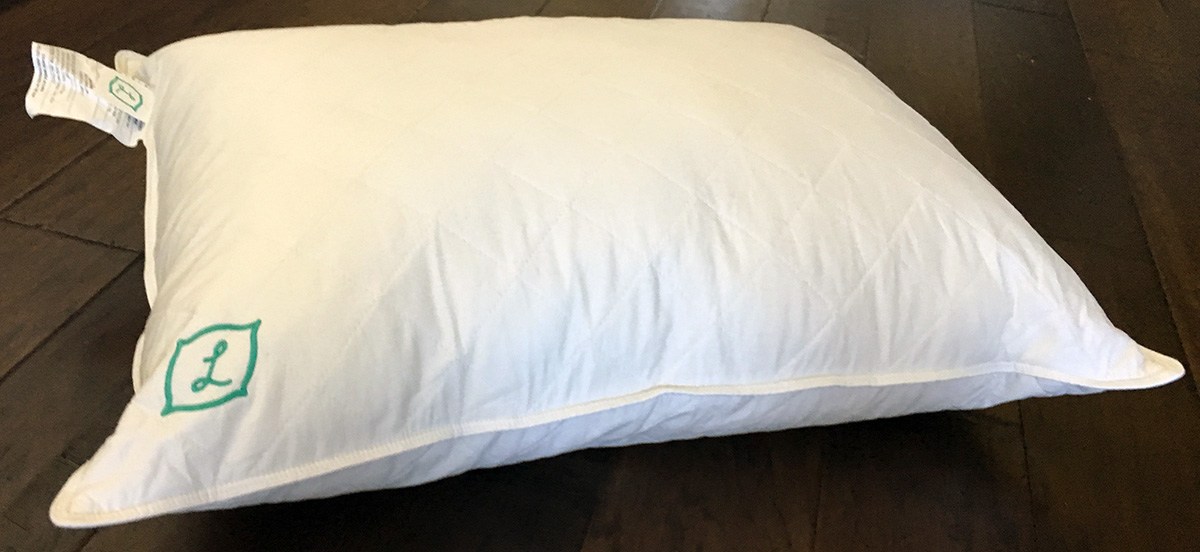 How L Pillows Creates Your Pillow
I was curious about how L Pillows takes my sleep position into consideration in the design process. I spoke with Lucas Larson at L Pillows and here is how he described it to me:
We use sleeping position as one of the factors to calculate the pillow density.  The majority of people who sleep in multiple positions need a softer pillow that can conform to the different positions they sleep in. Your pillow was made to account for that. 
Here's how our calculation works:
1. Sleeping position provides a baseline for pillow density.
2. We then look at thickness preference and adjust from there. 
3. Weight is the next refining factor to fine-tune the density.
4. Any other information like surgeries or pain is the last step and we adjust if necessary to accommodate those conditions 
Pros
Customizable based on your preferences
Soft cotton cover
Easy to care for
Good for those with allergies
Trial period
Cons
One filling (gel polyester fibers)
One cover fabric option (cotton)
One size available
Pricey for a standard down alternative pillow
Should be fluffed often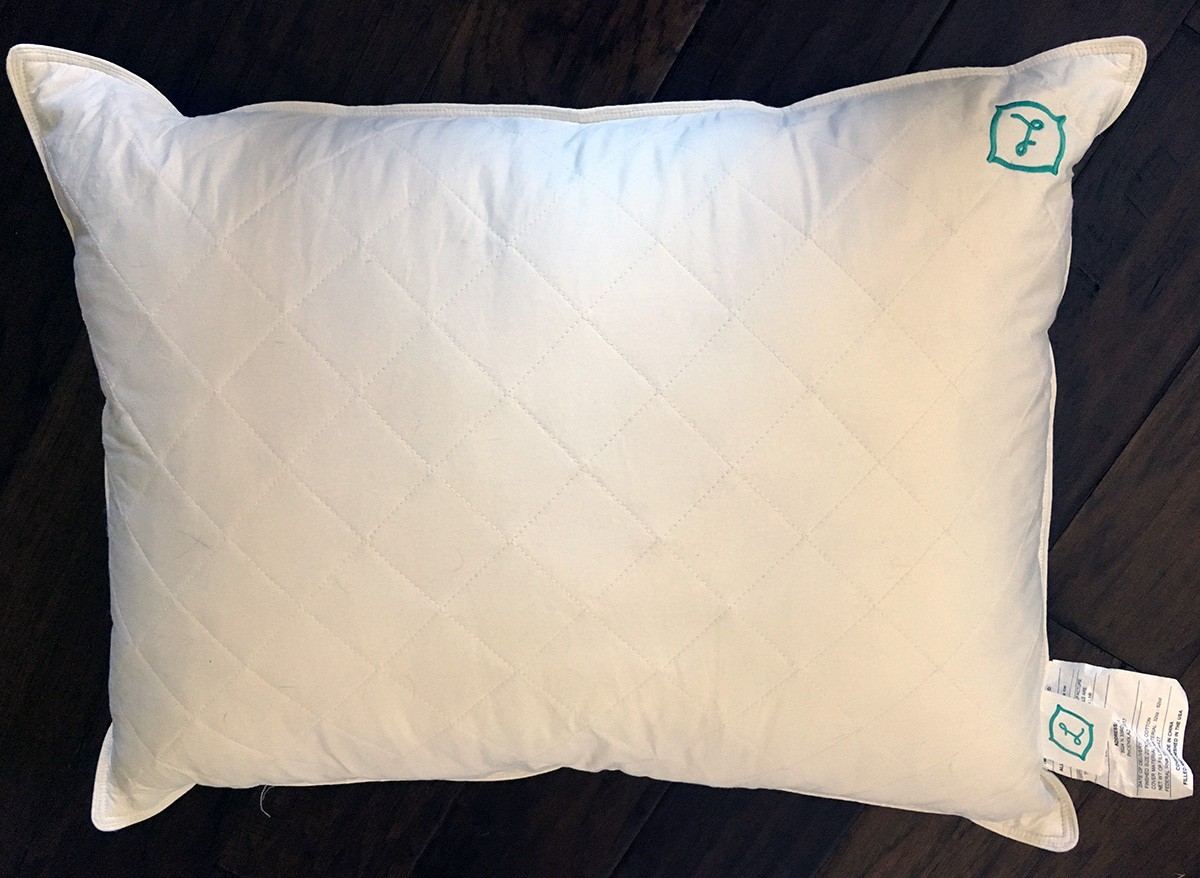 My Experience
The premise behind L Pillows is simple. Instead of an answering a long sleep quiz or a choosing from a range of already made products, you simply tell the company how you sleep, any details that might be relevant to your sleep experience and what your pillow preferences are – in terms of cover fabric and thickness at least – and they'll hand make a pillow for you.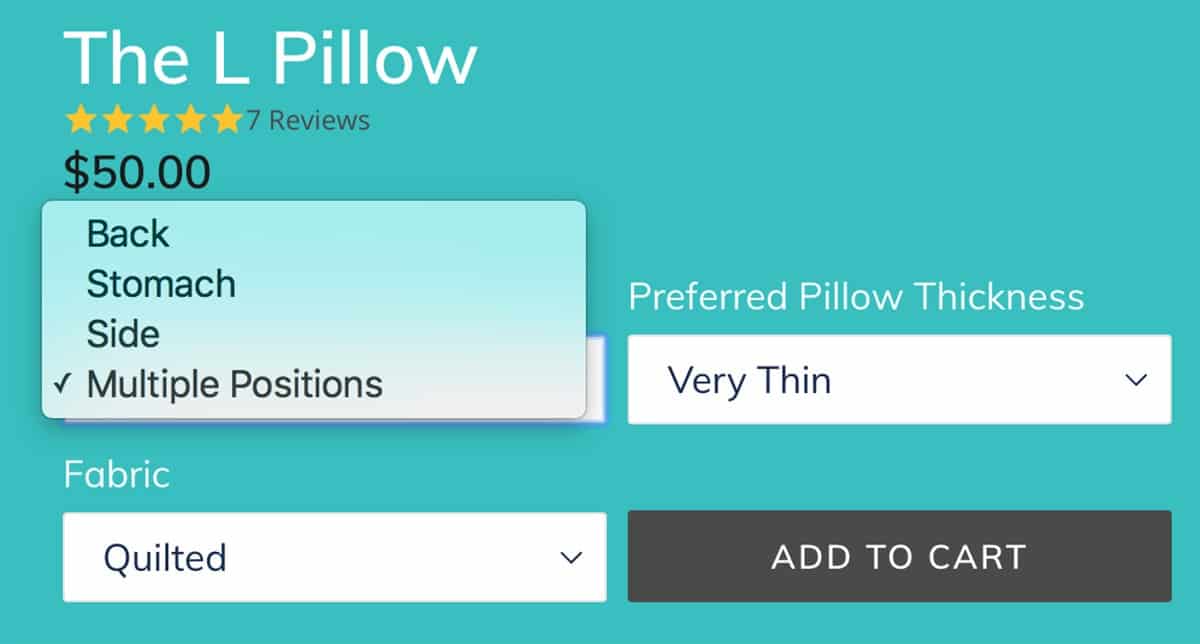 The ordering experience was fairly easy on the L Pillows website. The questions are laid out and you can choose one option. They tell you that "sleeping position" refers to the position that you wake up in. I sleep in multiple positions (and wake up in such) and choose the "Multiple Positions" option.
I also chose a quilted fabric option and a "Normal" pillow thickness. a Normal thickness seemed (to me) the safest filling level for someone who sleeps in multiple positions.
My pillow arrived quickly and with a nice handwritten note from Lucas at L Pillows (No, the L doesn't stand for Lucas, I asked!).
The care instructions on the website recommend that you fluff your pillow before use since it could be compressed when shipped. I let my pillow breathe and fluffed it before using it.
I had a good experience with the pillow. It is simple in its design, filling, and cover but the density and overall thickness seemed to match my sleep needs pretty well.
My head sunk into the pillow the way it does with a down alternative – not a slow sinking like a foam but a gentle dip into the pillow. The loft seemed about right for my head and neck, I had a generally neutral alignment down to my spine.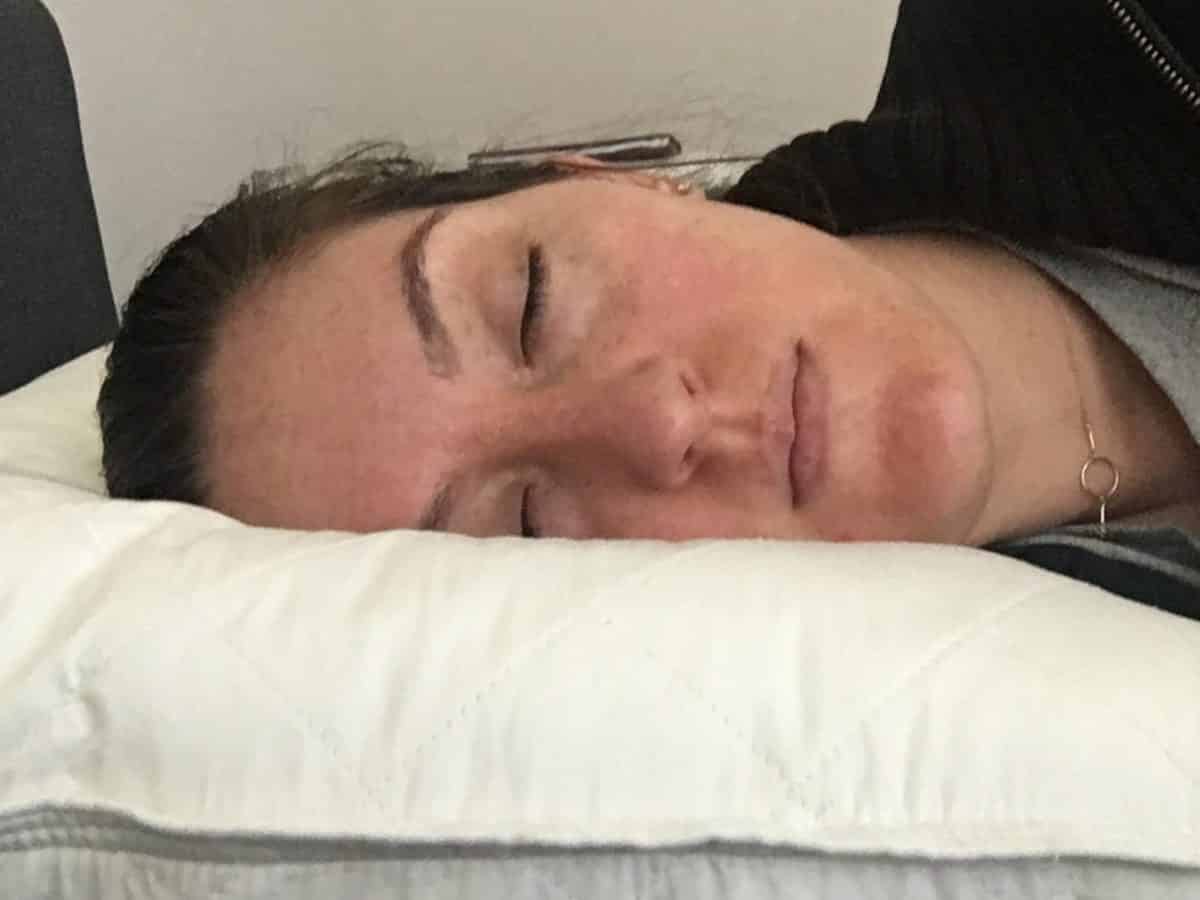 I woke up on my stomach in the morning with no neck stiffness.
After my initial experience with the pillow, I followed the care instructions and put the pillow in a cold, gentle wash cycle with a few other clothes to balance the load. The low tumble dry was easy and the pillow came out with no wear or damage.
They do recommend that you fluff the pillow often, if not daily. After only a couple nights of use, my pillow definitely started to fall flat. It would easily regain its luster once I fluffed it, but you will need to be prepared to do that frequently.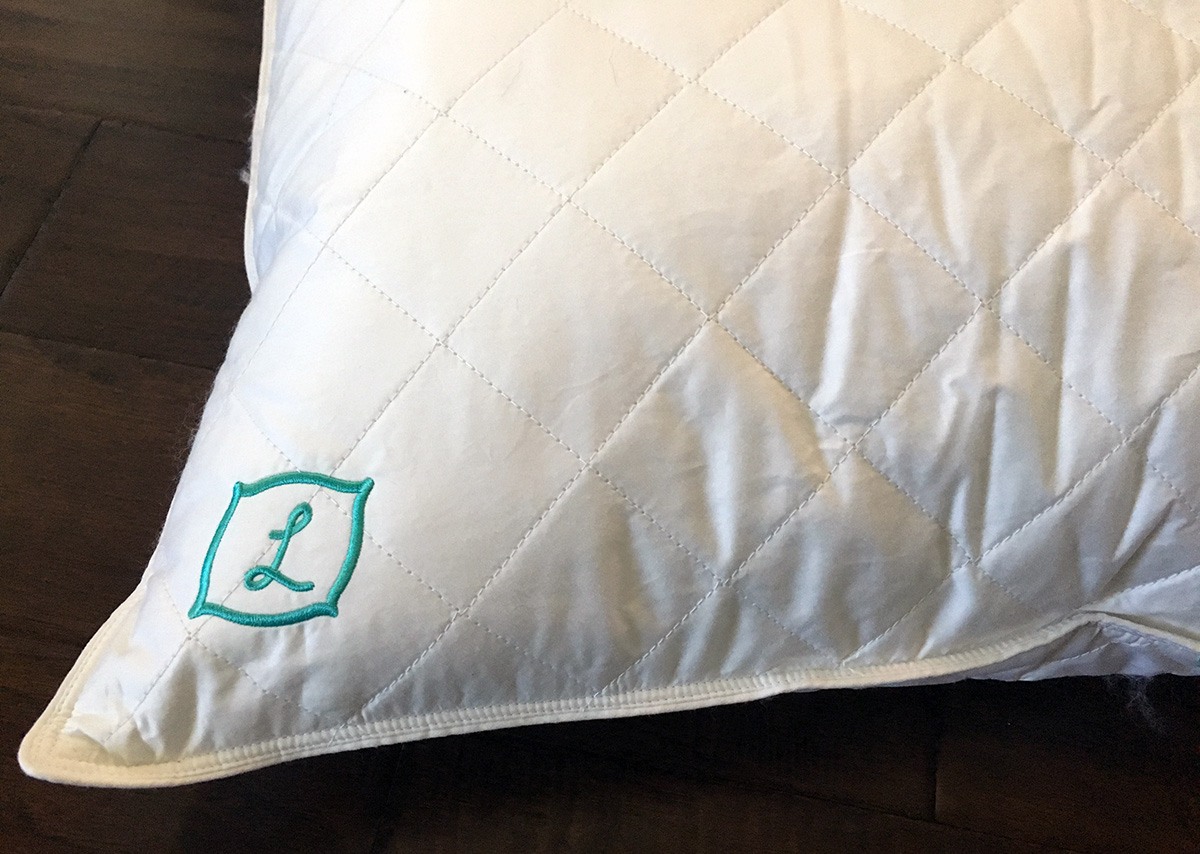 Overall
I absolutely see the appeal of a made-to-order pillow and I had a pretty positive experience with mine. I think the service and product from L Pillows will be most beneficial to those who are looking for a down alternative pillow with a cotton cover and already have a good idea of how they like to sleep.
You have the best chance of getting a pillow that suits your needs if you are transparent about your sleep style and share it with the team at L Pillows. In addition to filling out their
In addition to filling out their questionnaire, give them your weight, tell them if you have any injuries or are prone to aches and pains in specific areas. The more information they have, the more likely they can create a pillow that will meet your needs.
Curious what the L in L Pillows does stand for? Here is the answer I got from their representative, Lucas:
 Just as our pillows are custom, the L could mean something different to each customer. So it actually doesn't stand for one thing in particular. Maybe it means luxury, life, or lovely. Who knows! 🙂
The following two tabs change content below.
Katie Golde
Katie manages the day to day operations of the Mattress Clarity news site and reviews sleep products in addition to writing and editing sleep news.She hails from Austin, where she lives with her growing family. She is a Certified Sleep Science Coach and has a master's degree in Journalism from Northwestern University and has a background in health and science content. Her work can be found in print and online publications like Discover Magazine, USA Today and The Huffington Post.
Latest posts by Katie Golde (see all)