SleepScore Labs has released the first non-contact consumer sleep-tracking app for smartphones. According to the company, the SleepScore Official Sleep Tracking App uses a smartphone's speakers and microphones to read the individual's breathing patterns and movements during the night.
With these readings, the company says individuals can print out a detailed report of their sleep quality. They say this data can then be used by a sleep doctor or other medical professional to prescribe the proper treatment for sleep disorders.
We spoke with SleepScore Labs CEO, Colin Lawlor, about the technology and what he believes the SleepScore app could mean for understanding our sleep. He says, "This is, in terms of accuracy, the next best thing to going to a lab. You don't have to wear anything, and it's highly accurate."
[Editor's Note: The content provided on this site is for general informational purposes only. Any information provided is not a substitute for professional medical advice. We encourage everyone to consult with the appropriate health expert if individuals have concerns.]
How The SleepScore App Works
SleepScore, which is free and available now on the App Store, uses a smartphone as a sleep tracker. The app uses a phone's speaker to send out an inaudible sound wave. This, in turn, bounces off the body and comes back through the phone's microphone.
As someone sleeps, this information is interpreted by SleepScore's proprietary algorithms, which are designed to give the person information about his or her sleep/wake cycle, sleep stages, and respiration.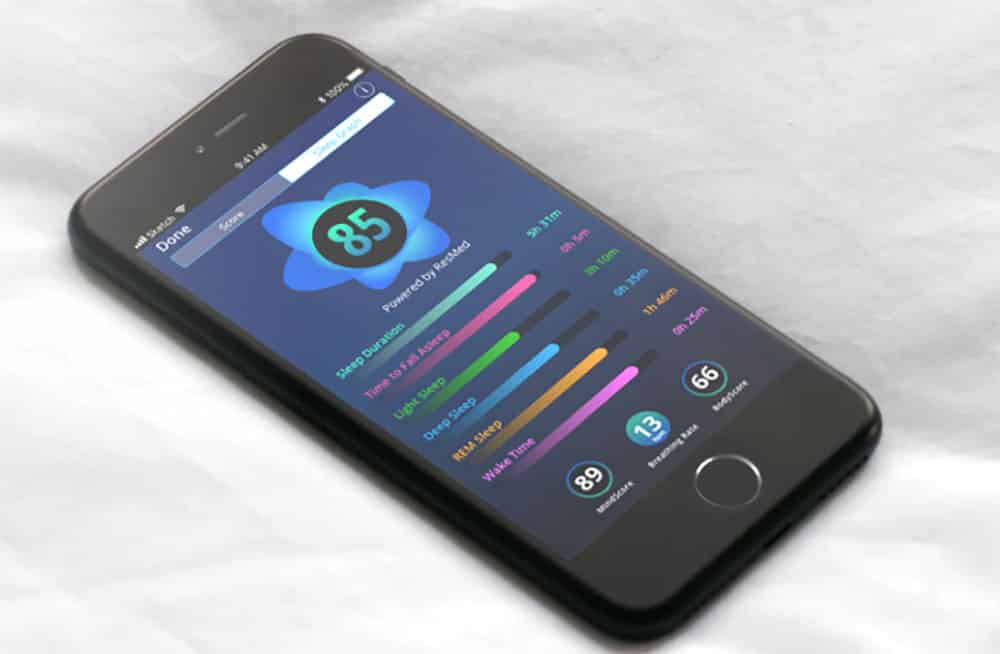 SleepScore
Lawlor told Mattress Clarity that the app is a "world first technology" in that it is completely non-contact.
"The core premise here is you should not use something to measure sleep if it has the potential to impact sleep," Lawlor says. "We know that when people wear sensors on their bodies or their heads, or when they lie on uncomfortable surfaces, it actually impacts their sleep. So, we've always worked toward developing technology that did not impact what we were trying to measure."
The Boom In Consumer Sleep Trackers
SleepScore is just one of many sleep trackers to hit the market recently. Dr. Massimiliano de Zambotti of SRI International has authored two recent studies regarding the boom in sleep trackers and their effectiveness. He told Mattress Clarity the prevalence of sleep trackers may stem from consumers' "quantified self-obsession," or a  growing desire for quantifiable data about their bodies and health.
While he has not yet studied the SleepScore app, de Zambotti explains his own experience using other consumer sleep trackers. "We are still trying to understand the potential role of consumer sleep trackers as health-promoting tools. I personally found it useful to keep track of my sleep timings. It allows me to maintain a regular sleep schedule."
However, de Zambotti states some consumers may find their sleep data to be counterproductive in improving their sleep and health.
"People may adopt maladaptive sleep habits (e.g., stay in bed longer to catch more sleep) by interpreting unregulated sleep trackers outcomes. Insomnia sufferers may exacerbate their anxiety and worry about sleep if their trackers display poor sleep performance, particularly if the outcomes differ from what they perceive."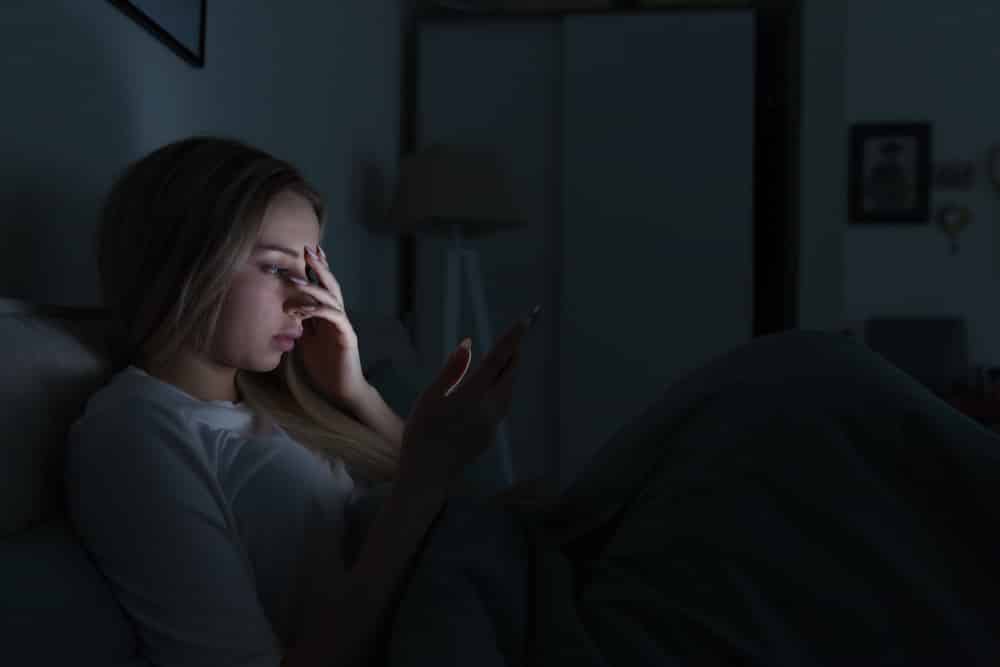 DimaBerlin/Shutterstock
Lawlor explains that SleepScore is not meant as a replacement for professional health advice. An individual's SleepScore data can be downloaded as a report and then taken to the person's medical practitioner. This may, in turn, assist the doctor in specifying any sleep disorders or health conditions.
Lawlor says he also hopes the information they obtain can be useful to not only doctors but sleep researchers as well. SleepScore has over six million nights of home sleep data from over 13 years of research and sleep tracking. He says this app will give scientists more data to use in their studies.
RELATED: Data From Sleep Trackers Shouldn't Replace A Trip To The Doctor, Experts Warn
The Future Of Sleep Tracking
Lawson says that SleepScore Labs plans to keep advancing the sleep advice they offer. In addition, they will be adding technology that deals specifically with snoring and teeth grinding.
He says SleepScore's main goal is to help people sleep better. "We believe that by helping people to improve their sleep, even by a small amount, we can help people feel better… and achieve more," he says.
While the app is now available on iPhone, SleepScore also plans to roll out the app on Android devices, starting with Samsung.
[Editor's Note: The content provided on this site is for general informational purposes only. Any information provided is not a substitute for professional medical advice. We encourage everyone to consult with the appropriate health expert if individuals have concerns.]
Featured image: Monkey Business Images/Shutterstock
The following two tabs change content below.
Marten Carlson
Marten is a staff writer for Mattress Clarity News. He covers the mattress industry as well as sleep science news. He is specifically interested in the connection between sleep and overall health.Marten has written for media publications like Consequence of Sound and received a master's degree in Film Studies from Emory University.He comes from Franklin, Indiana, and spends all the time he can writing, directing, and acting in films. He has directed genre short films and features. His newest film, Starlets, recently premiered at the River Town Film Festival in Clinton, NJ. He also stars in the upcoming thriller, Sour Bear. His next film, At The Hop, is a hot rod actioner with a horror twist.
Latest posts by Marten Carlson (see all)