Sleep fitness and mattress company Eight Sleep recently unveiled its new smart bed, the Pod. The high-tech mattress includes temperature-regulating technology, biometric tracking, and even an AI sleep coach. According to the company, the Pod is designed to help you get the healthiest sleep possible.
We spoke with Jeff Hornstein, marketing manager at Eight Sleep. "The Pod truly was made for everyone that is looking to improve/optimize their sleep," he said in an email. "The science connecting temperature and sleep is undeniable, and we are setting out to help people finally control this key aspect of their sleep."
The Pod
The Pod is 11" tall and contains coils, Adaptive foam, and Active Grid technology. The Active Grid relieves pressure and contains a sensor network that helps monitor physiological and environmental information.
This Grid connects to the Hub, which Eight Sleep refers to as the mattress "engine." It houses a water tank that allows for temperature regulation. Using the Eight Sleep mobile app, the customer can then manually control the temperature of the mattress between 55 and 100 degrees Fahrenheit.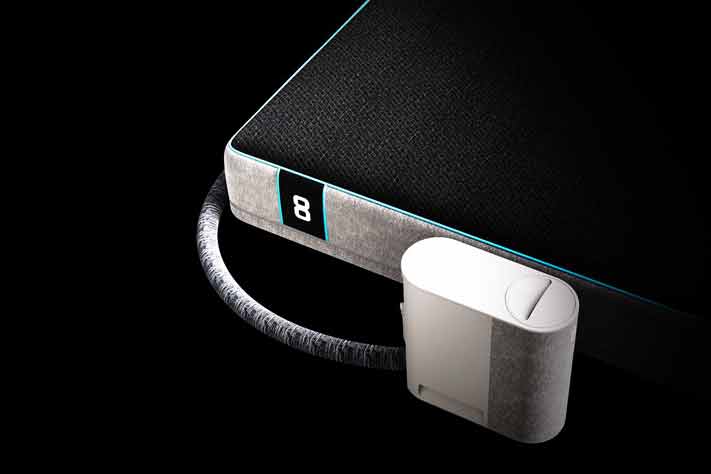 In addition, Eight Sleep says the mattress contains an AI learning computer that will automatically adjust the temperature during the night. The AI machine also interprets data including heart rate, REM sleep, and time slept and recommends Pod settings to improve your sleep quality.
Finally, the Pod is split into two sides, so partners can each set the mattress to their ideal sleep temperature.
"Two things led to the decision to create The Pod," Hornstein explained. "The first was the overwhelming request from our customers to build a cooling feature, as a large portion of the world suffers from being a hot sleeper. The second was science and the data we've collected over the past four years, as there is substantial evidence that sleeping at a colder temperature improves sleep, especially in terms of helping you fall asleep faster and stay in deep sleep longer."
RELATED: Eight Sleep Adds Amazon Alexa Integration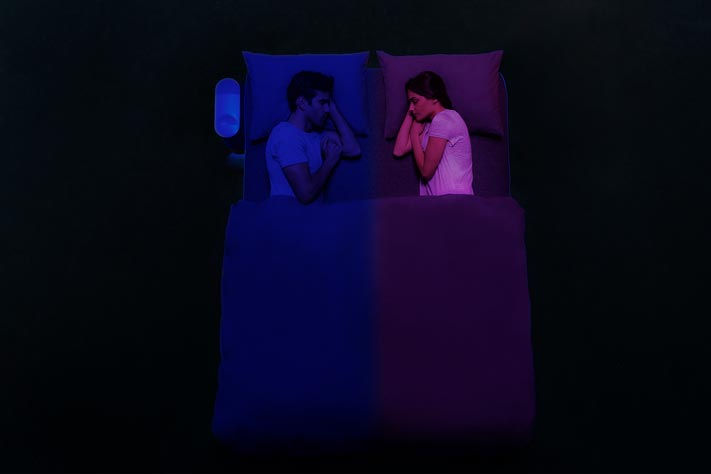 According to Hornstein, this sets the Pod apart from most mattresses currently on the market.
"No other bed on the market is able to offer cooling in the way that we are, and no other bed on the market is able to automatically adjust temperature based on your biometrics," he said. "We're truly creating a new product category."
A Major Step Forward
Eight Sleep was founded in 2014, and the company released its first smart mattress, the Jupiter, in 2015. After Jupiter, the company released the Mars and the Venus. While these smart mattresses did contain temperature regulation technology, the Pod is more advanced thanks to its inclusion of AI and cooling features.
Hornstein said, "This is a major step forward for the company, and will establish us as a company that not only helps people understand their sleep, but that actually physically impacts someone's sleeping environment in a positive way."
A Full-size Pod is currently priced at $1,995. A Queen mattress is available at $2,295, and a King or California King is $2,495. Interested customers can reserve a Pod for $95, and the mattress is expected to ship in early April.
All images courtesy of Eight Sleep
Marten Carlson
Marten is Senior Editor at Mattress Clarity. He covers the mattress industry as well as sleep science news. He is specifically interested in the connection between sleep and overall health. Marten has written for media publications like Consequence of Sound and received a master's degree in Film Studies from Emory University. He comes from Franklin, Indiana, and spends all the time he can writing, directing, and acting in films. He has directed genre short films and features. His newest film, Starlets, recently premiered at the River Town Film Festival in Clinton, NJ. He also stars in the upcoming thriller, Sour Bear. His next film, At The Hop, is a hot rod actioner with a horror twist.