People who want to change the firmness of their mattress should potentially consider purchasing a mattress topper. It's a quick, convenient way to enhance the sleeping experience without buying an entirely new mattress.
One of the more popular mattress toppers is the Lucid 2″ Gel Infused Ventilated Memory Foam Mattress Topper. It is sold at a value price and features some very soft memory foam.
As a general fan of the memory foam feel, I was excited to try the Lucid out for myself. Will this soften the mattress and add that soft memory foam feel? Read on for my full personal review.
Lucid Mattress Topper Deals
Lucid Gel Memory Foam Mattress Topper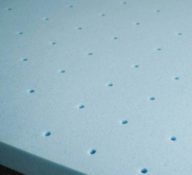 Lucid Gel Memory Foam Mattress Topper
The Lucid is a value topper that adds that soft memory foam feel to your mattress.
Lucid Memory Foam Mattress Topper Video Review
See how the Lucid performs and compares to other popular mattress toppers on the market.
Who Might Like the Lucid Topper …
Back sleepers. The Lucid could potentially be a good choice for those who sleep primarily on their back. This topper could add some more contouring to the mattress and also help support the lumbar area.
Side sleepers who want more pressure relief. If you don't already sleep on one of the best mattresses for side sleepers, this mattress topper should give some more pressure relief. While testing the topper on a firmer mattress, the Lucid took off about a point of firmness. No matter how firm the mattress is, the Lucid should help relieve more pressure on the shoulders and hips.
Value seekers. Those who are looking for a mattress topper but don't want to spend too much should consider the Lucid. It is a very nice memory foam mattress topper that costs under $100. For not much money, it could add a nice feel to the mattress.
Memory foam fans. For those who like to slowly sinking into the mattress, the Lucid should potentially be a good option. It has a bit of the slow-moving, "quicksandy" feeling that happens with memory foam.
RELATED: Lucid Lavender Memory Foam Mattress Topper Review
Who Might Not Like the Lucid Topper …
Memory foam haters. For those who don't particularly enjoy slowly sinking into the mattress, this might not be the ideal topper. It has that slow-moving memory foam feel that memory foam is know for.
Stomach sleepers. For those who sleep on their stomach most nights, this memory foam mattress topper might not work the best. It actually softens the mattress, and consequently there might be less support on the hips. For stomach sleepers, a soft mattress topper might not be the best choice.
Those who have trouble moving around. One of the drawbacks of memory foam is that it can sometimes produce the feeling of getting stuck. For those whose are worried about moving around on the mattress, the Lucid might not be the best option. I personally felt some difficulty when I changed positions.
Those wanting a longer-lasting mattress topper. For those who want a mattress topper with great durability, the Lucid might not be ideal. It is comprised of memory foam with a 3 lb density. While it is open-celled, this foam might start to sag after a few years. For those who want more of a long-term investment, consider something with higher density foams overall.
RELATED: Best Mattress That Won't Sag 2022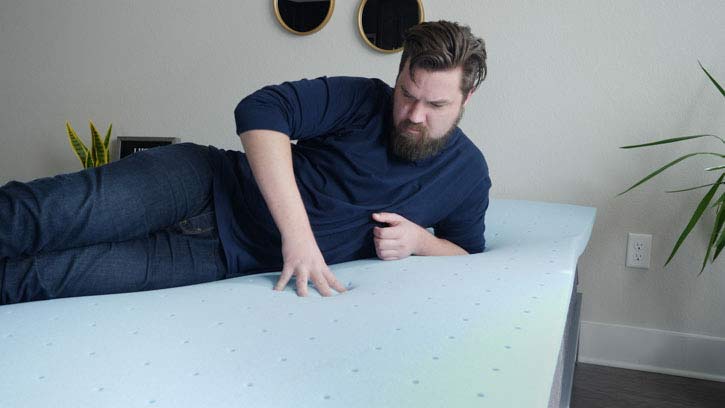 Construction and Options
This model is 2″ thick, and there are also 3″ or 4″ thick models available.
The topper is made of memory foam with a 3 lb density. It is open-celled to fight sagging and body impressions, as well as to prevent overheating.
The memory foam is gel-infused, which is meant to assist with temperature regulation. In addition, the memory foam is ventilated, which allows for airflow and is meant to further prevent overheating.
The memory foams used in Lucid mattress toppers are CertiPUR-US certified. This means they are more eco-friendly than conventional foams.
There is the option to leave out the gel infusion, and Lucid also offers models infused with lavender essential oils and bamboo charcoal.
In terms of size, Lucid offers the topper in Twin, Twin XL, Full, Full XL, Queen, King, and California King.
Lucid Mattress Topper Deals
Lucid Gel Memory Foam Mattress Topper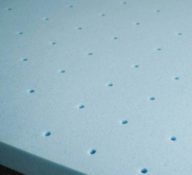 Lucid Gel Memory Foam Mattress Topper
The Lucid is a value topper that adds that soft memory foam feel to your mattress.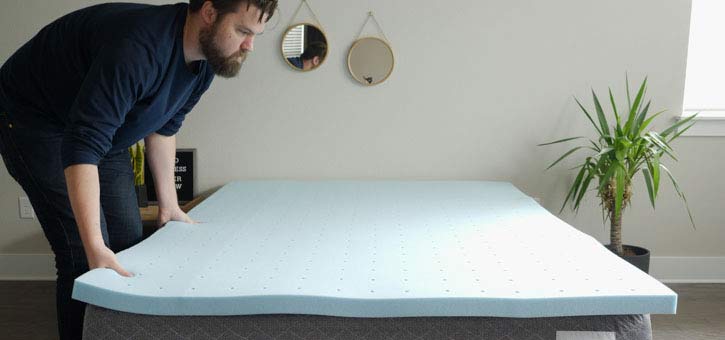 My Experience
After opening up the Lucid's box, I will say that there was some noticeable off-gassing. This is not surprising given that the mattress topper is made of memory foam. I gave the Lucid two days to off-gas and fully expand. After that, I did not notice any chemical smell and don't think it should be a problem for most people.
One of the main reasons people buy a mattress topper is to add some softness to the mattress. To test out the softness of the Lucid, I placed it on a firmer mattress. Without the Lucid on top, this mattress feels close to an 8/10 in terms of firmness. With the Lucid, the mattress feels closer to a 7/10. While this is a subjective measure, I felt the Lucid adds a minimum of one full point of softness.
How does this affect me in different sleeping positions? On this firmer mattress, is the Lucid helping me sleep better or worse? Here's my personal experience in the different positions:
On my back, the Lucid definitely improves my experience. I feel some nice contouring, and the topper also helps support my lower back.
Moving to my side, I do feel an increase in pressure relief. However, I am a larger person, so I do press through the mattress topper. Light- and medium-weight people should feel even better pressure relief than I felt.
When I laid on my stomach, the Lucid actually made the mattress less supportive. I felt my hips sinking in and my spine was out of alignment. Most stomach sleepers might want a more supportive topper or should maybe avoid a topper altogether.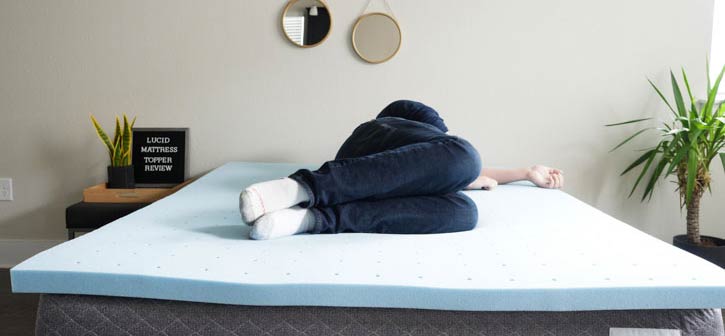 The Lucid adds that classic memory foam feel to the top of the mattress. While lying down, I slowly sink into the mattress topper. The material is not too fast to respond, so it is a bit difficult to move around.
One problem with memory foam is that it can cause issues with overheating. Fortunately, Lucid has taken steps to combat this issue. The topper features ventilated memory foam and is also infused with gel. However, after sleeping on this mattress topper, I would say that it does trap some heat. Hot sleepers should definitely take note if this is a top criteria.
Overall
In the end, the Lucid Memory Foam Mattress Topper is a great value. It provides a memory foam feel and some extra pressure relief at an affordable price. However, stomach sleepers and hot sleepers might want to look elsewhere. The Lucid comes with a 3-year warranty, but we do question its long-term durability.
Marten Carlson
Marten is the Lead Reviewer at Mattress Clarity. He is a Certified Sleep Science Coach and covers the mattress industry as well as sleep science news. He is specifically interested in the connection between sleep and overall health. Marten has written for media publications like Consequence of Sound and received a master's degree in Film Studies from Emory University. He comes from Franklin, Indiana, and spends all the time he can writing, directing, and acting in films.