Purple's mattress protector is one of a kind. The stretchy waterproof material will help to spare your mattress from damage without a doubt. But is it comfortable? Read on for my full review.'
Key Features
Liquid-absorbent layer: 85% Polyester, 15% Spandex
Protective waterproof coating: 100% TPU Polyurethane
Comes in sizes Twin – Cal King (with Twin XL and Full XL)
Quiet material to reduce instances of crinkling underneath sheets
Water-resistant and water-absorbent (absorbs liquid, but never lets it leak through)
Will work on any mattress up to 13" tall
1 Year Warranty
Hypoallergenic and non-toxic
Basic Care: Machine wash cold, tumble dry low
There is no trial or return policy for the Purple™ Mattress Protector
The Purple™ Mattress Protector is five-sided, so it will protect from most unwanted microscopic visitors. It hugs your bed like a top sheet with an open bottom. It is not bedbug-proof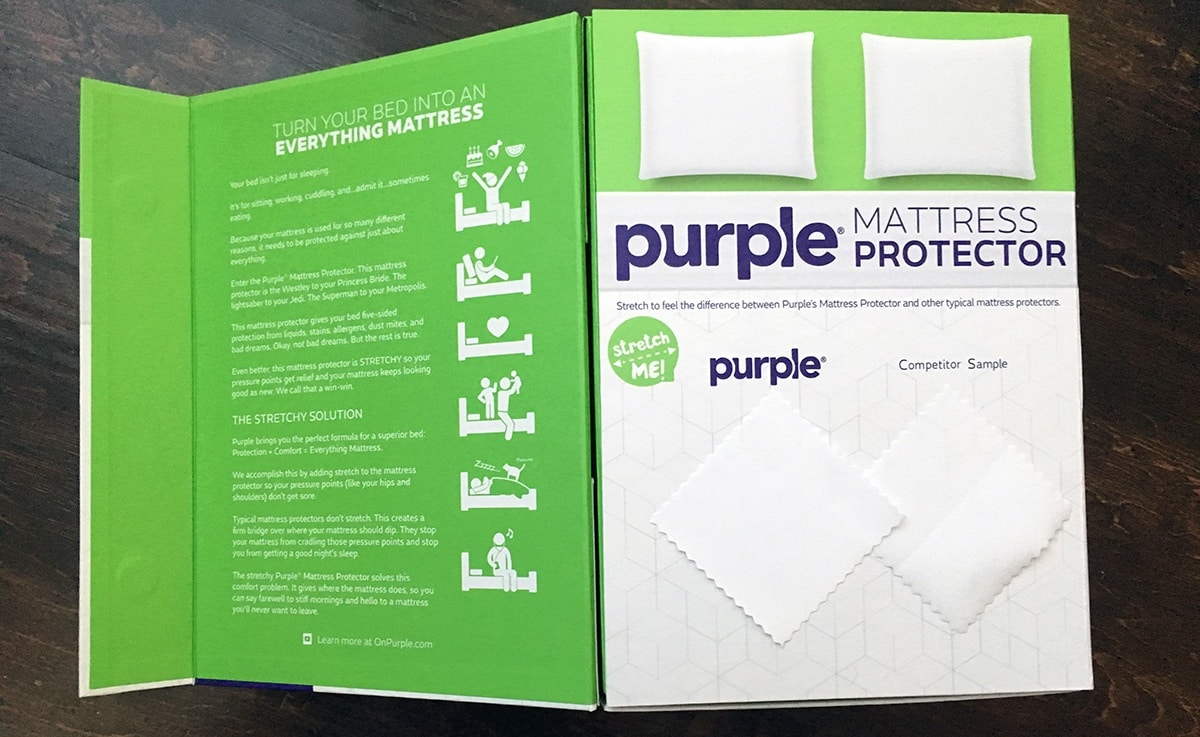 Pros
Thin but more comfortable than terry cloth mattress protectors
Easy to get on and off your bed
Easy to wash/dry
Unique and stretchy material
Breathable
No chemical smell
Sturdy elastic keeps protector securely on your mattress
Cons
Not bed bug proof
May not fit mattresses more than 13-inches deep
Popular – some sizes sold out
Less affordable than other thin protectors
Some customers experienced leaks
Material may feel too much like plastic to some
May have extra material on mattress thinner than 13-inches which can cause shifting and noise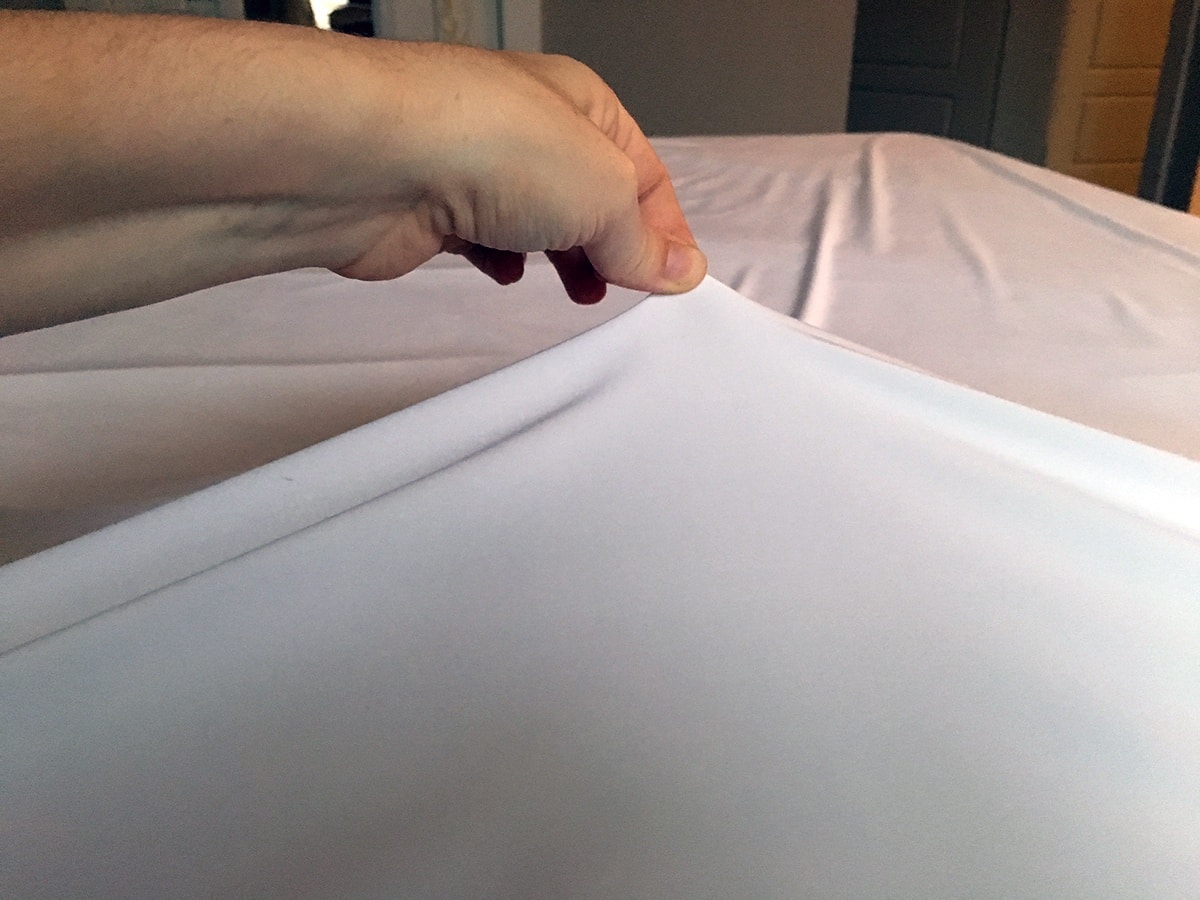 Care and Warranty
As I say with all of my mattress protector reviews, make sure you follow the care instructions carefully for your specific protector.
The instructions are simple for this protector – machine wash cold and low tumble dry. I had no issues with durability or shrinking when I washed and dried my protector.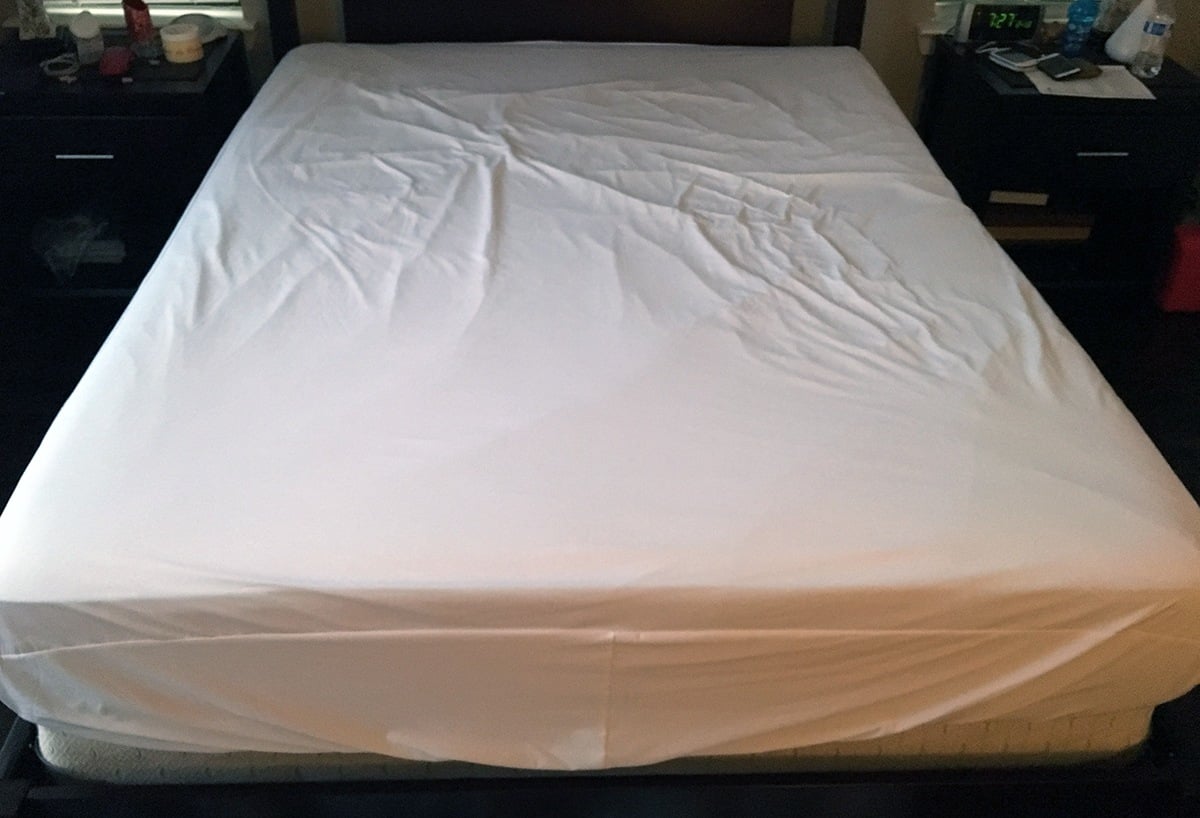 If you dry your mattress protector (at least the waterproof ones) on a heat that's too high, it can potentially damage the waterproof membrane of the protector. This will allow leaks and spills to get through your protector and onto your mattress – violating the mattress warranty.
There are no trials or return policy with the Purple mattress protector. They say this is "due to the nature of the product" but I'm not really sure what that means since plenty of other mattress protector brands offer returns if customers aren't satisfied.
They do offer a 1-Year Warranty on their mattress protector. You can read more about the warranty on their website here.
The Waterproof Test
Purple is in the mattress industry (see our review of the Purple mattress here). They know that you can spare your mattress from warranty violations caused by liquid/water damage by adding a protector.
The protector is the same material on all five sides, which means it can protect your mattress from spills on the surface and down the sides.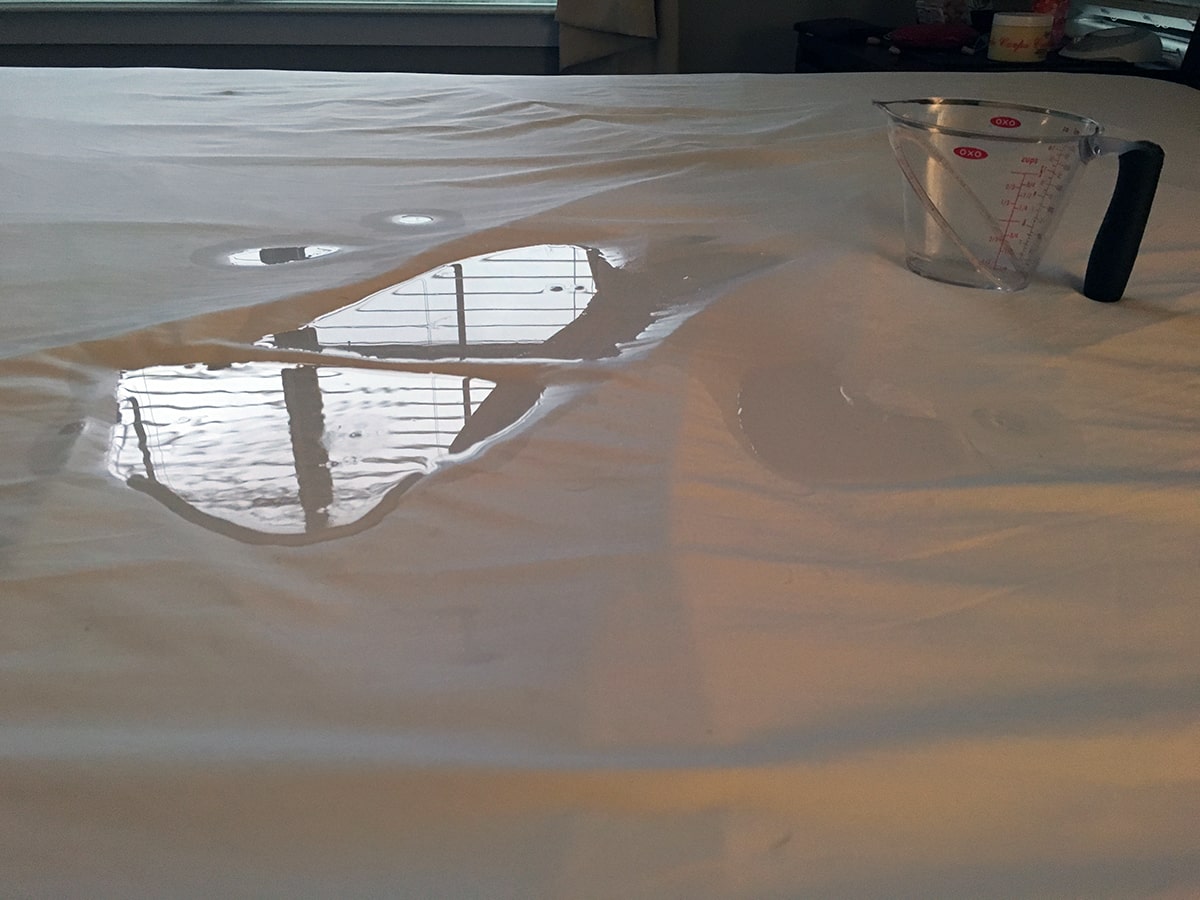 Purple says their protector is water-resistant and water-absorbent.
I put their claims to the test by pouring 10ozs of water into a concentrated area on the protector. I want to mimic a large spill or accident (I do this with all my waterproof mattress protector reviews).
The water did immediately pool into a spot on the bed but eventually, it was absorbed into the layers of the protector.
I left the water there for about two hours (something that could happen if there is an accident in your bed overnight). I had no issues with leaks, dampness or moisture underneath my protector. It passed my waterproof test!
Additional Considerations
Size & Noise: The Purple mattress protector comes in sizes that range from Twin to Cal King (including Twin XL and Full XL).
Purple says that their protector is designed to "compliment" their mattresses but they should fit any mattress up to 13-inches thick.
I sleep on a 10-inch thick Casper mattress (see the review of the Casper mattress, here). The protector went on very easily and stayed secure with the strong elastic.
I did have some extra material because my mattress is not as thick as the Purple mattresses. This caused some creasing/shifting at night and additional crinkling sound.
Related: Common Mattress Dimensions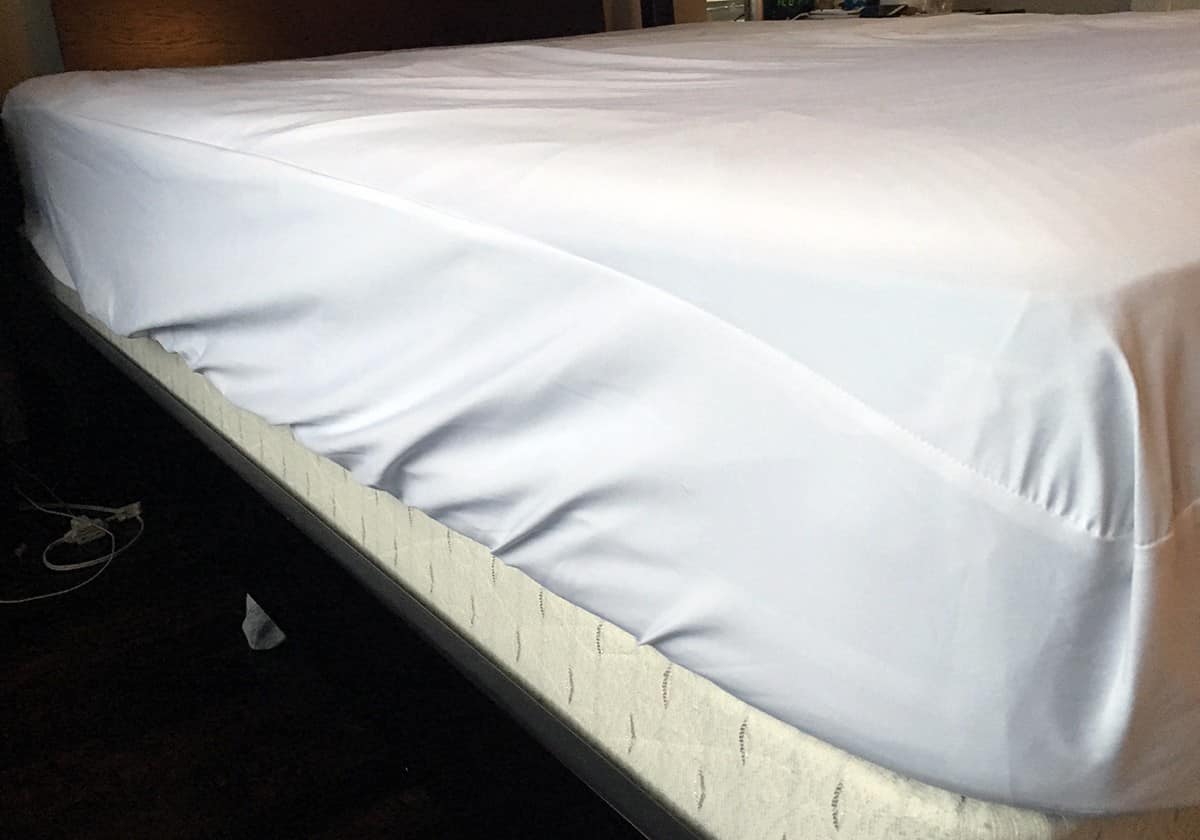 I did not notice the protector underneath my Cariloha Resort bamboo sheets (read my review of the bamboo sheets, here) but my husband commented that he thought the protector felt like "plastic." He normally doesn't notice protectors underneath his sheets so I thought it would be worth mentioning.
Breathability: The Purple mattress protector is a unique material – stretchy and soft not like a terry cloth or cotton quilt. It is made of polyester and a little bit of spandex.
I had no issue with breathability. There was a customer on Amazon who did not care for the protector and mentioned breathability issues.

(Side note: this person also references a monthly trial period but I'm not aware of such a trial with the Purple Mattress Protector).
Leaks: I had no issue with leaks or moisture seeping into my mattress from the protector. However, a customer who purchased the protector on Amazon did have an issue so I thought it'd be fair to include their review.

I'm always inclined to suggest that people do their own mattress protector waterproof tests before committing.
Especially if you have frequent accidents or spills (or someone else in your family does). Potentially ruining a mattress with water or fluids can be an expensive mistake.
Purple Mattress Protector
Summary
Overall the Purple Mattress Protector is hypoallergenic, waterproof and has a unique stretchy feel. It is the best fit for Purple mattresses and will most likely fit 13-inch mattresses the best. Thinner mattresses may cause there to be extra material that can generate noise and shifting.
Price and Value
The Purple mattress protector is slightly more expensive than other thin mattress protectors I've reviewed. A Queen size protector is currently sold for $59 (from $79) on Purple's website. At the time of this review, the Queen size was out of stock.
You can also purchase them on Amazon but I only saw them available in Twin and Full sizes.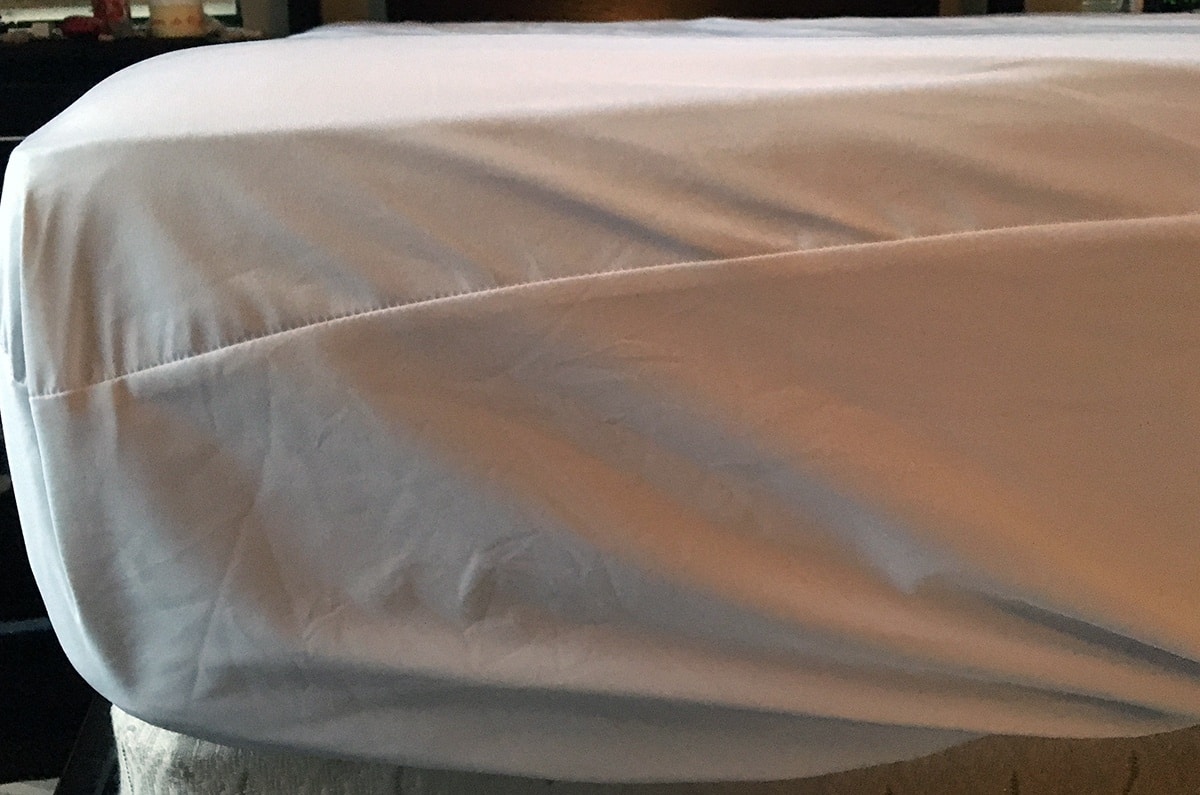 I think there was just a little too much extra material for my 10-inch Casper mattress. This left some creasing and shifting that was pretty noticeable for me and my husband under our sheets.
If I had a thicker mattress and wanted a thin protector I would be more inclined to consider this one from Purple.
I feel like those who are already sleeping on a Purple mattress would enjoy this protector. It is stretchy and probably fits their mattresses perfectly.  See our overall best mattress protector picks.
The protector may also be a good fit for those who are looking for a thin, waterproof protector but don't' want one with a terry cloth or cotton surface.
The following two tabs change content below.
Katie Golde
Katie manages the day to day operations of the Mattress Clarity news site and reviews sleep products in addition to writing and editing sleep news.She hails from Austin, where she lives with her growing family. She has a master's degree in Journalism from Northwestern University and has a background in health and science content. Her work can be found in print and online publications like Discover Magazine, USA Today and The Huffington Post.
Latest posts by Katie Golde (see all)