Naturepedic combined their research, technology, and experience to create a super breathable, durable and easy to care for crib mattress with their Ultra-Breathable 2-Stage Organic crib mattress. There are a lot of features to like, especially the eco-friendly nature of the product. What are some things to look out for and does it fit most budgets? Read on for my full review.
Key Features
Combines a breathable mattress with waterproof pad
The mattress has square corners for a snug fit.
Fits standard size cribs – approximately 27 1/4″ x 51 5/8″ x 6″ (also fits toddler beds and day beds)
Mattress core has Naturepedic's "wavesupport technology", made from pure food-grade polyethylene, provides support and durability that is comparable to innerspring and premium foams
Machine wash and dry removable pad (also sold separately)
Seamless waterproof edges
U.S. grown and certified organic cotton used for fabric and filling
Built-in dust mite/Bed bug barrier
No Latex or Soy
Optional 2-Stage Dual Firmness: Provides a firm side for infants and a cushion firm side for toddlers.
Made in the USA (some materials are imported)
$399 price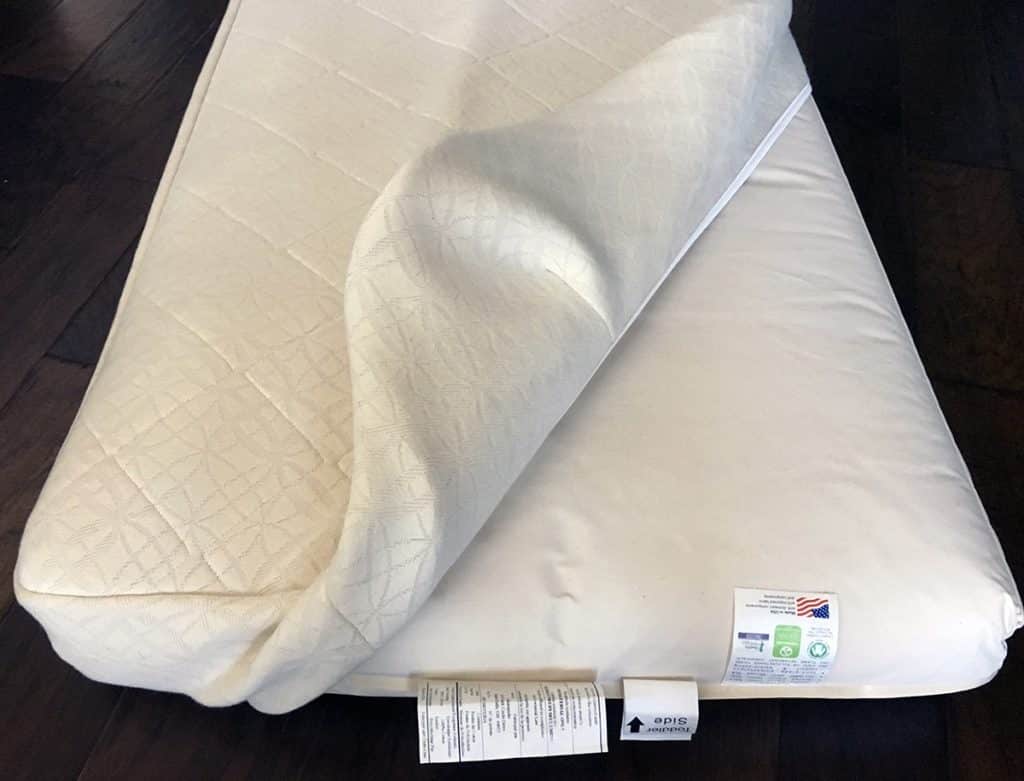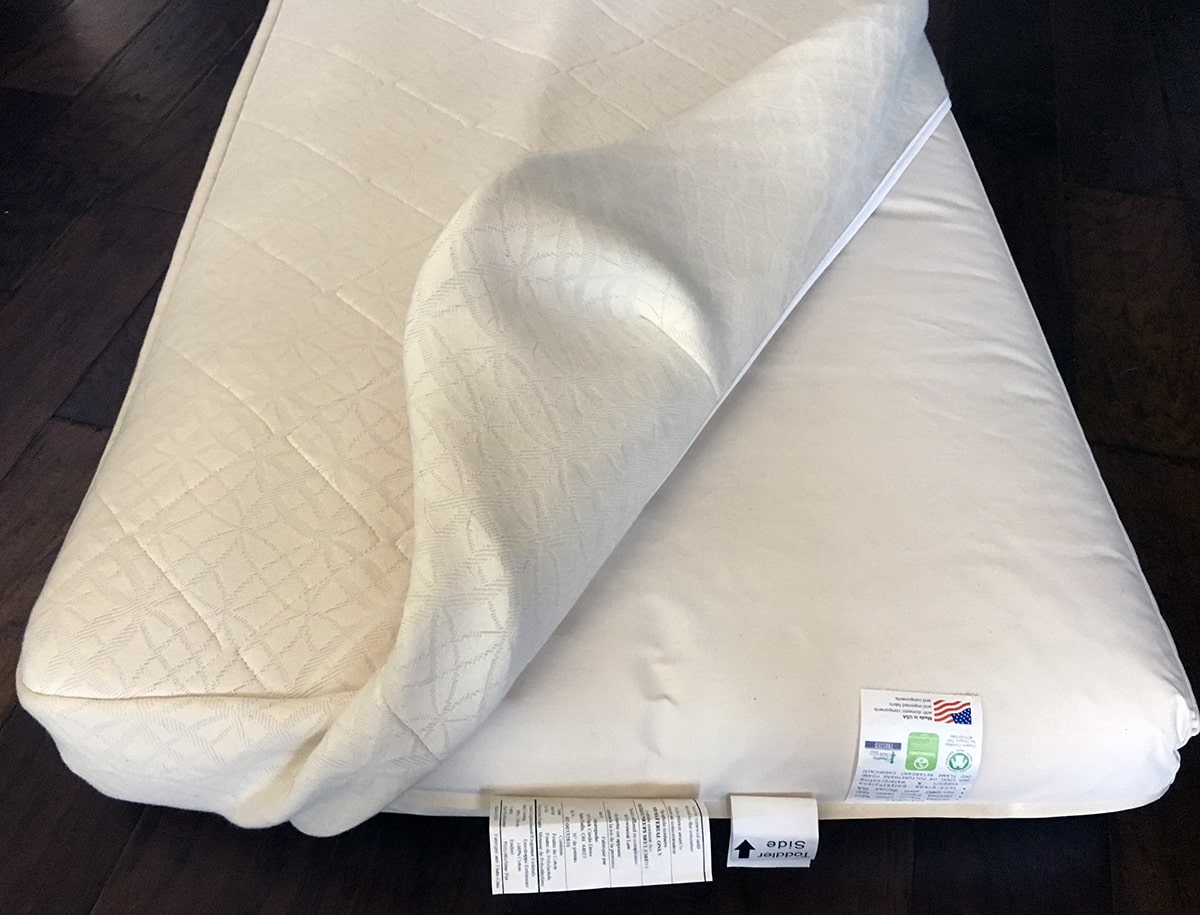 Get The Best Deal On The Naturepedic Crib Mattress
Certifications
All Naturepedic mattresses – including the Ultra-Breathable 2-Stage Organic mattress – contains the following certifications:
Certified Organic Mattress Manufacturer & Facilities: All Naturepedic mattresses meet the organic and non-toxic standards of the Global Organic Textile Standard (GOTS) and/or the Global Organic Latex Standard (GOLS). U.S. Department of Agriculture (USDA) recognizes GOTS as the standard for organic consumer goods.
Tested for Chemical Emissions: The GREENGUARD Certification Program℠ is a third-party testing program for emissions from consumer products and materials. GREENGUARD tests for criteria based on industry and governmental standards. All Naturepedic products are certified to the UL/GREENGUARD Gold Certification standard.
Non-GMO Verified: Naturepedic products are made without genetically modified organisms. They are verified non-GMO through independent review as well as through our organic certification, the Global Organic Textile Standard.
OCS100 Organic Content Standard: The Organic Exchange Certification Program ensures proper tracking of organic material from its source to the finished product. Naturepedic is certified to meet this standard, demonstrating that the organic fiber in our products has been independently verified.
Formaldehyde Free Verified: All Naturepedic products have been validated by the Underwriters Laboratories (UL) Environment Certification Program to meet the UL formaldehyde-free standard. UL develops a variety of standards to measure and validate performance, environmental health, and sustainability.
Forest Stewardship Council® / Rainforest Alliance: Rainforest Alliance has certified Naturepedic for Forest Stewardship Council® (FSC®) Chain of Custody of natural latex that meets FSC standards. FSC-certification meets rigorous environmental, social and economic criteria designed to protect lands, ecosystems, and workers. Rainforest Alliance is listed on Charity Watch's Top Rated Charities.
Made Safe: MADE SAFE means a product has been made with ingredients not known or suspected to cause human health harm. Materials in our products have been scrutinized by scientists and experts to ensure they do not contain harmful ingredients or release vapors, gases, or by-products that could impact human health.
RELATED: Best Organic, Non-Toxic Mattresses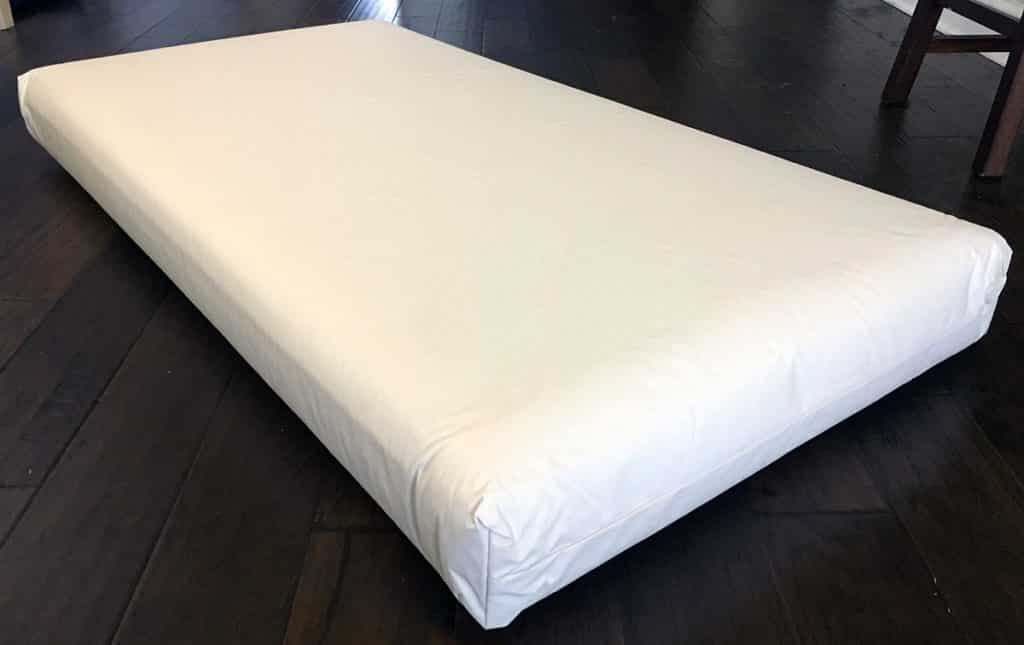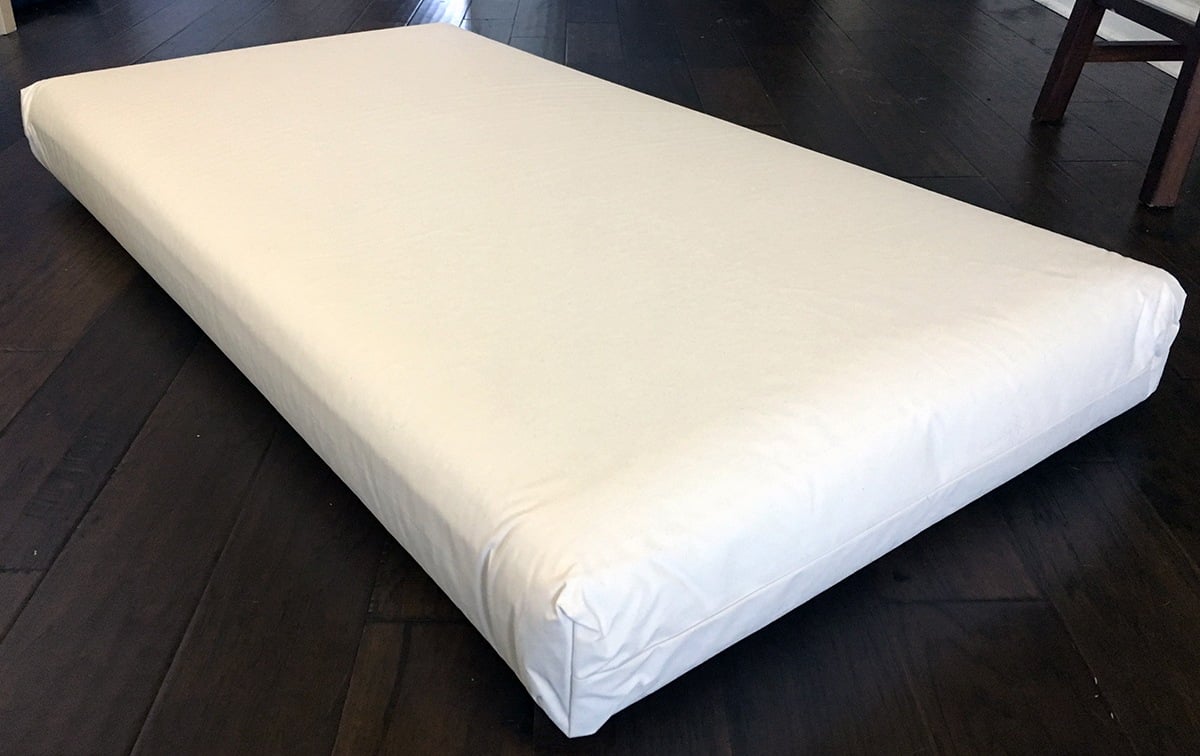 Who Makes It?
Naturepedic is a family-owned business from Chagrin Falls, Ohio. The founder, Barry A. Cik, is a veteran in the field of environmental engineering with over 30 years of experience "chasing chemicals" according to the company website.
Cik was inspired to create Naturepedic with his two sons after he was unable to find a non-toxic crib mattress for his first grandchild. The company says they are a non-toxic and organic mattress manufacturer "dedicated to providing parents with a better alternative." They said that they created the first and only waterproof organic baby crib mattress designed with a patented food-grade polyethylene cover, which is made without harmful chemicals and meets food-contact standards.
Today, Naturepedic has expanded from organic crib mattresses for infants to adult, toddler and infant collections and includes other types of bedding like toddler pillows, mattress pads and protectors, and more.
Crib Mattress Construction
The crib mattress will fit a standard crib snugly – the dimensions of the mattress are 27 .25″ x 51.625″ x 6″ and cribs must (legally) be at least at least 27.25″ x 51.25″ inches. The crib mattress was a good fit for my DaVinci Jayden convertible crib.
One can see from the photo that there is no gapping. It fits pretty snuggly and took a little bit of effort to get out but I would rather have that than any gapping.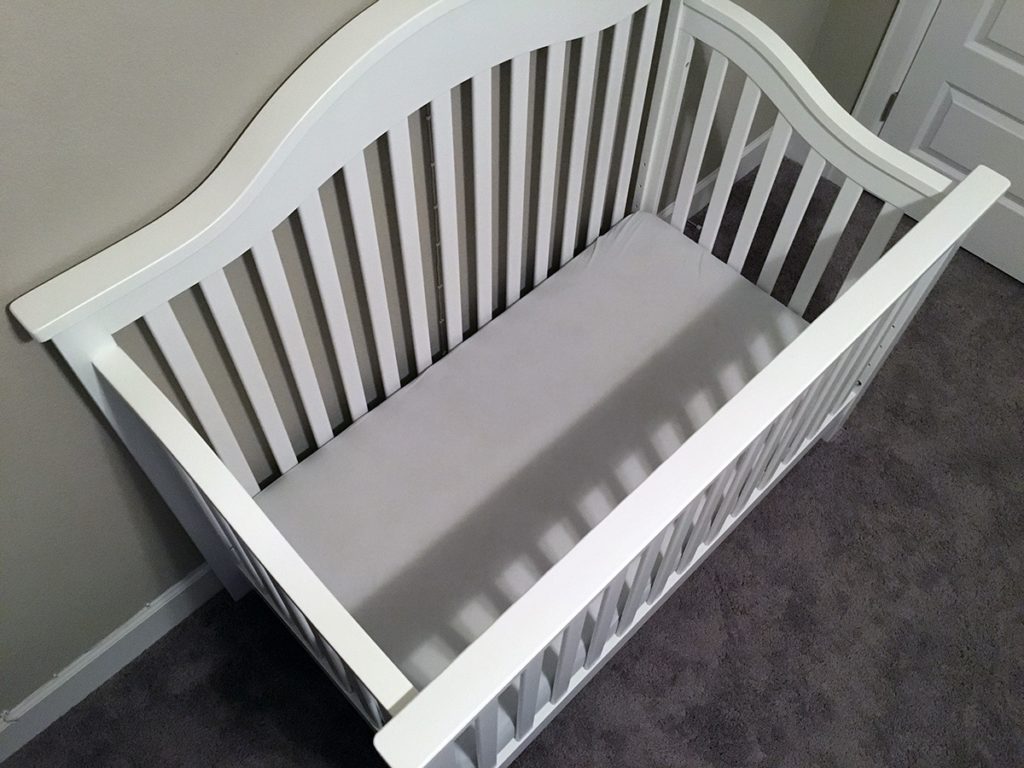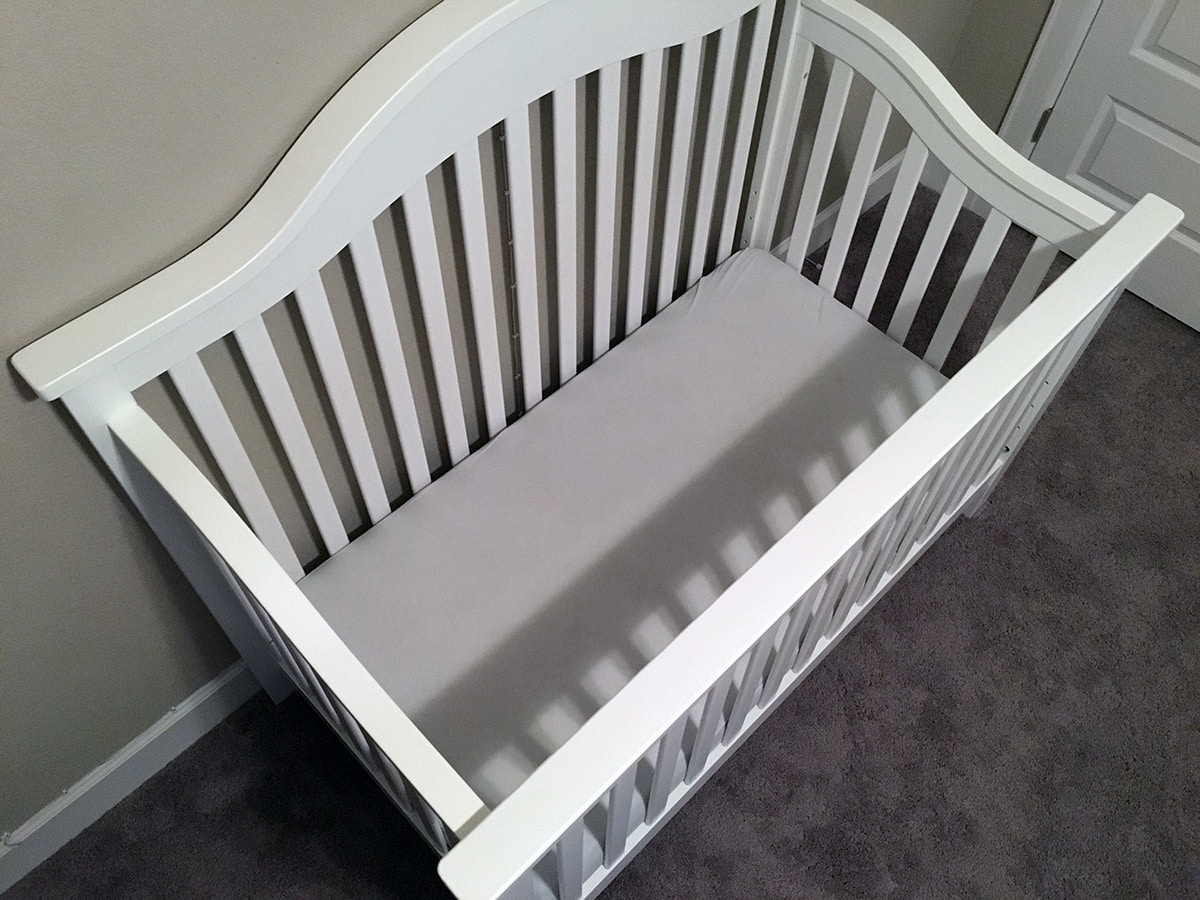 Adults don't want any gaping in between the mattress and the crib. This creates a dangerous space where the newborn's heads can get stuck and risk suffocation.
The mattress comes with a detachable mattress cover so I've broken down the construction of them separately.
Crib Mattress Cover/Pad: The removable mattress cover is quilted and made from 100% organic cotton fiber over a breathable layer of mesh. The backing is 100% polyester. Here are some other features of the pad (which can also be purchased separately):
Breathable 3D airflow construction provides an extra layer of air between the baby and the mattress.
Dissipates heat and moisture to reduce overheating
No vinyl/PVC, phthalates, latex
To care for the mattress cover, machine wash it in warm water and dry on a low tumble dry, as it does shrink to fit.
Crib Mattress: The crib mattress itself has several layers and covers. Here is a description of each:
Core: The core is made of food-grade polyethylene using Naturepedic's patented wavesupport™ technology. Naturepedic does a better job than I do of describing this technology so here is what they have to say: The wave structure achieves incredible strength with less material, offering an ultra lightweight design with increased structural stability as compared to conventional foams. It is both firm and comfortable, with strong side, center and corner support. NO polyurethane foam!
Organic cotton batting surrounds the core
PE comfort layer: The PE stands for polyethylene is similar to what is in the core. I asked Naturepedic's customer service to describe the layer with me and this is what they sent: Polyethylene is a preferred plastic that is used throughout the food packaging industry for its purity. It has a very simple molecular structure that does not require harmful chemical additives, i.e. as opposed to phthalates in vinyl/PVC. Its use is recommended by environmental groups all over the world. Naturepedic uses only polyethylene specially formulated to meet food contact standards. Polyethylene is easy to clean and highly stain resistant while providing an excellent barrier to dust mites and other allergens.
Organic cotton fabric and waterproof coating: The waterproof coating is also food-grade polyethylene so it will be non-toxic and also prevent stains. There are also heat-sealed waterproof seams, which prevents moisture and provides a more hygienic design.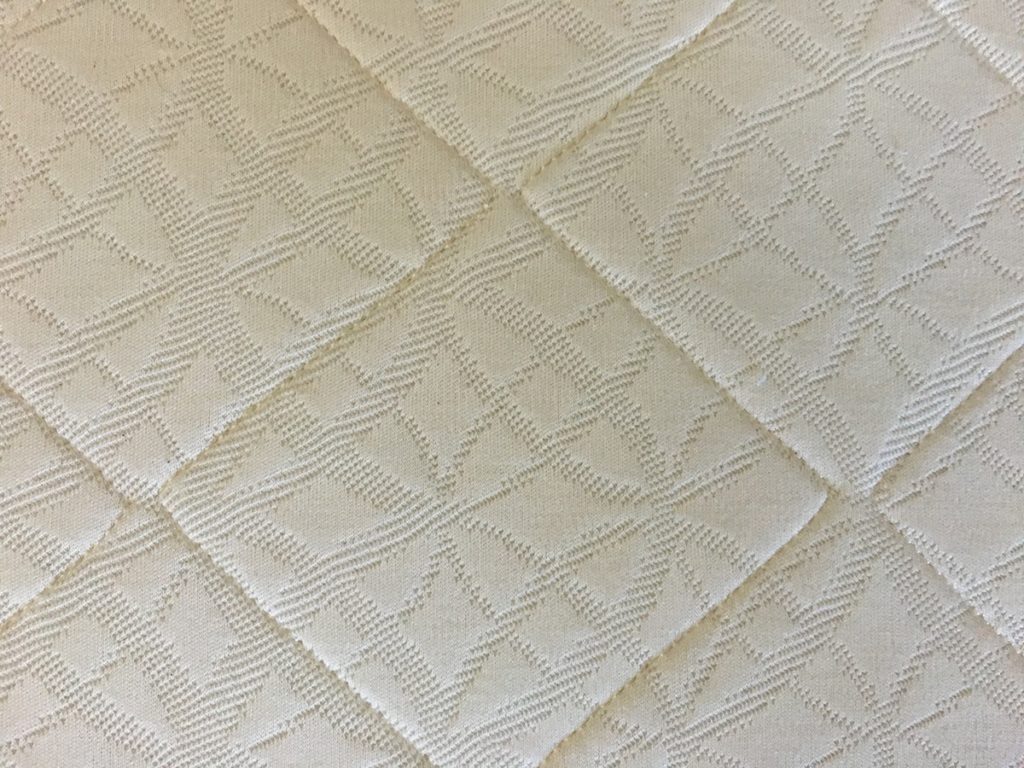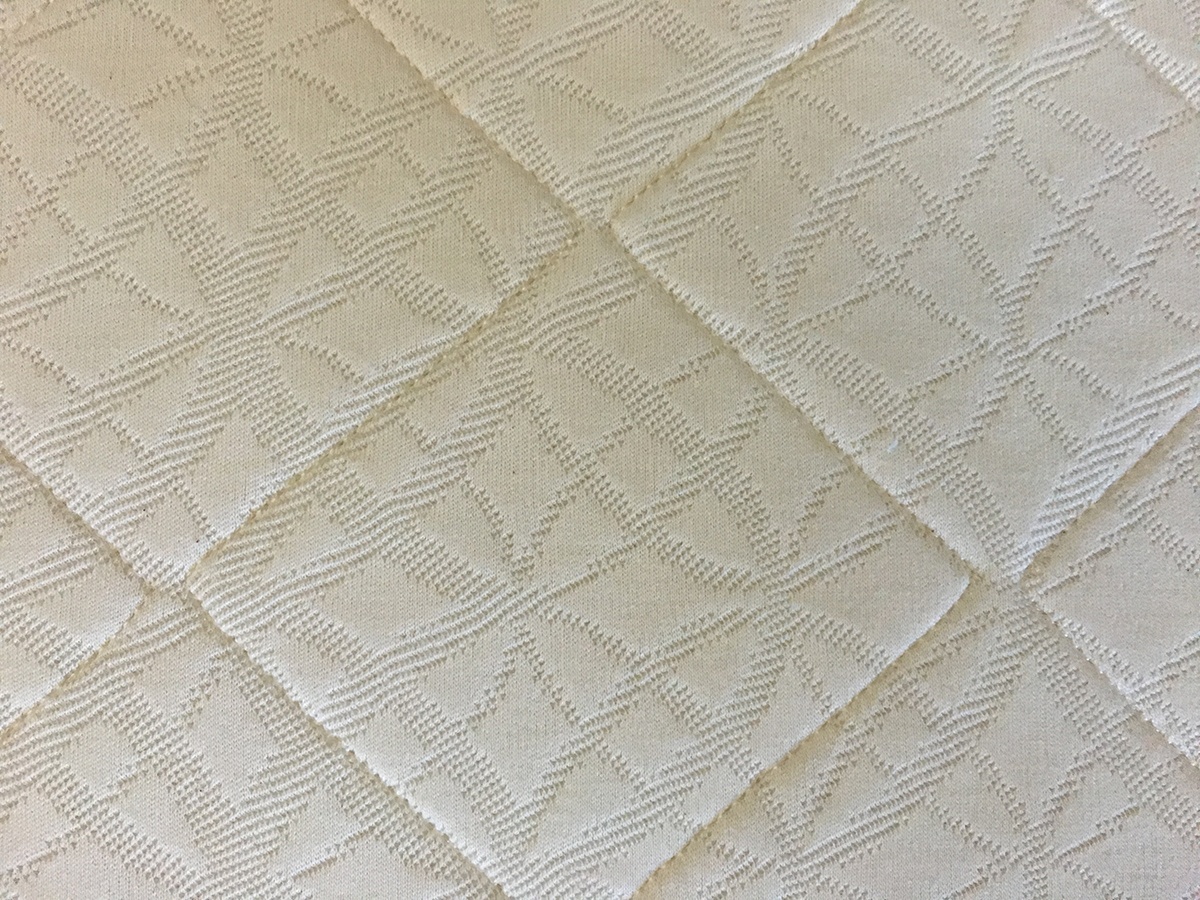 Pros
Eco-friendly
Breathable
Made with certified organic materials
Dual-sided for both infants and toddlers
Fits in both standard cribs and toddler beds
Removable cover to handle stains, spills, and accidents
Lifetime warranty
Cons
Expensive
Not 100% organic-only the cotton fiber and batting are organic
Mattress pad fits very snugly on the cover (may need some effort to get on and off)
Breathability
Breathability is a big factor to take into consideration even when shopping for an adult-size mattress. It is really important with crib mattresses, however, because infants will roll themselves over at night and adults want to make sure children have ample airflow when they are face down.
Naturepedic worked to make this crib mattress "ultra-breathable" in a couple ways.  The biggest one is the removable mattress cover/pad that comes with the mattress.  The fabric is waterproof and made of 100% organic cotton. The company says the breathable mattress pad maximizes airflow between the baby and mattress for a cool, comfortable sleep with less risk of overheating.
The mattress is not made of foam, which can sometimes hinder breathability and generates concerns of off-gassing. Instead, the core is a food-grade polyethylene that is used in Naturepedic's "wavesupport technology." Naturepedic says the wave support structure is lighter, has more structural stability and contains no polyurethane foam, making it less toxic.
Firmness
When it comes to our child's mattress, firmer is always better. In fact, the American Academy of Pediatrics (AAP) recommends staying away from crib mattresses or mattress toppers that are made with memory foam. This type of foam allows for the creation of an indentation or pocket by the baby's head, which could increase the baby's chances of suffocation.
Naturepedic's crib mattress is 2-Stage, which means that the infant side is very structurally firm and the toddler side is slightly less firm (but still very firm compared to adult mattress options).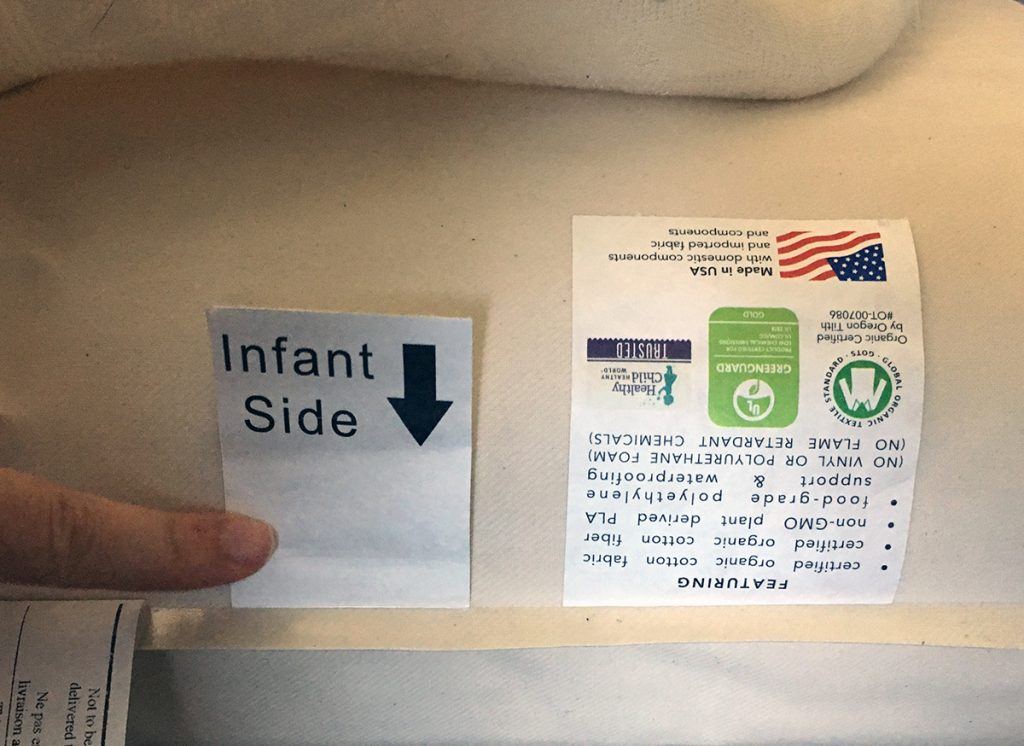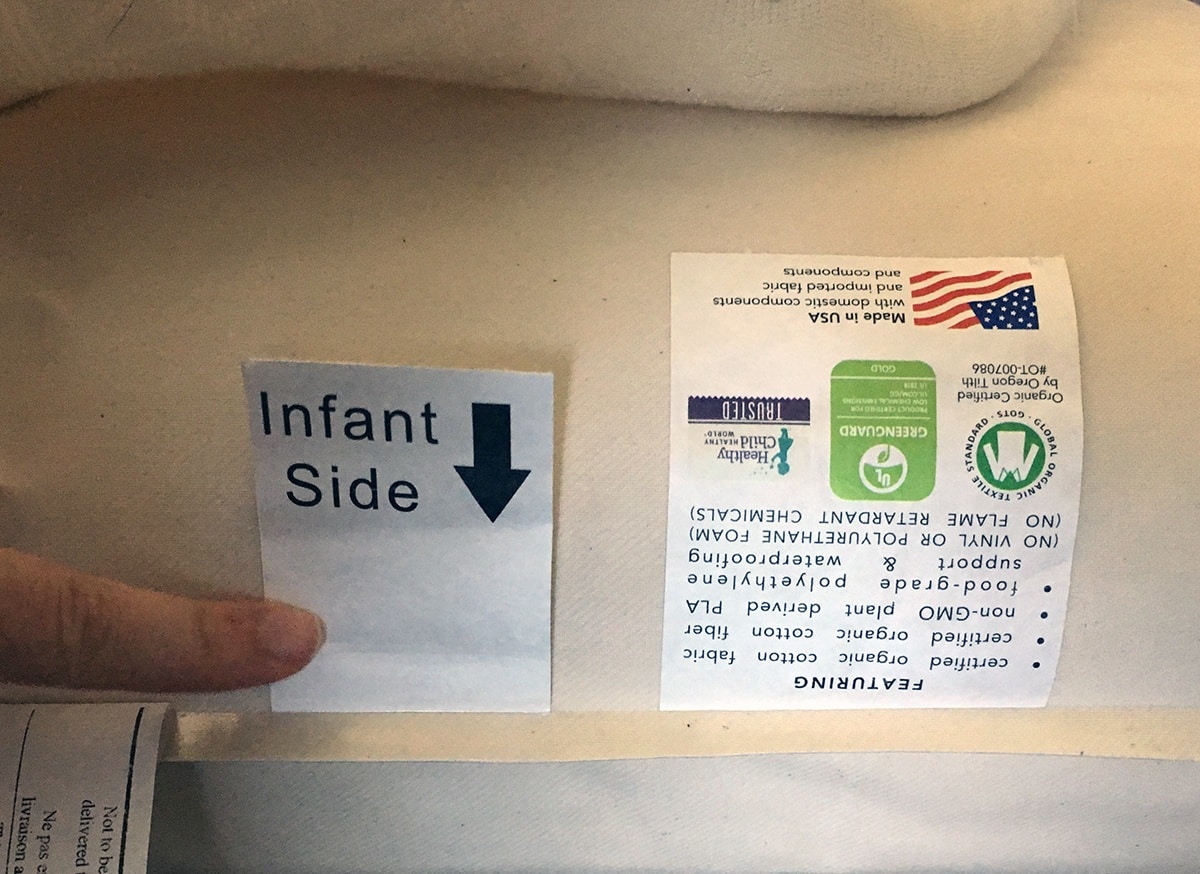 When one presses down on the mattress it will respond quickly, no sinking in or slow foam response (as there is no foam in the mattress at all!)
Weight
Crib mattresses really vary in terms of weight. A lot of that differentiation has to do with their filling type. Foam mattresses tend to be lighter than innerspring (where there are coils).
The Ultra-Breathable 2-Stage Organic crib mattress isn't made with foam or innerspring but instead uses Naturepedic's wavesupport technology that includes the use of food-grade polyethylene ( a type of plastic). This keeps the mattress relatively lightweight but still on par with a foam mattress.
The tag on the mattress says the net weight of the fill itself is 7.9 pounds, which makes me think the whole mattress plus the pad is somewhere in the 10-pound range. I have reached out to Naturepedic via email to get a more exact weight estimate and will update when I get it!
Either way, this mattress is not very heavy and should be pretty do-able for parents to get out of the crib to change the crib sheet or wash the mattress pad when needed.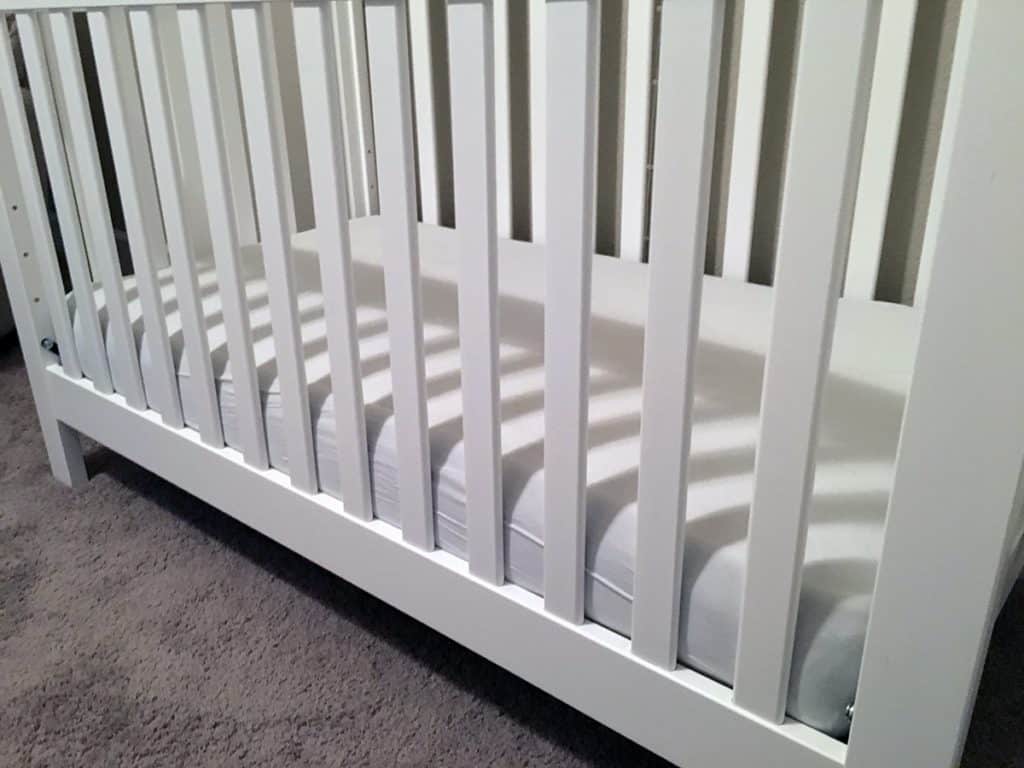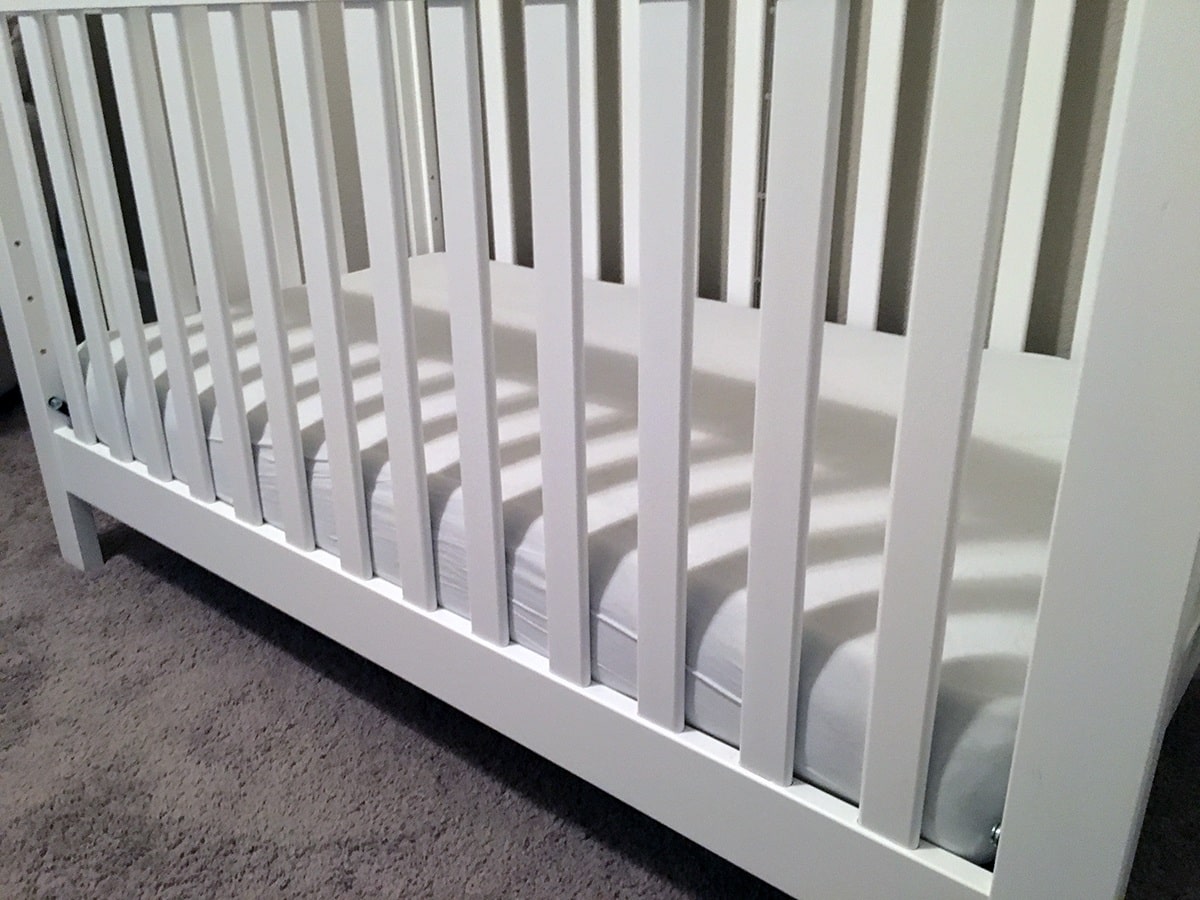 Overall
Aside from the high price, there are not a lot of cons to this crib mattress. Naturepedic consistently ranks as one of the top crib mattress brands because they try to avoid potential toxins and chemicals and use a lot of eco-friendly materials in their products. This makes it a good fit for parents who are particularly concerned about breathability, chemicals and the use of foams in crib mattresses.
Keep in mind that the organic cotton and batting in the mattress are what is certified organic. Other materials, like the polyethylene used, is a food-grade plastic but isn't technically organic.
Adults are essentially getting two items in one – a crib mattress and a mattress pad. If the features of the mattress pad are more appealing than the mattress itself, it might be worth purchasing it separately.
Don't worry if a natural mattress is the first choice but the $399 price tag for this bed is out of one's budget. There are other natural and eco-friendly crib mattresses on the market – just continue to research what is truly "organic" about the bed, look at the certifications and – of course – read the reviews!
To learn more about what to look for when buying a crib mattress check out our guide.
Katie Golde
Katie previously managed the day to day operations of the Mattress Clarity news site and reviews sleep products in addition to writing and editing sleep news. She hails from Austin, where she lives with her growing family. She is a Certified Sleep Science Coach and has a master's degree in Journalism from Northwestern University and has a background in health and science content. Her work can be found in print and online publications like Discover Magazine, USA Today and The Huffington Post.