Pinzon is a direct-to-consumer seller of bedding, owned and operated by Amazon. I reviewed the Hypoallergenic Down-Alternative Comforter in a medium weight, which is meant for year-round use. Does the Pinzon work for all temperatures and is it a good value? Read on for my full review.
You May Like The Pinzon Down-Alternative Comforter If:
You are a cold sleeper– Even though this is medium weight, it was very warm. This can be attributed to the 60 ounces of polyester fill, which is pretty heavy for a "year round" comforter.
You have allergies– The hypoallergenic polyester filling doesn't hold dust, oil, dirt, and dander.
You prefer a thinner comforter– Though it has nice fluff, the Pinzon is on the thinner side. It isn't quite the cloud you get with a fluffier down comforter. It isn't too bulky to move around or take to the laundry.
You May Not Like The Pinzon Down-Alternative Comforter If:
You are a hot sleeper– I had to take this off during a hotter night. I am a hot sleeper so, for me, the comforter left me feeling overheated.
You prefer a thicker comforter– Even though it runs hot, the Pinzon is quite thin. Even with its 550 fill power, the filling doesn't have too much loft.
You want a very soft, luxurious feel – Even after a wash, the comforter still had a starchy, crinkly feeling to the outer shell.
RELATED: Best Reviewed Comforters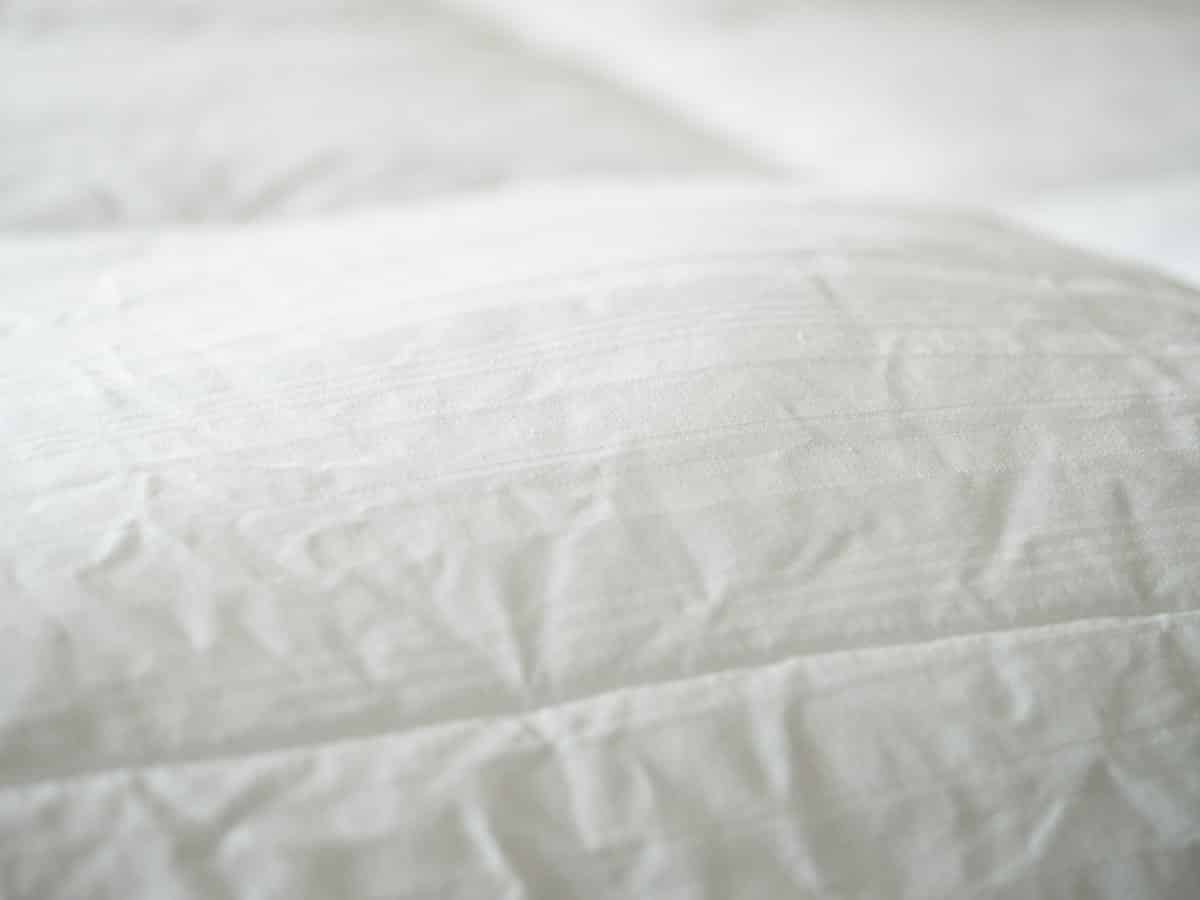 Construction
100% Cotton Dobby Shell and 100% Primaloft Polyester Fill. Primaloft was designed by the U.S. Army to repel moisture and mimic the warmth and body of natural down.
The Primaloft is antimicrobial and hypoallergenic, perfect for sleepers with allergies.
The 60 ounces of filling is meant for medium warmth and year-round comfort.
It features end-to-end, sewn-through box construction. This helps keep the filling evenly dispersed.
The down-alternative filling is similar to 550 fill power. Fill power measures how much space one ounce of filling expands to. This fill power is considered medium for quality and warmth.
Features loops to secure within a duvet cover.
The comforter is machine washable and dryable. Commercial front-loading is recommended on a cold setting. Tumble dry.
The king-size comforter measures 108″ x 96″.
It is made in the USA from imported materials, in an OEKO-TEX Standard 100 factory, an independent certification system that ensures textiles meet high safety and environmental standards.
Feel
When I first opened the bag for the Pinzon, the outer cotton shell was somewhat starchy and stiff. Moving around beneath it, I heard some mild crinkling noises as well.
Compared to an Egyptian Cotton or other high-quality shells, the Pinzon shell isn't the smoothest. This will definitely go best with a top sheet between you and the comforter. If a soft feel is a priority for you, you could place the Pinzon within a softer, high thread count duvet cover.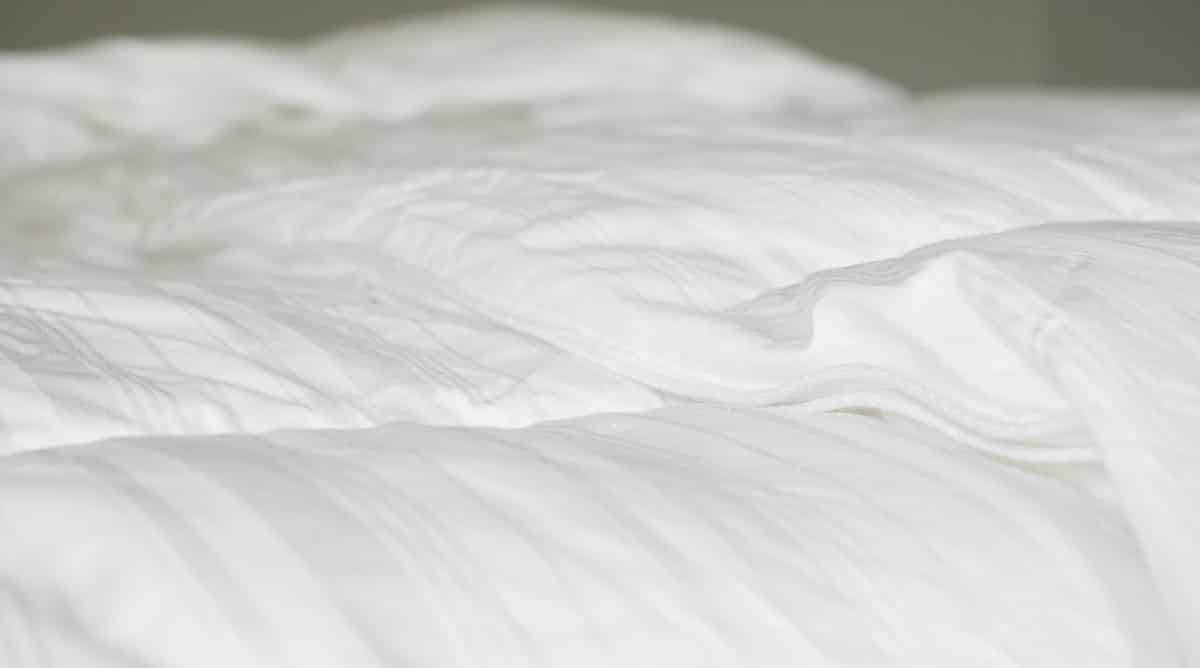 Loft and Body
The filling is secured in place with sewn-through box stitching. On one hand, this keeps the polyester fill evenly distributed.  On the other, this construction, compared to baffle boxes, doesn't allow for as much loft.
Because of the stitching and the fact that this is a down-alternative comforter, it is naturally going to be a little thinner than a natural down comforter. For a down-alternative, however, there was some nice fluff.
Related: Down Vs Down Alternative Comforters
Breathability and Warmth
Polyester filling, in comparison to natural down, is rarely as breathable. This is definitely the case for the Pinzon Medium Weight. Lying under this comforter, I did sweat and overheat fairly quickly.
Even though it is advertised as a year-round model, I would opt for the lighter weight Pinzon if you are a hot sleeper.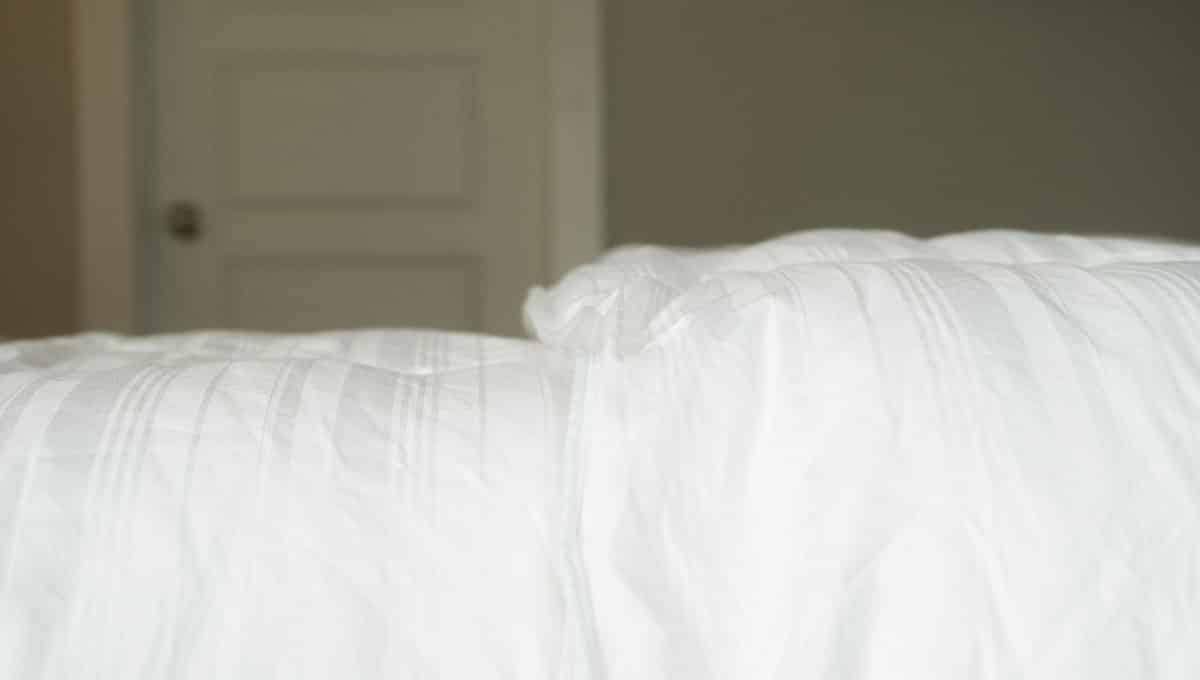 Washing
The upside of a down-alternative comforter is that it is machine washable. Most down comforters require dry-cleaning, but the down-alternative does not.
However, Pinzon recommends washing and drying in a front-loading, commercial washer and dryer. The comforter is going to expand in the dryer, so you are going to need that extra space.
You're going to want to tumble dry or use very low heat when drying. In addition, Pinzon suggests throwing tennis balls into the dryer to speed up the drying process and to help with fluff.
Final Recommendation
The Pinzon in the medium weight could be a good match for colder sleepers. Those in chillier climates might get good use of this all year. However, for most parts of the country, though it is sold as a medium weight and year-round item, I would look at this as more of a seasonal, winter comforter.
Compared to other down-alternatives, the medium weight version is a little pricey at $120 (for a Queen). This is definitely more of an investment and is somewhat expensive for a down-alternative comforter. The Pinzon has a 30-day return policy, but no warranty.
Pinzon also offers a lighter weight down-alternative comforter with only 30 ounces of fill. This may be a better match for warmer sleepers and runs for $53 at full price.
The following two tabs change content below.
Marten Carlson
Marten is a staff writer for Mattress Clarity News. He covers the mattress industry as well as sleep science news. He is specifically interested in the connection between sleep and overall health.Marten has written for media publications like Consequence of Sound and received a master's degree in Film Studies from Emory University.He comes from Franklin, Indiana, and spends all the time he can writing, directing, and acting in films. He has directed genre short films and features. His newest film, Starlets, recently premiered at the River Town Film Festival in Clinton, NJ. He also stars in the upcoming thriller, Sour Bear. His next film, At The Hop, is a hot rod actioner with a horror twist.
Latest posts by Marten Carlson (see all)