CBD is a booming industry. Living in Austin, it seems like I pass a CBD store every ten feet. Its popularity is not surprising, however. Studies have shown that it can help with anxiety, nausea, and even sleep.
As someone who struggles with both anxiety and sleep issues, I was interested to see if CBD really works. So, I decided to review the Populum Full-Spectrum Hemp Oil. This is a popular product, and I thought it was a great place to start my CBD journey.
So, let's take a look at what's exactly in the bottle of Populum and talk about my experience with the oil.
Will the Populum lull you to sleep? Read on for my full review.
Populum Deals
The Populum is a quality full-spectrum hemp oil that should help you fall asleep and stay asleep. 
Ingredients And Dosage Options
First off, Populum obviously contains CBD. What exactly is CBD? Well, it stands for Cannabidiol. It is one of the major phytocannabinoids found in the cannabis plant. You probably recognize the other major phytocannabinoid in cannabis, THC.
While THC (Tetrahydrocannabinol) is psychoactive, CBD is not. THC can make you feel high or stony, but CBD will not. However, CBD can help you feel relaxed and help with anxiety, depression, and other sleep issues. Another real plus is that it is legal in all 50 states while THC is not. 
The Populum is unique in that it is a "full-spectrum hemp oil." This means that it contains not just a CBD oil, but many other cannabinoids and compounds found in cannabis.
For example, the Populum also features CBG (Cannabigerol). CBG is an anti-inflammatory that can relieve pain and reduce nausea. You also get CBC (Cannabi-chromene) and CBDa (Cannabidiolic Acid). These are also anti-inflammatories. These are just a few of the cannabinoids you will find in the Populum.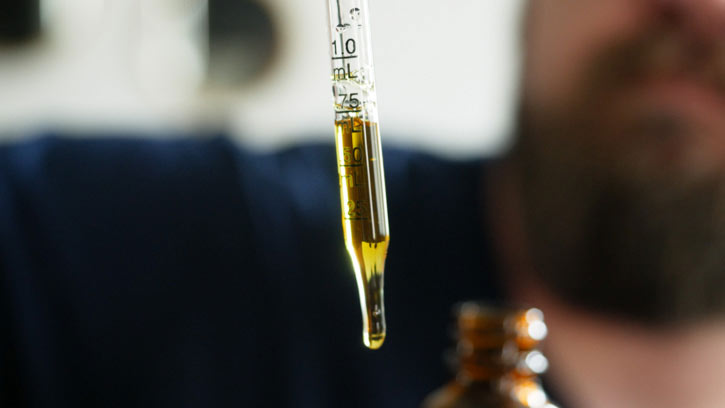 The Populum also contains a number of terpenes, which are essential oils found in hemp. These terpenes add a natural citrus flavor and also have some sedative properties. According to Populum, all these ingredients have an "entourage effect" where the "restorative benefits of the whole plant is greater than the sum of its parts."
You will also find hempseed oil, grapeseed oil, coconut oil, and cold-pressed orange oil. These ingredients add some flavoring and can help strengthen your immune system. If you want to know exactly what is in your batch of Populum, you can read your "Lab Results." You will receive this ingredient sheet with your order and it will detail the levels of every ingredient in your bottle of Populum.
With Populum, you have three potency options: 250 mg, 500 mg, and 1,000 mg. I personally reviewed the 500 mg option, which is their most popular potency.
Using The Populum
Let's go through how to use the Populum. First, you unscrew the bottle and take out the dropper. Then you are going to fill the dropper with the appropriate amount of oil. Populum recommends that first-time CBD oil users begin with an 8 to 8.5 mg dose. Since I am using the 500 mg, this is about half a dropper.
Then, you are going to squirt the oil under your tongue. You want to leave the oil in your mouth for about 30 seconds before swallowing. You can even use your tongue to apply the oil to your inner cheeks. After the 30 seconds is up, take two big deep breaths and then swallow the remaining liquid.
So, what was it like using the Populum? I will say this was my first time using CBD oil, but it was easy to get used to the Populum. I placed the oil under my tongue about half an hour before bed every night.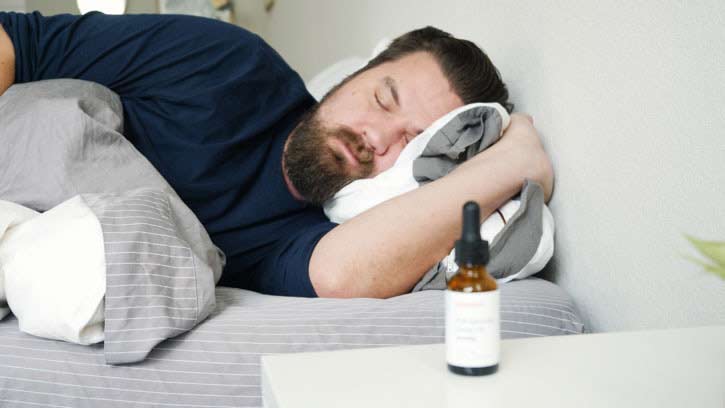 First, it did help me fall asleep more quickly. As someone who deals with anxiety, bedtime can be a fun game of trying to forget all the mistakes I made that day. The Populum relaxed me significantly, and I fell asleep with fewer of these anxious thoughts running through my head. Early on, I took the Populum while watching John Sturges' Bad Day At Black Rock. I fell right to sleep. Not even a fight scene between Spencer Tracy and Ernest Borgnine could keep me awake.
I also slept through the night with no issues. Sleeping through the night is not usually too difficult for me, but the Populum definitely kept me sleeping deeply.
However, waking up in the morning, I did experience some grogginess. I felt a bit foggy for the first part of the morning. Again, this was my first time using CBD. As Populum suggests, I dialed back my dose a bit, and this fogginess was not so much of an issue.
Populum Deals
The Populum is a quality full-spectrum hemp oil that should help you fall asleep and stay asleep. 
You Might Like The Populum If…
You want something to help you fall asleep. The Populum Full-Spectrum Hemp Oil does have some noticeable sedative effects, and it is also very relaxing. If you have trouble falling asleep at night, the Populum could help you feel more at ease mentally. Also, you should find yourself falling asleep more quickly.
You need help staying asleep. The relaxing and sedative effects of the Populum should last throughout your entire night. Some people wake up often during the night for a variety of reasons. If this applies to you, the Populum could be a great match.
You are looking for something full-spectrum. Many CBD oils out there are actually CBD isolates. This means they only contain CBD and not the other beneficial compounds found in hemp. The Populum, on the other hand, is full-spectrum and features a variety of cannabinoids and terpenes with their own helpful properties.
You want a product that is third-party tested. To test the quality and efficacy of its product, Populum submitted to third-party testing. Scientists unaffiliated with the company tested the Populum to make sure it is a safe and high-quality hemp oil.
RELATED: Best Mattress For A Good Night's Sleep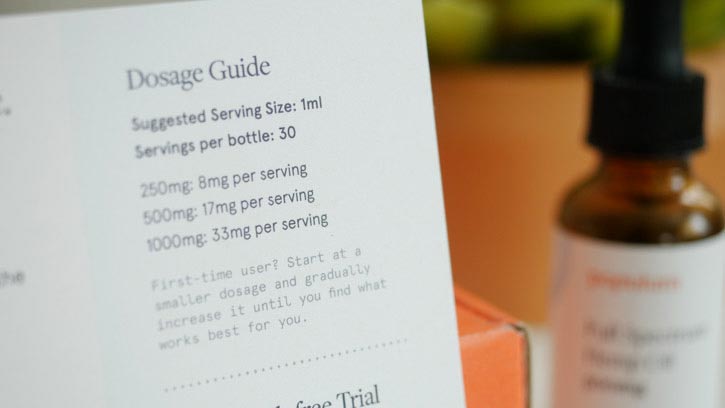 You Might Not Like The Populum If…
You like to wake up with no grogginess. This might have just been my experience with the Populum, but I did wake up a bit groggy in the morning while I was using the oil. However, after I adjusted my dose, this grogginess did lessen. It is just worth noting that you could have this issue when starting to use this CBD oil.
You want a sleep aid that is FDA-approved. This is not necessarily an issue specific to Populum. The majority of CBD products are not FDA-approved. There are many sleep aids available that have been approved by the FDA. Again, the Populum is third-party tested, but if you want the FDA seal of approval, you will need to look elsewhere.
You want a more affordable sleep aid. The Populum is much more affordable than many other CBD oils out there. That being said, it is still going to cost more than over-the-counter sleep aids.
You want more potency options. This is not really a drawback, but the Populum only comes in three potencies. You will still be able to work out exactly how much you need to take, but other companies do have more potencies available.
Overall
I can say that my first experience with CBD oil was a positive one. The Populum lessened my feelings of anxiety before bed and helped me fall asleep and stay asleep.
If you want to try out the Populum, but you aren't sure it's right for you, they do offer a 30-day risk-free trial.
The following two tabs change content below.
Marten Carlson
Marten is a staff writer for Mattress Clarity News. He covers the mattress industry as well as sleep science news. He is specifically interested in the connection between sleep and overall health.Marten has written for media publications like Consequence of Sound and received a master's degree in Film Studies from Emory University.He comes from Franklin, Indiana, and spends all the time he can writing, directing, and acting in films. He has directed genre short films and features. His newest film, Starlets, recently premiered at the River Town Film Festival in Clinton, NJ. He also stars in the upcoming thriller, Sour Bear. His next film, At The Hop, is a hot rod actioner with a horror twist.
Latest posts by Marten Carlson (see all)