Coming in at just under 10 lb, the shredded memory foam-filled body pillow by Mindful Design is impressive in its size and its level of support.
This body pillow could be a good fit for hot sleepers, because gel cooling panels run along one (or both) sides of the pillow and keep it cool to the touch.
What else is there to know about this body pillow? Check out my video review or keep reading for more details! Always let me know if any questions come up!
Mindful Design Deals
The Mindful Design Cooling Memory Foam Body Pillow is a firm to extra firm body pillow that is filled with shredded memory foam. It has a removable cover that features a gel pad that helps keep the pillow cool and a good choice for side sleepers and hot sleepers.
Key Features
Dimensions: 48″ x 16″ x 9″ (height)
Gel panel measures 39″ x 12″; the gel pad is 100% non-toxic, medical-grade cooling gel
Around 9.38 lb in weight
Outer cover: 100% cotton and 100% polyester air-knitted mesh over gel panels
The filling is 100% shredded polyurethane foam
Designed for stomach sleepers and side sleepers (and hot sleepers!)
Comes in single-sided or double-sided option (we've got the single-sided)
Available at different retailers (Amazon, Walmart, etc.)
$45 – $65 full price, depending on the retailer
30-day return policy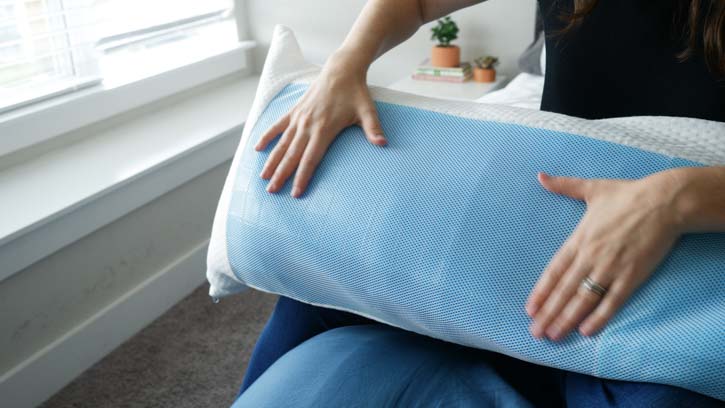 Who Makes It?
The body pillow is made by a company called Mindful Design.
While I couldn't find their website or any social media pages, I did see their Amazon page. The brand sells a range of home decor, furniture, and other bed and bath products.
When it comes to pillows, Mindful Design also offers a bamboo-derived cooling foam body pillow as well as more traditional bed pillows and orthopedic head and neck pillows.
Care
You'll want to make sure the pillow has had enough time to expand and be "thoroughly aired" before you use it.
In terms of cleaning it, the whole pillow and the cover are spot-clean only. Do NOT throw the cover in a washing machine. Air dry only after spot cleaning.
Pros
The cooling feature works well
Good support for side sleepers and larger stomach sleepers
Comes with nice packaging and helpful instructions
Shredded foam is nice because you can contour it a little bit more than you could a solid piece of gel foam
Single or double-sided gel pad options are available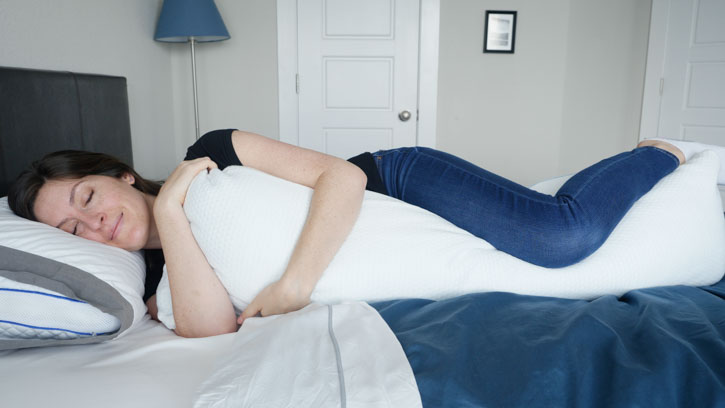 Cons
It is firm to extra-firm, which might be too much for back sleepers or people who want just subtle support
Takes up a good amount of space in a bed
You'll need to fluff it in the dryer to get full support
Spot-clean only
The inside of the cover had some quality issues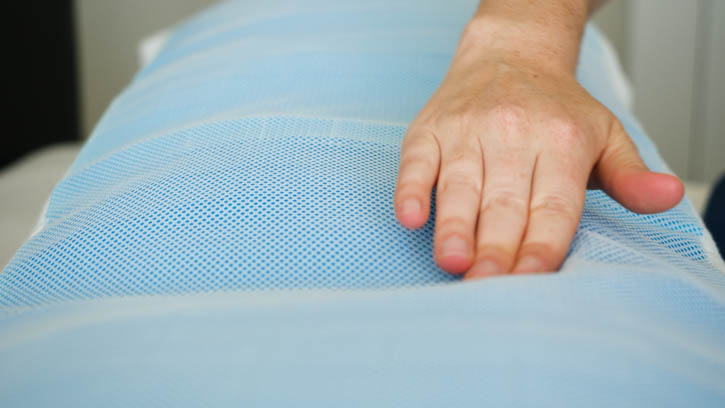 My Experience
Your body pillow will come condensed in a small carrying case.
Make sure to let it breathe for 12 to 24 hours in a well-ventilated area so you can get the maximum foam expansion before using it! I'd also recommend tossing it in the dryer for a few minutes (follow the care instructions).
You will be able to tell pretty quickly that there are some large foam chunks in this pillow that keep it feeling very firm or extra-firm. The 9″ loft is definitely realistic. This is one of the firmest and most supportive body pillows I've reviewed, and I think it's definitely a good fit for people who sleep on their sides and/or large individuals who sleep on their stomachs.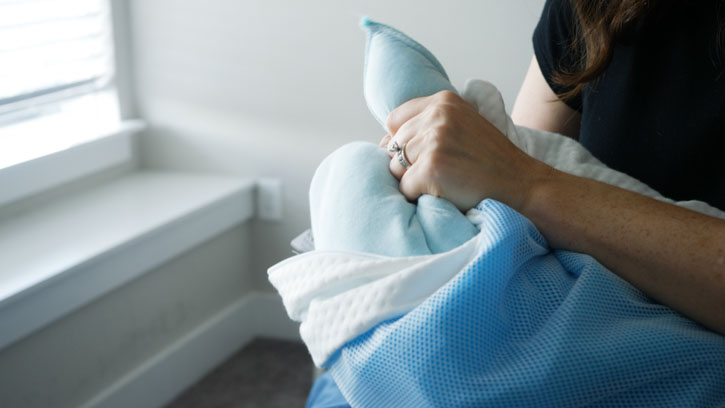 The cover comes folded neatly in the package. The first thing I noticed about mine was there was lots of loose string and extra fabric hanging off the inside. It didn't look finished, and I wasn't sure if there was a quality issue and if I should trim the extra strings. I ended up leaving everything alone.
While it did not look great, it didn't affect my ability to get the cover on the pillow (it was easy).
The gel panel is actually very small, non-toxic medical-grade gel squares that make up a large panel. You'll also see some mesh knitting over the cooling gel.
Even after multiple nights of using the pillow, the gel panels stayed cool to the touch. One reason people avoid foam pillows is because of breathability. But between the chunks of foam (where air can flow between) and the cooling panel, I think this is a nice and supportive option.
Mindful Design Deals
The Mindful Design Cooling Memory Foam Body Pillow is a firm to extra firm body pillow that is filled with shredded memory foam. It has a removable cover that features a gel pad that helps keep the pillow cool and a good choice for side sleepers and hot sleepers.
How This Pillow Works For Different Sleep Positions
The firmness and support of this pillow make it a best fit for most side sleepers. It's a good pillow to wrap around when you're sleeping on your side and feeling the cool gel pad against the body.
Based on my experience, it'll be hard to support your back on this pillow because it's just too tall and firm. You can lean up against it, but you won't really be able to lay on top of it in any way. If you just want a little boundary between you and your sleep partner, though, it could work quite well!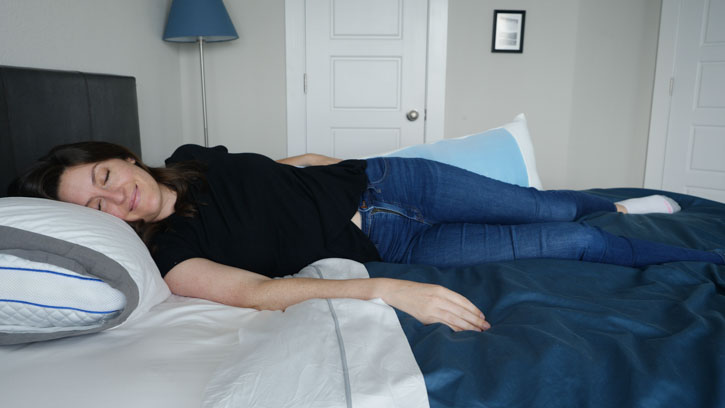 Average sized stomach sleepers may find it too large as well. You'd really be resting on top of a large pillow, as opposed to letting a body pillow subtly support you.
Some larger individuals may find it to be the perfect amount of support, but my thoughts are that average and petite people will feel that it's just too much for stomach sleepers.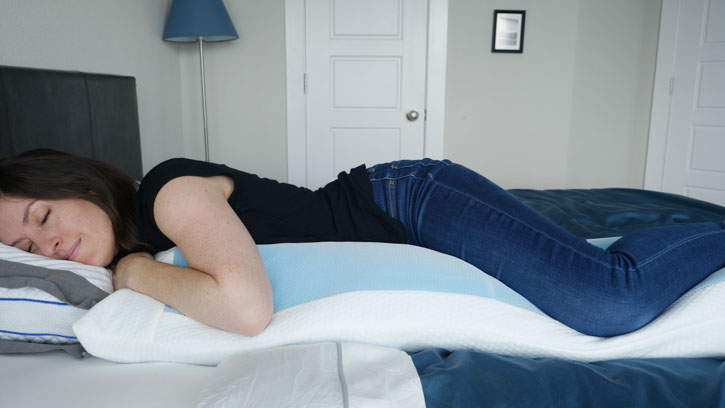 Overall
This pillow is affordable, cooling, and super supportive.
While I didn't like the extra threads and potential quality issue with the cover, I would still likely recommend it to larger individuals who are looking for a lot of full-body support.
I'd also suggest it to those who want a foam body pillow but are worried about sleeping hot. The gel panels really kept things cool.
We found this pillow online at Amazon and also at Walmart. Check both retailers to find the best price online or in-store!
The following two tabs change content below.
Katie Golde
Katie manages the day to day operations of the Mattress Clarity news site and reviews sleep products in addition to writing and editing sleep news.She hails from Austin, where she lives with her growing family. She is a Certified Sleep Science Coach and has a master's degree in Journalism from Northwestern University and has a background in health and science content. Her work can be found in print and online publications like Discover Magazine, USA Today and The Huffington Post.
Latest posts by Katie Golde (see all)