Fun Fact: If you put two Twin XL beds together, you'll get the same dimensions as a King bed. The Twin XL is the same width as a Standard Twin that you might be familiar with, but it's 5″ of additional length make it the same length as a King. What else should you know about these two types of beds? Read on for our full comparison.
The Basics
Standard (or Eastern) King:
| Standard King | |
| --- | --- |
| Width | 76" |
| Length | 80" |
| Width Per Person | 38" |
Who is this ideal for?
A King bed tends to be best suited for couples. In fact, it is the equivalent of each person sleeping in their own Twin XL bed (pushed together). The King bed offers each person 8" more space than a Queen sized bed. This makes it ideal for Master Bedrooms. It may be too large for some individuals.
Twin XL
Who is this ideal for?
The Twin XL is the same width as a Standard Twin but it's about 5″ longer, making it the same length as a Queen or King. It is a nice option for college dormitories or taller children who may have smaller rooms. You will also see them in hostels where multiple beds are in one large room.
Other Size Options
Kings
California (Western) King: Fairly popular and is narrower and longer than a traditional King size mattress.

Split King: Similar to a Standard King (but 2" wider) and split down the middle.
| Split King | |
| --- | --- |
| Width | 39" (each half) |
| Length | 80" |
Twin
Standard Twin: A Standard Twin is also known as a Single bed. Twin mattresses and beds are often the next steps for children who have outgrown their cribs. They're also a great option for smaller bedrooms like Guest Rooms. Bunk beds also traditionally come in Twin size.
You Might Choose
King If…
You're upgrading your Master Bedroom. King sized beds tend to be the best fit for larger master bedrooms, where there is plenty of space not only for your bed but all your additional pieces of furniture and accessories.
You want to stretch out. While it comes down to personal preference, many couples opt for a King size bed over a Queen (or a Full for that matter). In a King, each person gets 38″ of space on each side. That makes it comfortable for couples person to spread out or for the youngest family member to hop in during the night.
It's in your budget. Everything adds up when you're shopping for a new bed. If you are moving from a Queen or something smaller to a new King bed, keep in mind that you'll more likely than not need to purchase a comfortable mattress, as well as a sturdy bed and bed frame and some comfortable King-sized sheets as well.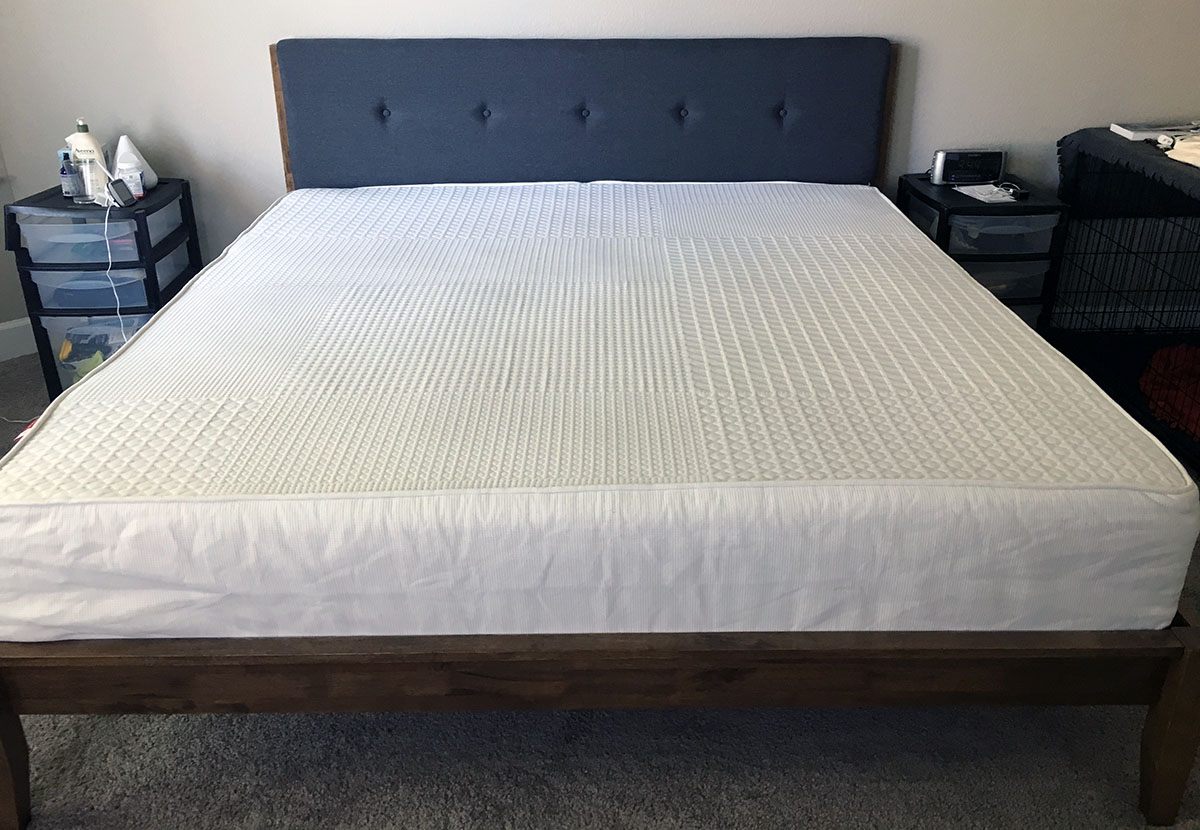 Tuck mattress (King) – check out our review, here. 
Twin XL If…
You're a young adult or child. As we mentioned earlier, Twin-sized beds are sort of the next step up from a crib mattress. A  Twin XL is 38″ x 80″ and could be a good fit for a child's room or even a teenager who could use the extra length.
You're trying to save money. If you have room for a Full/Double bed but can't afford the frame, mattress, and sheets, you can consider a Twin XL. The bed will definitely be more affordable since you are saving on space and you'll get extra 5″ in length. Many Back-To-School sales offer bedding bundles in Twin Xl size.
You need a bed for a smaller room. One Twin XL bed will look very small in a Master Bedroom (unless it's a smaller bedroom). Instead, it will probably be a good fit as a replacement for a crib in a nursery or a smaller room that maybe two people share – like a kid's room.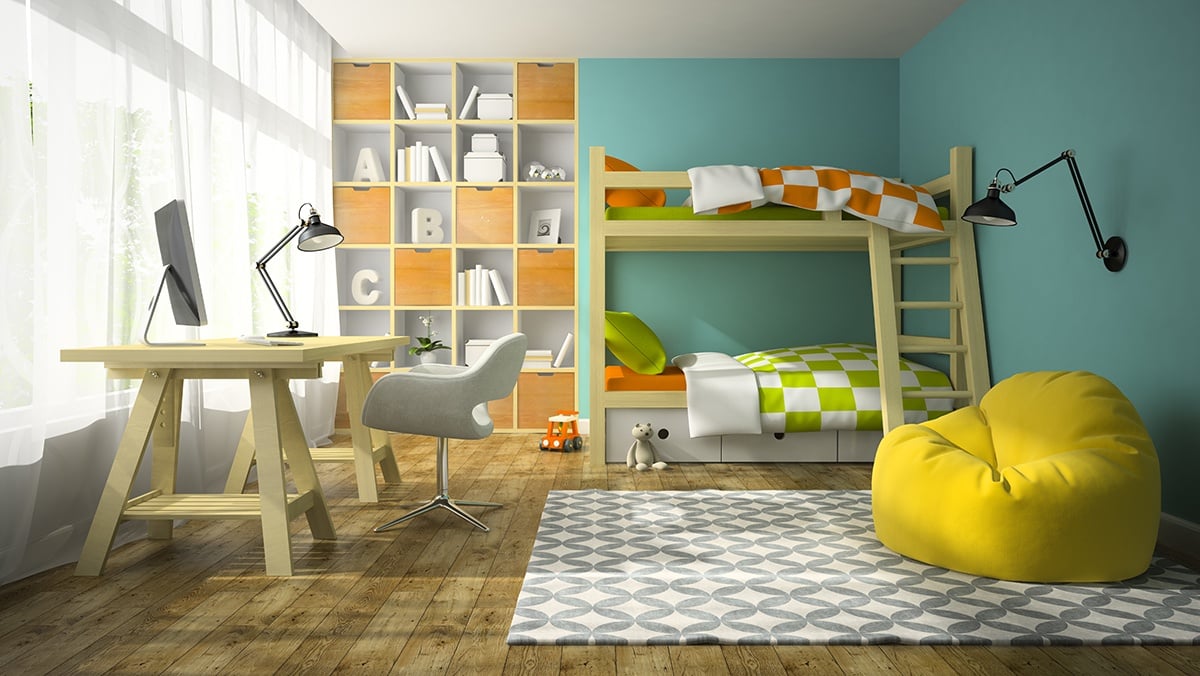 Koksharov Dmitry/Shutterstock
Things To Consider
Here are some tips and things to think about before you make your next purchase.
Measure your space and leave room for movement. If you are thinking about making the jump from a crib to a Twin XL or you're ready to go big and get a King bed,  make sure it fits it in your bedroom. Duh, right?  Just know that it's easy to get caught up in an impulsive shopping moment and end up with a bed that doesn't fit. An article from Th!ngz Contemporary Living says that most designers will recommend 30″ of space around your bed for movement. That means that a King size will be best for a large Master bedroom.
Consider how you'll get your bed into the room. While Twin XL beds and mattresses won't be too difficult to get through doorways or upstairs,  a King mattress may take some maneuvering (and another set of hands) to get into a bedroom.
Shop seasonally if you can. There are times during the year that mattresses and beds will go on sale. If you're on a budget but want to upgrade to a bigger bed, it might be worth waiting to make a purchase during that time. Back-To-School is an excellent time to shop for Twin XL beds as they're very common in college dorm rooms. For mattresses, Labor Day weekend is often a good time for sales.
Overall
There are good reasons to go with either a Twin XL bed or a King bed. It'll depend on your sleep needs, room size and – of course- budget! One hack that might be worth investing is seeing if the cost of two Twin XL beds is cheaper than a King bed. You can even put two Twin XL mattresses on a King frame for a Split King mattress (always check dimensions first as some brands may change theirs).
The following two tabs change content below.
Katie Golde
Katie manages the day to day operations of the Mattress Clarity news site and reviews sleep products in addition to writing and editing sleep news.She hails from Austin, where she lives with her growing family. She is a Certified Sleep Science Coach and has a master's degree in Journalism from Northwestern University and has a background in health and science content. Her work can be found in print and online publications like Discover Magazine, USA Today and The Huffington Post.
Latest posts by Katie Golde (see all)