When we keep our pillows clean and fluffed, it ensures we're getting the most out of our investment.
Pillows work hard to keep our head, neck, and spine in neutral alignment so we wake up feeling refreshed and ready to tackle the day. It's important to take good care of our pillows so they continue to deliver.
Cleaning your pillow doesn't have to be difficult. But you should do your research before tossing it straight into the washer.
You should read the care instructions that are often found on the tag attached to your pillow and follow them as closely as possible. The makers of your pillow know the best way to keep it in good shape.
If your tag is gone or you can't find the instructions, send me a message and I'll try to help. If it's a total mystery, stick to spot-cleaning and avoid machine washing at the risk of ruining your pillow.
The bottom line is that your pillow (as long as it's still in decent shape) can be cleaned and should be cleaned.
If the pillow cannot be saved, don't worry! We've reviewed a lot of pillows and we've put together a list of the best pillows on the market.
Check out the video below or keep scrolling for step-by-step instructions on how to clean your pillow by spot-cleaning it or washing it in the washer and dryer.
Don't feel like watching a video right now? No problem! Scroll down and we'll walk you through how to spot-clean your pillow, how to wash it in the washer and dryer, and how to bleach it to get those tough stains out!
How To Spot Clean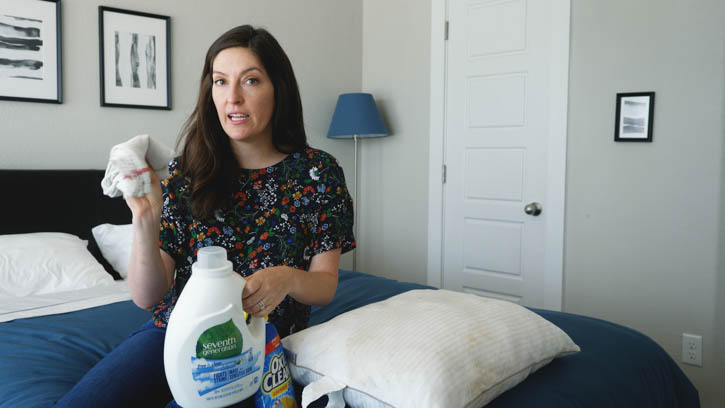 The three main things you'll need when spot-cleaning your pillow are a clean cloth, mild detergent, and some water.
If you have some particularly bad stains, you may need a stain remover as well.
2.
Wet Area With Damp Cloth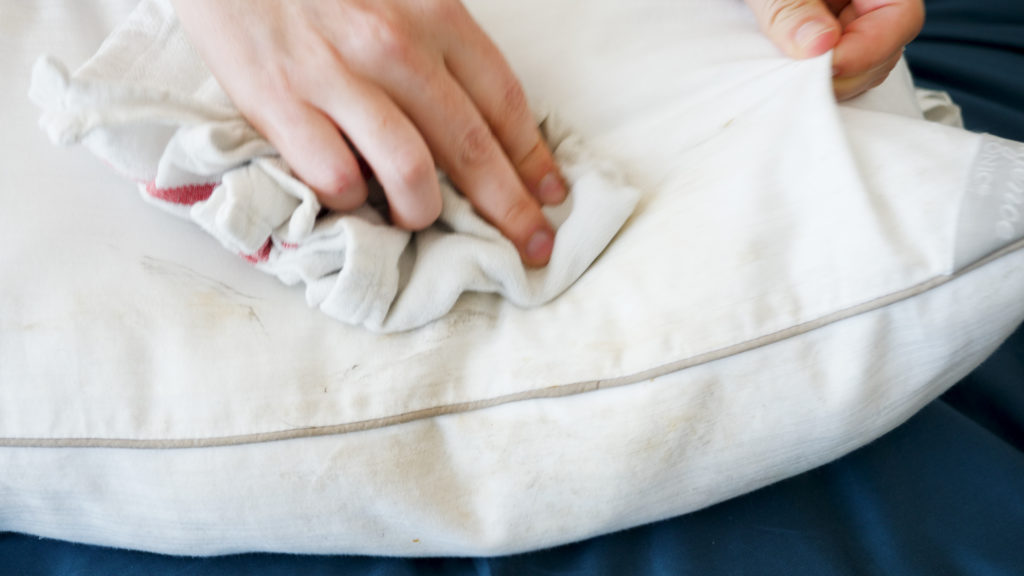 Take your damp cloth and gently rub the dirty area of your pillow. This should loosen up some of the dirt and get it ready for the detergent.
3.
Add Mild Detergent To Cloth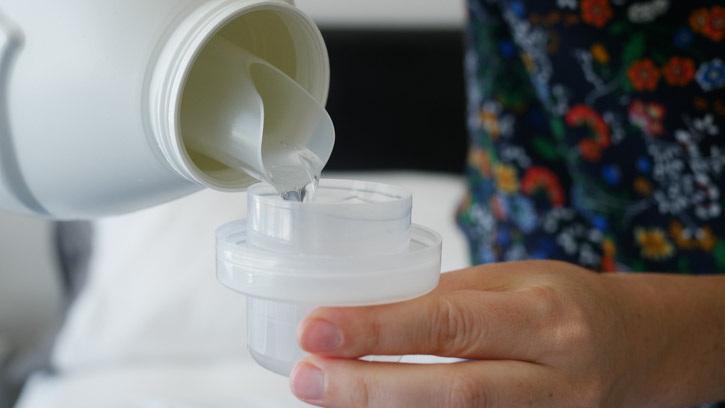 Dip your cloth into a small amount of mild detergent and use the cloth to gently rub the dirty area and clean it as best as possible.
4.
Use Your Stain Remover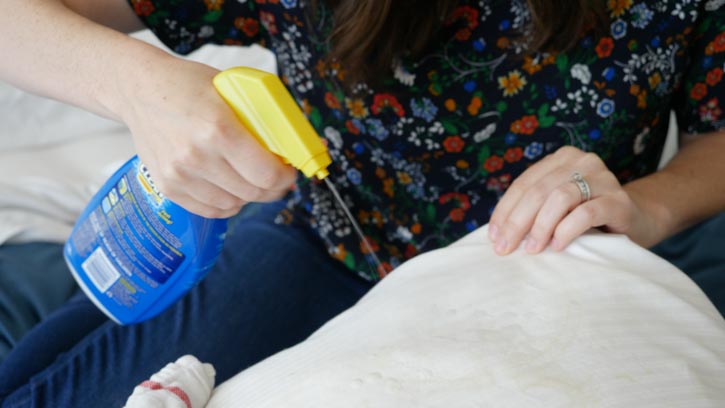 If you aren't seeing any changes to your pillow, consider adding a little bit of stain remover and leave it to do its magic before coming back with a damp cloth.
5.
Remove Excess Detergent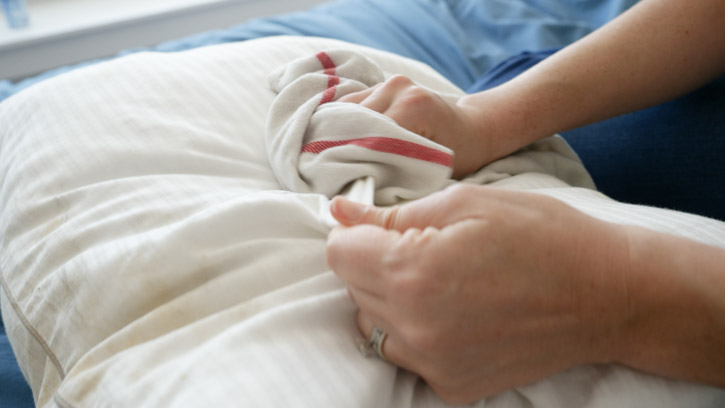 Take another section of dampened cloth and rub the cleaned area again to remove any excess detergent or stain remover.
6.
Let The Pillow Air Dry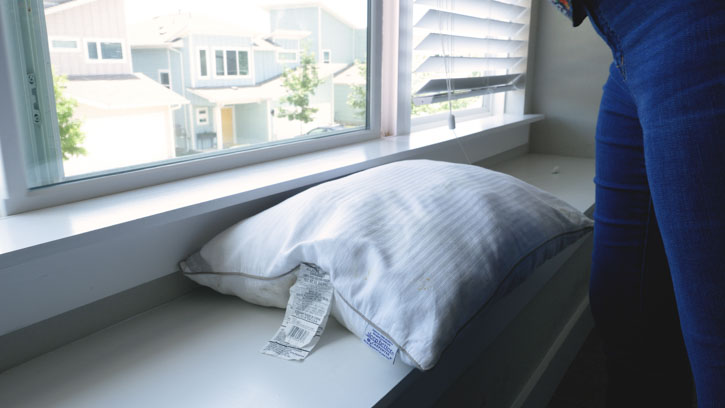 Once the pillow has been spot-cleaned by hand, place it by an open window or a well-ventilated area where it can dry fully.
How To Machine Wash & Dry
1.
Pour Delicate Detergent Into Washer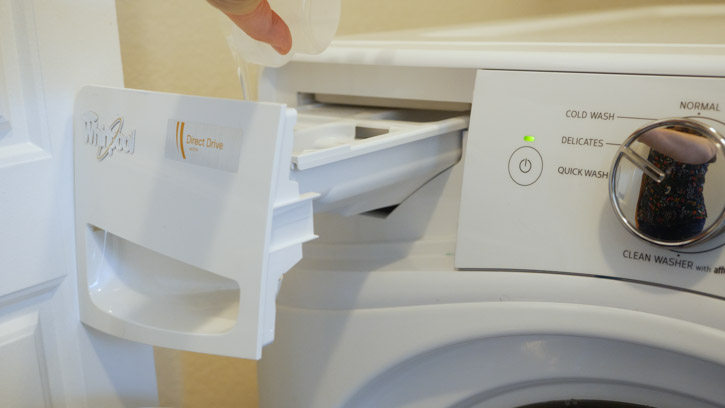 Add a mild detergent to your washing machine. If you're washing the pillow by itself, use only a small amount of detergent. If you're using a top-loading washer, consider adding something else into the load to balance it and avoid potentially damaging your pillow.
2.
Turn It On A Gentle Cycle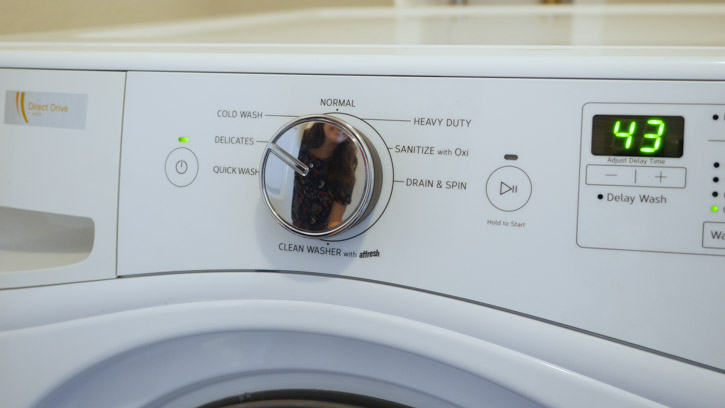 If your pillow has a removable cover, unzip it and take it off before washing to help both the cover and filling get as clean as possible.
More likely than not, the care instructions on your pillow will say to do a gentle wash and dry, so use a delicate washer setting whenever possible.
The water temperature should be either cool or warm.
3.
Use "Drain & Spin" Cycle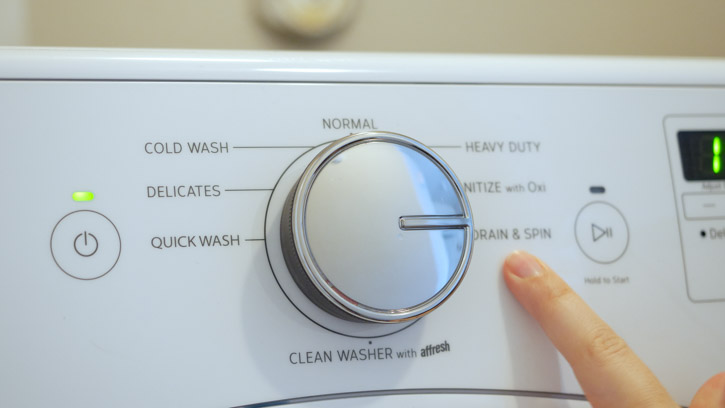 The more moisture you can get out of your pillow in the washer, the faster it will dry when you transfer it to the dryer.
To help remove some of the excess water, put your washer on a "drain and spin" setting. This will help pull water out of the pillow after it's been cleaned.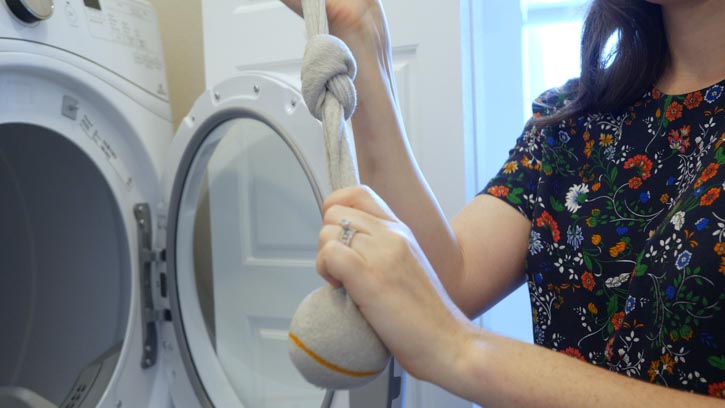 When the pillow cover and filling are ready to go into the dryer, place a tennis ball in a tube sock and add this to the dryer along with the pillow.
The tennis ball in the tube sock will bounce around inside the dryer and gently push on the pillow, breaking up any filling and helping it to dry as efficiently as possible.
Set the heat on a lower heat setting so you don't potentially burn the pillow.
Depending on the filling material, it may take several cycles to get your pillow fully dry.
How To Use Bleach To Remove The Tough Stains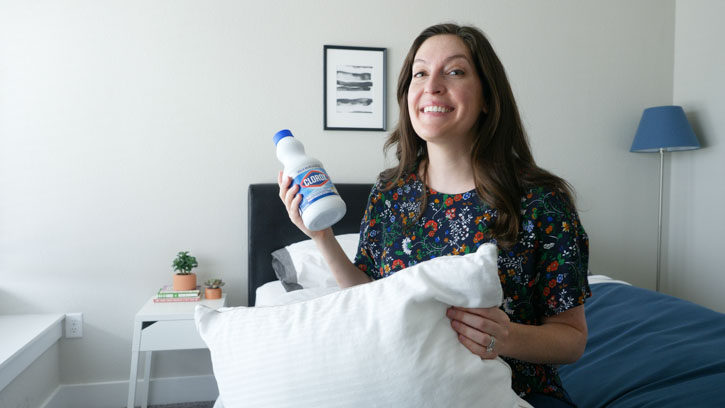 You can give your pillowcase a quick bleach soak using a bucket or tub, a measuring spoon, water, and (obviously) some bleach.
2.
Add Bleach To Bucket Of Cool Water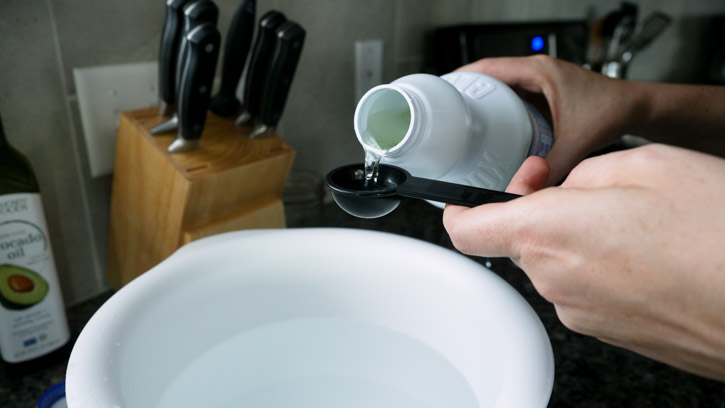 You'll want to use 1/4 of a cup of Clorox® (or bleach of your choice) and one gallon of cool water.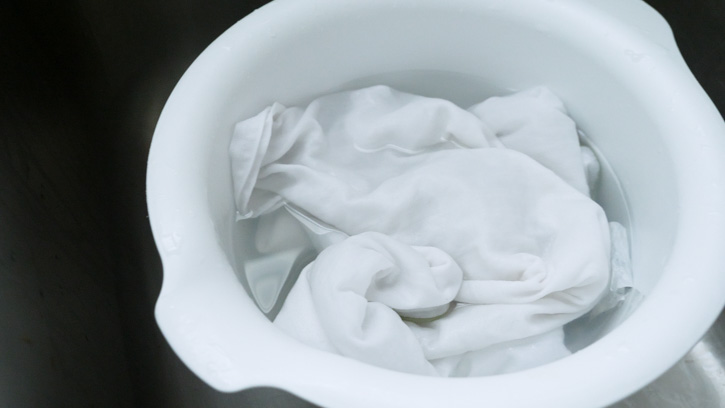 Let the pillowcase soak submerged in the bucket for around 10 minutes.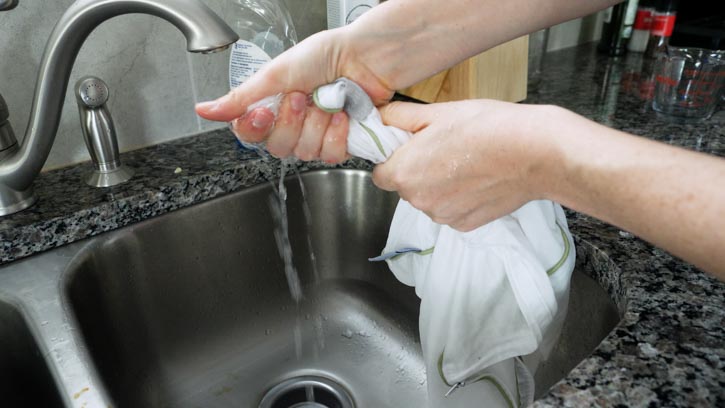 Once the soak is done, rinse the pillowcase out with cool water from the sink. Then squeeze or ring out the pillowcase so it's as dry as possible and then throw it in the dryer to finish it off.
5.
Enjoy Your Sparkling Clean Pillow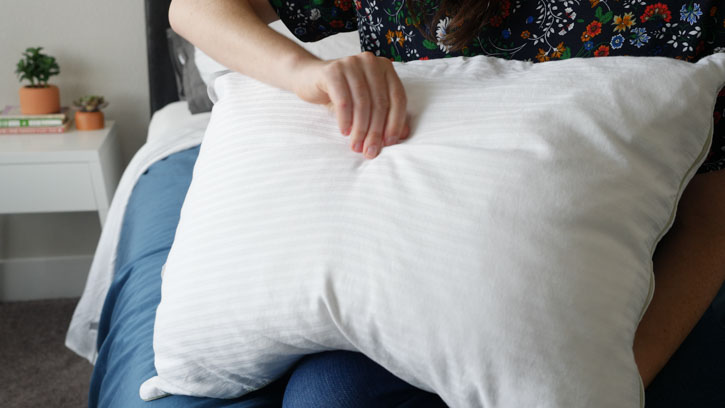 Katie Golde
Katie manages the day to day operations of the Mattress Clarity news site and reviews sleep products in addition to writing and editing sleep news. She hails from Austin, where she lives with her growing family. She is a Certified Sleep Science Coach and has a master's degree in Journalism from Northwestern University and has a background in health and science content. Her work can be found in print and online publications like Discover Magazine, USA Today and The Huffington Post.