Let's face it, buying a new mattress is a big investment. Just browsing online, you'll come across mattresses that cost $1000, $2000, and more. These high prices could make it extremely tempting to choose a much cheaper Amazon mattress.
If you're considering a cheap Amazon mattress, we've got you covered. We personally tested one of the cheapest Amazon models for 30 days, and we're here to answer the question: do you need to spend a lot of money for a good night's sleep? Keep reading to find out!
Amazon Mattress Challenge Video
Want to see exactly how we tested the mattress? Check out our in-depth video!
Testing The Cheapest Mattress On Amazon
We scoured Amazon for one of the cheapest mattresses we could find. There are some very inexpensive mattresses on the platform, and we decided on one of the more popular models, the Linenspa Memory Foam Hybrid mattress.
The Linenspa is 8" tall and contains a 1.5" layer of memory foam over 6" of coils. Right off the bat, 8" is pretty thin for a bed in a box mattress. Most hybrid mattresses we review are between 10" and 14" tall. In addition, 1.5" of memory foam is not very much when compared to other online mattresses.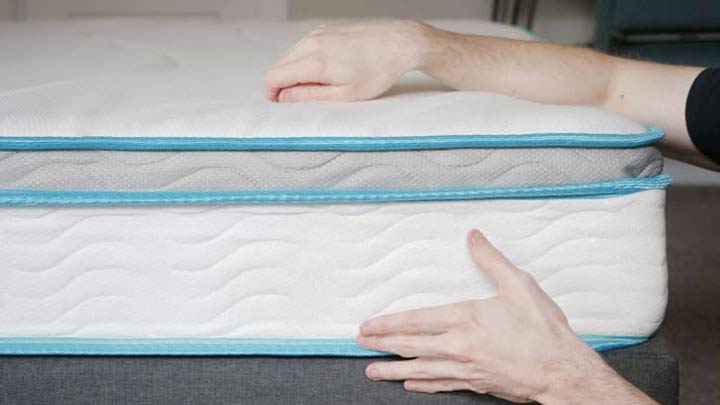 This simpler design allows Amazon to sell a Linenspa twin mattress for $141. Having reviewed hundreds of mattresses, we can say this is much more affordable than many bed in a box competitors, which typically run closer to $500 for a twin.
We didn't want to judge this mattress by its polyester cover, however. We purchased two models, took them home, and slept on them for a full 30 days. During this time, we kept an eye out for aches, pains, and any general discomfort. We also tried to chart any changes in our sleep quality over the 30-day period.
Marten's Take On The Cheapest Mattress On Amazon
When I first opened up the Linenspa mattress, I'll admit that I was a bit skeptical. I am 6'7" and weigh 270 lbs, and I usually sleep on much thicker, deluxe mattresses. The Linenspa's streamlined design didn't look to promise enough support for my larger body. Also, as a side sleeper, I feared the 1.5" of memory foam wouldn't be enough to offer the necessary pressure relief.
Still, I wanted to give the Linenspa a shot, so I threw on my best sheets, comforters, pillows, and hit the hay. For the first week, my sleep wasn't too bad. It also takes some time to get used to a new mattress, but I wasn't waking up with any real soreness or fatigue. For the first week, the Linenspa was giving me the comfort and support I needed.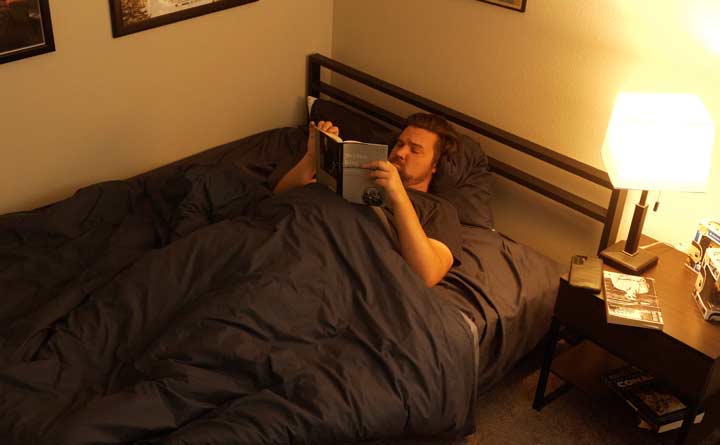 This began to change during my second week of sleeping on the Linenspa. I began to wake up in the morning with some light pain in my lumbar area. This usually comes from a lack of support in the center of the mattress. Many mattresses combat this issue with some sort of zoning, but this is not present in the Linenspa. Also, moving around before going to bed, I could start to feel a general lack of support from the coils.
By week three, I was feeling more pain around my shoulders and hips. Again, I am primarily a side sleeper, and the Linenspa's comfort layer did not provide me with the pressure relief I required. To combat this, I actually added a 3" memory foam mattress topper to the mattress. This did help with my pressure issues for the next week or so.
During my last week of sleeping on the Linenspa, I was feeling fewer aches and pains on my shoulders and hips, but my lumbar area was acting up again. Now, with the thick memory foam topper added to the mattress, I was probably getting even less lumbar support. By the end of my time on the Linenspa, I was also feeling tired.. I wouldn't say I was exhausted, but I could notice I was more tired than when sleeping on my own mattress.
Larger people like me need thicker, more supportive mattresses, and the Linenspa really isn't up to the job. I wouldn't say the Linenspa is a bad mattress. In fact, it could work well for a guest room or a lightweight adult, child, or teenager. Bigger people like me are just going to spend more to get the support we need.
RELATED: Best Mattresses for Big & Tall
Elisa's Take On The Cheapest Mattress On Amazon
When I unboxed the Linenspa, I was surprised by how thin and lightweight it is. Even though I'm 5'3" tall and weigh about 140 lb, I was still afraid it wouldn't feel comfy enough. After I made the bed and fluffed the pillows, I snuggled under the covers and tried it out. I could tell right away – I missed my old mattress. But I signed up for this, and I'm not one to back away from a challenge.
The Linenspa feels much firmer than my normal mattress, and it took me a bit longer to fall asleep during the first week. Once I settled into dreamland, though, I wasn't bothered by the mattress' firmness level. I was able to get some much-needed ZZZs and woke up feeling refreshed.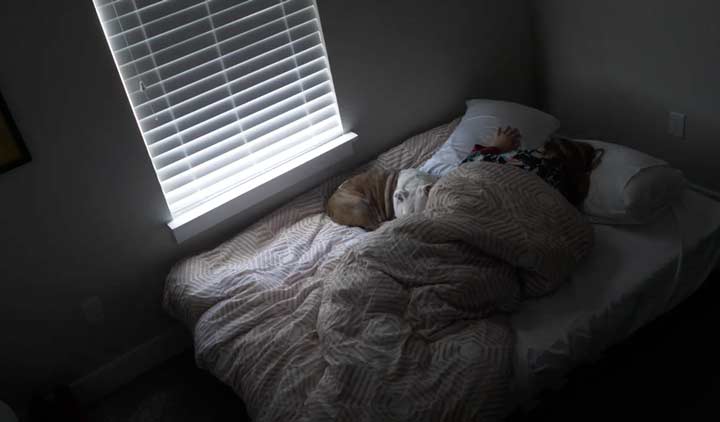 During the second week, I started to feel a little pain along my shoulders. I tend to sleep on my back and my side, so it's not surprising that this firm mattress created some aches and pains. But really, this wasn't a huge dealbreaker. I was able to adjust my sleeping position and rest on my back comfortably.
By the time week three rolled around, the shoulder tension became really apparent. I had to retrain my body and rest on my back in order to feel comfortable. If I slept exclusively on my side, I'd need to book a deep tissue massage to work out all of the knots.
Finally, I made it to the final week on the Linenspa mattress. By this time, I found it difficult to stay asleep all night long. I'd occasionally wake up to shift sleeping positions, but I was able to fall back asleep quickly. I felt groggy in the mornings, but it didn't interfere with my day-to-day life too much.
Overall, this mattress should work well for lightweight and average weight back sleepers. That said – I still wouldn't recommend this for long term use. If you need a cheap mattress for your guest room, this could fit the bill.
Will A Cheap Mattress Work For You?
So, do you need to spend big bucks to get a good night's sleep? Based on our separate experiences, we'd say that it depends on your specific situation.
Who Should Get A Cheap Mattress?
Those looking for one of the best mattresses for lightweight people
Parents who need a mattress for kids or teenagers
Those who want a mattress for a guest room
Shoppers who are on a very tight budget
Who Shouldn't Get A Cheap Mattress?
Heavier people
Shoppers who want a longer-lasting mattress
People with back pain, hip pain, or general pain issues
If you're looking to purchase an affordable mattress, check out our list of the best cheap mattresses!
Elisa Regulski
Elisa is the Editor of Mattress Clarity, where she analyzes sleep products and appears in review videos. A certified sleep science coach, Elisa's sleep tips have appeared in Readers Digest, Homes and Gardens, and 21 Oak. She earned a M.A in Mass Communication from Texas State University and a B.F.A in acting from Oklahoma City University.