In the world of beds, it's easy to go straight to the Standard King or Standard Twin and forget about the California King and Twin XL beds. These are also great options that can help meet specific sleep needs (mainly extra length!).
What more do you need to know about these interesting beds? Read on for our guide to each.
Not sure what size bed you need? Check out our complete Mattress Dimensions Guide
The Basics
California (Western) King:
Who is this ideal for?
This bed is called a California King because of its popularity on the West Coast, according to the Better Sleep Council. It's narrower than a Standard King by 4″ and longer by 4″.  This bed is typically a good fit for people want more width than a Queen but are really focused on extra length – they may have a narrow but long room or be an especially tall person or couple.
Twin XL
Who is this ideal for?
The Twin XL is the same width as a Standard Twin but it's about 5″ longer, making it the same length as a Queen or King. It is a nice option for college dormitories or taller children who may have smaller rooms. You will also see them in hostels where multiple beds are in one large room.
Other Size Options
Kings
Standard (or Eastern) King:  A King bed tends to be best suited for couples. In fact, it is the equivalent of each person sleeping in their own Twin XL bed (pushed together). The King bed offers each person 8" more space than a Queen sized bed. This makes it ideal for Master Bedrooms. It may be too large for some individuals.
| Standard King | |
| --- | --- |
| Width | 76" |
| Length | 80" |
| Width Per Person | 38" |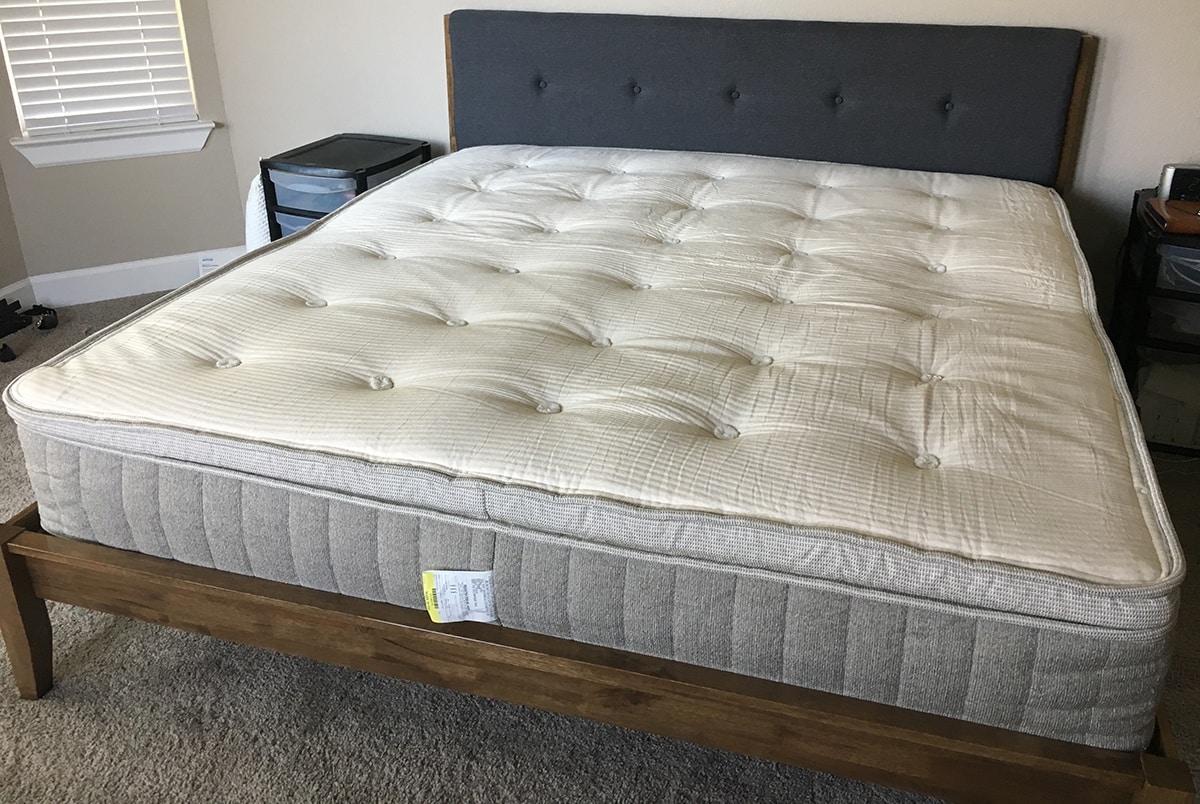 Brentwood Hoe's Cedar mattress – to read the full review, click here.
Split King: Similar to a Standard King (but 2" wider) and split down the middle.
| Split King | |
| --- | --- |
| Width | 39" (each half) |
| Length | 80" |
Twins
Twin: A Standard Twin is also known as a Single bed. Twin mattresses and beds are often the next steps for children who have outgrown their cribs. They're also a great option for smaller bedrooms like Guest Rooms. Bunk beds also traditionally come in Twin size.
You Might Choose
California King If…
You're looking for a Master Bedroom bed that is longer than it is wider. An easy way to think of the difference between a King and CA King is if you took off 4″ of width on a king and added 4″ of length to the bottom of the bed. Since the CA King is longer than the King, it's a great option for narrow bedrooms, where you want as much width possible but a little additional length is better for space.
You've got the budget for it.  CA King beds and mattresses aren't rare but they aren't as popular as the Queen bed. You can usually find a CA King size mattress with most brands, but you won't be able to re-use your King-size frame, sheets or protector – the dimensions are different so they won't fit and you'll need to purchase new ones.
Twin XL If…
You're looking for a bed for a young adult or college student.  A Standard Twin is 38″ x 75″ (sometimes it's measured at 74″). This could be a tight fit in both directions for an average adult. The Twin XL offers 5″ of additional length which gives everyone room to go. This is a popular bed for college dorms or hostels.
You need a bed for a smaller room. Twin XL beds are usually a good fit for a second bedroom (not a Master) because they tend to be smaller and you need to save space for additional furniture. This can also be preferable to a Full because you're getting the additional length.
You want to save money.  After the Twin, the Twin XL bed is the next step up and will the second least expensive option for a bed. Some people consider skipping a Twin and heading straight to a Full/Double or even a Twin XL for the extra length. You'll save more money on the Twin XL over a Full bed as well.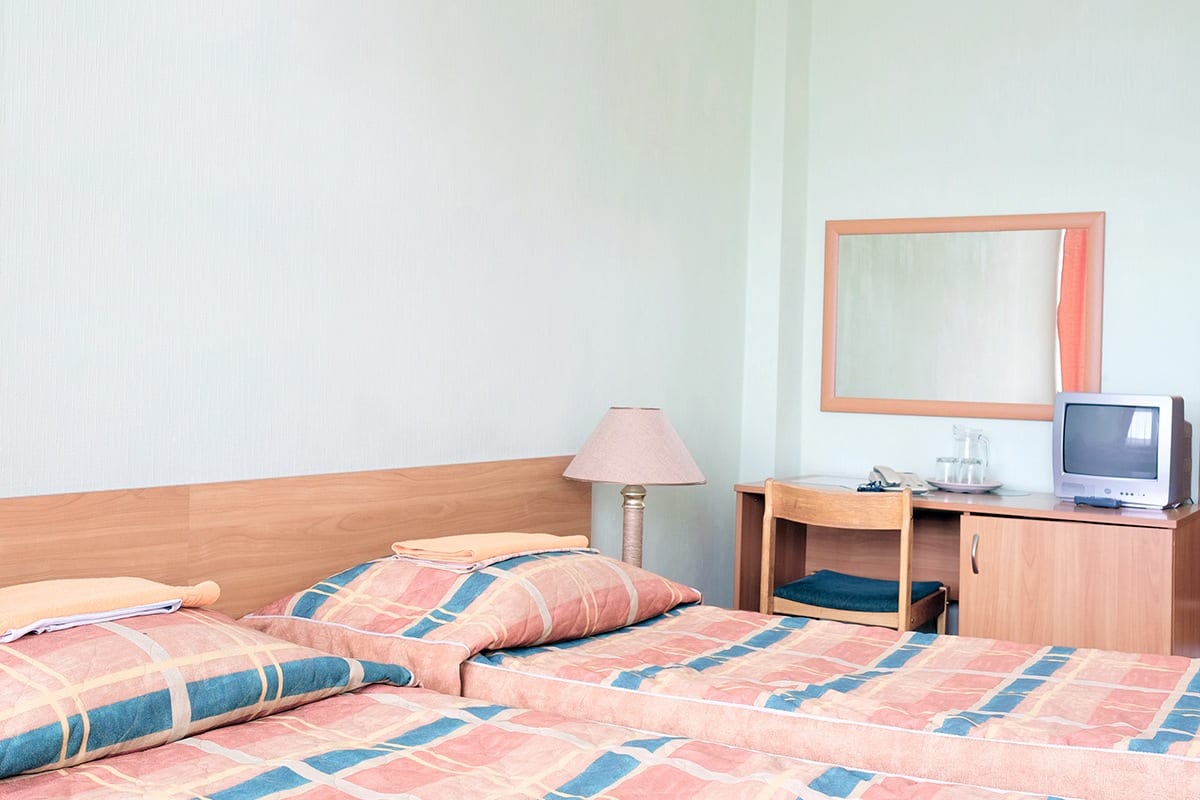 Vereshchagin Dmitry/Shutterstock
Things To Consider
Below are some tips and things to think about before you make your next purchase.
Measure your space beforehand. Mattress and bed shopping can get overwhelming quickly. You could feel pressured to make a purchase in order to get a good deal, so you'll want to have all your measurements and know what size you want before heading out to shop. It'll pay off by being a less stressful experience once you get the bed home!
Leave room for movement. An article from Th!ngz Contemporary Living says that most designers will recommend 30″ of space around your bed for movement.
Consider how you'll get your bed into the room. Twin XL beds and mattresses won't be too difficult to get through doorways or upstairs, but a CA King mattress and bed frame is no joke and may take some maneuvering – and another set or two of hands – to get into a bedroom.
Shop seasonally. There are times during the year that mattresses and beds will go on sale Back-To-School sales might be the best time for Twin XL beds and Twin XL sheet sets or bundles since they're popular dorm room beds. For mattresses, Labor Day weekend is often a good time for sales.
Overall
The California King and the Twin XL are both great options if you're considering a King or a Twin bed. They both offer extra length that might be perfect for those with either narrow bedrooms or longer legs. It's always worth measuring your bedroom and considering furniture placement before venturing out to shop for a new mattress.
The following two tabs change content below.
Katie Golde
Katie manages the day to day operations of the Mattress Clarity news site and reviews sleep products in addition to writing and editing sleep news.She hails from Austin, where she lives with her growing family. She is a Certified Sleep Science Coach and has a master's degree in Journalism from Northwestern University and has a background in health and science content. Her work can be found in print and online publications like Discover Magazine, USA Today and The Huffington Post.
Latest posts by Katie Golde (see all)