Both Snuggle-Pedic and Coop Sleep Goods offer comfortable and customizable shredded memory foam pillows wrapped in a super soft cover made with breathable bamboo fabric.
The pillows are similar in so many ways but they stand apart in the type – and size – of their shredded memory foam fillings. Which one is the best match? Read on for my full comparison.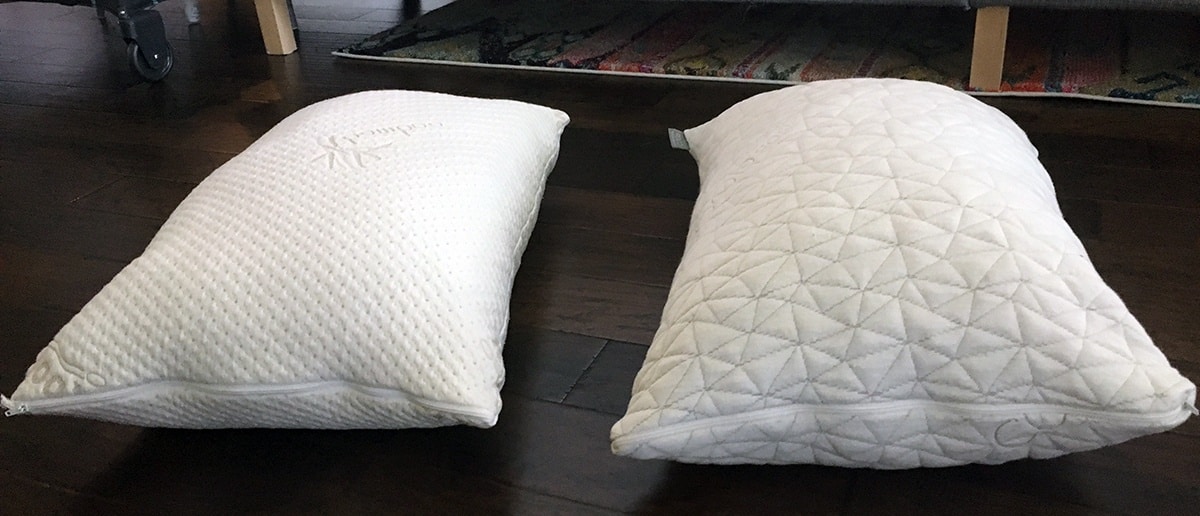 Key Similarities
Comes in Standard, Queen or King sizes
Shredded foam fillings
Foams are Certipur Certified
Zippered outer cover made with viscose or rayon from bamboo
Zippered inner cover for adjusting loft (amount of foam)
Both outer cover and inner pillow are machine washable and dryer friendly
Trial periods available
Meant for any type of sleeping position
Hypoallergenic and dust mite resistant
Made in the USA
Standard size retails at $49.99/each (prices may change)
Key Differences
Snuggle-Pedic…
Cover: 43% Viscose from Bamboo, 56.4% Polyester and 0.6% Lycra
Cover also made with Kool-Flow® breathable micro-vented material
Different types of foams in a variety of color, sizes and textures, overall more crumbly and smaller pieces
Can custom order pillow with more/less foam filling
90-day trial
20-year warranty
Read the full Snuggle-Pedic Adjustable Shredded Foam Pillow Review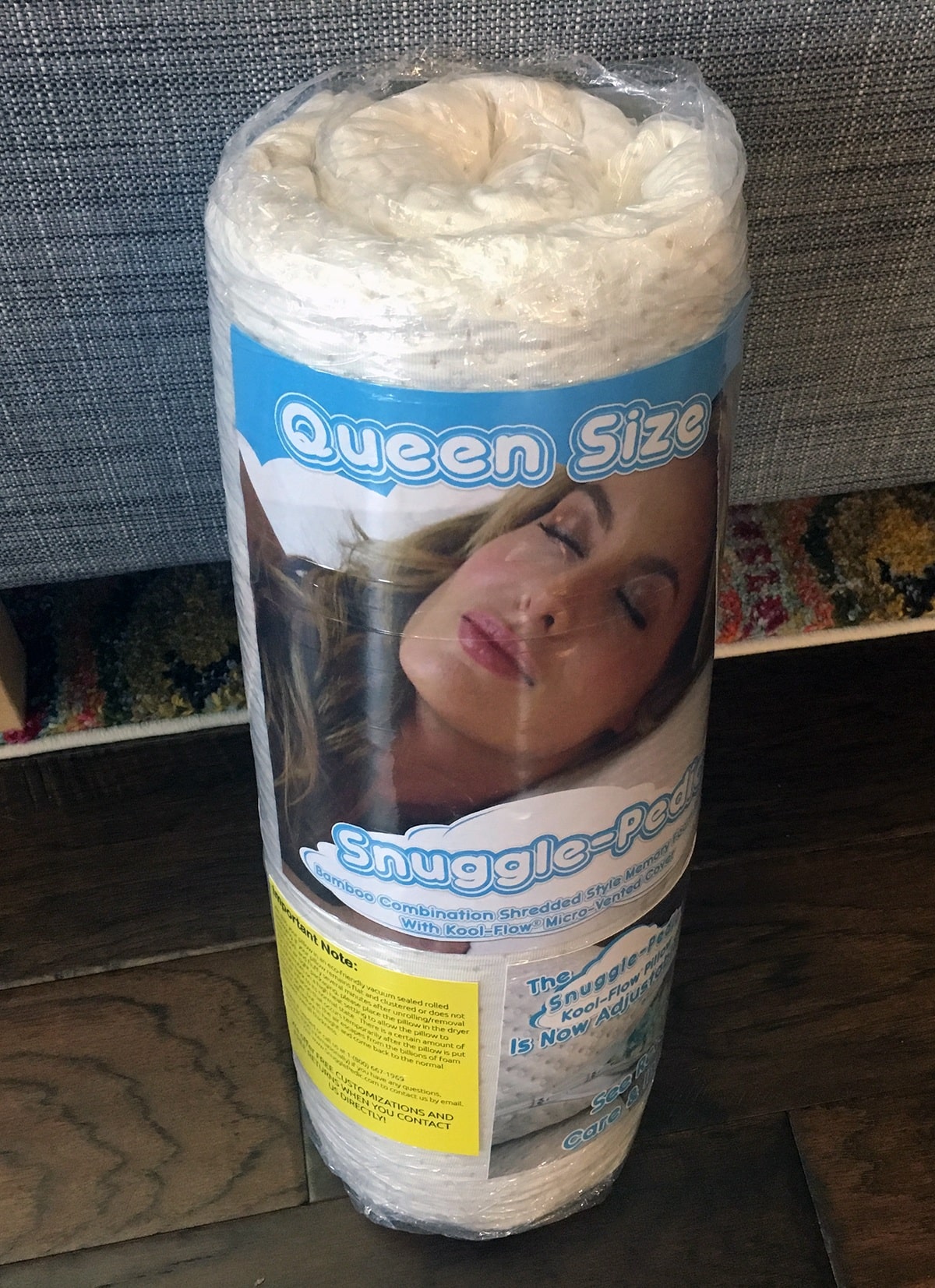 Coop Sleep Goods…
The cover is 60% Polyester, 40% Bamboo-Derived Rayon – designed to keep sleepers cool through the night
Uniform foam – slightly different sizes but all the same foam
Comes overstuffed
30-night trial
5-year warranty
Read the full Coop Sleep Goods Original Pillow Review.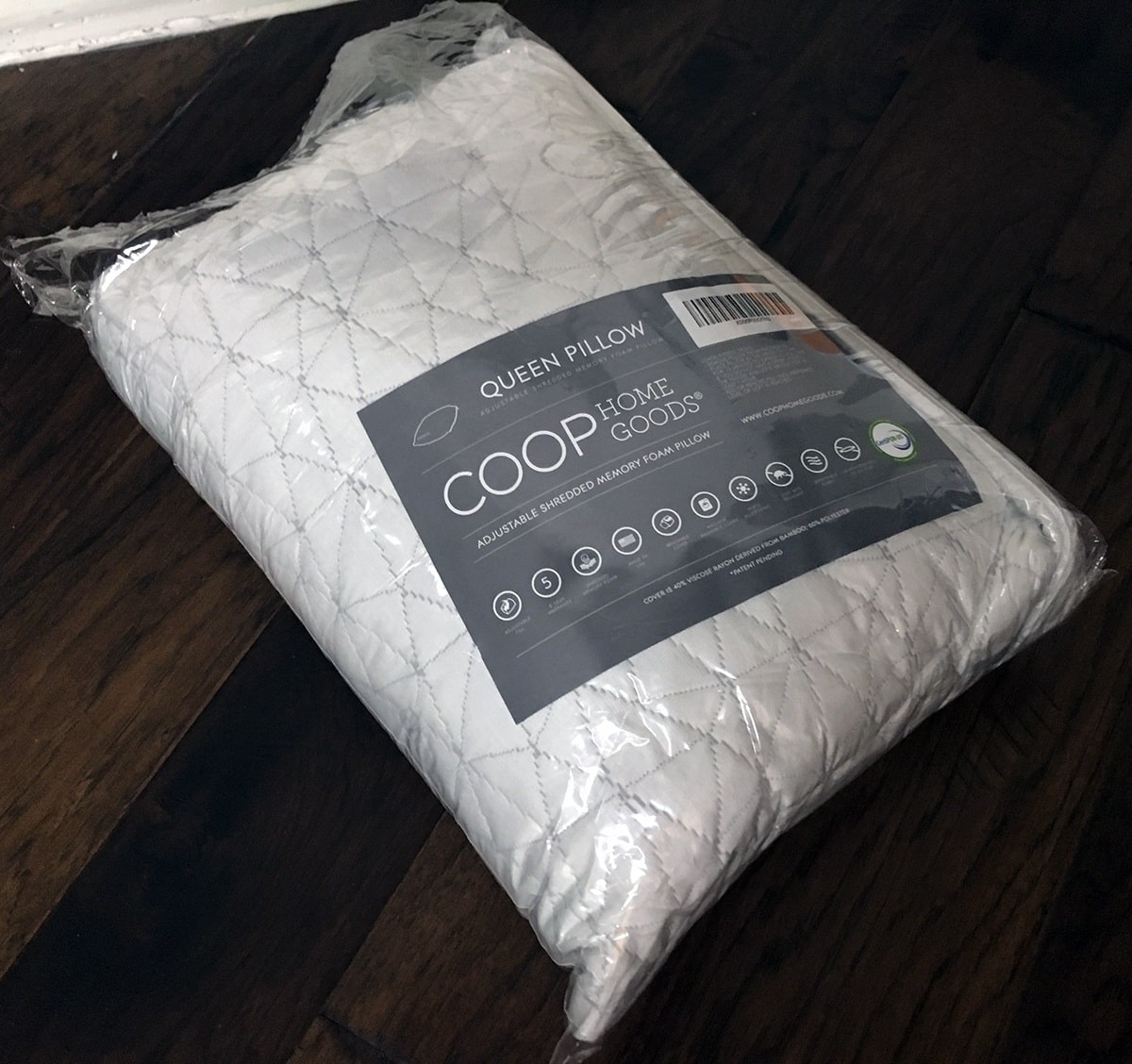 Pros and Cons of Each Protector
Who Might Choose…
Snuggle-Pedic
Those who want to sink into their pillow
People interested in being able to re-distribute the filling easily inside the pillow (smaller pieces make this easier)
Shoppers who want to try out shredded memory foam but aren't looking for an overly firm or overly dense pillow (stomach sleepers may like this pillow)
Those who want more than 30 days to try out the pillow (90 day trial period)
Sleepers who favor built-in cooling material in pillow cover fabric – Kool-Flow™ material
Coop Sleep Goods
Those who want a large, extra firm, and overstuffed pillow that is adjustable
Back or side sleepers that will benefit from larger more uniform pieces of foam filling
People who want an easy and quick machine wash and dry experience
Related: Best Memory Foam Pillows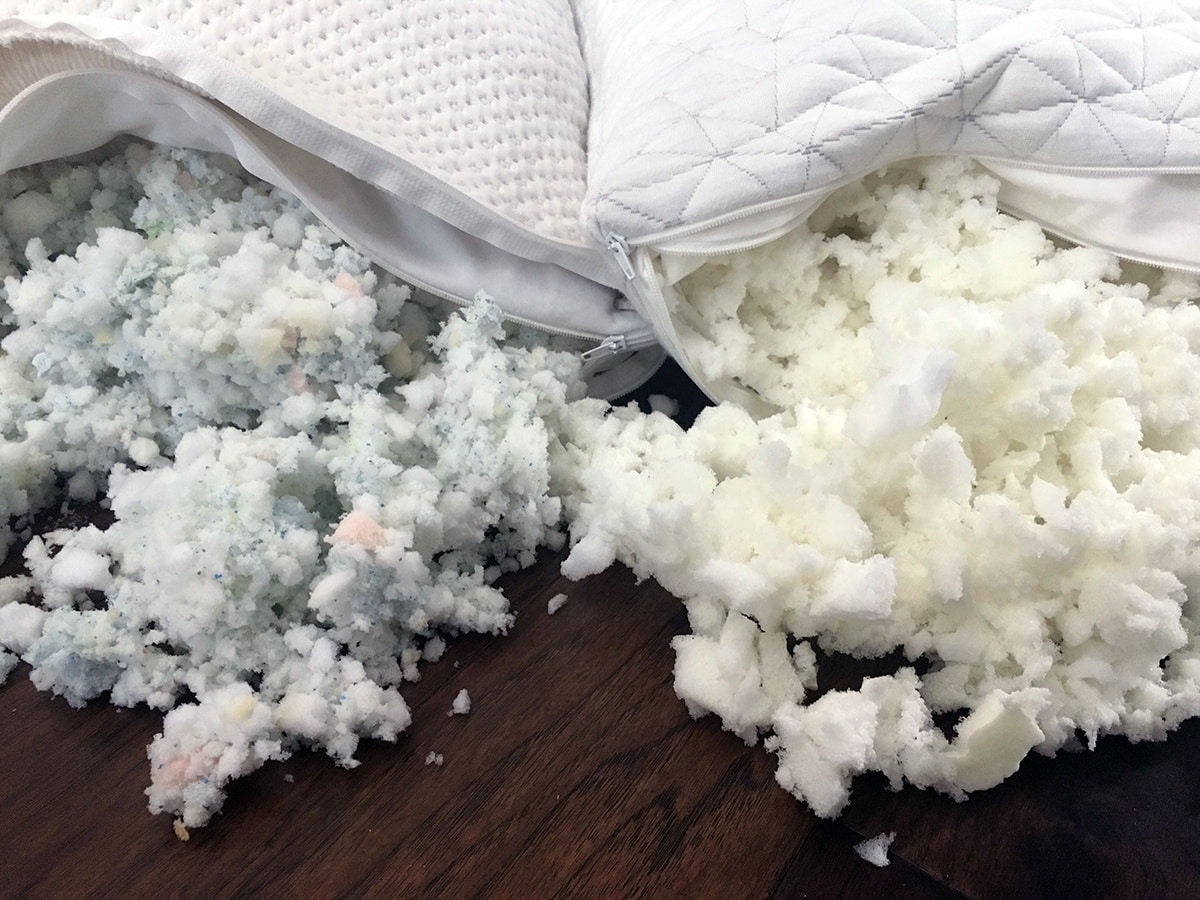 Overall
The Snuggle-Pedic and Coop Sleep Goods shredded memory foam pillows are very similar and both have a lot to offer in terms of adjustable comfort with their removable filling.
The outer covers on both pillows, with their bamboo fabric blend and textured pattern, felt almost identical in my experience. And the cleaning process with both pillows was simple, but it does take quite a long time for both pillows to dry.
The main difference in these pillows really comes down to the size and shape of the shredded memory foam filling. And it's this filling that (in my opinion) makes these pillows different for different types of sleepers.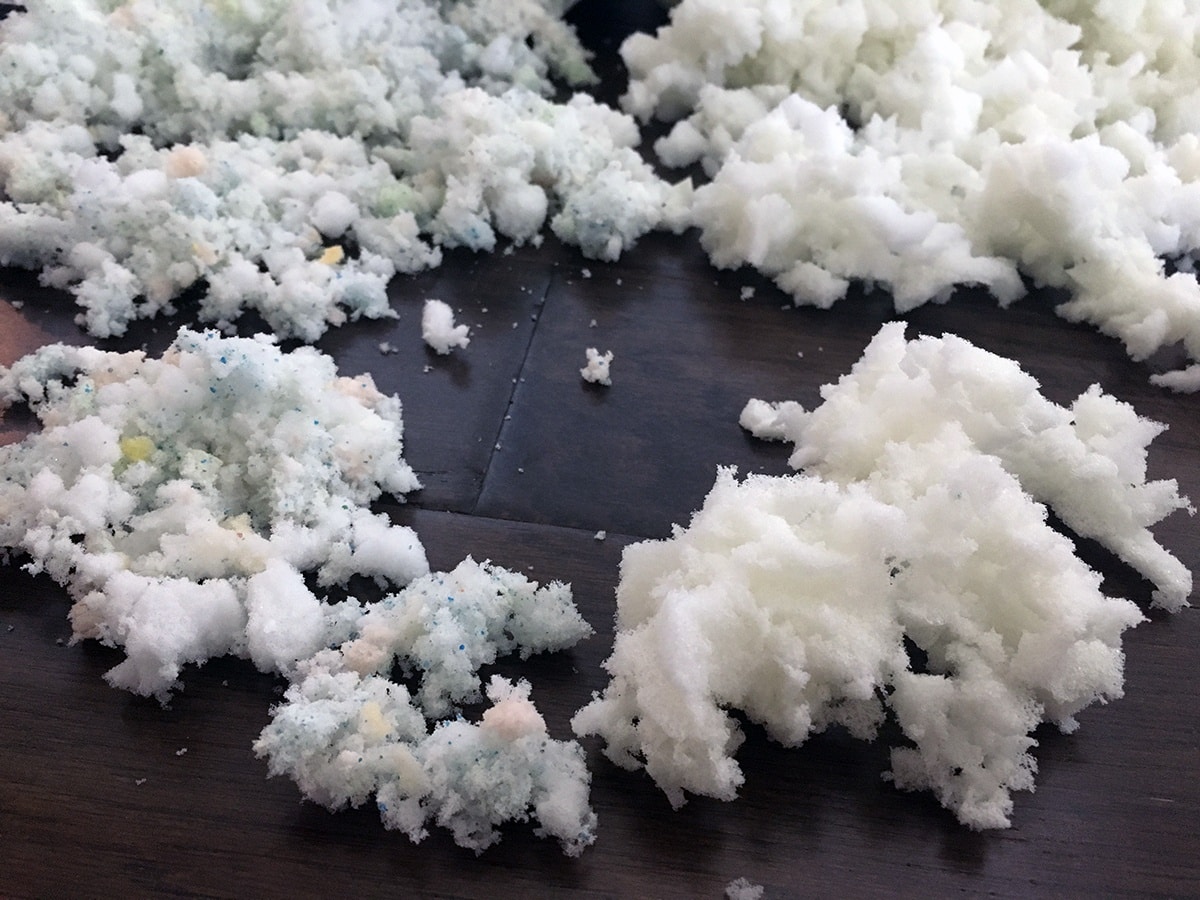 The larger uniform pieces and overstuffed nature of the Coop Sleep Goods pillow keep it firm and extremely responsive, even after many nights. This makes the pillow ideal for side sleepers or back sleepers or taller/larger people who want a substantial pillow.
The Snuggle-Pedic is filled with a variety of memory foam pieces, with varying densities, sizes, and shapes. After use, these smaller pieces become less responsive, which means it may feel thinner/less firm than Coop Sleep Goods. This makes it a great option for a stomach sleeper (or back sleeper) who wants to try shredded memory foam because it should work well with for one's neck and spinal alignment. And if it feels like too much initially, the individual can always remove some of the fillings.
The great news is that both pillows come with trial periods so potential customers are taking less of a risk trying either of these out. Make sure to read the care instructions carefully for both pillows so one is removing the foam and clean the pillow in the most efficient and hygienic way possible.
Katie Golde
Katie previously managed the day to day operations of the Mattress Clarity news site and reviews sleep products in addition to writing and editing sleep news. She hails from Austin, where she lives with her growing family. She is a Certified Sleep Science Coach and has a master's degree in Journalism from Northwestern University and has a background in health and science content. Her work can be found in print and online publications like Discover Magazine, USA Today and The Huffington Post.