The Snuggle-Pedic and Bear pillows both offer foam fillings and cooling outer layers. What separates them most is Snuggle-Pedic's adjustable nature with its shredded foam and Bear's solid hybrid foam.
What else is there to love about them? Read on for my full Snuggle-Pedic vs Bear pillow comparison!
Snuggle-Pedic vs. Bear Pillow: Top Similarities
Foam-filled
Cooling materials featured in outer cover fabric
Traditional-shaped
Removable and washable portions/covers
Made in the USA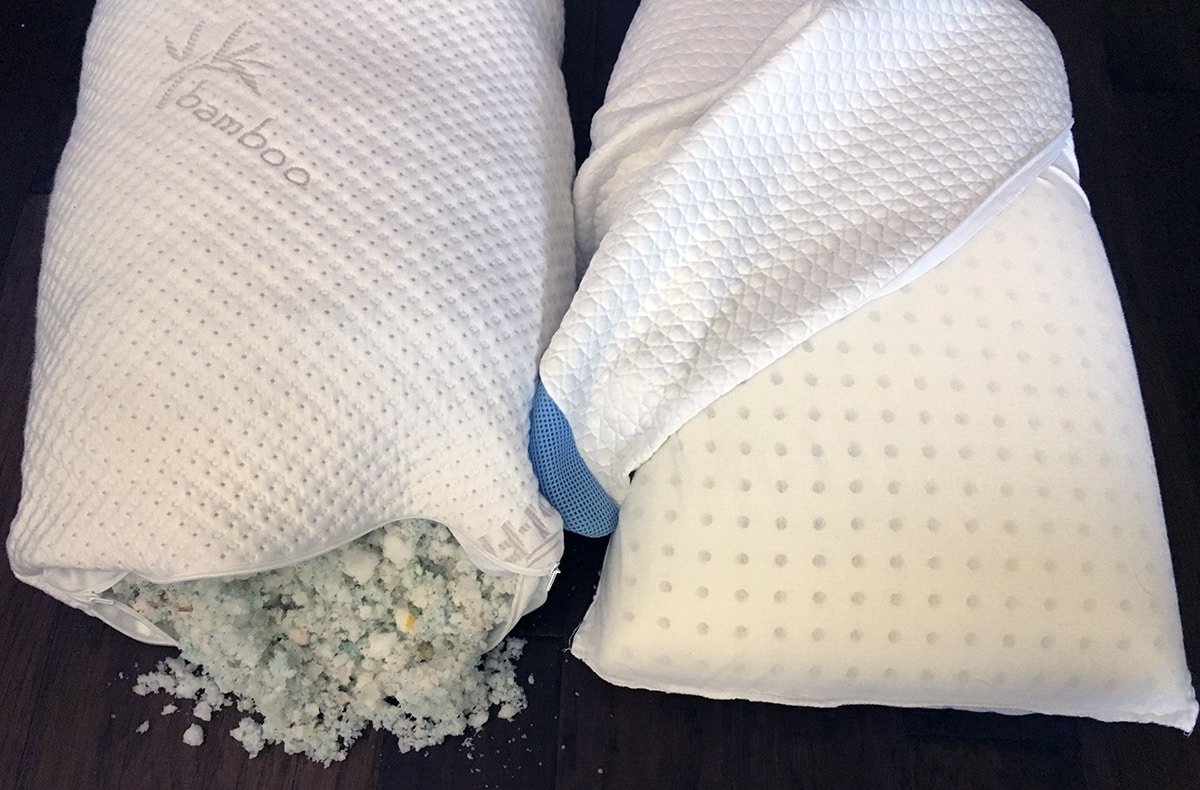 Snuggle-Pedic vs. Bear Pillow: Key Differences
Snuggle-Pedic
Cover: 43% Viscose from Bamboo, 56.4% Polyester and 0.6% Lycra
Cover also made with Kool-Flow® breathable micro-vented material
Core filling is made from different types of foams in a variety of color, sizes and textures, overall more crumbly and smaller pieces
Can custom order pillow with more/less foam filling
Comes in Standard, Queen and King sizes
20-year warranty and 90-day trial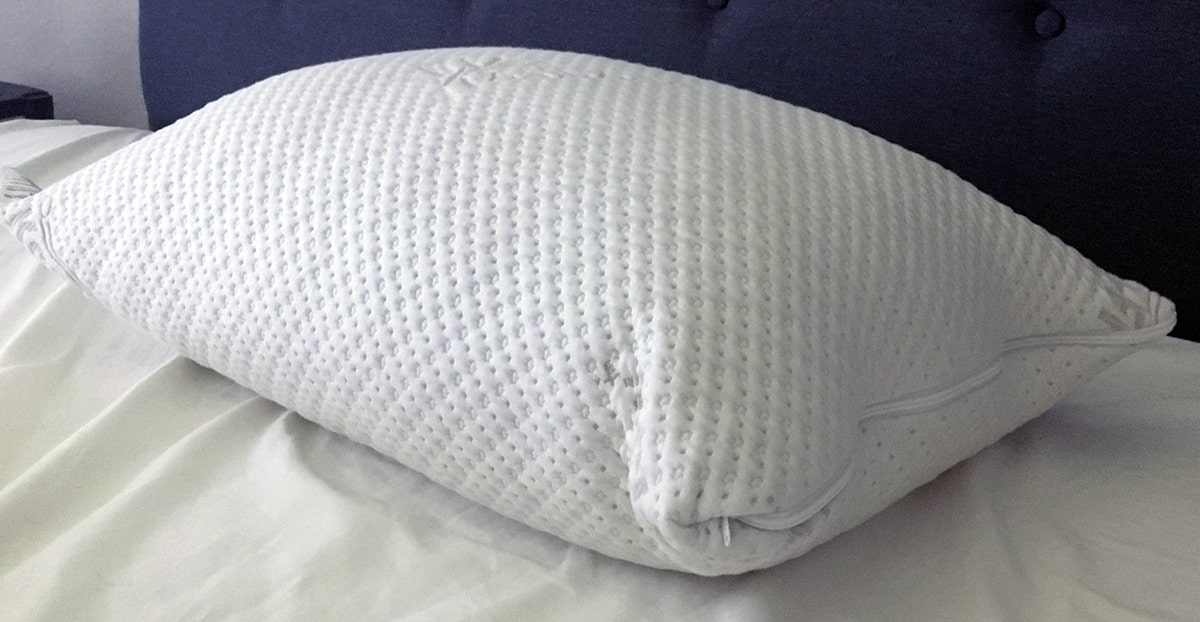 Read the full Snuggle-Pedic Adjustable Shredded Memory Foam Pillow review
Bear
Cover: Double Ice Fabric: a special fabric that feels cool to the touch; made up of 40% "cool yarn" and 60% polyester
Core filling is made with LOFT-X FOAM: a hybrid foam that combines memory foam and latex foam to contour to one's spine and neck (100% polyurethane)
Dual mesh side panels for continuous airflow throughout a night of sleep
Only available in Queen size
2-year warranty and 100 night trial (from the time the customer receives the pillow)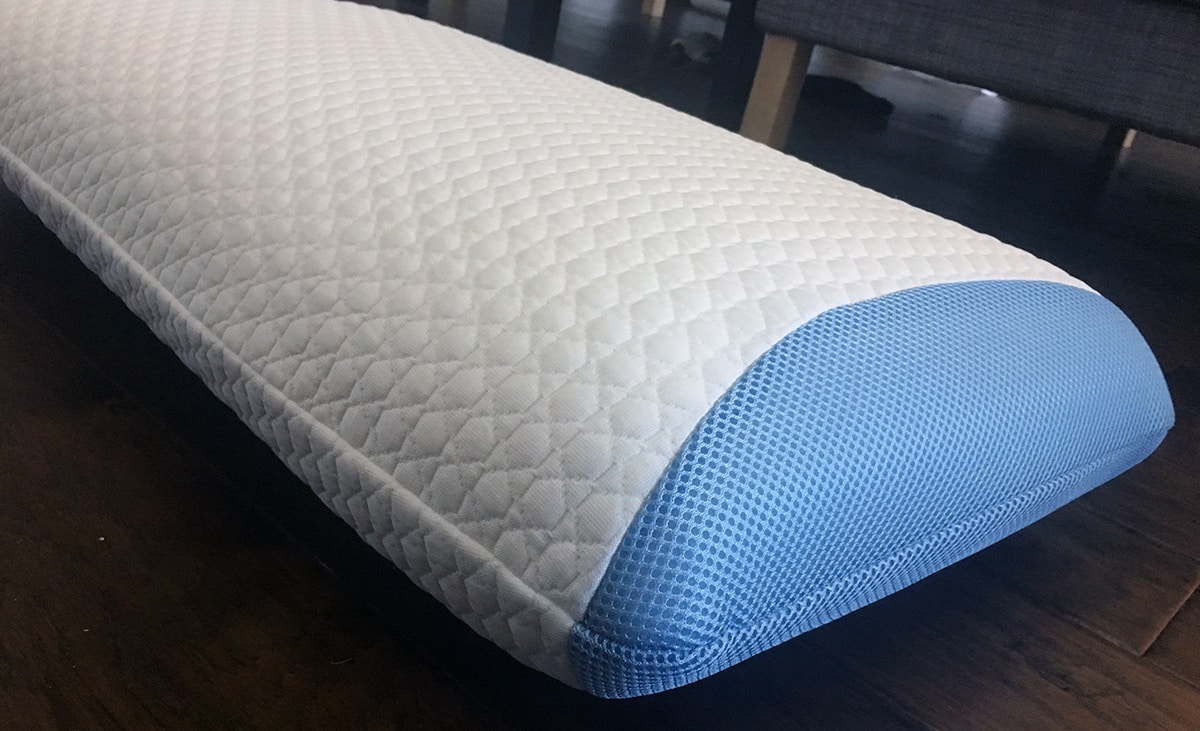 Check out the full Bear Pillow review
Choose the Snuggle-Pedic Pillow If…
You're a combination sleeper. The Snuggle-Pedic is a versatile pillow – sleepers can add/remove pieces of foam within the pillow to determine one's own desired loft and support. Stomach, back, and side sleepers have the ability to decide what is the best amount of overall filling and support.
You're interested in trying bamboo as a textile. This pillow is made with viscose from Bamboo, an up and coming more modern fabric that is known for being soft and undeniably comfortable.
You want something easy to clean. While I wouldn't recommend diving into cleaning the entire pillow on the regular, it is possible to completely wash and dry the Snuggle-Pedic. So – if an accident happens as they tend to do – there is a way to get it totally clean; just follow the directions carefully.
Free Returns
Snuggle-Pedic Adjustable Pillow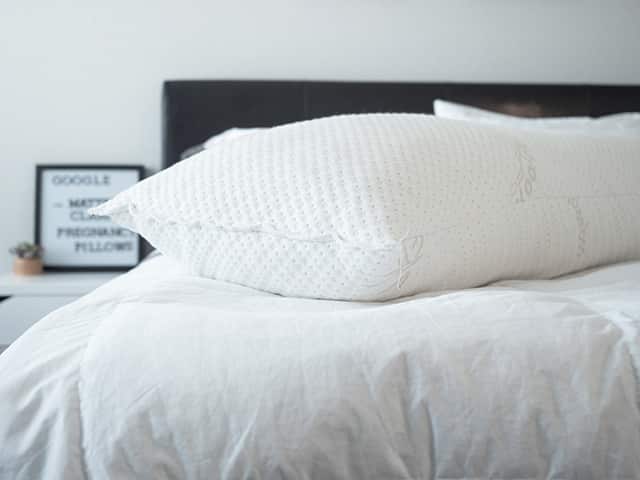 Snuggle-Pedic Adjustable Pillow
The Snuggle-Pedic pillow has a side zipper hat allows sleepers to adjust the internal foam filling for the perfect loft and firmness. Click the button below to check out the latest deals on the Snuggle-Pedic Adjustable Pillow!
Choose the Bear Pillow If…
You desire a low-maintenance pillow. It is easy to remove and wash/dry the outer cover of the Bear pillow and that is all that needs to be done to keep it clean. The foam won't lose its shape or go flat and there are no instances in which it'll need to be fluffed.
You favor a firmer pillow. The core of this pillow is a solid piece of LOFT-X foam that's a hybrid of latex foam and memory foam that gives the pillow an overall firmer feel than the Snuggle-Pedic, which features shredded pieces.
You're willing to try new things. There's no doubt that the Bear pillow has a futuristic look and feel to it. The Double Ice Fabric keeps it cool to the touch and gives it a smooth but slippery overall feel and the hybrid foam is ventilated, comfortable but overall supportive.
SAVE 25% WITH CODE FALL25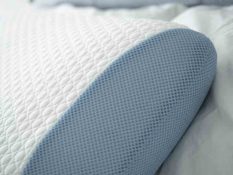 For those who love latex foam or hybrid foam pillows, this one might be worth the price. Click the button below to save 20% on a Bear pillow!
Related: Best Memory Foam Pillows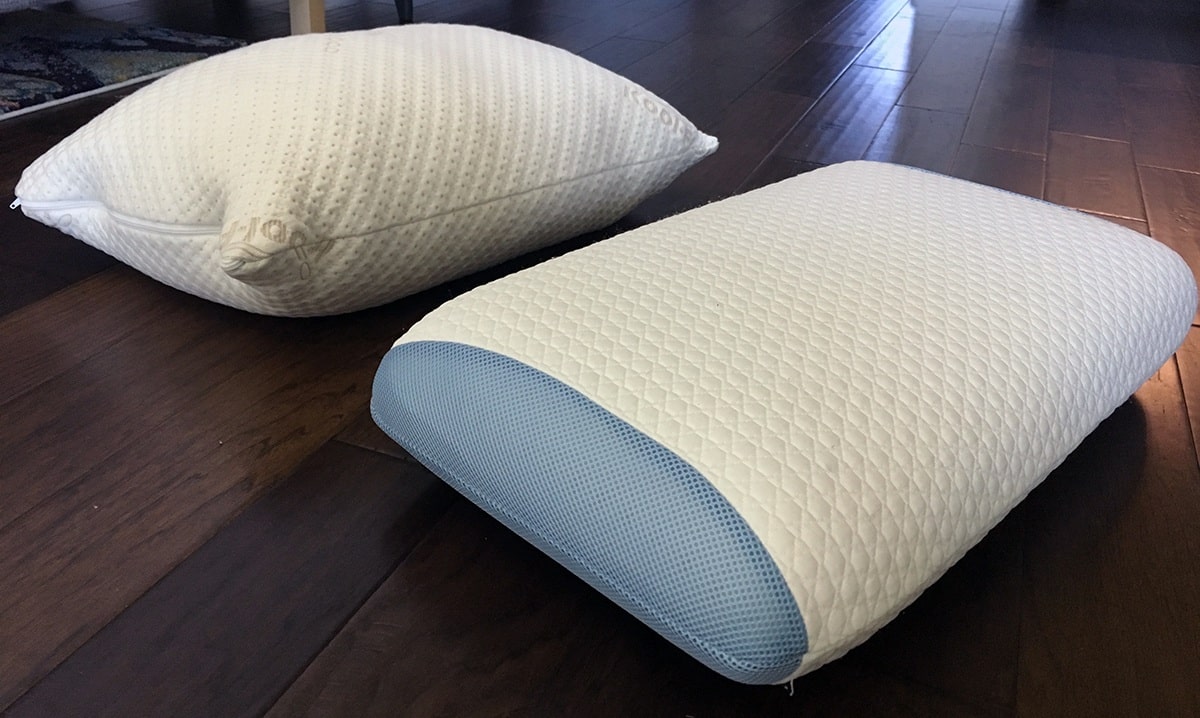 Overall
Those searching for a foam-filled pillow will be pleased with either the Snuggle-Pedic and/or the Bear pillow as they are two great options, each with their own special and innovative characteristics. Choosing between the two will come down to narrowing down their main features.
The Snuggle-Pedic could be a great match for sleepers who prioritize customization and personalization, hoping their pillow can meet their exact needs even if those needs change day-to-day. The adjustable filling makes it simple to tweak the loft and support to meet any sleeper's needs.
The Bear pillow is focused on being cooling and supportive, with a hint of bounce and futurism. The Double Ice fabric is unique and innovative with its inclusion of "cool yarn" and the solid LOFT-X foam is a one of a kind mix of characteristics gleaned from both memory foam and latex foam – with the absolute bounce of latex foam.
Both pillows come with warranties and trial periods, which makes it a little bit easier to give one (or both) a try to see if they're a good match.