At first glance, Bear's pillow appears to be out of the future. With its mesh side panels, sleek design and "Double Ice" fabric that's cool to the touch, the pillow may be ahead of its time. For those who love latex foam or hybrid foam pillows, this one might be worth the price.
Read on for our full Bear Pillow review or click below for our in-depth video review!
Bear Pillow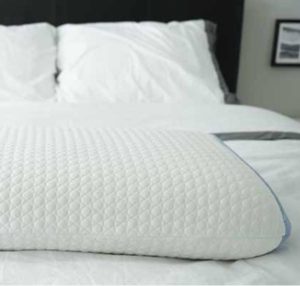 For those who love latex foam or hybrid foam pillows, this one might be worth the price. Click the button below to save 20% on a Bear pillow!
Mattress Clarity Score
4.90 / 5
Read Full Review
Bear Pillow Video Review
Bear Pillow Review: Key Features
Here's a general overview of the Bear pillow, including the main materials and design, plus sizes, care instructions and more.
Made with Double Ice Fabric: a special removable fabric that stays cool to the touch throughout the night
The core is made with Loft-X Foam: a hybrid foam that combines memory foam and latex foam to offer a level of contouring to the spine and neck (100% polyurethane)
Dual mesh side panels for continuous airflow throughout the night
Removable cover is machine washable and dryer friendly
Hypoallergenic and antimicrobial protection
Free Shipping & 2 Year Warranty
Queen ($95) and King ($115) sizes available
RELATED: Best Pillows 2023 – Our Top 10 Favorites!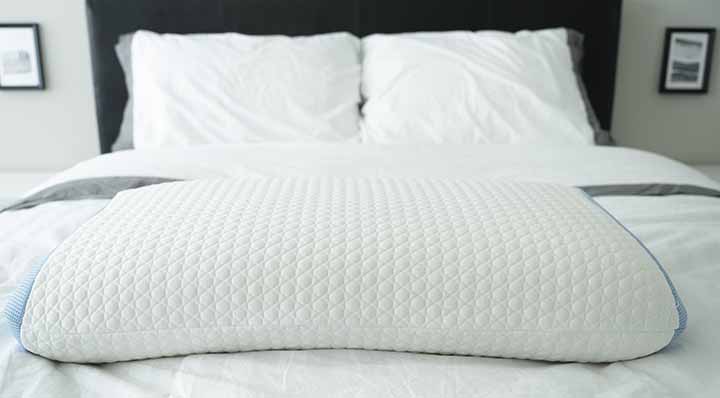 Pros
Removable and washable cover
Smart looking shape and design
The cover fabric is soft and cool to the touch
Hybrid memory foam is firm
Cons
Slick, slippery cover material moves pillow around in bed
Some types of pillowcases may slip off of cover (we used bamboo sheets)
Minimal loft – some may want an additional pillow
May be too firm for stomach sleepers
Expensive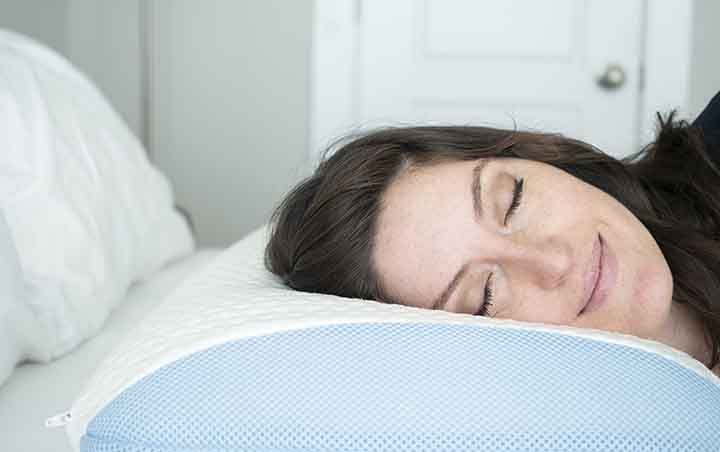 Pillow Construction
Bear Pillow (made by Bear Mattress) is made up of a few notable layers. The core is a foam that Bear calls Loft-X Foam. Through a chat with customer service folks at Bear, We learned that Loft-X Foam material is a hybrid of memory foam and latex foam (either way it's 100% polyurethane according to the tag inside the cover).
As seen from the photos the pillow's core is basically a solid block of foam with holes punched into it – we assume to make it feel a little more lightweight and to help with breathability. The foam is covered with a thin cover of cotton that isn't removable.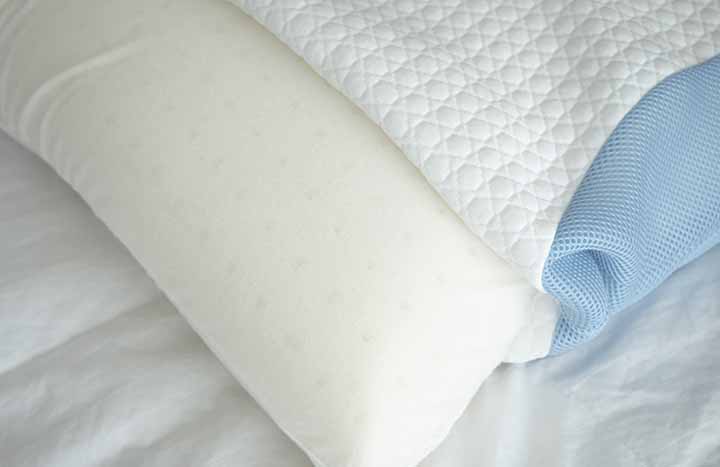 The removable cover is a uniquely textured material that is 40% "cool yarn" and 60% polyester, according to the tag. Bear calls this "Double Ice Fabric"  and it's noticeably cool to the touch and features a performance-wear feel to it. The sides of the cover are blue mesh paneling, designed to enhance the overall breathability of the pillow.
Our Experience with the Bear Pillow
We want to preface the review by saying that Katie, who personally reviewed and tested this pillow, traditionally sleeps on two pillows at night – one firmer pillow at the bottom and a softer, downier pillow on top. She's always in the market for a pillow that will be thick, yet soft enough to be the only one she needed.
Katie slept on the Bear Pillow every night for a week and wrote down different observations on different nights. Initially, she thought the pillow was really is cool to the touch. She woke up during the night to get a glass of water and when she came back to lay down she was so surprised to feel how cool the fabric was. Bear's pillow is slippery; the "Double Ice" material is made from 40% "cool yarn" and 60% polyester. While it has an interesting feel to it, it slides around the bed easily.
The slippery fabric also makes it difficult to keep a pillowcase on it; the pillowcase is removable so sleepers don't have to use it but she preferred it. On multiple nights during her review, our bamboo sheet pillowcase would come halfway, if not more, off of the pillow.
The textured fabric of the cover gives it a futuristic look but side and stomach sleepers can feel the ridges and bumps from the design under thin sheets (like bamboo bed sheets which are known to be lightweight). The removable cover is easy to take off and wash/dry which Katie really liked because it helped her feel like she was keeping her pillow clean (in addition to just washing the pillowcase).
The pillow is the most comfortable for back sleepers. On the back, sleepers can't feel the texture of the cover as clearly and it provides a good firmness.
She sleeps in multiple positions and felt that she was most comfortable on her back, where she couldn't feel the ridges and texture from the pillow. There were times when the profile was too low for her on her side but it may work for some side sleepers who don't mind the outer texture.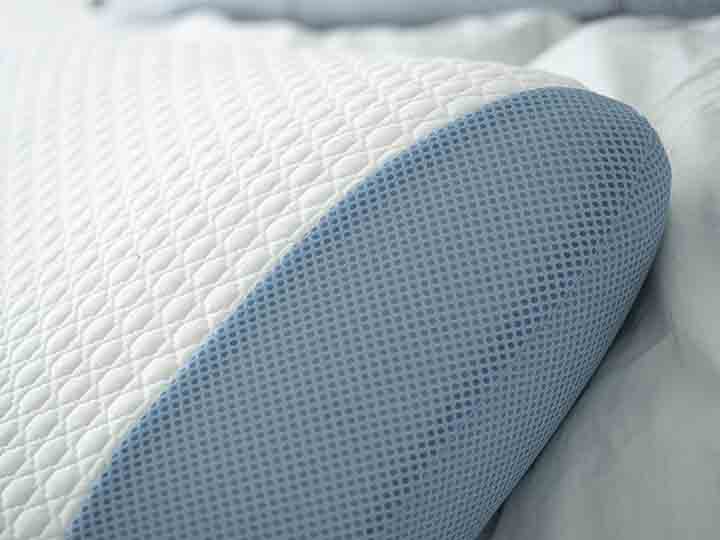 Bear Pillow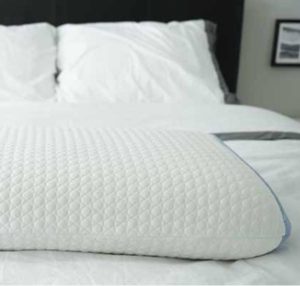 For those who love latex foam or hybrid foam pillows, this one might be worth the price. Click the button below to save 20% on a Bear pillow!
Mattress Clarity Score
4.90 / 5
Read Full Review
FAQs
Let's address some commonly asked questions about the Bear Pill0w:
How do you wash a Bear Pillow?
In terms of care guidelines, the cover of the Bear Pillow is removable and can be laundered. The team at Bear have listed these instructions on their site:
Machine wash cold
Tumble dry on low heat
Spot-clean stains with soap and water
Avoid cleaning, especially soaking, the LOFT-X foam core of the pillow; spot clean it only if necessary.
Does a Bear Pillow sleep hot?
No, the Bear Pillow does not sleep hot due in large part to the cool yarn in its Double Ice Fabric cover plus the breathable nature of the ventilated foam filling. The cover literally feels cool to the touch and the fabric durable, staying cool throughout the night.
Is the Bear Pillow good for side sleepers?
Based on my personal experience, the level of support and overall height of the pillow is not suitable for the majority of side sleepers. For reference, I'm average height and body weight. However, it's possible that petite or smaller sized individuals who sleep on their sides will find enough support with the pillow.
How much does the Bear Pillow cost?
At full price, the Queen size costs $95 and the King size costs $115. Individuals with tighter budgets are advised to keep an eye out for significant discounts during major holiday periods.
Overall
This pillow is ideal for back sleepers – some more petite side sleepers – and those who don't mind texture to their pillow cover.  One can also add an additional pillowcase over the pillow desired.
Individuals who sleep hot will enjoy the Double Ice fabric that keeps the pillow cool to the touch and sleepers that prefer the feel of memory foam or hybrid foam pillows will like the firmness of this pillow.
Customers willing to spend a little more in order to have a high-quality pillow that keeps the back, neck and head cool and supported during the night, Bear Pillow could be a great option.
Katie Golde
Katie previously managed the day to day operations of the Mattress Clarity news site and reviews sleep products in addition to writing and editing sleep news. She hails from Austin, where she lives with her growing family. She is a Certified Sleep Science Coach and has a master's degree in Journalism from Northwestern University and has a background in health and science content. Her work can be found in print and online publications like Discover Magazine, USA Today and The Huffington Post.