Pluto is a company that will make sleepers a customized pillow based on their personal preferences and basic stats. They gather each person's personal information in an online survey located on their website. Then, Pluto puts it in a proprietary algorithm and generates a pillow with a hybrid construction (one of 35 variations). Each pillow will have a solid foam core and a softer, plushy outer later for support and comfort.
So, what's the deal with the questionnaire, and are the pillows even worth the extra work? With some assistance from their customer service team, I received a pillow that I still sleep with to this day. So could this process be the best way for everyone to find a pillow? Stick around as we dive deeper into alien territory with the Pluto Pillow review. (Space puns included!)
Pluto Pillow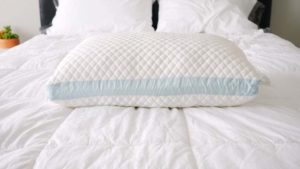 The Pluto pillow is customized for you based on your personal preferences and basic stats that are gathered through an online survey. Each pillow will have a solid foam core and a softer, plushy outer later for support and comfort.
Mattress Clarity Score
4.50 / 5
Read Full Review
Pluto Pillow Review: Pros & Cons
Pros
The questionnaire is very straightforward and easy to complete
Good customer service; will follow-up if needed
They deliver the pillow with a recap of the customer's answers and some more information about the choices they made while constructing the pillow
Care instructions come on the pillow. The cover is machine washable and dryer friendly
Because Pluto takes into account the individual's height and weight, the pillow's loft, and overall firmness are designed to provide proper head and neck alignment
The plush cover filled with silky, coated fibers was the right amount for me
The trial period makes it easy to adjust or return if a person decides the pillow is not right for him or her
Cons
Sleepers won't know what their exact pillow will look like until it arrives
The cover of my pillow was cooling but also had a slippery feeling, and my pillowcase slid off during the night
At $85 a pop, this pillow isn't affordable for everyone
How the Process Works
In order to receive a pillow, one must complete an online questionnaire that is located on Pluto's website. The questions are comprehensive and personal – they range from asking for about height and weight to details about how a person sleeps and likes and dislikes about one's current pillow.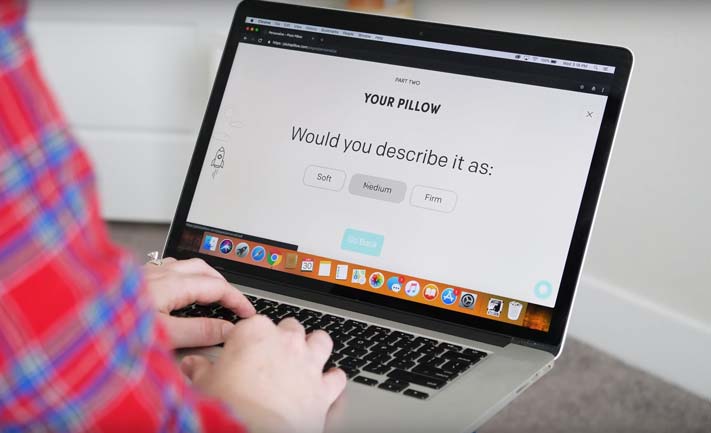 Additionally, a particular highlight for me is the blank box at the end that allows a person to add any additional information that he or she might want to convey that will help Pluto create the pillow. For instance, I noted that I usually sleep on shredded foam but was open to other options and that I felt like most of my pillows were too tall or too firm.
The team at Pluto will analyze the answers provided and let the potential customer know that they have a pillow for them, should the person choose to order one. What they don't do is supply a breakdown of exactly the type of pillow they conceptualized for that specific person This information won't be available until the person commits to purchasing the pillow and it arrives.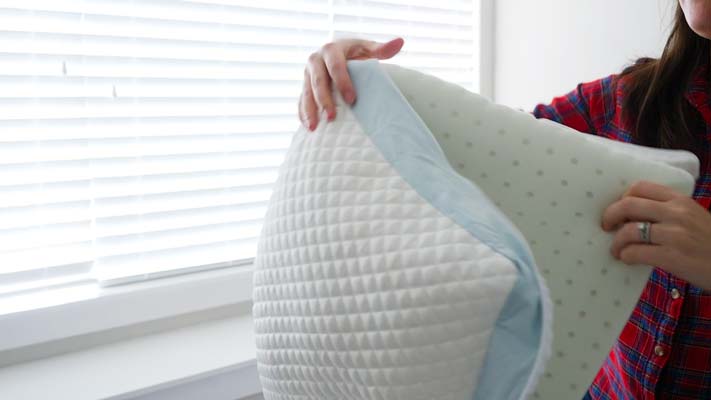 I also indicated that I preferred a more supportive pillow over a plusher one, and Pluto's customer service reps emailed me to offer me more details about what "supportive vs. plushy" meant to them. This allowed me to change my answer in a way that they thought would result in a pillow better suited to my needs.
The pillow came surprisingly fast and in a cute box with a little recap of my answers and a piece of candy (the way to my heart, of course!).
Check out our top picks for Best Memory Foam Pillows.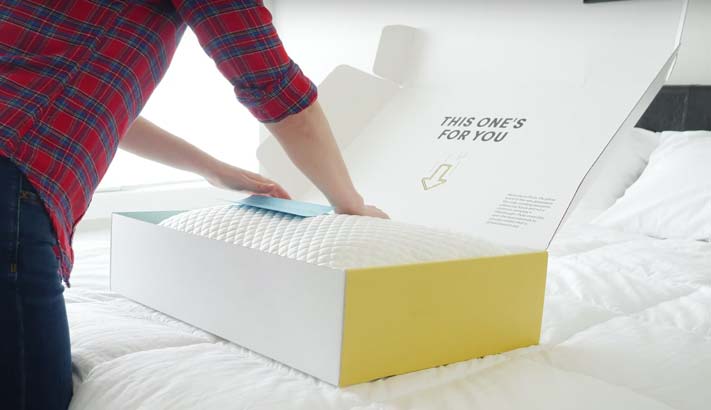 Key Features
Each pillow is a hybrid design or a "pillow in a pillow" construction
Each of the 25 possible variants has an inner core made from a high-performance foam and an outer plush pillow filled with tiny polyester microfibers, both tailored to one's individual profile
Each pillow will vary in features, height, and even colors depending on the questionnaire results
Some covers will have polyethylene to help them stay cool and others will not
One size and costs $85
Pluto recommends washing one's pillow(s) often. Remove the cover from the foam (don't wash the foam!), and throw it in the wash. Machine wash cold on a normal cycle and use only non-chlorine bleach when needed
The company offers a 100-night trial
Pluto Pillow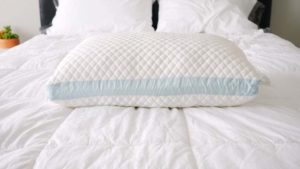 The Pluto pillow is customized for you based on your personal preferences and basic stats that are gathered through an online survey. Each pillow will have a solid foam core and a softer, plushy outer later for support and comfort.
Mattress Clarity Score
4.50 / 5
Read Full Review
My Experience
Pluto may not be the only company creating personalized or customized pillows, but I thought their initial questionnaire was so rigorous and covered enough sleep health topics that they had a great shot of actually getting it right. They asked a lot of the same questions I ask people when they want a personal recommendation (I'm a certified sleep science coach). The more information an individual can share with Pluto (and the more details the brand requests), the higher the chance Pluto has of developing a pillow that truly suits a sleeper's specific needs.
Currently, the company says it has about 35 variations of pillows they utilize, though all of them will have a similar design and construction. Each pillow will feature an inner core with a high-performance foam and a plush outer cover/outer pillow that's made with silken microfibers, which give it a plusher, "fluffy" feel.
With this design, everyone will get a combination of support and plush comfort. It's one of those "best of both worlds" pillow designs that are become increasingly visible in the market.
I appreciated that Pluto took the time to follow-up with me via email and worked with me to adjust my answers so the pillow I ended up with worked particularly well for me. Initially, I was surprised by how soft and thin — but also responsive — the inner foam core of my pillow was. Honestly, the pillow was flatter than I expected and what I usually gravitate towards, but it worked. The result was a splendidly comfortable and is now one of my go-to pillows.
RELATED: Best Pillows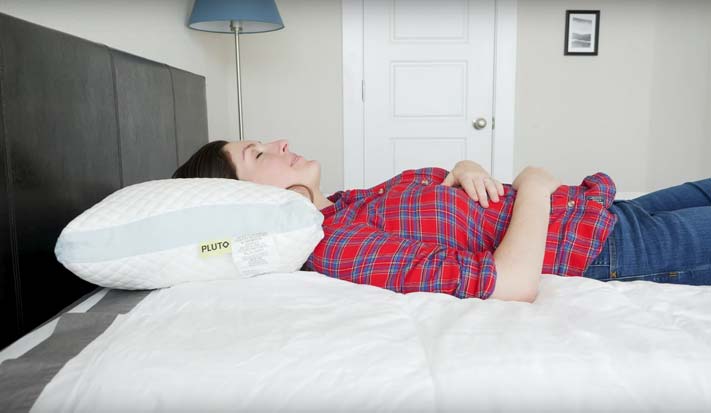 Pluto does recommend a 2-week adjustment period. If someone gets a pillow that is quite different from the kind he or she is used to, I would suggest giving it that full two weeks – everyone has 100 nights to try it out, after all!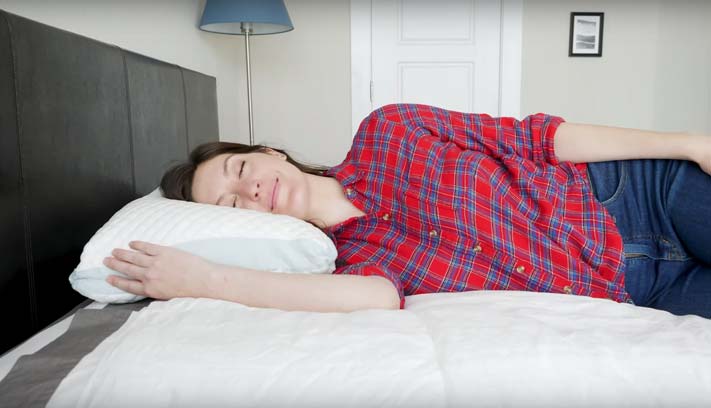 Because I said that I preferred to sleep cool, my pillow cover featured a cooling polyethylene fabric that was a little slippery for my liking. My pillowcases slid off of it really easily. On the upside, it was quite cooling.
The pillow comes in just one size, and $85 is more money than some have to spend on a pillow. But for those who have gone through pillow after pillow and don't know where to turn next – I'd encourage them to check out the Pluto Pillow.
I've had the chance to review a lot of pillows for Mattress Clarity, and I really did end up liking my customized Pluto pillow. It wasn't 100 percent what I thought I would get, but I was surprisingly pleased with how comfortable it was (and remains to be). I'm also very happy with how easy it is to clean!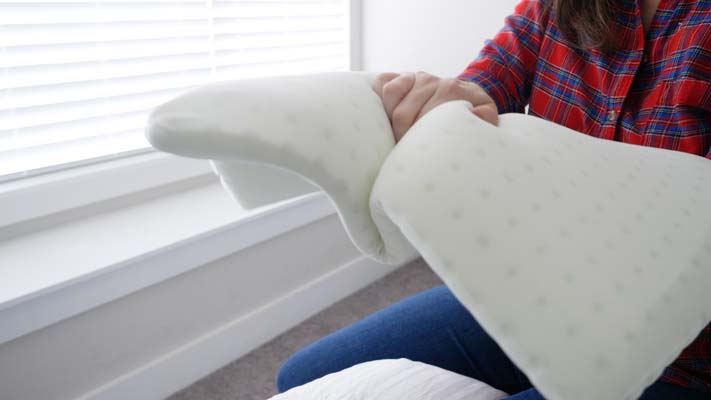 Final Thoughts
Pluto's proprietary algorithm appears to have been successful for me, and I was truly impressed with my pillow. The hybrid design, complete with the supportive and molded inner foam core and the plusher outer cover, will most likely be a big crowd-pleaser.
Each pillow is designed with a set of unique and adjustable features, which means Pluto can make adjustments and create a truly detailed fit and effective match between the sleeper and the pillow. Yes, it's on the pricier side, but with 100 nights to try it out, I think it might be worth investigating. I'd definitely recommend if a person has tried several conventional options and not found success – it may be time to try something new.