Neck pain, when left untreated, can lead to many other problems, such as poor sleep and upper back stiffness. If you're on the hunt for instant relief, the uniquely shaped NekGenic pillow from ZAMAT could help out!
In my unbiased NekGenic neck pillow review, I'll cover all the details on how this pillow works, my testing experience with it, and so much more.
Is it really one of the best neck pillows? Keep reading to find out.
NekGenic Neck Pillow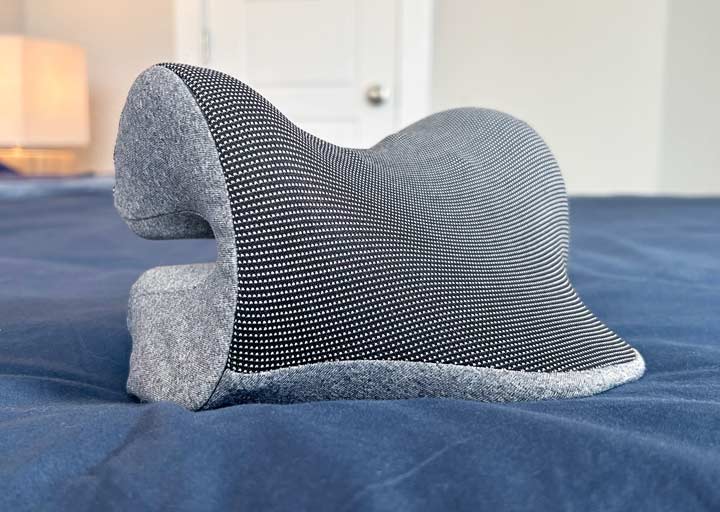 the NekGenic Neck pillow is a great option for people looking to reduce neck pain. Use it for 8-10 minutes a day and the pillow will stretch our your neck and upper back to reduce neck pain!
Mattress Clarity Score
4.90 / 5
NekGenic Neck Pillow Overview
If you're not already familiar with ZAMAT, the maker of the NekGenic, I've got you covered. This brand makes ergonomic pillows that are designed to help you get quality, pain-free sleep. The NekGenic is something called a "cervical traction neck pillow" and fits into the natural curve of your neck.
But I'll save more of those details for the full review below. For now, let's go over a quick overview on who might enjoy this pillow, and who might need to look somewhere else:
Who Might Like the NekGenic Neck Pillow?
Anyone who deals with chronic neck pain
Back sleepers
Power nappers
Who Might Not Like the NekGenic Neck Pillow?
People who want a pillow to help with neck pain for a full night of sleep
Fans of traditional pillows
Side and stomach sleepers
NekGenic Neck Pillow Firmness and Feel
This is a rather unique pillow out on the market, so how firm is it and how does it feel? Let's find out.
How Firm is NekGenic Neck Pillow?
The NekGenic is a very dense, solid piece of foam. Because it's meant to support your neck, there's not going to be any give or feeling of sinking into the pillow. To give you a better idea on how dense and solid it is, when I first unpackaged it, I thought it was a piece of plastic with some foam padding. The pillow is incredibly firm.
Sleeping on the NekGenic Neck Pillow
Here's the thing about the NekGenic: you're not going to really sleep with this pillow. This pillow is intended more for taking a quick 8-10 minute nap. And the best sleep position for this pillow is on your back. So, stomach and side sleepers will just need to rest on their back if they want to use this.
The NekGenic can almost be called a "physical therapy" pillow for people who are dealing with neck pain. While I don't suffer from chronic or severe neck pain myself, I can see how this pillow helps out.
Along the curve there are a number of raised points that are meant to target pressure points. I was worried this would feel uncomfortable, but I'm happy to report that I didn't really notice them at all.
One thing I do enjoy about the NekGenic is that it is very compact It can fit in most luggage, and isn't very cumbersome to travel with. It's a good option to have with you on the go.
RELATED: Best Travel Pillows
30-60 Min Nap
While you could certainly try to sleep for an hour on this pillow, ZAMAT really emphasizes that all you need is no more than a 10 minute power nap a day to feel the effects of this pillow.
Now, I'm not much of a napper. Once I'm awake, I'm awake until it's time for bed again (or time to test a pillow). So, I rested my head on the NekGenic pillow and took a quick power nap.
It did take a minute or two to fully get adjusted on this pillow, but once I did, I felt my neck start to stretch out. And the raised points didn't bother me as much as I expected them to.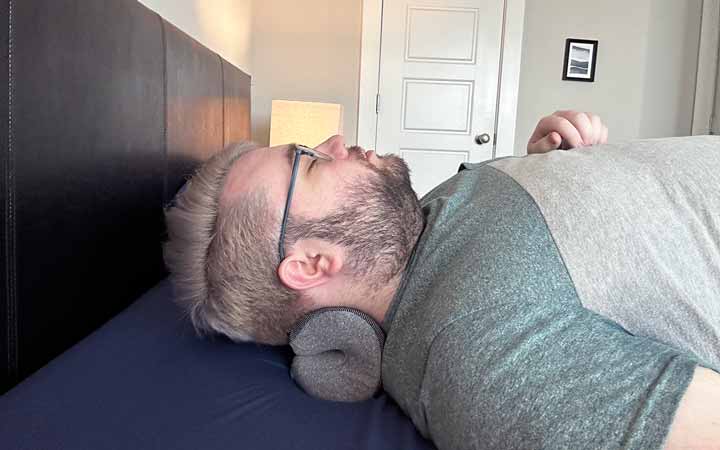 It bears repeating that I don't experience neck pain, at least, not outside of the occasional crick from a night of wonky sleeping. But this could be a good start if you're looking to avoid a huge chiropractor bill! I'm not a medical professional, however, so if you are in fact dealing with severe neck pain, consult your doctor.
What does the NekGenic Neck Pillow Feel Like?
Resting on the NekGenic was an interesting experience. But because the pillow is designed for an area in your upper spine and neck called the "cervical spine," resting felt quite natural. There are a few raised spots on the pillow that will also target pressure points in your neck.
Average Weight Sleepers – 130 lb – 230lb
Average weight back sleepers looking to help with neck and upper back pain should enjoy using the NekGenic for a quick power nap. Though it's very firm and dense, it's the type of pillow that should help with neck pain, and you won't need to use it all night. It will support your head and neck and keep it in a neutral position while you rest. I don't recommend you try to sleep on your side or stomach with this pillow at all.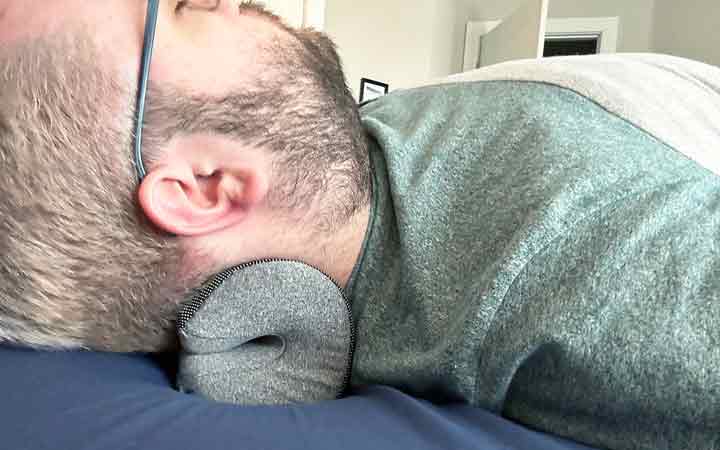 Heavyweight Sleepers – Over 230 lb
Heavier back sleepers should also enjoy the NekGenic. In my experience, I did feel the curve of the pillow dip a bit, but it still supported my head and neck very well. The raised massage nodes felt very comfortable along my neck — another win for those looking to deal with neck pain.
Lightweight Sleepers – Under 130 lb
Lightweight sleepers might worry about not compressing a traditional pillow to get support. But in the case of the NekGenic, you're not meant to compress the pillow. This lower loft should feel very comfortable for lightweight sleepers looking to alleviate neck pain, and should keep your head and neck in a neutral position.
NekGenic Neck Pillow Construction
The materials that go into the NekGenic are designed to help you get quality sleep and reduce neck pain. Let's see what goes into this pillow!
Cover
The NekGenic's therapeutic properties start with the cover!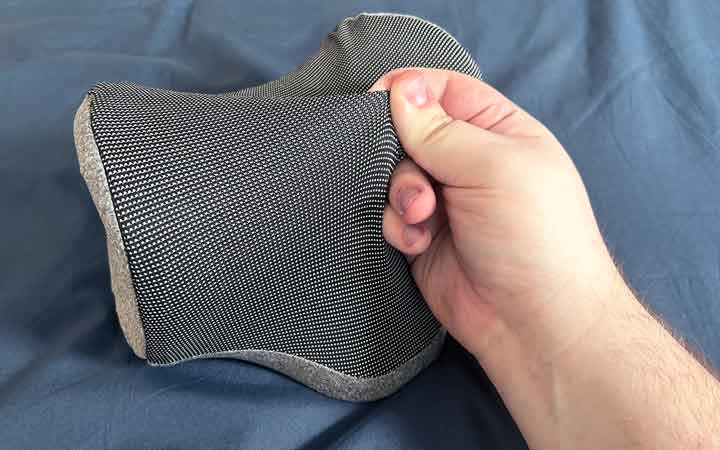 The outer, removable cover is made from a stretchy polyester material called "magnetic therapy cloth." This cover has been infused with magnetic particles to provide you with magnetic therapy.
This unique version of therapy works to improve circulation and blood flow, reduce any inflammation, and help soothe aches in your neck.
Core
Underneath the cover is a single piece of polyurethane foam. This is incredibly firm and dense, and has raised massage points to target pressure points in your neck. This ergonomic design works well with the curvature of your neck.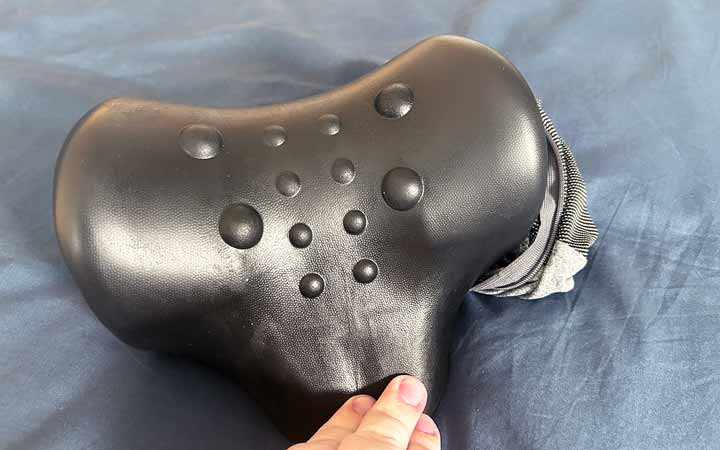 Height/Loft
Loft refers to the height of a pillow. In the case of the NekGenic, it stands 4" tall. This is an ideal height for sleeping on your back. It's not too low that your head will fall back, but it's not so high that your chin will jut into your chest.
NekGenic Neck Pillow Size Options and Price
Take a look at our chart below to get up-to-date pricing information on the ZAMAT NekGenic Neck pillow
| | |
| --- | --- |
| Size | Price |
| Standard (7.5″ x 5.5″ x 4″) | $59.99 |
NekGenic Neck Pillow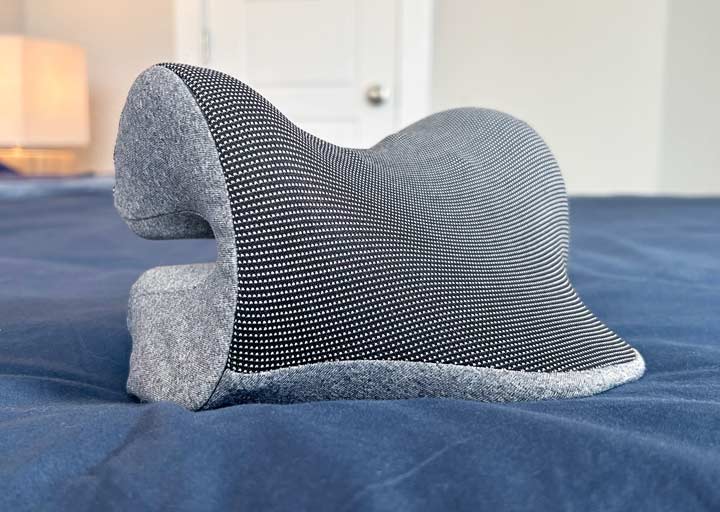 the NekGenic Neck pillow is a great option for people looking to reduce neck pain. Use it for 8-10 minutes a day and the pillow will stretch our your neck and upper back to reduce neck pain!
Mattress Clarity Score
4.90 / 5
NekGenic Neck Pillow Performance
Now that we know how this pillow performs to help with neck pain, let's go over a few other considerations with the NekGenic.
Sleeping Hot or Cold
Truth be told, you probably won't be using the NekGenic long enough to notice if it sleeps hot or cold. For a quick power nap, your body might not need to be cool, or you might not cool down enough to notice. This pillow isn't listed as a cooling pillow either, and the polyester cover doesn't seem to be the most breathable material.
In my experience, I didn't notice it feeling too hot. I'm typically a hot sleeper, too, so if you're like me, you shouldn't worry about feeling hot and uncomfortable for your quick nap here.
Off-Gassing
The NekGenic comes to you in a cardboard box. And because it is so uniquely shaped, it is not compressed. It's ready to use the second it arrives, and you don't have to worry about an off-gassing smell.
Care Instructions
The outer cover is removable. ZAMAT doesn't indicate if this is machine-washable or not. However, considering that there are magnetic particles within the cover, I would recommend spot cleaning as a treatment if it gets dirty, so you don't damage the cover in a machine.
Allergies
The NekGenic pillow is not listed as a hypoallergenic product.
Company Policies
Here's what you can expect when making a purchase with ZAMAT.
Warranty Info
ZAMAT offers a 10-year warranty on the NekGenic pillow, so it should last you a very long time!
Sleep Trial
ZAMAT offers a 100-day at-home trial period for all its products, including the NekGenic.
Return Policy
During that 100-day period, you can make a return for a full refund. However, ZAMAT notes that, unless the product has manufacturing defects, customers must pay the shipping fee for returns.
How Does NekGenic Neck Pillow Compare To Other Pillows?
This pillow is all about neck support, but it is compact enough for those on the go. Let's see how the NekGenic compares to a popular travel pillow, trtl, and a more traditional pillow for neck pain, the TEMPUR Neck.
ZAMAT vs trtl
When it comes to neck support on the go, it doesn't get much better than trtl (pronounced "turtle"). This travel pillow is very easy to store, and consists of a piece of curved plastic inside of a mesh, fleece-like material. You simply wrap it around your neck, and you're good to go, while on the go!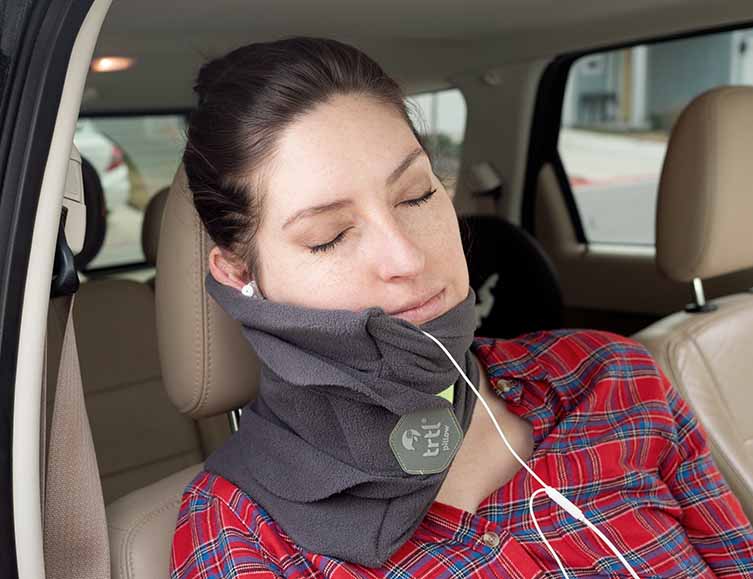 The NekGenic is made of a single piece of very firm foam, and you can easily prop it up while resting upright, but it does work better while you're resting on your back. And if the trip is short enough, it works very well to offer some good neck support while traveling.
Both options are around the same price tag, but the trtl will work better for people who can sleep upright and look to save on space. The NekGenic, while not marketed as a travel pillow, is small enough to use on the go, but you don't have a way to collapse it or make it smaller to save space.
Who Should Get the ZAMAT NekGenic pillow?
Back sleepers on the go who want neck support
People who have space in their luggage for a support pillow
Who Should Get the trtl Travel Pillow?
People who need to save space with a collapsible travel pillow
People who can sleep upright
Read our full trtl travel pillow review.
ZAMAT vs TEMPUR-Pedic
Pillows that provide neck pain relief come in all different shapes and sizes. One such pillow with its own unique shape comes from the ever popular TEMPUR-Pedic. The TEMUR Neck is a more traditional pillow, but has an ergonomic design to help with neck pain as well as some shoulder pain, too.
The NekGenic is intended to be used for a quick nap, due to its unique shape and firm feel. However, if you want a pillow to use all night long that helps with neck pain, the TEMPUR Neck is the way to go.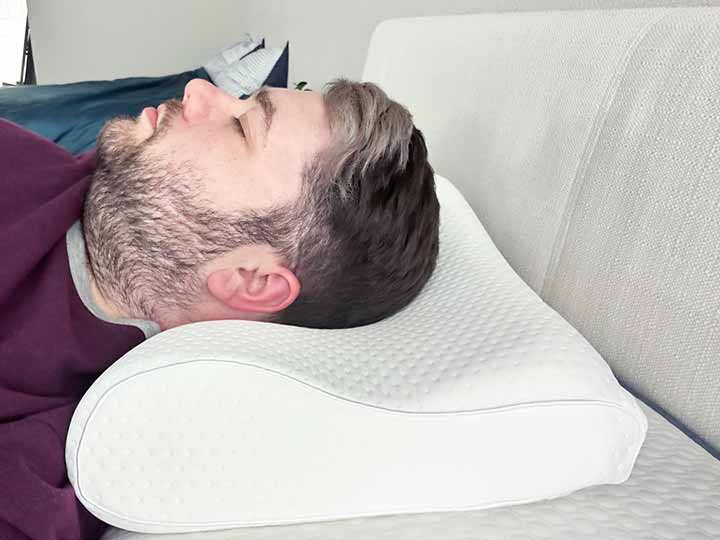 It's still a firm pillow, but much softer in comparison to the NekGenic. It's made of a single piece of TEMPUR's proprietary foam, the TEMPUR material. This gives it that classic, slow-moving memory foam feel that will conform to your head, neck, and shoulders.
Who Should Get the ZAMAT NekGenic pillow?
Power nappers
People looking for a pillow to massage neck muscles
Who Should Get the TEMPUR Neck Pillow?
Fans of traditional memory foam pillows
People who want to to use a pillow all night long to help with neck pain
Read our full TEMPUR Neck pillow review.
Our NekGenic Neck Pillow Ratings
Check out our Mattress Clarity score for the ZAMAT NekGenic neck pillow!
NekGenic Neck Pillow Review
FAQs
Let's cover some frequently asked questions about the NekGenic pillow and neck pillows in general.
How long will the ZAMAT NekGenic pillow last?
ZAMAT offers an impressive 10-year warranty on the NekGenic. This is a very sturdy and dense pillow, and because you might only need this pillow for a few minutes every day, I can see it lasting a very long time!
What if I don't like my NekGenic pillow?
If you're not a fan of the NekGenic, don't stress! You have 100 days to test it out. And if, during that period, you decide it's not for you, you can return it for a full refund.
Do cervical pillows actually work?
Cervical pillows are designed to fit into an area of your neck and upper back called the "cervical spine." When this area of your spine finds a neutral, proper alignment, you can expect to see neck pain relief and improved sleep quality.