Editor's Note: Malouf  no longer makes the L-Shape Memory Foam Body Pillow. For more options, check out our list of the best body pillows.
When people hear/read/see the word "body pillow," they probably envision a long rectangular pillow. Malouf's innovative L-shaped, gel foam-filled pillow bends that rule ever so slightly (see what I did there?) in an innovative way.
The creative L-shape design and a firmer core made of solid gel memory foam make this pillow a nice option for side sleepers who want support without needing multiple pillows at night.
This review will go over the construction and pros and cons of the body pillow, as well as highlights who the pillow may be most appropriate for.
Malouf L-Shape Body Pillow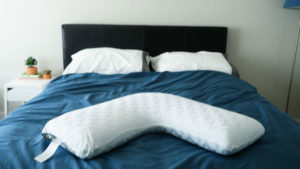 The L-Shaped body pillow from Malouf is a nice option for side sleepers who are looking for extra support for the head, neck, and back. The Gel Dough memory foam filling helps keep the pillow breathable.
Mattress Clarity Score
4.20 / 5
Read Full Review
Malouf Body Pillow Video Review
See the L-Shape in action, it definitely makes for an interesting sleeping experience.
Key Features
An L-shaped foam body pillow that's designed for side sleepers and provides neck and back support
Width: 26″, length: 26″, height: 5″ and about 2.5 lb in weight
Cover: 100% Tencel (a synthetic fiber)
Fill: 100% polyurethane gel foam

The Gel Dough®  filling is a gel memory foam that's infused with advanced gel material for a cooler feel

Care: wash the zippered cover in warm water using a non-chlorine bleach detergent on a gentle cycle with a cold water rinse
Full price on Malouf site: $115 (but about half the price on Amazon and available at other retailers as well)
One color option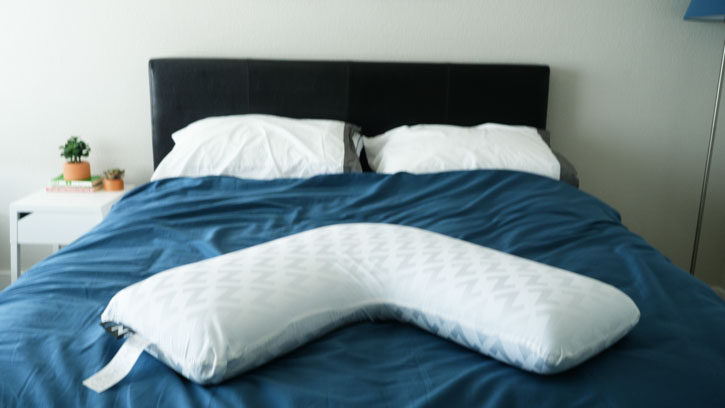 Who Makes It
The L-Shaped Body Pillow is made by Malouf and is part of their Z-Pillows collection.
Malouf is an established bedding accessories brand that sells a range of products from pillows to bed linens, mattress toppers, and more.
In addition to this pillow, we've also reviewed their 100% Talalay Latex zoned pillow and their bamboo bed sheets.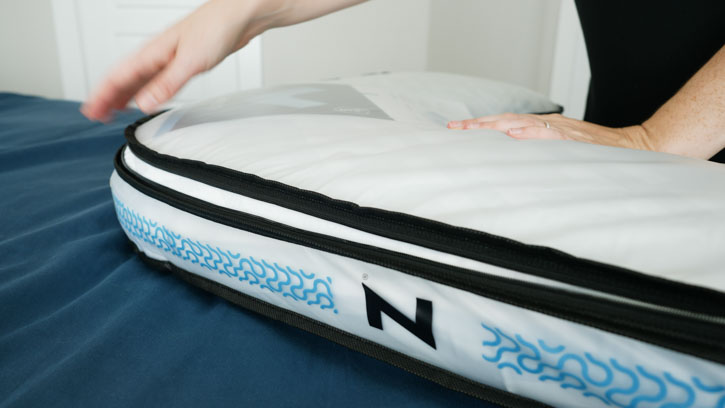 Pros
5″ height profile and firmness make it a good fit for side sleepers who want extra back support
Nice cooling features
Versatile; can also be used between knees or as a pregnancy pillow
The outer cover is machine washable and dryer friendly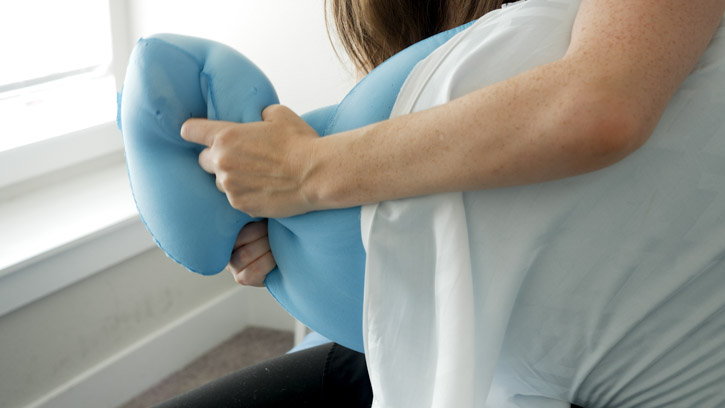 Cons
It may take up space in a bed if people sleep with a partner or are in a smaller bed
The foam may be too firm for stomach sleepers and most back sleepers
The inner foam can only be spot-cleaned
Expensive if bought at full price
Best Sleep Positions For This Pillow
The L-shape design of this body pillow is intended for side sleepers and works well in that sleep position but can really be used a variety of ways.
Side sleepers (or pregnant people who are sleeping on their sides for the moment) may get the most out of the pillow because of the 5″ height and medium-firm to firm support.
The shape creates a nice head/neck/spine alignment and allows people to have head and neck support while also feeling support on their back when they start to roll over.
The pillow's design also allows people to use just one pillow instead of two, which is a really nice feature.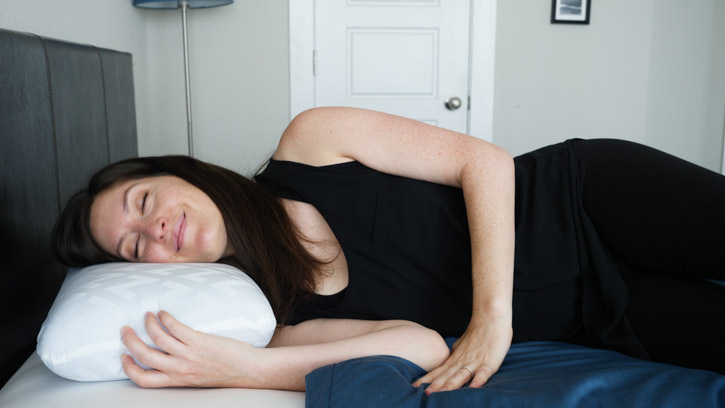 Pregnant people may want to flip it around and use the design to support the head, neck, and baby bump. Side sleepers of all types can also place it between their knees to keep their hips open and aligned at night.
For stomach sleepers, this might help open their hips at night, but overall the height and firmness combo will be too much for them. For back sleepers, this height might be too much for them as well.
RELATED: Best Pillows
Personal Experience
There are a lot of potential benefits in a solid and supportive L-shaped pillow.
One of the greatest things about it is that side sleepers can achieve a neutral head, neck, and spinal alignment with added back support all in one comfortable pillow. I thought the 5″ loft and the firmer nature of the pillow were great for side sleepers, who typically need more height and and added level of support.
It's also great that people could do more than one thing with the pillow. If people decide they don't want to use it as a head pillow one night, they can put it between their knees, for example. They can also let it support their baby bump if they're pregnant and looking for a more compact pregnancy pillow option. (Follow that link for more of my favorite pregnancy pillows.)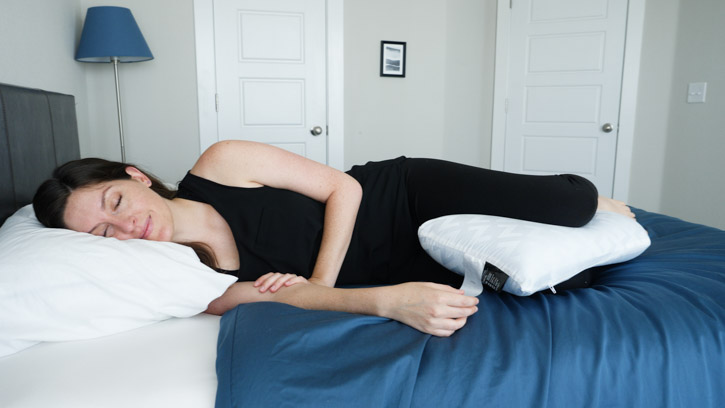 The cover is removable and can be washed separately, but consumers can only spot-clean the solid piece of foam.
While the foam filling has gel incorporated,  it's not going to be as cooling as shredded foam or polyester. That said, neither of those fillings would be as supportive, so it's definitely a trade-off.
It will take up room in the bed, but less room than a typical, longer body pillow. This might be a nice workaround for those who want body support but are short on space.
Malouf L-Shape Body Pillow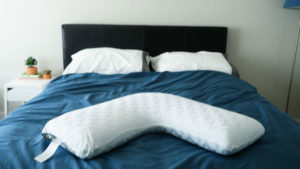 The L-Shaped body pillow from Malouf is a nice option for side sleepers who are looking for extra support for the head, neck, and back. The Gel Dough memory foam filling helps keep the pillow breathable.
Mattress Clarity Score
4.20 / 5
Read Full Review
Overall
Overall, I really like the Malouf L-Shaped Gel Dough Memory Foam body pillow. I'd recommend it to side sleepers who aren't worried about sleeping cool and are looking for a good amount of firmness.
Definitely shop around at retailers that carry Malouf's Z-Pillows collection in order to find the best price. We found ours for about half the price than on Malouf's website, which makes it a better value overall.
Katie Golde
Katie previously managed the day to day operations of the Mattress Clarity news site and reviews sleep products in addition to writing and editing sleep news. She hails from Austin, where she lives with her growing family. She is a Certified Sleep Science Coach and has a master's degree in Journalism from Northwestern University and has a background in health and science content. Her work can be found in print and online publications like Discover Magazine, USA Today and The Huffington Post.