The Restore pillow from Level Sleep is ergonomically designed and promises to reduce snoring by improving neck support.
The pillow is made with a solid piece of foam and a support center and designated ear wells. It's adjustable both in height and neck support and designed well for back and side sleepers.
We're going to take a deep dive into the Restore pillow and talk about all the aspects that make it unique. While we didn't test it for snoring relief, we will address some of the information the company uses to back up its claims. Read on for my full review!
Level Sleep Pillow Deals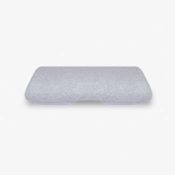 Level Sleep's Restore pillow is ergonomically designed to help back and side sleepers get the proper head and neck support to keep their airways open and (hopefully) reduce snoring. The pillow has a soft removable cover and unique solid foam construction.
Key Features
Intended for back and side sleepers with its 4″ height profile
The cover is durable and breathable thanks to "Recoveree" stretch polyester
The filling is Polyurethane foam (memory foam)
The cover is removable and washer/dryer friendly cover
Sleepers can adjust the height using a foam pad, and they can flip the neck for two different levels of support
Research showed that the use of a pillow with a (since-improved) version Level Sleep®'s unique design resulted in a 78 percent reduction in the number of snoring events
One size
365-day trial
$149 at full price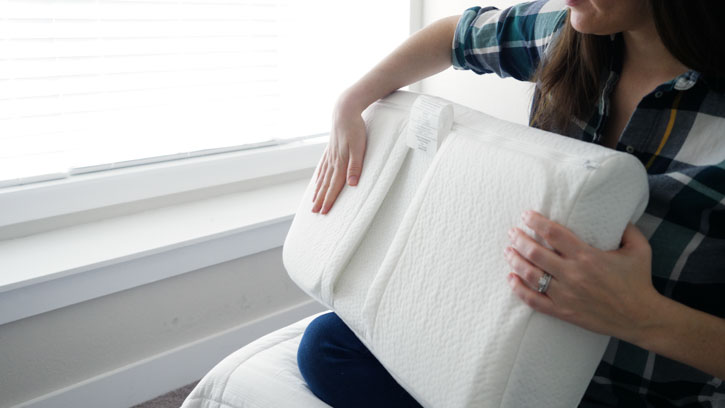 Pillow Construction
From the outside, the Restore pillow looks like a traditional pillow. The outer cover is "Recoveree" stretch polyester that is soft and breathable.
Inside, the pillow is made up of two kinds of foam, one that's firmer than the other. It's constructed to have an Ergonomic Support Center and Ear Wells for both back and side sleeping. There are also adjustable neck supports on either side, so the pillow is flippable depending on one's support preference.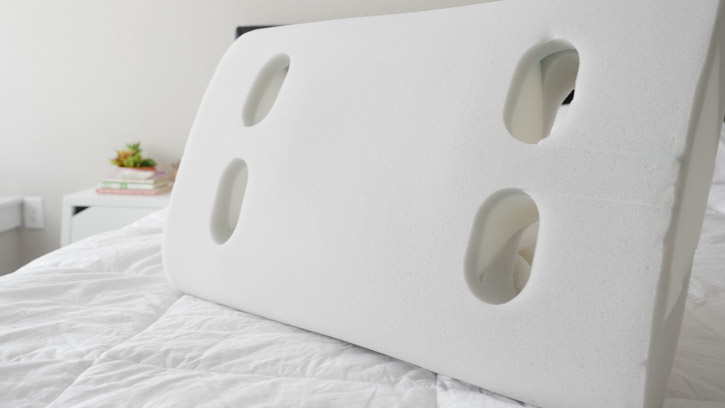 Pros
365-night home trial
Clinical research to support the anti-snoring claims
Soft, removable cover that is easy to clean
Three adjustable heights and two adjustable neck support levels
Good for back and side sleepers
Nice documentation showing sleepers how to use the pillow properly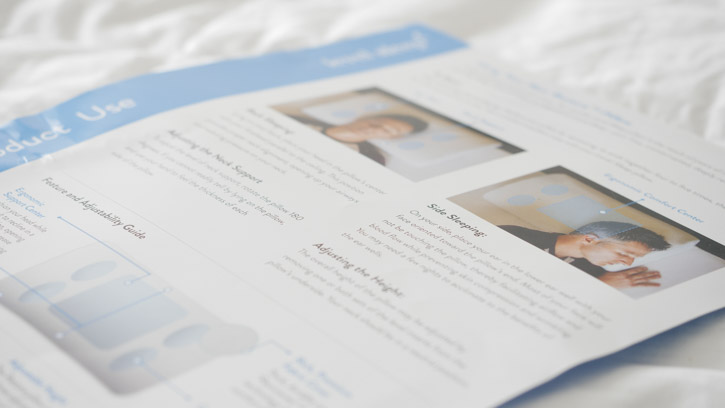 Cons
Not an option for stomach sleepers
On the pricey side
No anti-snoring guarantees; everyone will have to give it a personal try and see if they have success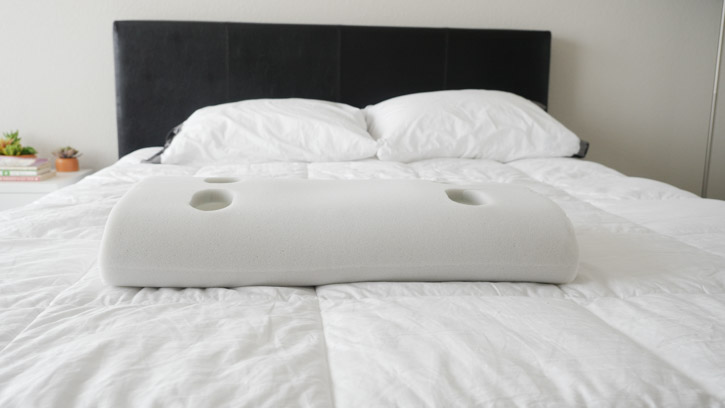 My Experience
In order to enjoy this pillow, individuals are going to need to be a back sleeper or a side sleeper. The  Ergonomic Support Center cradles the head, and the neck support will support the natural curvature of the neck. The Ear Wells on each side are for the side sleepers and are meant to relieve pressure on the side of the head.
Because the pillow is designed so specifically, it will take some time to get used to. Unlike more traditional pillows where one's head, neck, and ears sink into a material, this pillow has cutouts for these spots and it is just a different feeling (not bad, just different). I appreciate that they give sleepers a whole year to test out this pillow because it will take at least a month to get used to it.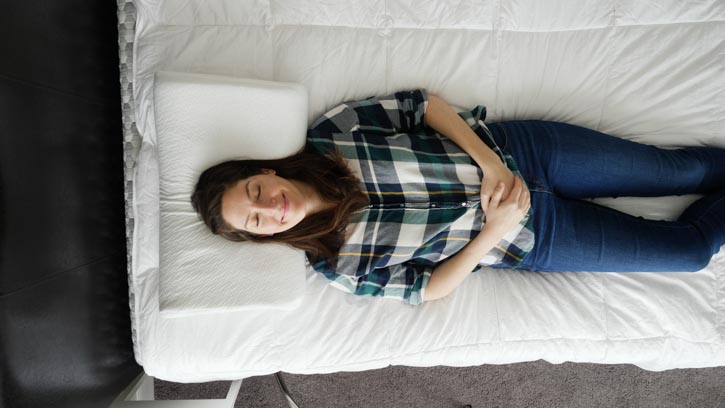 I don't snore and I don't review snoring devices, so I can't speak specifically to the Snore Relief part of this pillow. I was impressed that the company has clinical research and FDA Clearance on its patent-pending design. I do think that promoting good breathing through the proper head and neck support is always a good direction to go in when trying to reduce snoring.
Level Sleep dedicates a whole section of its site to research and transparency; interested individuals can check it out here.
I think the polyester blended knit cover has a good amount of softness and stretch, so the head will fit into the cutouts while the material feels soft on the side of the face. It's also easy to remove and wash and machine dry (just follow the care instructions).
Personally, I found the pillow to be most comfortable while I was on my back. While I get the idea of the Ear Wells, I couldn't really get comfortable for a long time while sleeping on my side with this pillow.
Marten's Take
I am a larger person than Katie and also more of a side sleeper. Because of my size and preferred sleeping position, I had a slightly different experience on the Level Sleep Restore pillow than Katie did.
As Katie mentioned, the Level Sleep has a very interesting design. As a side sleeper, I was particularly interested in the ear holes. However, lying down on my side, I can say that it felt a little strange. I was sleeping near the far edge of the pillow and the foam was pretty firm there. I didn't feel very comfortable in this position, and I would have preferred it if my head would have sunk in a bit more.
I felt best when I was back sleeping on the Level Sleep. The center of the pillow drops away somewhat, but I did not bottom out in the position. My neck also felt properly supported. However, moving to my stomach, I did not feel very comfortable. I felt smothered by the pillow and not well supported.
Level Sleep Pillow Deals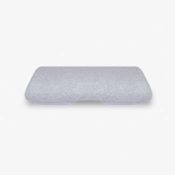 Level Sleep's Restore pillow is ergonomically designed to help back and side sleepers get the proper head and neck support to keep their airways open and (hopefully) reduce snoring. The pillow has a soft removable cover and unique solid foam construction.
Overall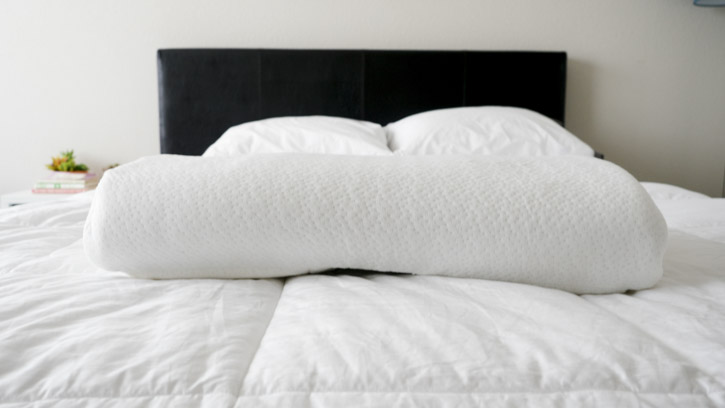 There is no doubt that Level Sleep has put together a very rigorously tested and thoughtfully designed pillow that's supposed to provide as much comfort and support for the head and neck as possible.
I think whether or not this pillow "works" for a person – or if they will even like it – will come down to sheer personal preference. Sleepers will need to like the feel of a solid piece of memory foam pillow and sleep primarily on one's back or one's side.
The pillow is a little bit pricey, but sleepers get a long trial period to make sure it's the right fit. Take a look at the company's research online for additional details about the Snore Relief feature!
Katie Golde
Katie manages the day to day operations of the Mattress Clarity news site and reviews sleep products in addition to writing and editing sleep news. She hails from Austin, where she lives with her growing family. She is a Certified Sleep Science Coach and has a master's degree in Journalism from Northwestern University and has a background in health and science content. Her work can be found in print and online publications like Discover Magazine, USA Today and The Huffington Post.