Helix is well-known for its ability to customize a mattress for a customer, so it's no surprise that their pillows can be personalized as well. Customers can add/remove components of the pillow until it meets their desired firmness and loft. The brand offers both the Helix pillow and the Helix Cool – they're both very similar in design but feature different cover material.
To find out if either Helix pillow is right for you, read on for our full Helix + Helix Cool Pillow review.
Helix + Helix Cool Overview
Standard 18″ x 26″ and King 18″ x 32″ sizes available
Helix says the Standard size pillow works best with a Twin, Twin XL, Full or Queen size mattress. The King size will work perfectly with a King or CA King model.
Outer Comfort Shell:

1 lb Memory foam and down alternative on each side (about 2-3 lbs total)
1.25" gusset to allow for adjustable loft
Standard and cooling outer cover fabric available

Standard fabric is a high-grade polyester
The cooling fabric is ultra-cool knit polyethylene fabric
Support Insert Layers:

Two – 1 lb memory foam and down alternative insert layers
Designed to fit perfectly within the Outer Comfort Shell

Removable inserts designed for all sleeping positions and body types
Not machine washable; spot clean only
Made in the US
100-night trial
3-year limited warranty
Helix + Helix Pillow Construction
The Helix pillow and Helix Cool pillow feature a special "pillows-in-a-pillow" design. The filling in each section (on both pillows) is a blend of cross-cut memory foam and down alternative material. The outer cover of the basic Helix pillow is made of a high-grade polyester.  The Helix Cool outer cover is made of a high-end ultra-cool knit polyethylene fabric.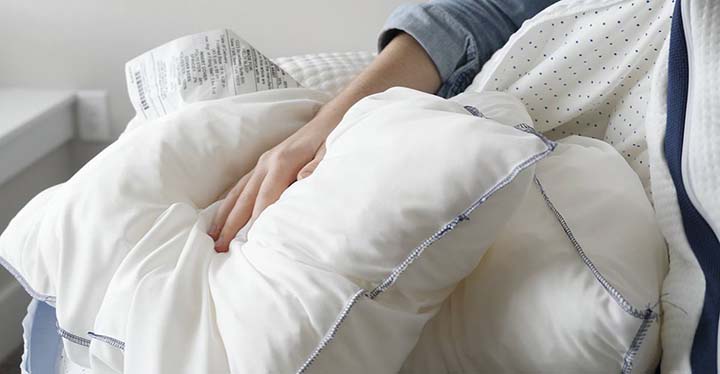 We spoke to the team at Helix to ask how their fabric helps someone stay cool. They said the knit polyethylene fabric "has a higher heat transfer, making it cold to the touch and a lot cooler than typical fabrics."
With each pillow, one can open the Outer Comfort Shell via a zipper and access the two 1-lb memory foam/down alternative inserts. Each insert itself feels very light and sort of sparse. The idea is to combine them however one likes for the perfect loft and firmness.
We will say that the "pillow-in-a-pillow" design reminds us slightly of the original Casper pillow. While Helix has two inserts, Casper's pillow has one insert and is made with all synthetic polyester fiber filling.
RELATED: Best Pillows 2022 – Our Top 10 Favorites!
Cleaning the Helix + Helix Cool Pillows
Instructions from Helix:
Unfortunately, the Helix Pillow is not machine washable. We recommend spot cleaning as necessary with lukewarm water. Your Helix Pillow can be placed in the dryer on low heat every 6 months for maximum fluff, performance, and comfort.
Recommended Pillow "Settings"
There are different ways to utilize the Helix pillow. It's all about picking how many – if any – support inserts one would like inside the Outer Comfort Shell of the pillow.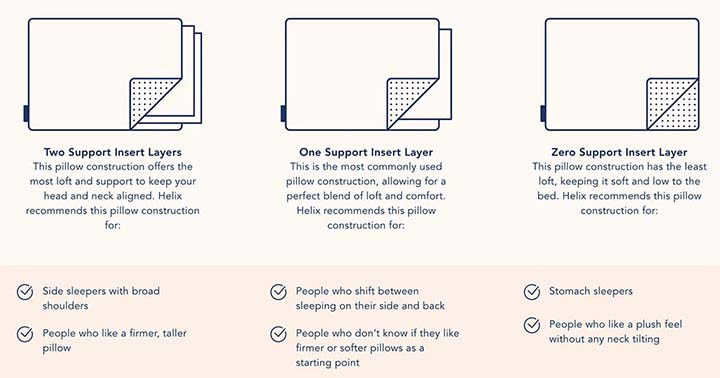 Pros Of The Helix + Helix Cool
Here's what we liked about our experience with both the Helix and the Helix Cool pillows:
Adjustable – can add/remove inserts
Seems to work well for nearly all sleep positions and body types
Cooling option available
Trial period – 100 nights
Cons Of The Helix + Helix Cool
Here are a few things to take into consideration before purchasing the Helix or Helix Cool pillows:
Not machine washable
Not hypoallergenic
Not budget-friendly

Helix:  $85 for Standard; $99 for King
Helix Cool: $115 for Standard; $129 for King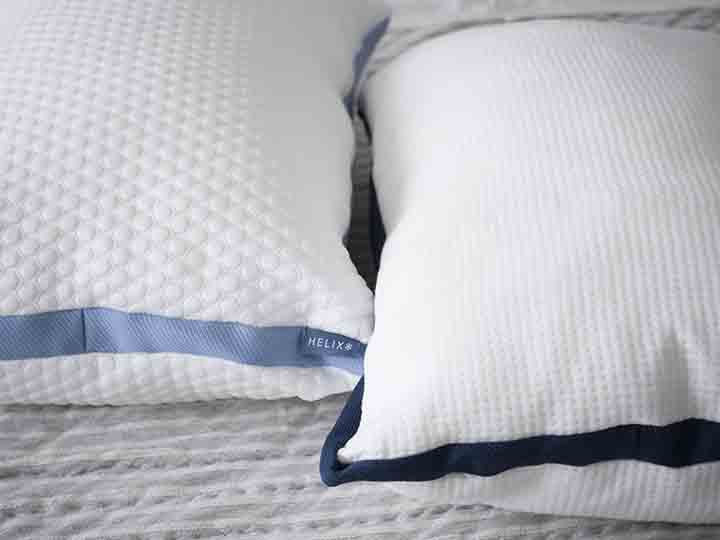 Our Helix + Helix Cool Experience
The Helix pillow – and its cooler counterpart the Helix Cool – really set themselves up to work for just about any sleep type or body type because of the two pillow inserts that you can remove. It makes it simple to determine the loft and overall firmness/feel of the pillow based on your personal preferences.
Helix also has a handy guide on their website that helps the sleeper to decide which Outer Shell/Support Insert combo might be the best for his or her sleep position. Katie, who fully reviewed and personally tested both pillows, primarily sleeps on her side these days, but since she doesn't have broader shoulders and sometimes ends up on her back or stomach, she opted for the Outer Shell + one support insert option.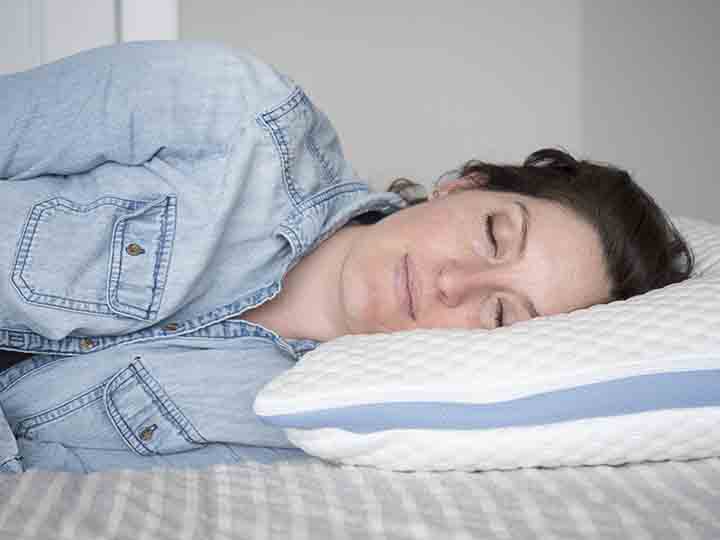 Just the Outer Comfort Shell, no inserts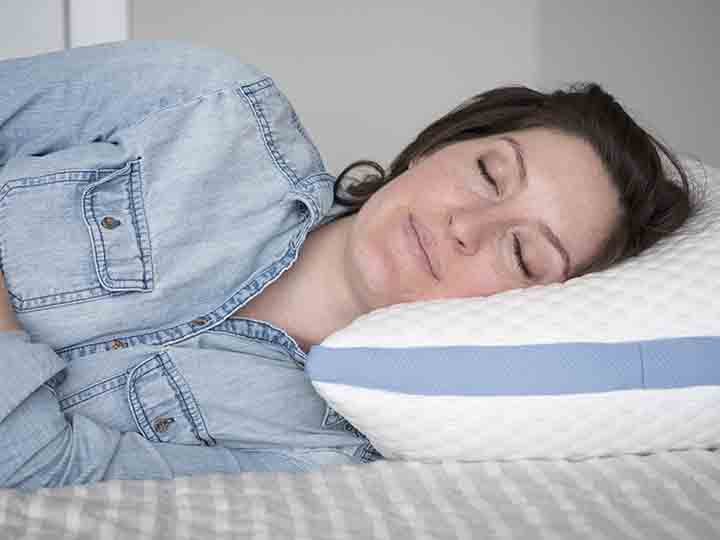 Outer Comfort Shell + one pillow insert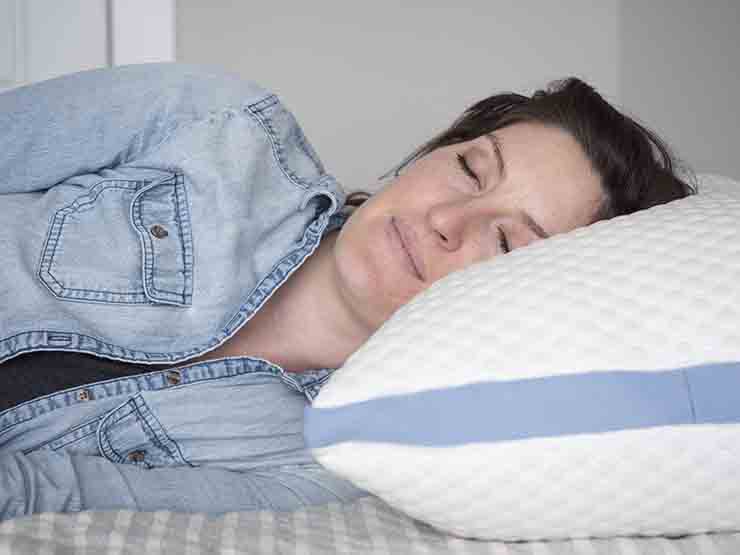 Full pillow: Outer Comfort Shell + two pillow inserts
After looking at the photos, we think just using the Outer Comfort Shell (no inserts) would actually be best for Katie's neck and spine, as it seems to provide her with the most natural alignment.
One thing to notice about the support inserts is that they're not overfilled. In fact, they're not really filled much at all. Since the pillow comes with two inserts, sleepers actually able to make smaller but noticeable increases/decreases in firmness and loft this way.
The pillow is a mix of memory foam and down alternative, so it has a slightly chunky feel but we would say that feeling is muted thanks to the fibers from the down alternative.
We do wish that we could throw the whole thing in the washing machine, but the pillows are spot clean only and can be tossed in the dryer for less than 10 minutes if it feels like it needs to be fluffed.
Company Info
The Helix pillow and its cooling counterpart the Helix Cool are made by an online mattress retailer, Helix Sleep. Helix Sleep is known for making personalized mattresses. They will design an ideal mattress for their customers based on the answers to a Sleep Quiz and other information about the individual.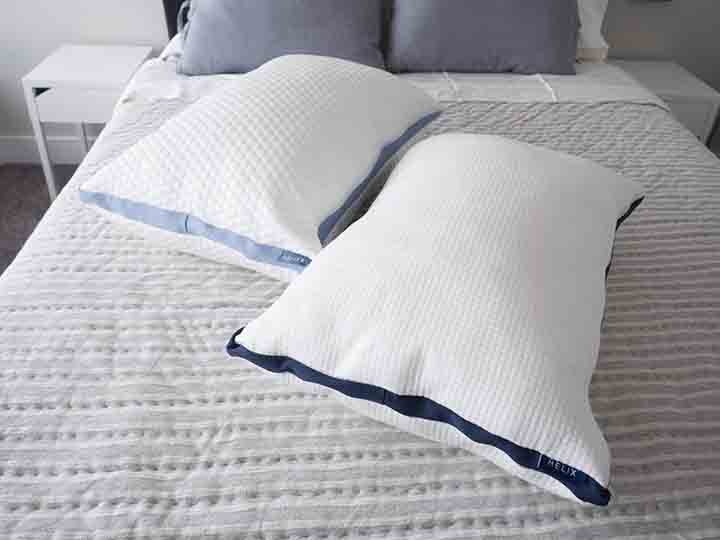 RELATED: Best Mattresses 2022 – Top Brands Reviewed 
Final Thoughts
These pillows offer a little bit of everything – so we do think they will work for the majority of people. They give sleepers the support from memory foam with the cozier feeling from the down alternative. And people can add/remove sections without worrying about messy pieces coming out.
Give about 12-24 hours to let the pillows initially expand and then experiment with the write Outer Shell/Support Insert combo that is the best fit. If it's just not feeling good after several nights, customers have 100-nights to send it back.
FAQs
Let's answer some commonly asked questions about these pillows from Helix.
Which is better, the Helix or the Helix Cool?
There is no "best" pillow for anyone and we would recommend either Helix pillow for those looking for a customizable option with a memory foam feel. That being said, hot sleepers or those who enjoy the feel of a pillow cover that is performance wear-like and cool to the touch should check out the Helix Cool.
How do you clean the Helix Pillow?
While the pillow can be thrown in the dryer to fluff and expand the foam inserts every so often, the only way to clean the pillow is to spot clean with warm water and soap - do not throw the pillow in the washing machine.
Is the Helix Pillow good for side sleepers?
With both inserts included in the pillow, it should absolutely work for most side sleepers. This is the "pillow setting" that's the loftiest and most supportive, which is what side sleepers need in order to maintain a good head, neck and spinal alignment.
Does the Helix Pillow sleep hot?
Neither of the Helix pillows sleeps hot and that's because the chunks of memory foam allow for the promotion of airflow and enhanced breathability.
Katie Golde
Katie manages the day to day operations of the Mattress Clarity news site and reviews sleep products in addition to writing and editing sleep news. She hails from Austin, where she lives with her growing family. She is a Certified Sleep Science Coach and has a master's degree in Journalism from Northwestern University and has a background in health and science content. Her work can be found in print and online publications like Discover Magazine, USA Today and The Huffington Post.