Those who favor shredded memory foam filling and super soft pillow covers will truly love either of these pillows. There are numerous similarities between the Coop Sleep Goods and the Good Life Essentials pillows. However, one major difference stands between them.
So, what is it? Read on for our full Coop Sleep Goods vs Good Life Essentials pillow comparison to find out.
Coop Sleep Goods vs Good Life Essentials Pillow: Video Review
Top Similarities
Shredded memory foam filling (CertiPUR-US Certified Foam)
Covers are Polyester/Rayon from Bamboo blend
Traditional-shaped
Hypoallergenic and dust mite resistant
Designed with all sleepers in mind
Made in the USA
30-day trial periods
Come in Standard, Queen and King sizes
Machine washable and dryer friendly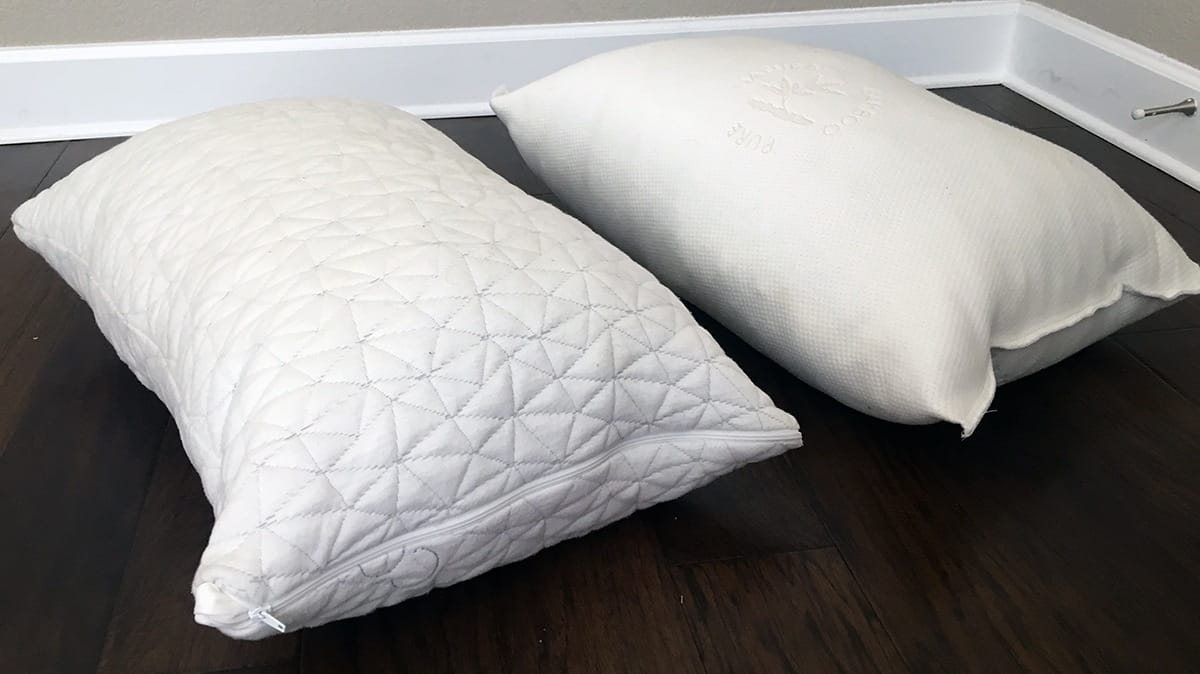 Key Differences
Coop Sleep Goods
The cover is 60% Polyester, 40% Bamboo-Derived Rayon and designed to be breathable
Larger to medium chunks of shredded foam
Access to filling – can remove as much/little as desired
5-year warranty
Price: $55 for Standard, $60 for Queen and $65 for a King (prices may fluctuate)
Check out our full Coop Sleep Goods Adjustable pillow review, here!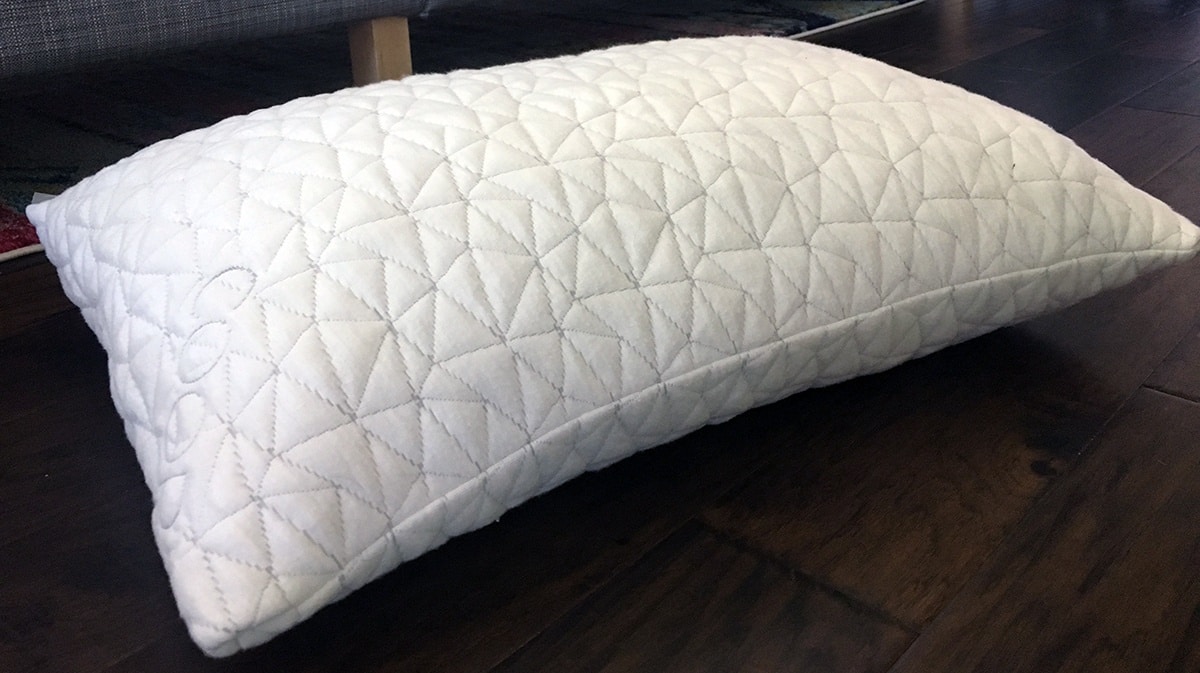 Good Life Essentials
Cover: 50% Bamboo and 50% polyester blend textured cover
Smaller to medium chunks/pieces of shredded foam (based on feel)
Only sold on Amazon
Lifetime warranty
Price: $35 for a Standard, $40 for a Queen, and $45 for a King (prices may fluctuate)
See our full Good Life Essentials pillow review, here!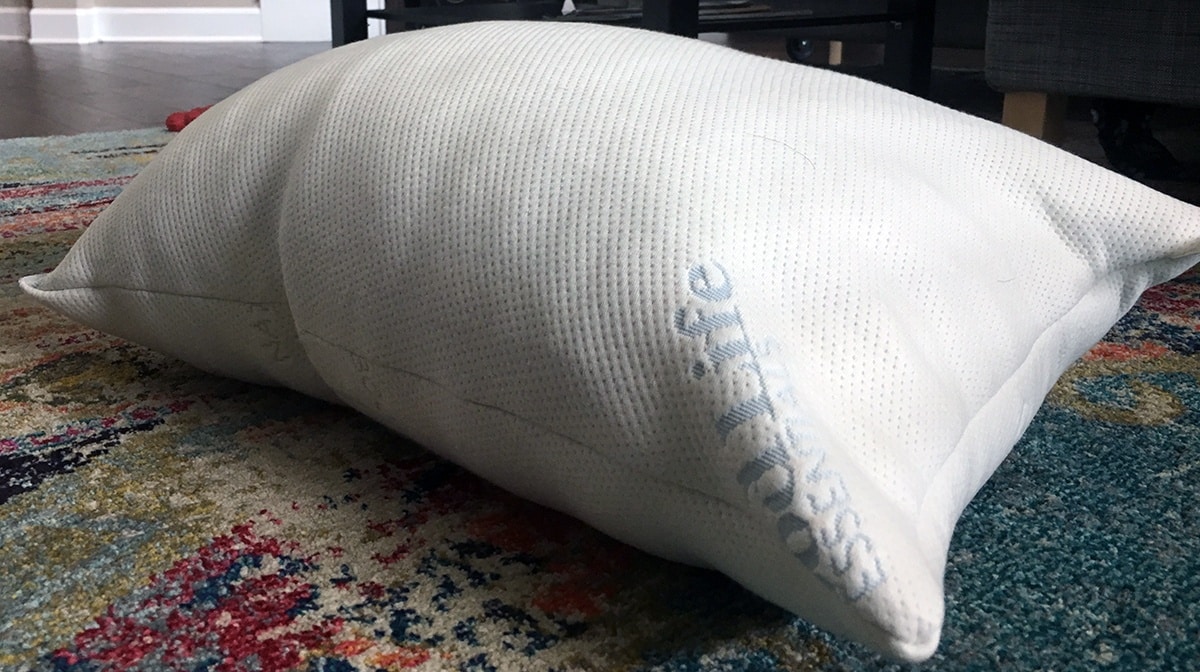 Who Might Choose Coop Sleep Goods…
Larger body types. One initial observation people will probably notice with the Coop Sleep Goods pillow is its large and overstuffed feel. This makes it an excellent choice for individuals who may need a substantial pillow to provide adequate support; typically those with heavier body types or broader shoulders.
Combination sleepers. The major difference in these pillows is that, with Coop Sleep Goods, sleepers can add/remove as much of the filling as they desire. Therefore, it's a good fit for all sleep types – individuals just need to take some time to find the right loft for ideal neck/spine alignment.
10% off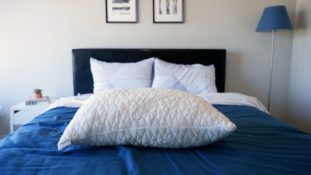 Are you a combination sleeper? Remove as much filling as you like for your best night's sleep. Click the button below to unlock 10% Off a Coop Home Goods pillow!
Who Might Choose Good Life Essentials…
Side sleepers. The pillow has a 6″ height profile, which may create too much of an angle for the neck if a person is trying to sleep on his or her side or stomach. The pillow will flatten out over time but the chunks of foam provide enough support to make it a good fit for side sleepers over other positions.
Those on a limited budget. Although the pillows aren't drastically different in price, the Good Life Essentials pillow is a little less expensive, around $20 less for a Queen than the Coop Sleep Goods pillow.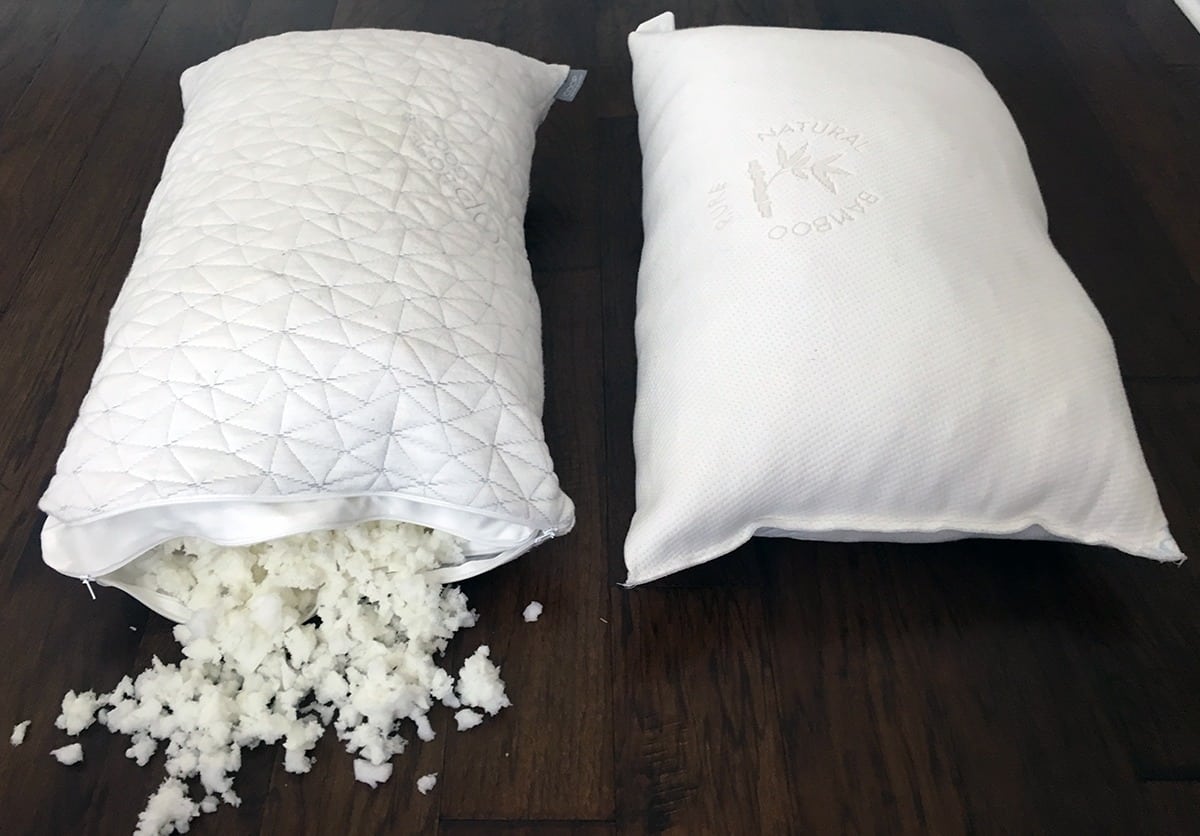 Who Could Go with Either…
Those who don't mind a little maintenance. Based on my experience, both pillows will lose a little bit of their loft/start to fall flat after several nights of sleep. It can be easily remedied by throwing each pillow in the dryer for 15 minutes and letting the foam filling expand. Sleepers probably need to consider doing this at least once a week with either pillow to help it maintain its full shape.
Sleepers who enjoy fabric made of bamboo (or rayon from bamboo). While they have different textures, both pillow covers are a soft combination of rayon/viscose from Bamboo and polyester. This also helps promote breathability within the pillow.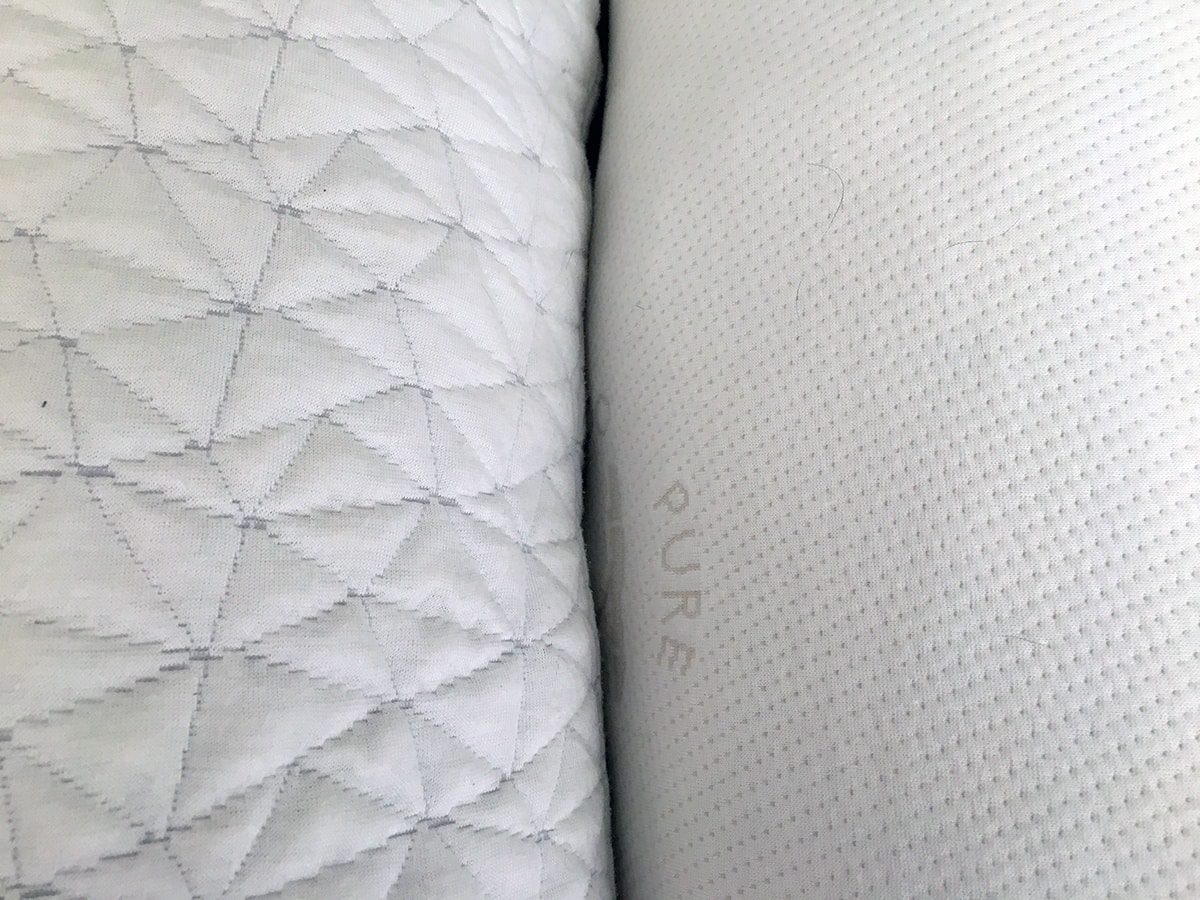 Overall
Starting with their unique bamboo/polyester blend covers to their shredded foam cores, these two pillows truly share a lot of common features. The biggest difference is that the Coop Sleep Goods pillow is an adjustable shredded pillow. This means sleepers can take out (or add back in) as much of the filling as they'd like. And it comes overstuffed. This makes it a great pillow for larger framed individuals (when completely full) but would really work for any sleep positions since the person can decide how much filling is inside his or her pillow.
Based on my experience, the fullness of the Good Life Essentials pillow lends itself to side sleeping with its higher profile and support from the chunks of foam.
They both come with 30 -day trial periods and are reasonably priced (with Good Life Essentials being slightly more affordable).
Katie Golde
Katie previously managed the day to day operations of the Mattress Clarity news site and reviews sleep products in addition to writing and editing sleep news. She hails from Austin, where she lives with her growing family. She is a Certified Sleep Science Coach and has a master's degree in Journalism from Northwestern University and has a background in health and science content. Her work can be found in print and online publications like Discover Magazine, USA Today and The Huffington Post.