Editor's Note: The Good Life Essentials Shredded Memory foam pillow is no longer available. Be sure to check out our list of the best memory foam pillows for more options!
Good Life Essential's shredded memory foam pillow with bamboo cover is a soft, breathable, and great for those who like shredded foam filling. Fresh out the dryer, it can be a great fit for those who prefer a firmer pillow. It may not be the perfect fit for everyone, though. Read on for my full review.
Key Features
Comes in sizes: Standard, Queen and King (reviewed Queen)
Made in the USA
Filling: 100% Polyurethane Shredded Foam
CertiPUR-US Certified Foam
Cover: 50% Bamboo and 50% polyester blend textured cover
Shredded memory foam is designed to be molded to one's desired comfort
Hypoallergenic and dust mite resistant
Only sold on Amazon
Machine washable and dryer friendly
30-day trial
Lifetime warranty
Care: Cold gentle wash and low tumble dry; make sure pillow is completely dry before using
Who Makes It?
The shredded memory foam pillow seems to be the only product made by Good Life Essentials. Their website is pretty bare-bones and only features their pillow in three sizes. On Facebook, they say they're a Home Decor company but provide little information aside from that.
The pillow is only sold on Amazon.
Pillow Construction
My review is for the Queen size pillow and all three sizes (Standard, Queen, and King) come in a traditional pillow shape. The dimensions of the Queen are 17 x 6 x 6 inches and the pillow weighs a little more than 3lbs.
The outer fabric cover is 50% bamboo fabric (most likely bamboo- derived rayon or viscose) and 50% polyester. The outer cover is not removable but the entire pillow can be machine washed and dried.
The filling is made from shredded memory foam pieces (100% polyurethane foam) that are made with CertiPUR-US Certified foam. It's hard to tell the size and feel of the foam without cutting the pillow open, but they seem to be a good range of larger to smaller pieces.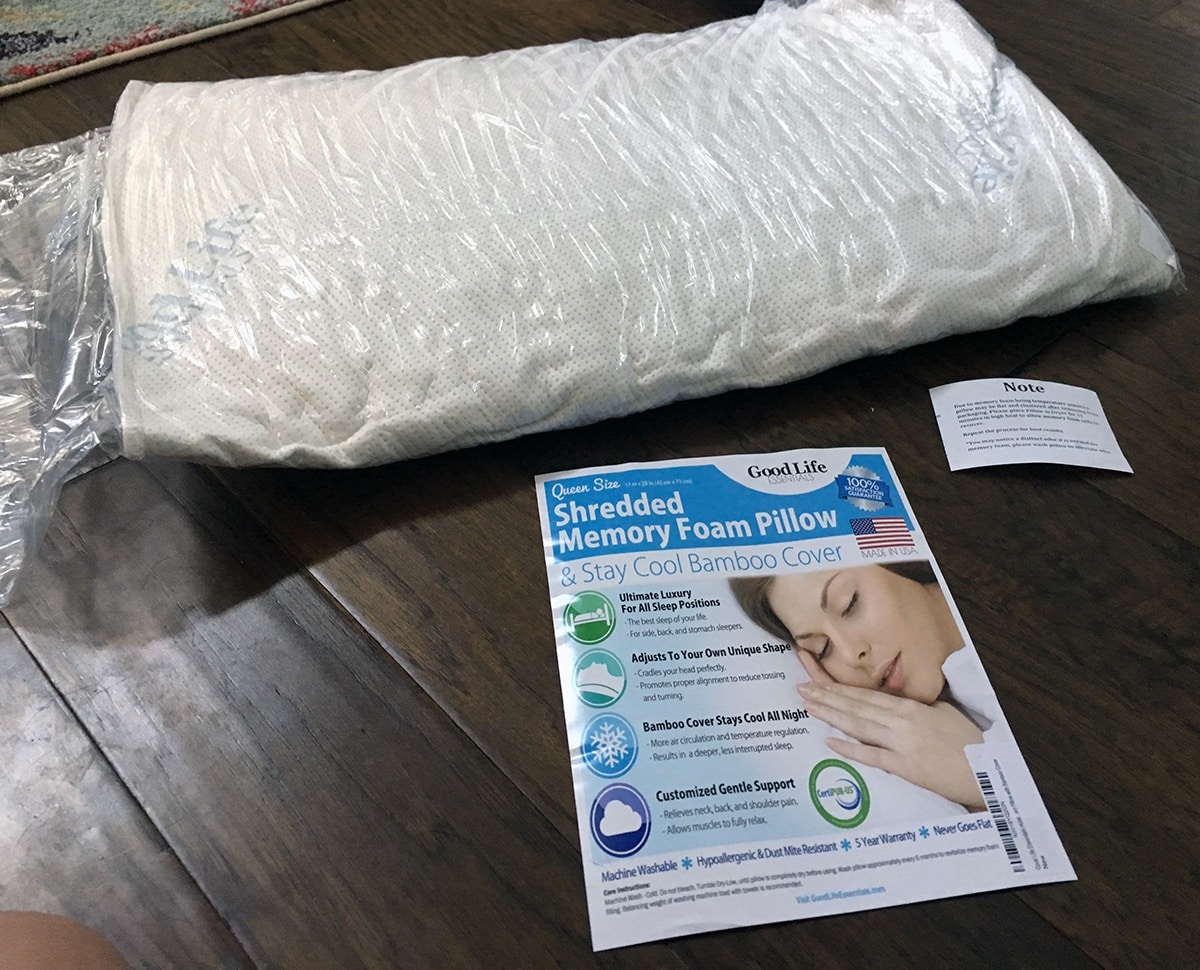 Pros
Soft bamboo cover
Machine washable and dryer friendly
Good initial support for side and back sleepers
30- Day trial
Lifetime warranty
Hypoallergenic and dust mite resistant
Cons
Starts to lose loft/become flattened after a few night's sleep
Filling moves and creates space/gap in pillow for one's head
May need to consistently throw in the dryer to reinvigorate
Long time to dry – nearly 2 hours in 20-minute increments
My Experience
The pillow arrived vacuum sealed and rolled up for efficient and eco-friendly shipping (fewer materials needed). It was easy to unwrap and came with several sets of instructions.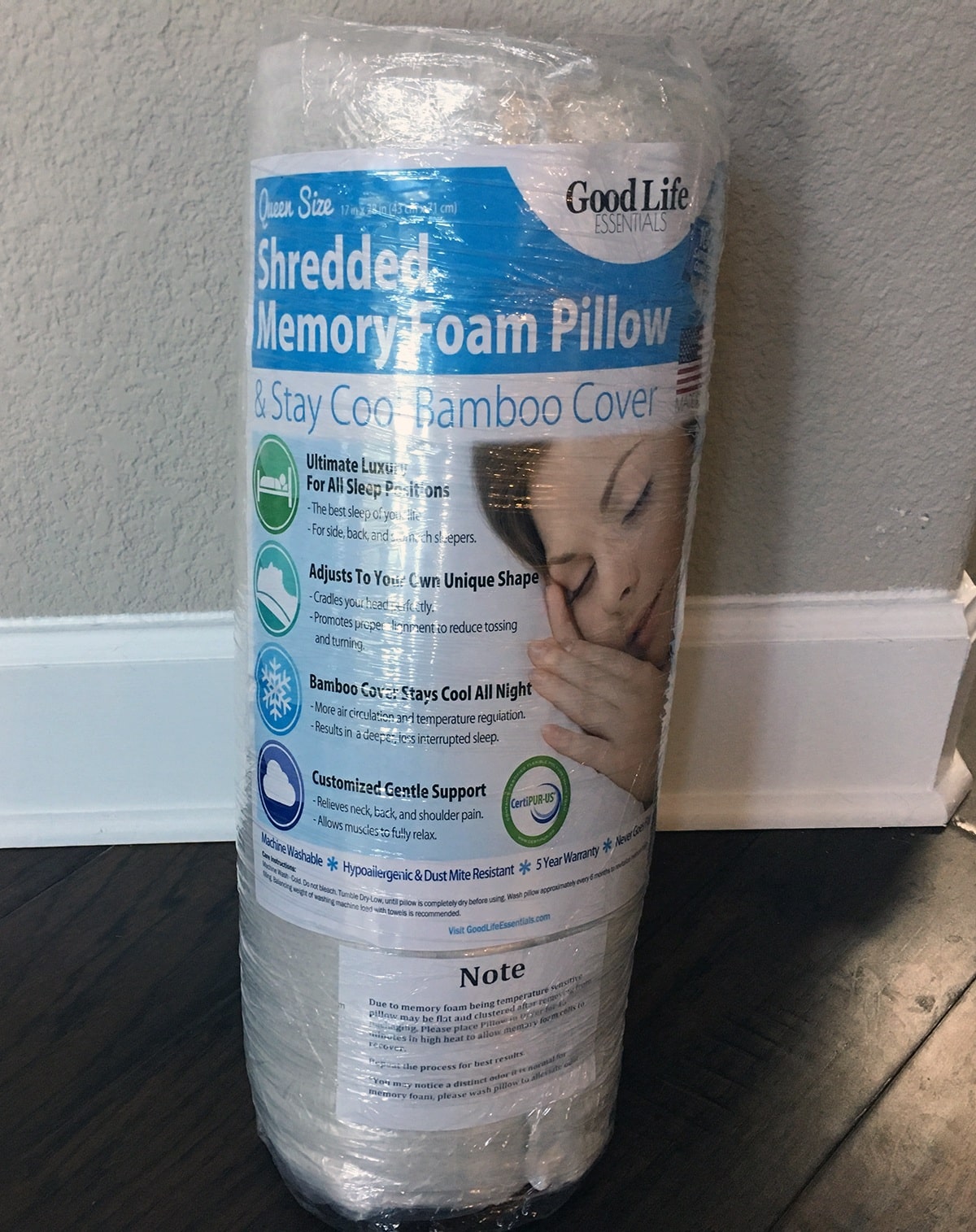 The pillow arrives flat and clustered after being vacuum-sealed, so Good Life Essentials suggests customers throw the pillow in the dryer for 15 minutes on a high heat setting to "allow memory foam cells to recover."
Once the pillow has been reinvigorated, customers will be able to tell that it is fully stuffed. The pieces of shredded memory foam made it feel slightly lumpier to me than a down pillow or a pillow with smaller filling, but the thicker outer fabric made it less noticeable.
The pillow is machine washable and dryer friendly so I wanted to test that out. They suggest balancing the weight of the pillow with towels in the washer and dryer. I followed the instructions by doing a cold load (on gentle) and the pillow came out now worse for the wear.
The care instructions recommend starting drying it on a low setting (this is often the case for products made with bamboo). I started off low and after an hour it still wasn't dry and I moved it to a warmer setting it and it took another hour for it to dry completely.
I really like that individuals can completely wash and dry this pillow but a two hour-long dry cycle is pretty much the max amount of time I want to have anything in the dryer. This lengthy drying time seems to be indicative of shredded memory foam pillows, as I had a similar experience with my Snuggle-Pedic pillow.
The pillow is designed for all sleep positions and is supposed to relieve neck, back, and shoulder pain while allowing muscles to fully relax.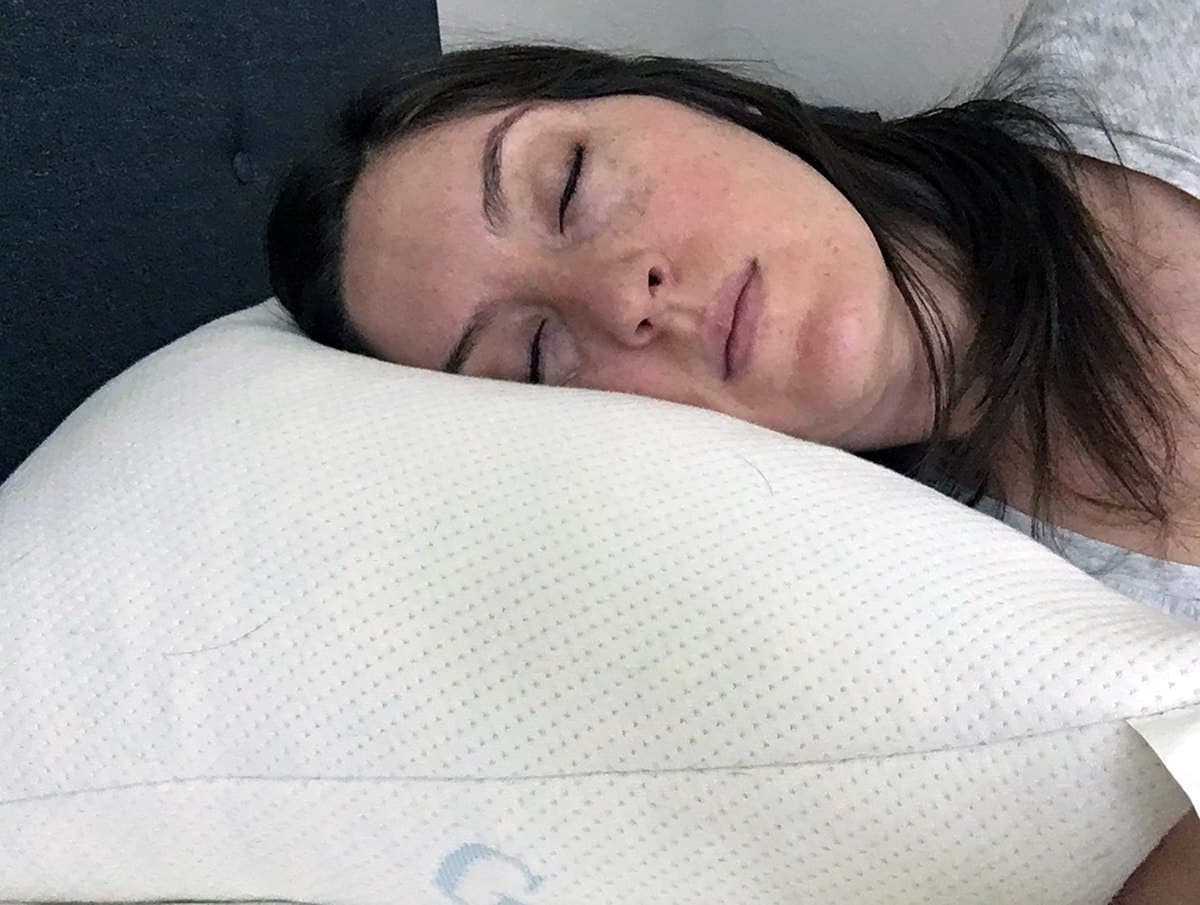 Even though the pillow feels full after being dried, sleepers will find that resting their head on the pillow will allow it to sink down, and one's spine and neck alignment becomes more neutral. As a side sleeper who prefers a firmer pillow, I liked the firmness level at this point.
Other customers mentioned this, and I have to agree, after a few days, my head and neck started to carve out a little space in the pillow and become uneven and flatter in certain areas.
After three nights sleeping on the pillow it had noticeably flattened out and there was an indent where my head was.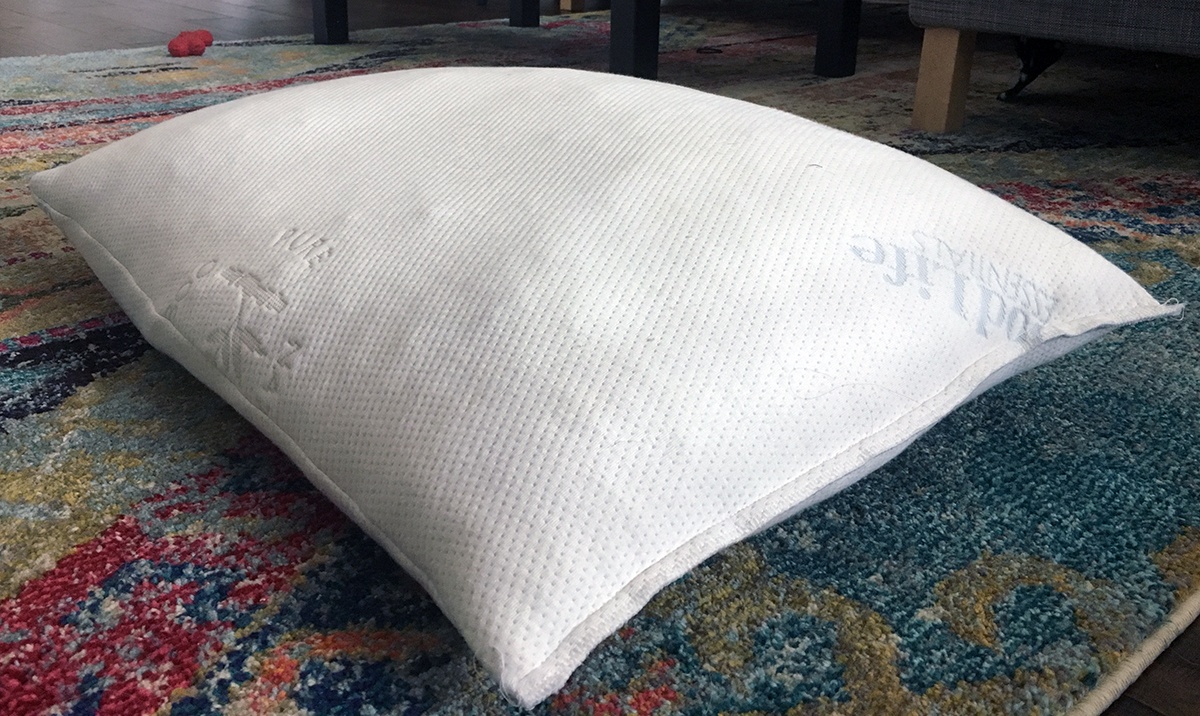 I put it back in the dryer on high heat for 15 minutes and it fluffed back up to its original loft. Once it cooled off from the dryer it lost a little height but was still noticeably larger than before I put it in.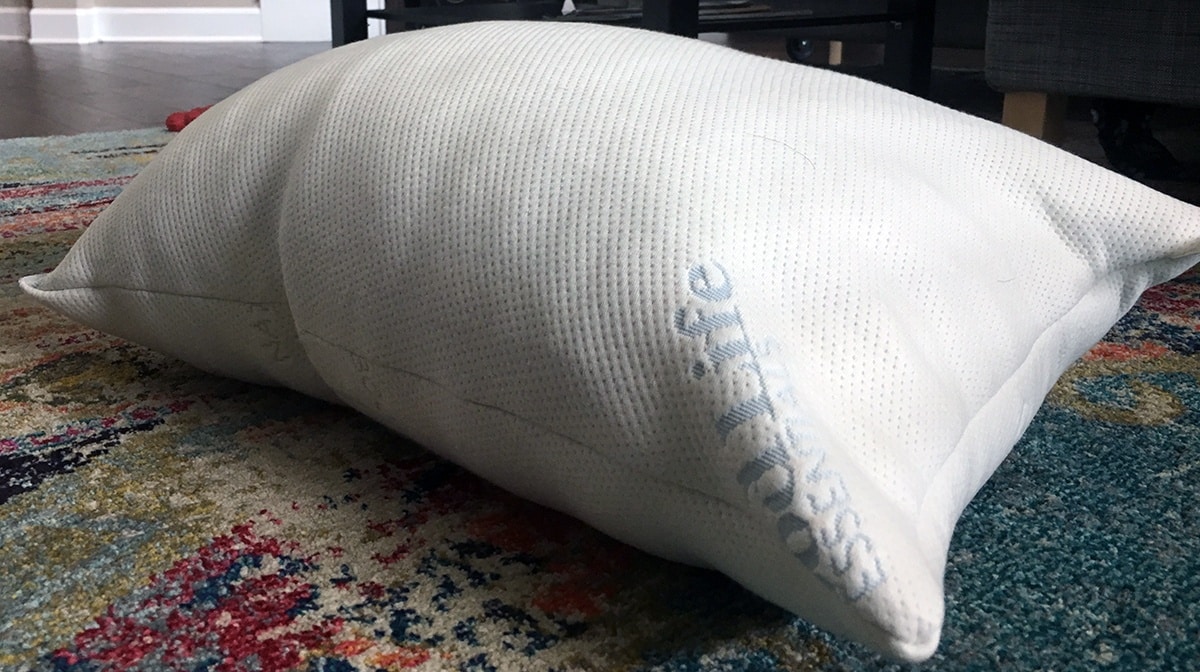 Final Recommendation
There are plenty of aspects of the Good Life Essentials shredded memory foam pillow to like. It's got a soft and breathable cover, a good amount of shredded memory foam filling and is easy to care for.
Fresh out of the dryer the pillow has a wonderful loft, one's head sinks in and those who prefer a medium to a medium-firm pillow (like me) may like the level of support it provides.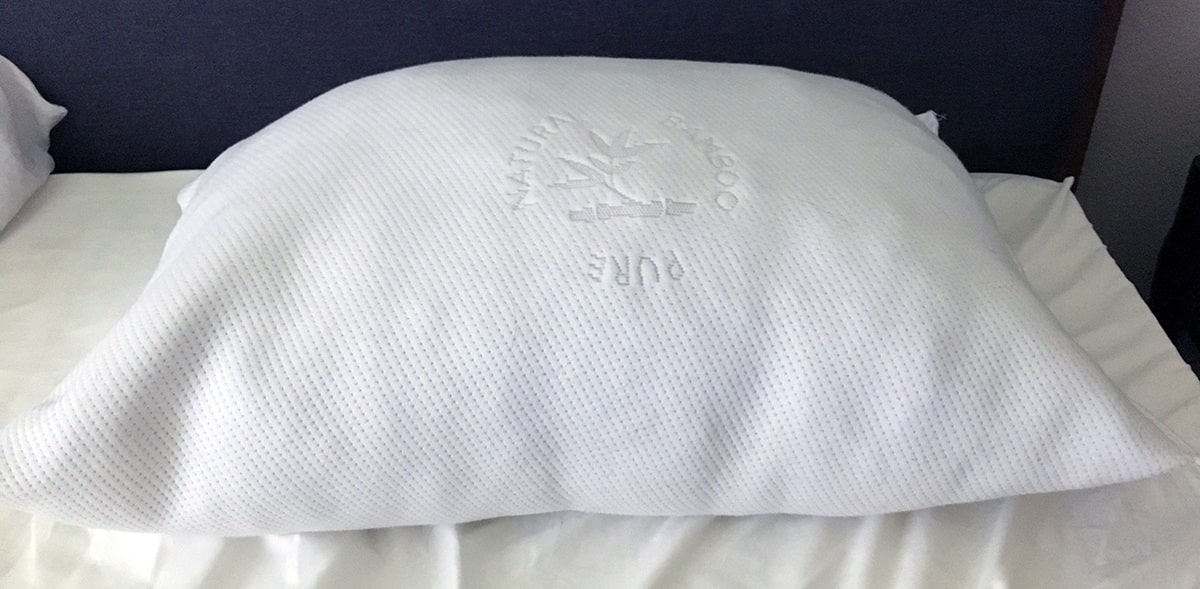 Good Life Essentials says the pillow is designed to never go flat, however, after a few night's sleep the pillow becomes noticeably flatter and the foam becomes less responsive.
Those who don't mind tossing their pillow in the dryer every few days may enjoy the support and feel of the pieces of shredded memory foam inside the pillow.
There is a 30-day trial period so those who are interested in trying it and seeing how it feels for them after a few nights.
Katie Golde
Katie previously managed the day to day operations of the Mattress Clarity news site and reviews sleep products in addition to writing and editing sleep news. She hails from Austin, where she lives with her growing family. She is a Certified Sleep Science Coach and has a master's degree in Journalism from Northwestern University and has a background in health and science content. Her work can be found in print and online publications like Discover Magazine, USA Today and The Huffington Post.