Canvas or performance fabric? Foam or buckwheat hulls? What exactly is a buckwheat hull and what makes it ideal for a pillow filling?
These are just some of the numerous questions that come up as we compare the ComfySleep Buckwheat pillow and the Bear pillow respectively. A single glance tells us their covers differ, and we can assume that hybrid foam and buckwheat hulls result in different overall feels.
So, do these pillows share anything in common? For the inquisitive, there is at least one factor that unites these pillows. To discover what that is, watch my in-depth video or keep reading for my full written ComfySleep Buckwheat vs Bear Pillow comparison below!
ComfySleep Buckwheat vs Bear Pillow: Video Overview
Top Similarities
Each comes in at least two different size options
Hypoallergenic
Made in the USA
Could be a good fit for back and side sleepers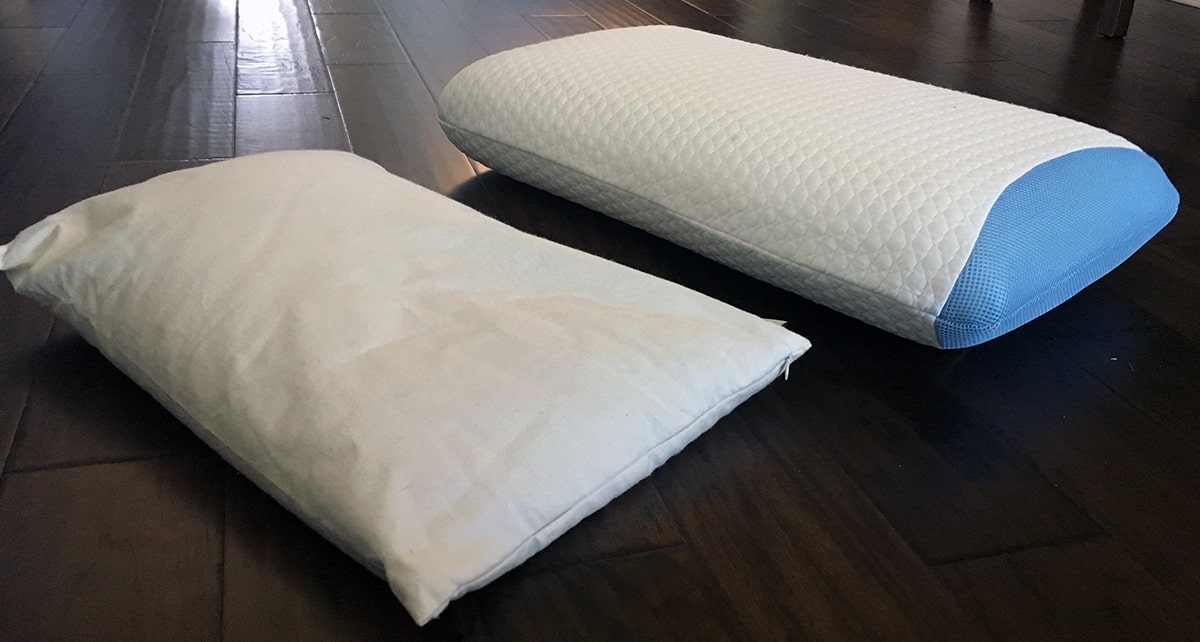 Key Differences
ComfySleep
Measures 15″ x 21″, weighs 4 lbs + 1 lb extra buckwheat to customize one's pillow

Other sizes: 15" x 23", 15" x 26", 20" x 26"

Filled with USA-grown buckwheat hulls that are cleaned without chemicals or fumigants
Made with durable organic cotton twill grown and woven in the USA, with invisible zipper
Care: Avoid placing the buckwheat pillows directly into the washing machine. However, the cotton pillow cover can be washed and buckwheat hulls can be set in the sun to dry if needed. Detailed instructions on how to remove the buckwheat hulls and wash and dry the pillowcase are provided at the ComfyComfy website.
30-day return policy
Price: $68 (15″ x 21″)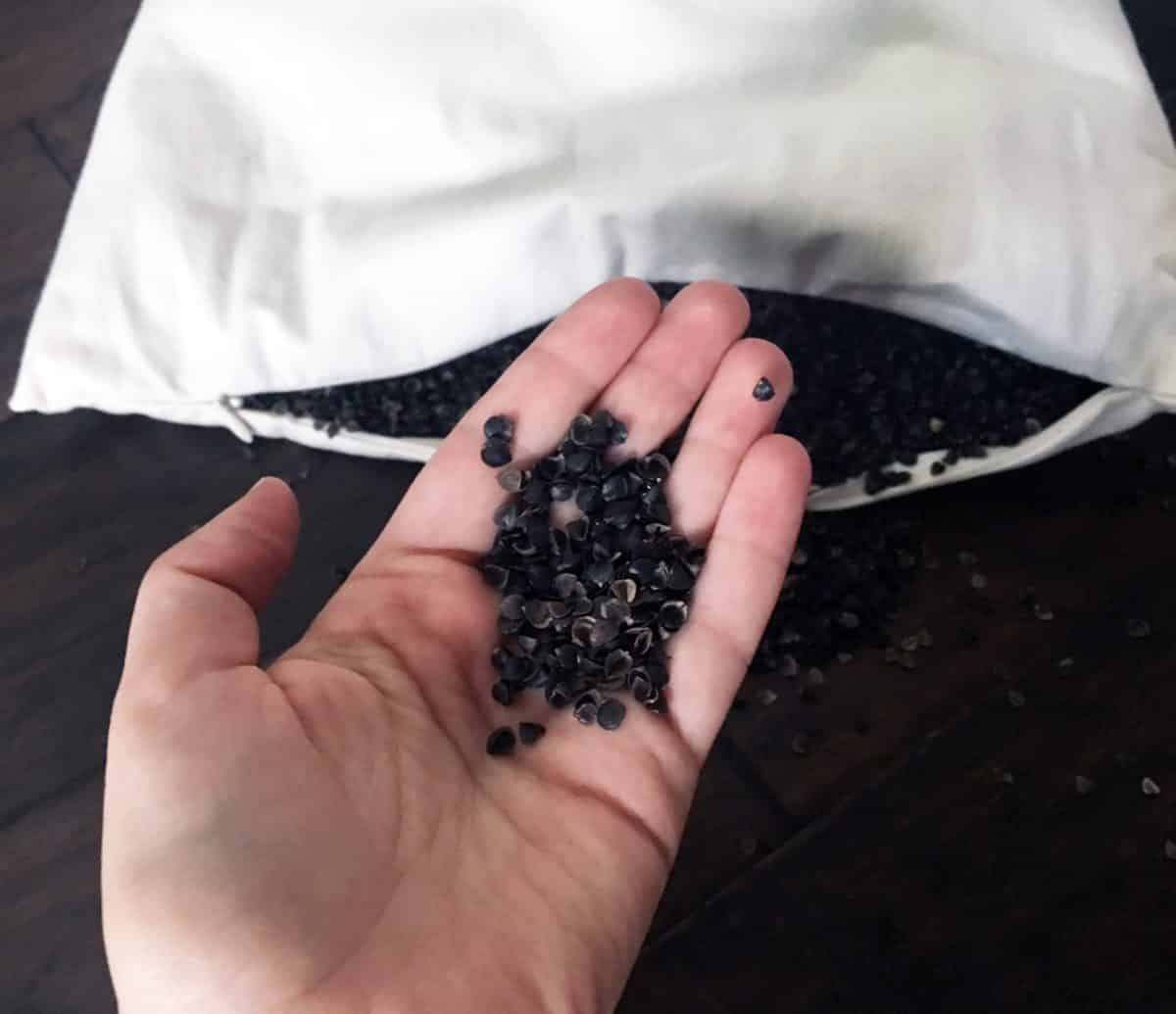 Read our full ComfySleep Buckwheat pillow review, here.
Bear
Shape: Traditional
Cover: Double Ice Fabric; an innovative fabric that feels cool to the touch. It's made up of 40% "cool yarn" and 60% polyester
The core is made with LOFT-X FOAM, a hybrid foam that combines memory foam and latex foam to contour to the spine and neck (100% polyurethane)
Dual mesh side panels for continuous airflow throughout one's sleep
Only available in Queen and King size
The cover is removable and machine washable and dryer friendly
Two-year warranty and 100 night trial (from the time the individual receives the pillow)
Price: $95 (Queen)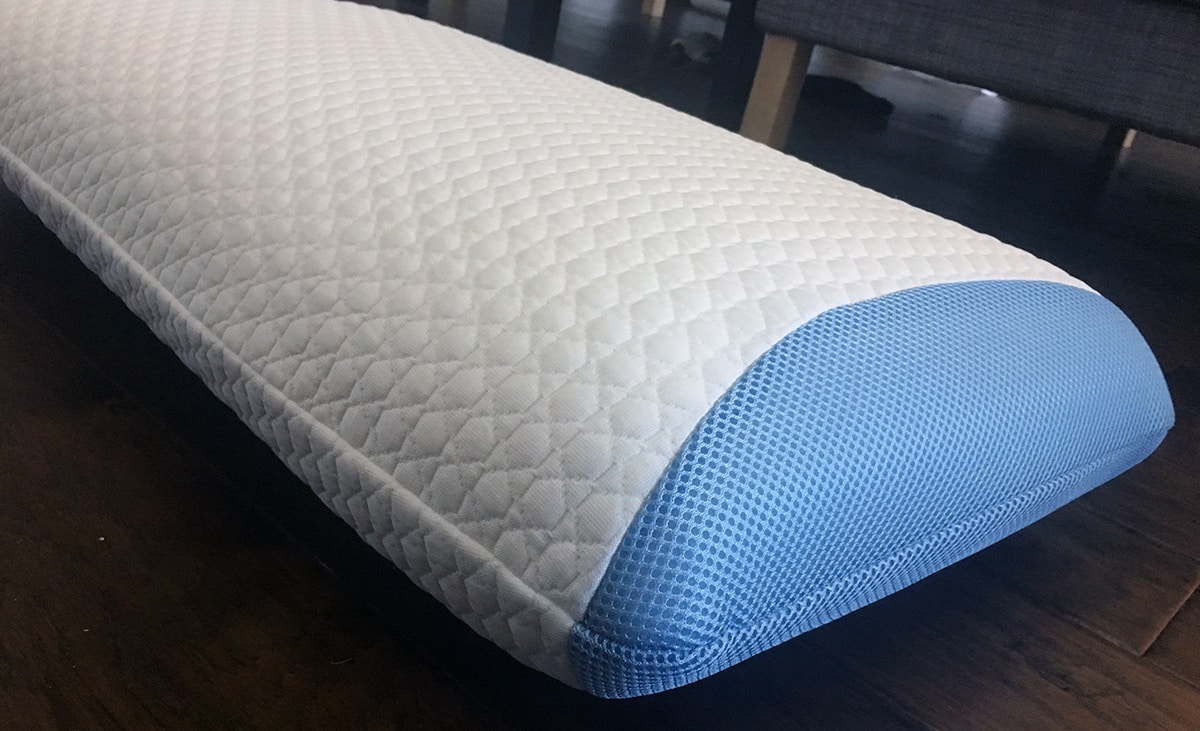 Read our full Bear pillow review, here.
Who Might Choose…
ComfySleep
Those who are environmentally focused. Buckwheat pillows aren't a rare sighting but they haven't gained the same traction and popularity as down, down alternative or foam pillows. They're a more noticeable sight in the world of non-toxic and eco-friendly bedding. That's because harvested buckwheat hulls are organic and pesticide-free; the canvas cover is also 100% cotton twill grown in the USA. Potential customers who favor sustainable materials and prefer to lessen their exposure to toxicity should consider this pillow.
Sleepers who desire an adjustable pillow. Individuals can add or remove as many buckwheat hulls as desired from the pillow (be warned: they are tiny and it can get messy). The pillow also comes with an additional 1-lb bag of hulls that I think larger body types or side sleepers may want to use for enhanced loft and support.
Combination sleepers. The filling within the ComfySleep Buckwheat pillow is simple to adjust and manipulate. Hulls can be added or removed depending on a sleeper's primary sleep position and how much loft or support is needed.
Bear
Hot sleepers. The Bear pillow is designed to breathe, promote airflow and keep sleepers cool at night. It offers ventilated LOFT-X foam, a hybrid of latex foam and memory foam, and Double Ice Fabric on the cover that feels cool to the touch. This combination of strategic design and cooling technology is ideal for hot sleepers who are finding cool sleep challenging with other pillows.
Back or side sleepers. The solid foam filling of the pillow won't go flat or change shape. Due to the nature of the molded foam, the pillow may be too tall and supportive for stomach sleepers and is most likely a better fit for side or back sleepers.
Those who want a pillow that's easy to care for. To keep the pillow clean all one must do is wash and dry the cover (and spot clean the foam, if necessary). The LOFT-X foam won't lose its shape or go flat, so there is no need to throw it in the dryer to fluff it.
Either
Back or side sleepers. Here's the deal: Back and side sleepers need the particular height and firmness that both pillows can provide. The ComfySleep is extremely versatile with its hull filling that it can work for stomach sleepers, as well.
Those who have a decent budget. For a comparable size, these two pillows are similarly priced. The Standard sized ComfySleep pillow is $98 while the Bear pillow in a Queen size is $95. Potential customers will find both offered in multiple sizes at differing price points. However, for a pillow that fits most pillowcases, shoppers should expect to pay just under $100 for either option.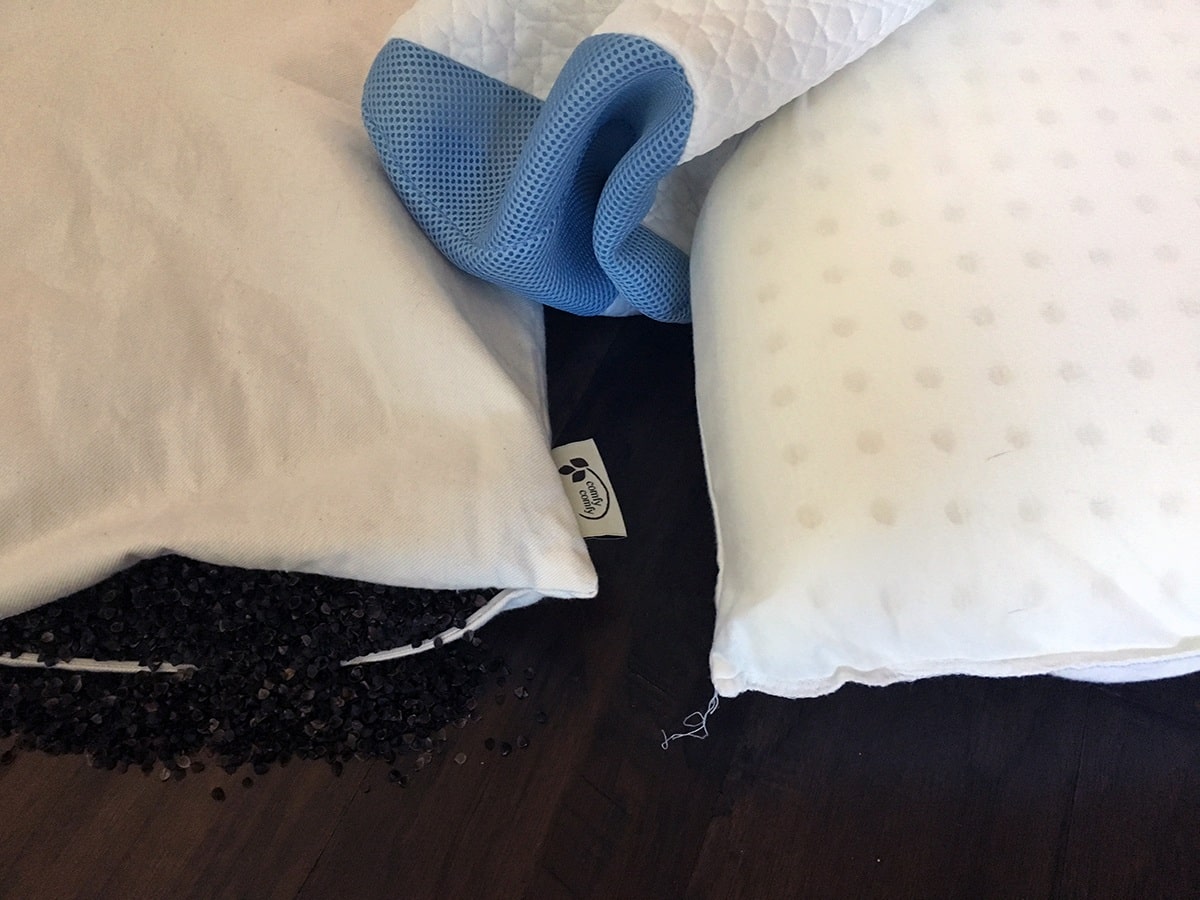 Related: Best pillows for side sleepers
Overall
Without question, both pillows will appeal to all sleepers when it comes to innovation and design. What separates them is who they are a good fit for based on one's primary sleep position (what position a person most often wakes up in). With that in mind, people who prefer something eco-friendly, are curious about buckwheat pillows and desire a pillow that's easy to adust, may want to consider the ComfySleep. It also comes in a variety of different sizes and has a 30- day return policy.
Meanwhile, those who prefer the feel of a latex-like foam, and prefer a pillow whose core won't change shape, all while feeling cool to the touch should consider the Bear pillow. The pillow also comes with a 90-day trial period and a 2-year warranty.