Editor's Note: The Comfy Commuter pillow is no longer available. For more options, be sure to check out our best travel pillows list.
There are several design features in the Original Travel Pillow from Comfy Commuter that set it apart from standard neck pillows. A chin strap, slip-resistant backing, and a flat back design are just a few features. But is it worth the price? Read on for my full review.
Comfy Commuter Original Travel Pillow Video Review
Key Features
8 x 8 x 6 inches
8.8 ounces
100% polyester side material
85% polyester & 15% cotton filling
Attached compression bag
Adjustable chin strap
Side pocket for small items
Slip-resistant backing
Flat-back head support to keep the head from falling forward
Made in USA
Five colors available
Care: machine wash cold, gentle cycle; tumble dry low
Who Makes It?
The travel pillow was created by Ana Rojas and Linda Hernandez, the mother-daughter team behind Comfy Commuter. They even purchased a real airline seat to test their product.
Comfy Commuter makes other travel products including a travel cape and blanket, sleep mask, and a comfy basics pillow.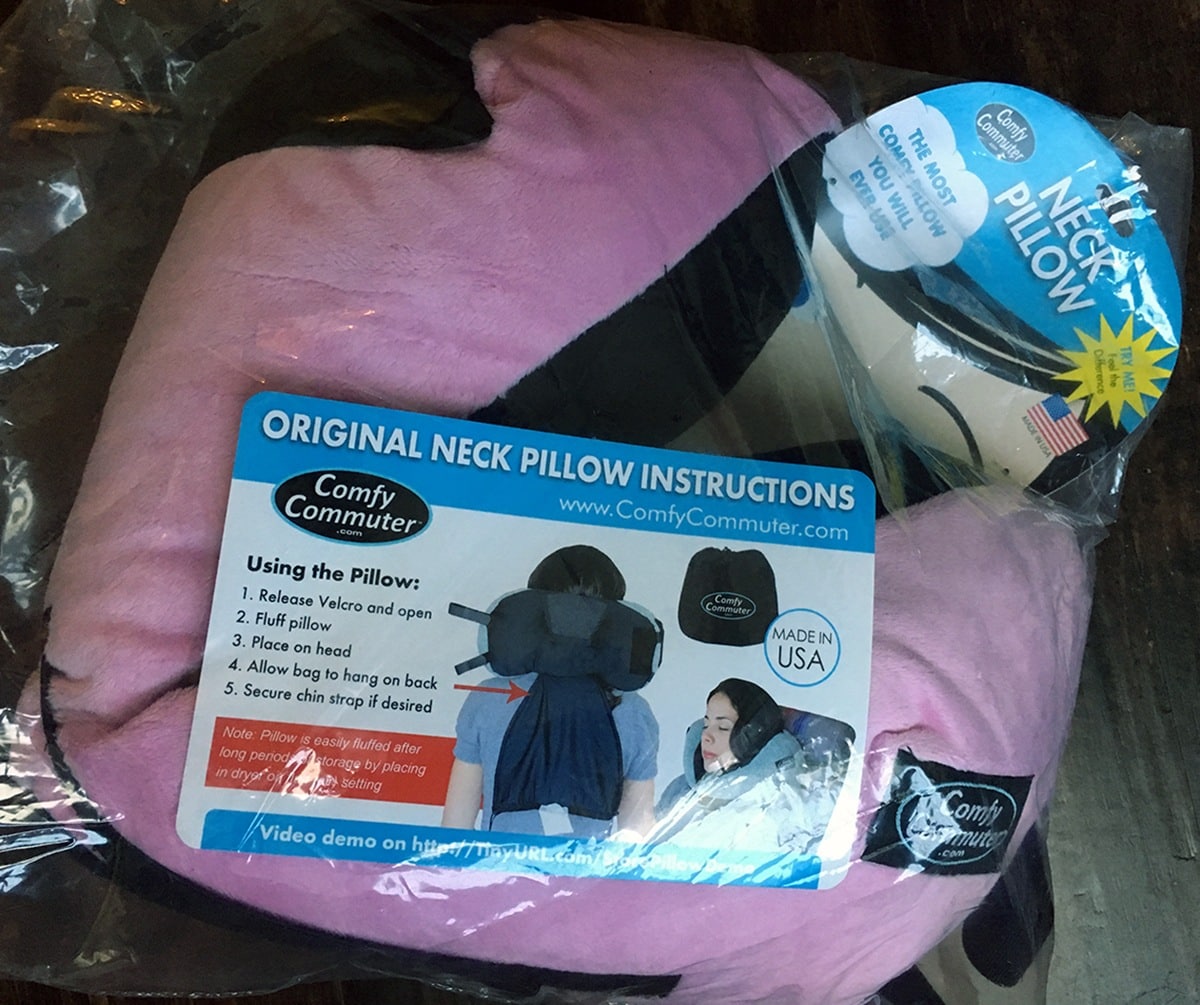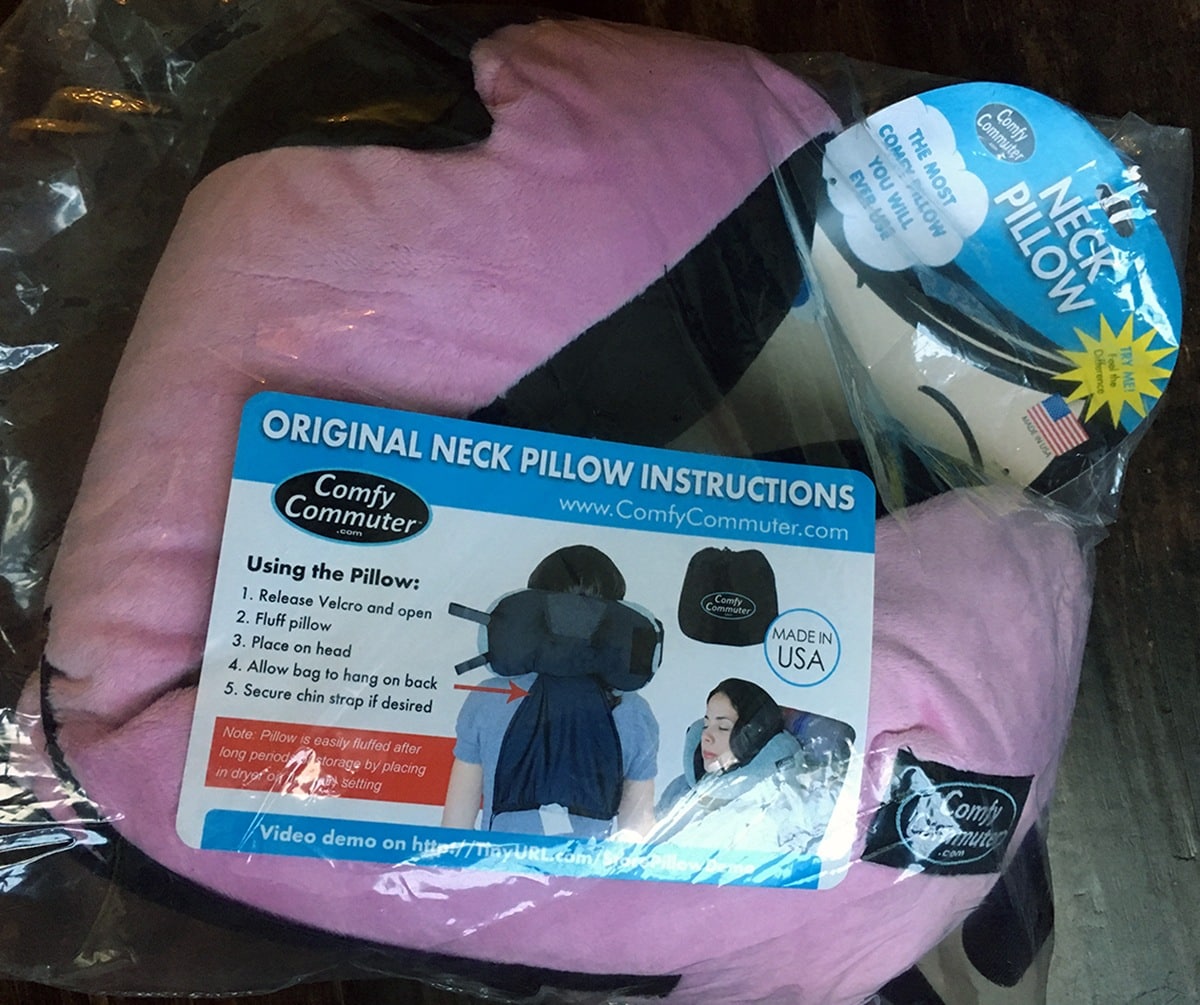 See the Comfy Commuter on my best travel pillows comparison page.
Pros
Adjustable chin strap allows for customized neck support
Raised sides add additional neck support
The flat back won't push the head forward in a high-backed seat
Machine washable and dryer friendly
Can be compacted for easier travel
Cons
Bulky for a carry-on or to juggle while traveling
Heat generating
Will most likely interfere with larger headphones
Harder to put into travel bag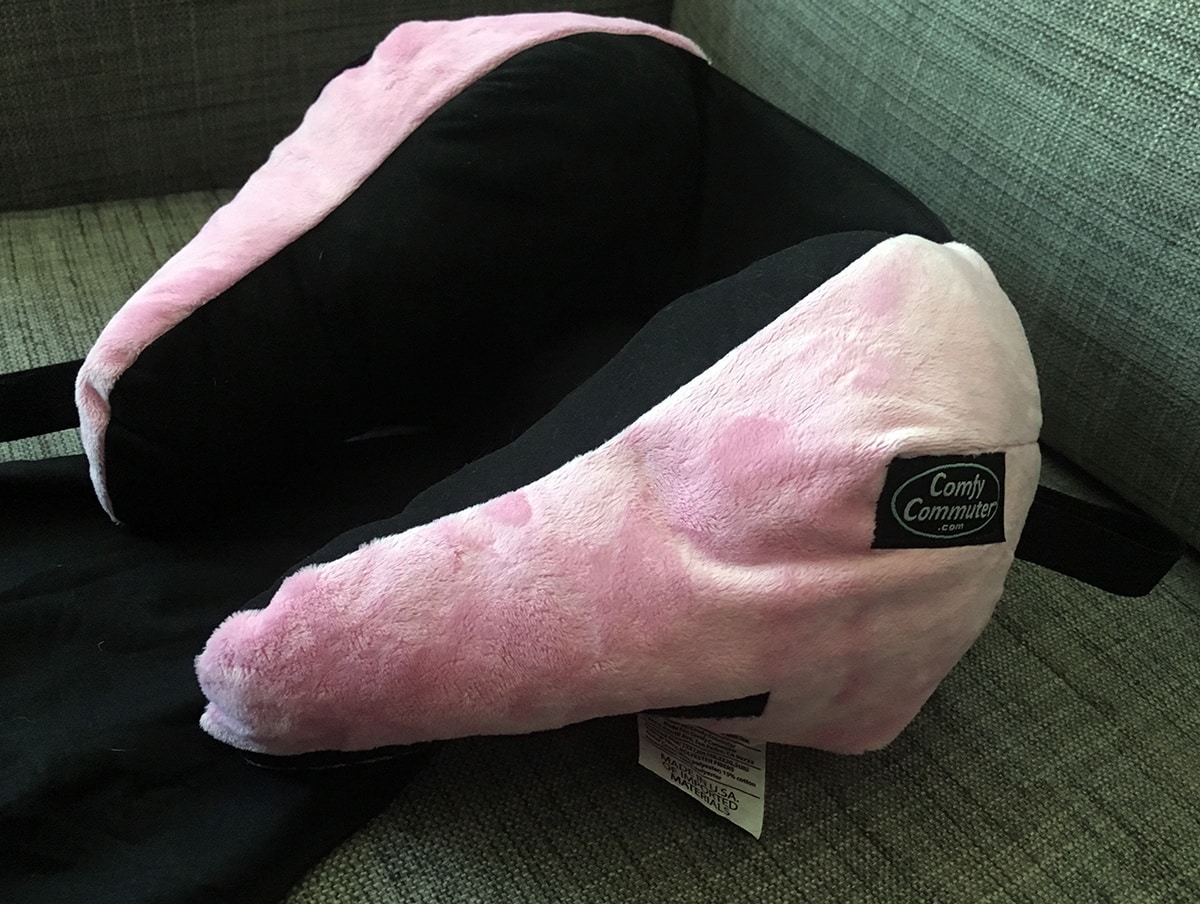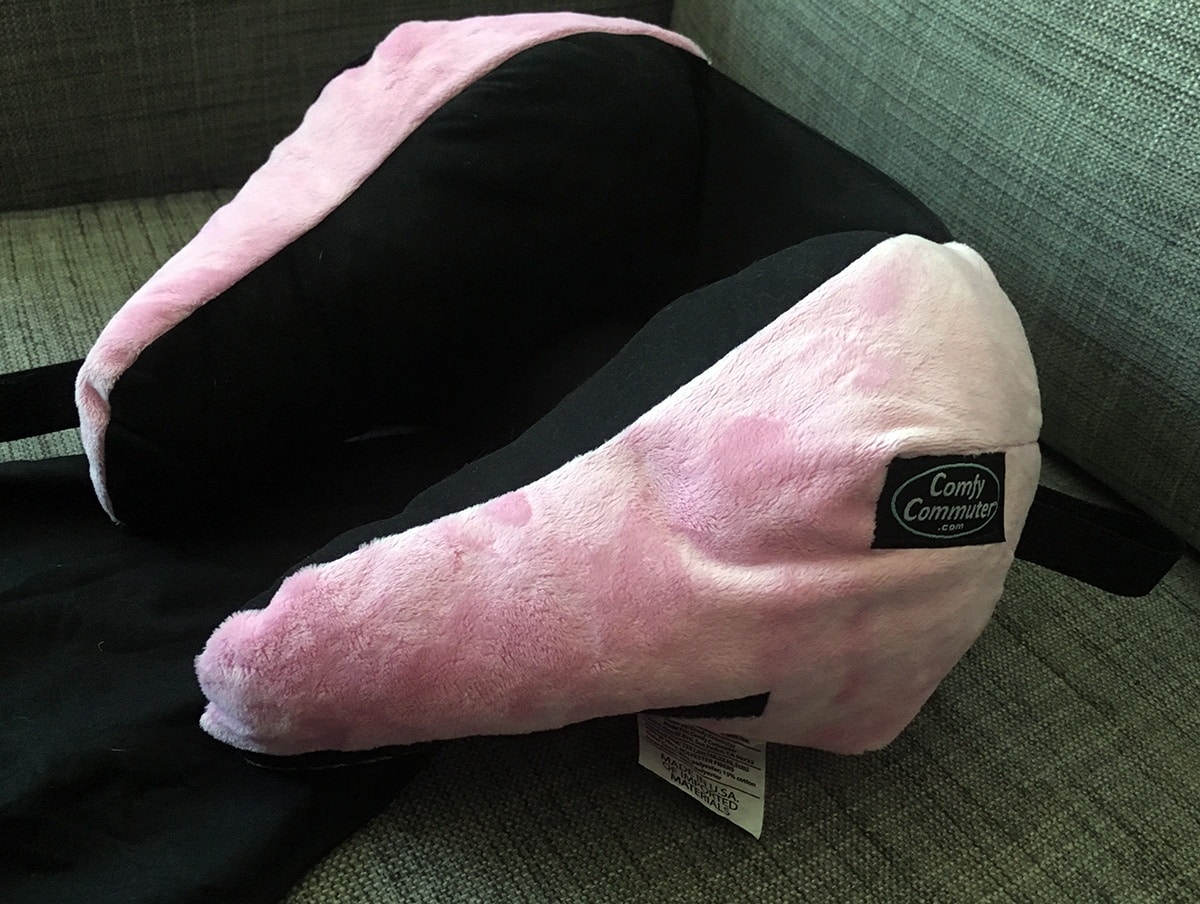 My Experience
The Comfy Commuter Original Travel Pillow initially reminded me of the Cabeau Evolution Pillow because they both offer the ability to connect and adjust the end of the neck pillow for added neck support and both provide a little pocket to put your phone or other items.
The Comfy Commuter pillow has some additional details that set it apart from other travel neck pillows, including the Evolution pillow. One of the biggest design perks of the pillow is the flat back with non-slip fabric. This allows you to sit in a high-backed chair (like on a plane or train) and not have your head or neck pushed forward but additional material.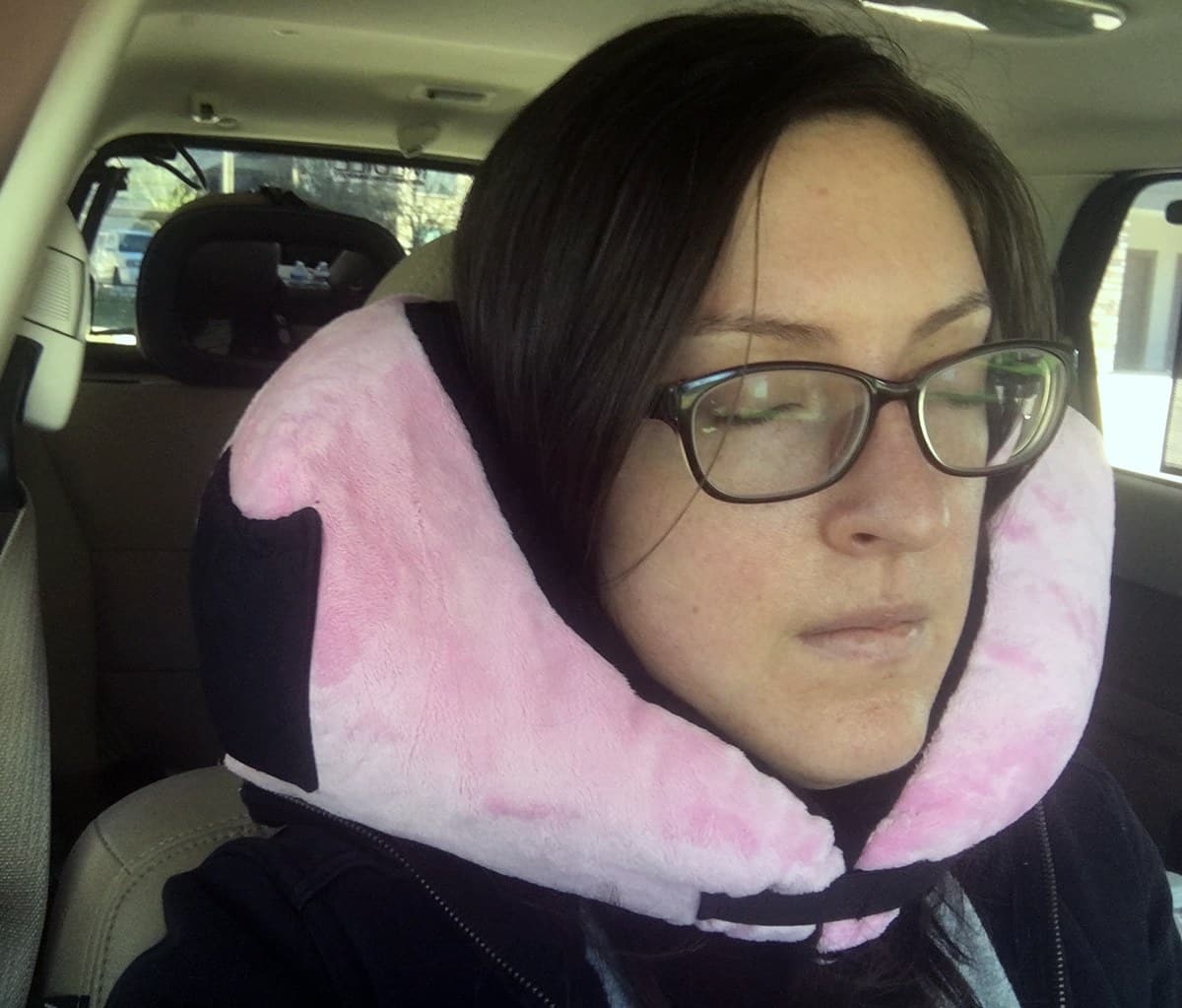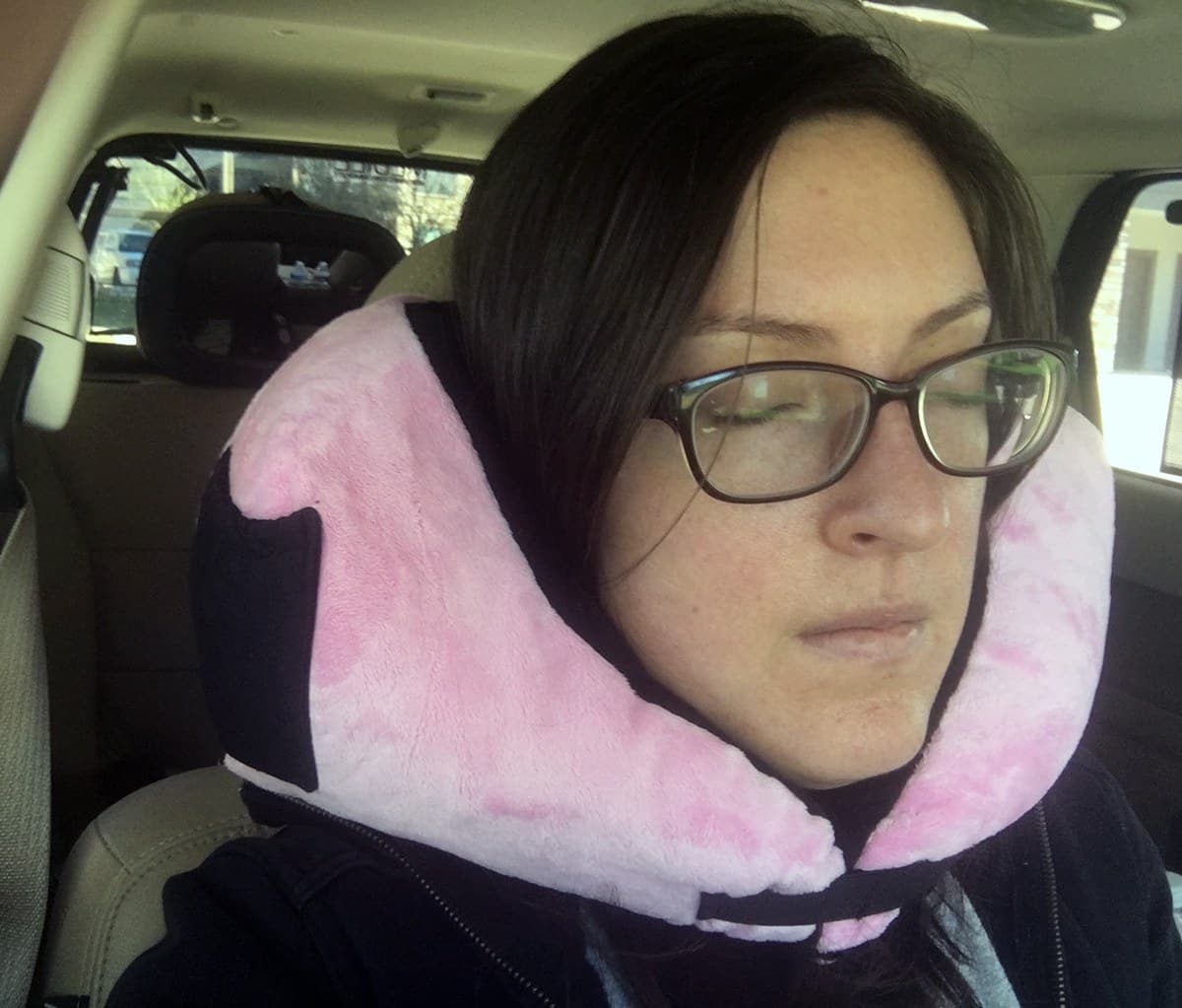 You are still getting support from the sides of your neck with the raised sides of the pillow. The filling is a combination of polyester and cotton, so it does not provide as much firmness and support as a neck pillow filled with memory foam would.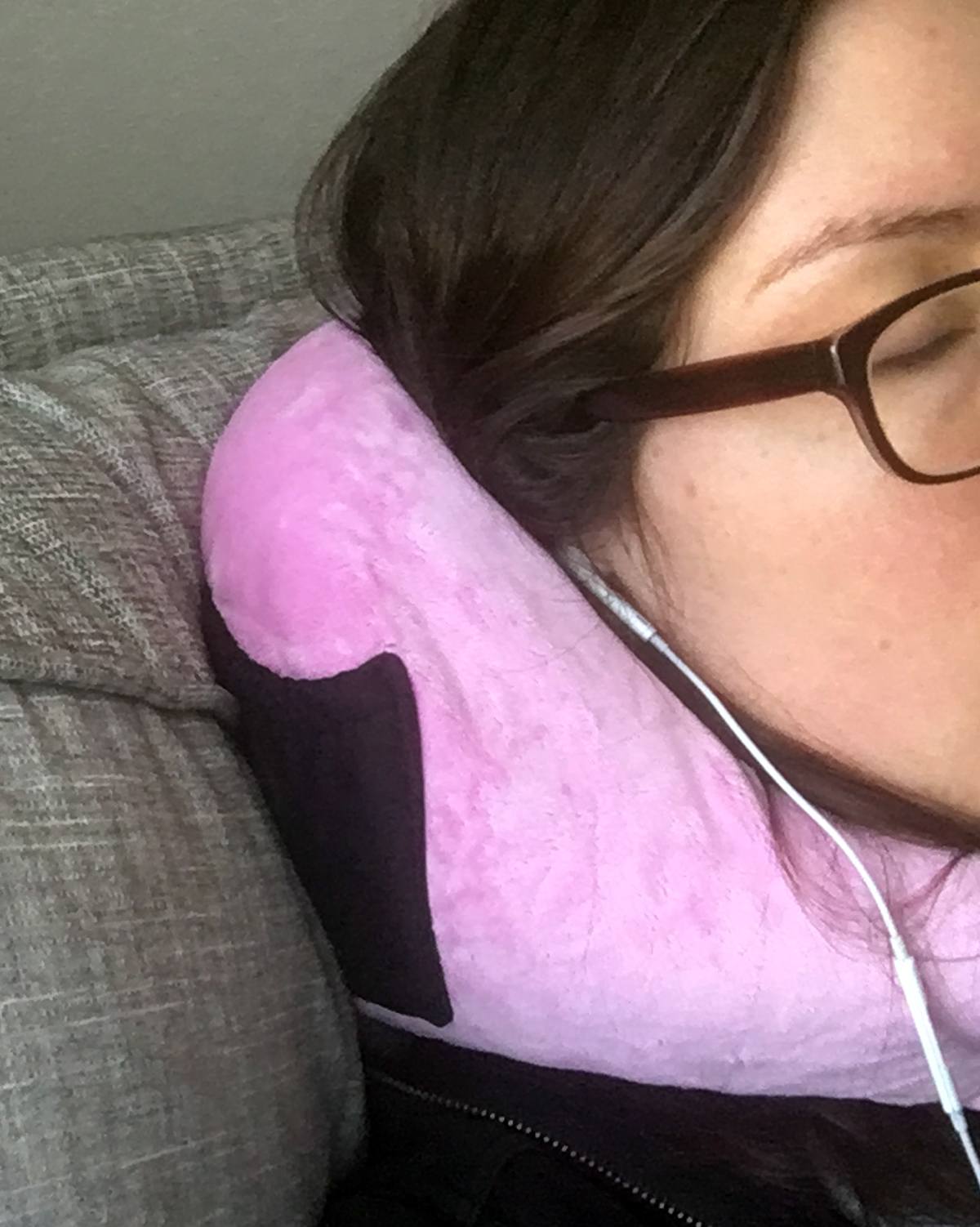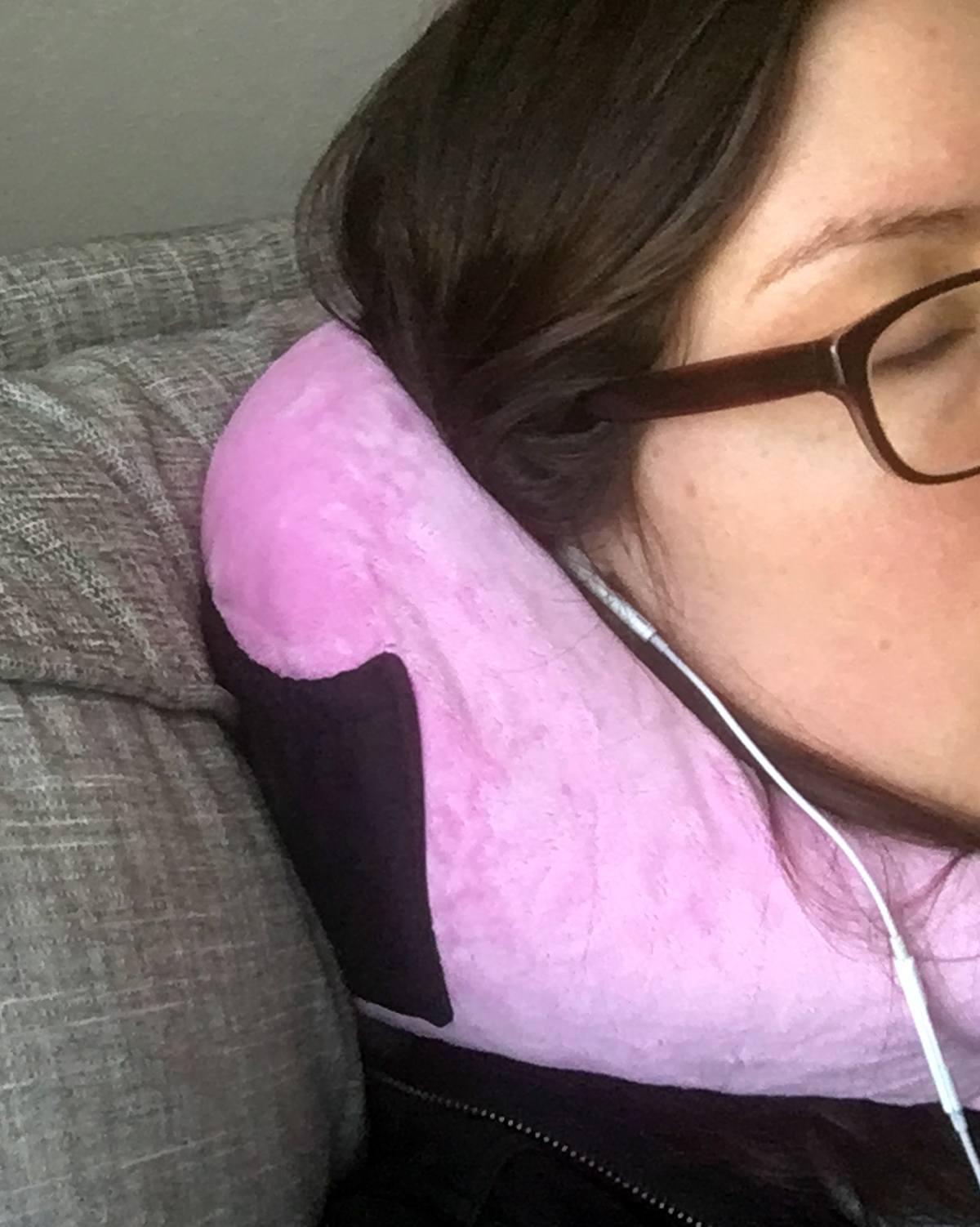 The pocket on the side of the pillow was large enough for me to stick a portion of my iPhone 6 in and it fit well.
One odd design feature is the travel case is attached to the pillow and drapes behind your back. There is a drawstring portion to the bag as well. I think the plastic piece attached to the drawstring could dig into your back (when laying back in a chair or seat) if you're not careful about its placement.
The pillow does not condense and go into its travel case easily. I had to watch the video Comfy Commuter provides to figure out how to fold and press the pillow down in order to get it to fit into the bag.
There are extra velcro straps attached to the pillow solely for use in helping keep it compact. I struggled with these actually holding the pillow in place as they came unattached twice while I was trying to pack the pillow.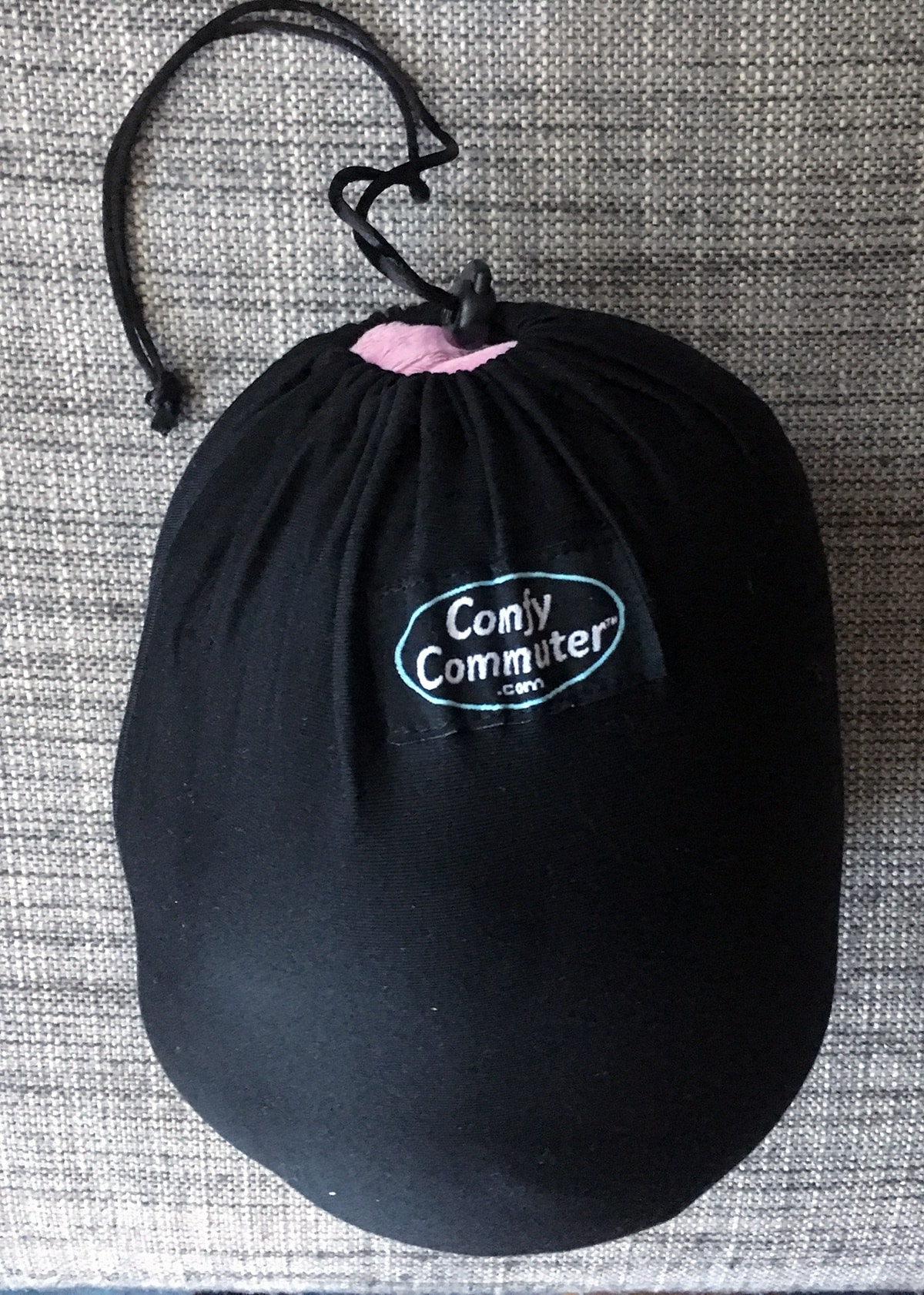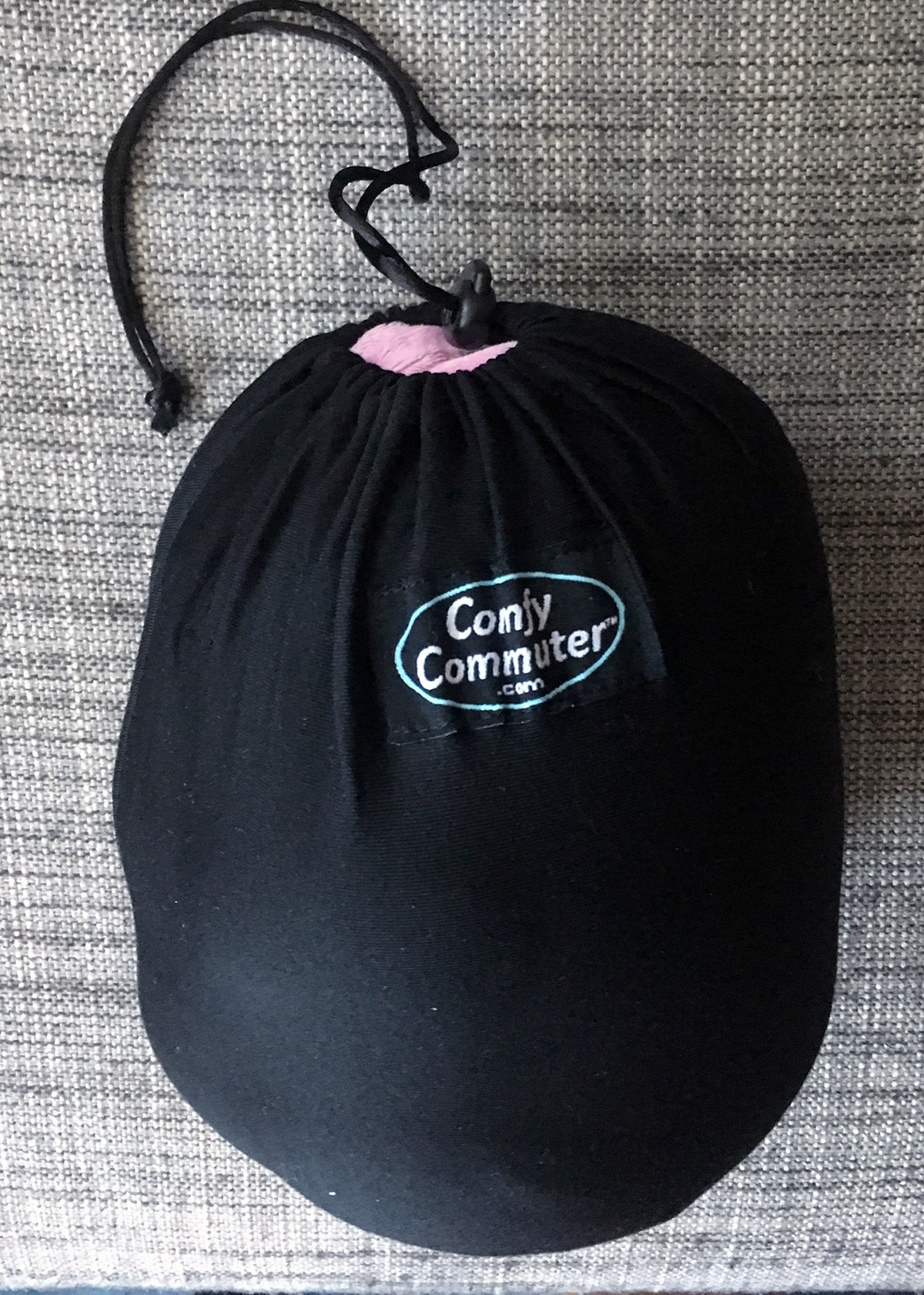 I was able to rest comfortably with my eyeglasses on, as well as a small pair of earbuds that nestled into my inner ear. I think if you were to try and wear larger headphones or a headset you would sacrifice comfort as the pillow would be pressing against your ears.
The pillow is machine washable and dryable with a cold gentle cycle and low tumble dry. I like that I can clean it easily, especially when there is the chance to pick up a lot of germs on airplanes, trains, and buses.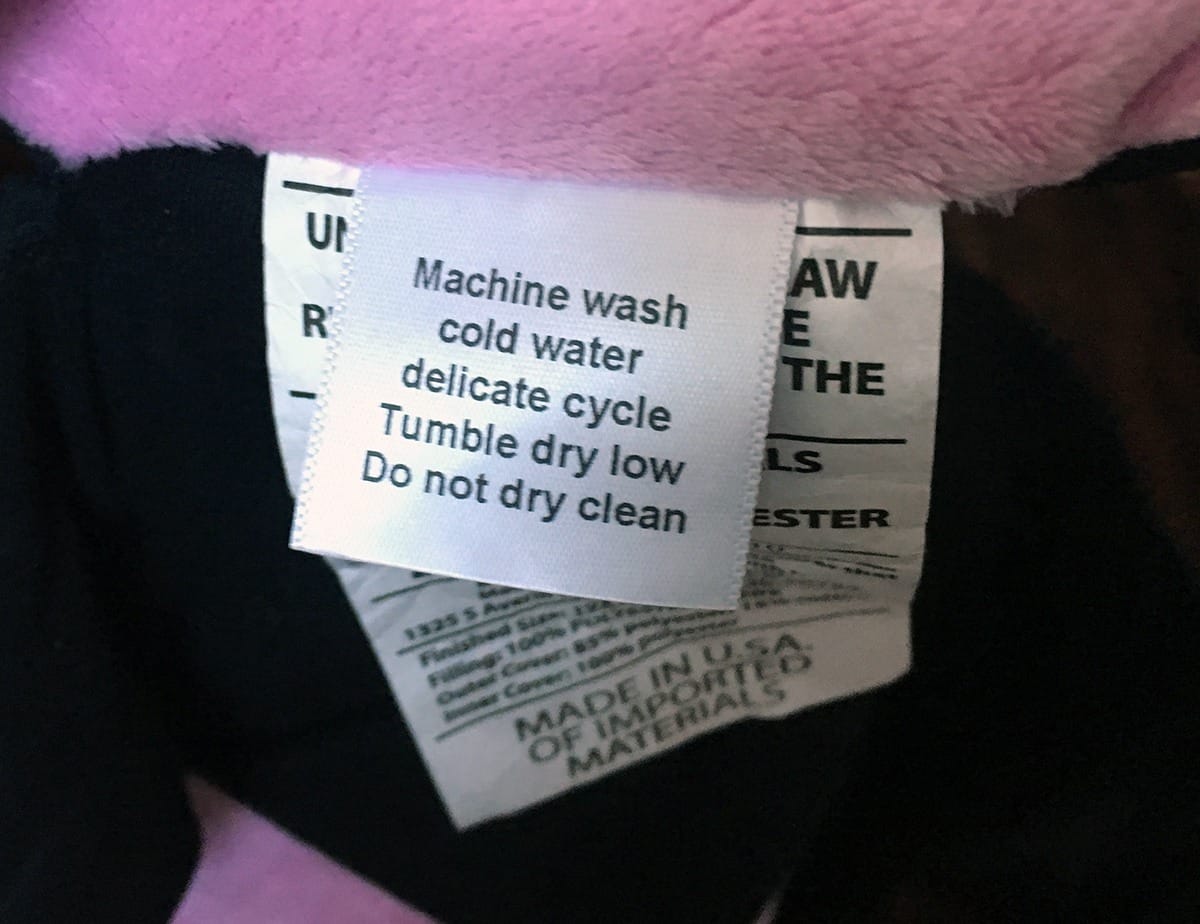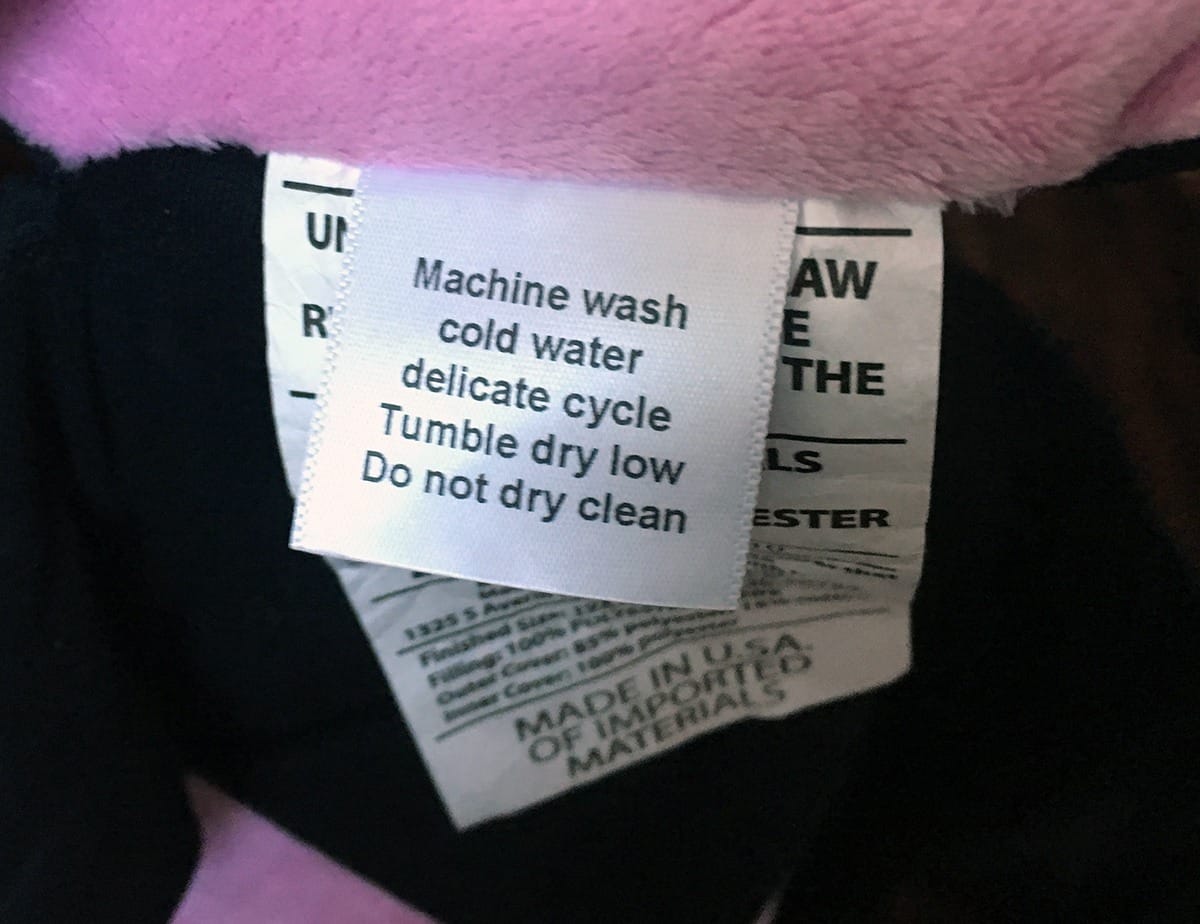 Comfy Commuter Original Travel Pillow
Summary
Overall I thought the Original Travel Pillow from Comfy Commuter provided good neck support and was a good fit for travel in high-backed chairs. The flat-back feature and supportive sides made it easy to rest your neck to the side. The pillow may interfere with large earphones but it worked well with glasses and small earbuds.
Things To Consider Before Buying
Other reviewers said that using the pillow raised their temperature and made it uncomfortably hot. 


Others thought the pillow was hard to use with earphones or anything bigger than earbuds.


Another reviewer also had similar issues as me with fitting the pillow into the travel bag.


Price
The pillow retails for $39.99 (and is currently on sale at Comfy Commuter's website for $35.99). It is also sold on Amazon. This price is right in line with how much the Evolution Pillow from Cabeau costs. I think these pillows are similar and both priced appropriately for their unique added touches and features.
I would recommend the Comfy Commuter pillow because of design features like the flat-back feature, the media pocket and ability to machine wash and dry the pillow.