Editor's Note: The Brentwood Home Helena pillow is no longer available. For more options, check out our list of the best pillows.
Eco-friendly folks will certainly like Brentwood Home's Helena Pillow, which is filled with a substantial combination of natural latex and kapok fibers. But is it actually comfortable? Read on for my full review:
Key Features
100% organic cotton cover
50/50 Kapok fiber (100% organic and pesticide-free) and latex fill
Queen size pillow is 19″ x 29″
Zipper allows customers to add or remove fill or to adjust to the perfect size and firmness for individual needs
Eco-institute Certified free of synthetic materials
Available in Standard, Queen and King
Made in USA, 1 Year Warranty
Care Instructions: Spot clean the pillow with a damp, white cloth, allowing it to air dry in a sunny, breezy spot. Those who wish to fluff their pillows  can place them in a tumble dryer on cool. Just a reminder – they don't recommend using bleach on any Brentwood Home pillows.
*Please note: an updated version of the pillow has two covers – an outer cover that can be removed and laundered and an inside cover that holds the filling.
Who Makes It?
Brentwood Home LA has designed and manufactured bedding and sleep-related products for some time. They are focused on being good stewards of the environment and making ethical and green choices with regards to their products and manufacturing.
They offer a gel mattress (check out our review here) as well as an assortment of pillows and quilts. In addition to the Helena Pillow, they make other unique pillows like a gel memory foam pillows, wedge pillow, and a meditation pillow.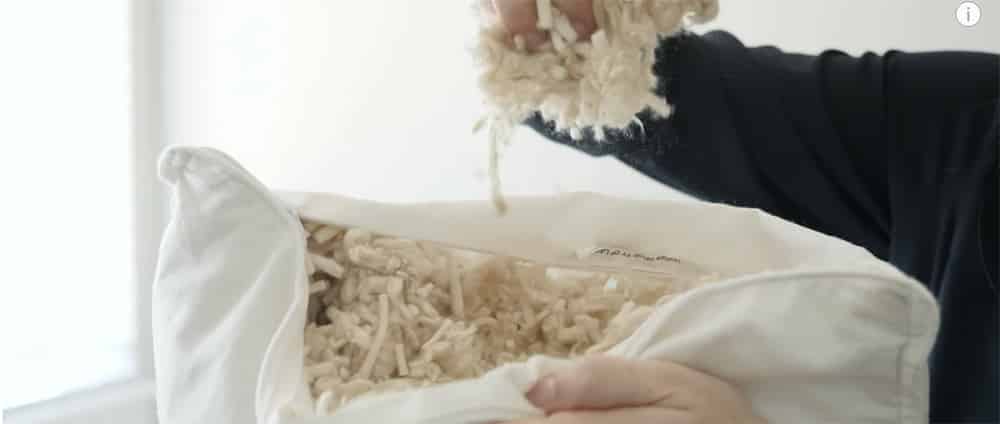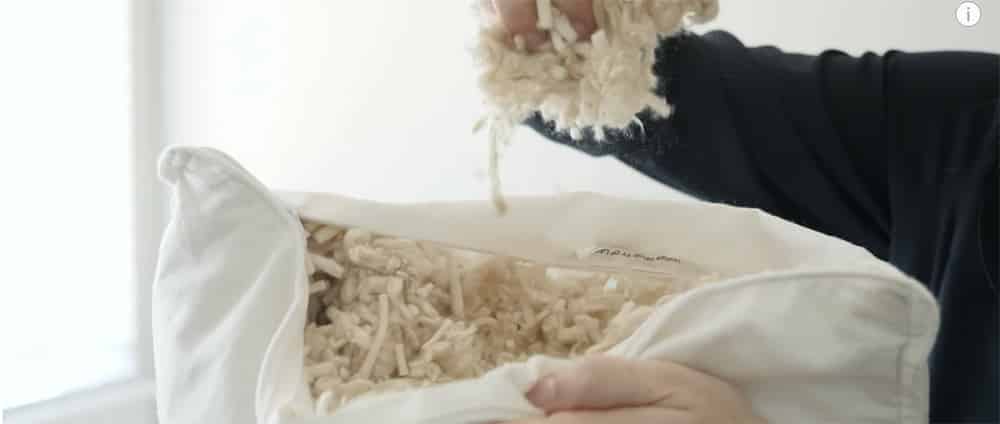 Pros
Ability to remove and/or adjust the filling to one's desired level of firmness
Environmentally friendly – 100% organic and natural materials
Soft, organic cotton cover
Offers good density and firmness without making one's neck stiff
Good for people who are stomach sleepers. 
Cons
The filling has the potential to be messy if large handfuls of pieces are removed from the pillow without care
Less bounciness or responsiveness as compared to shredded foam or memory foam pillows
The filling may separate, causing gaps in support after multiple nights of use. Would need to be re-fluffed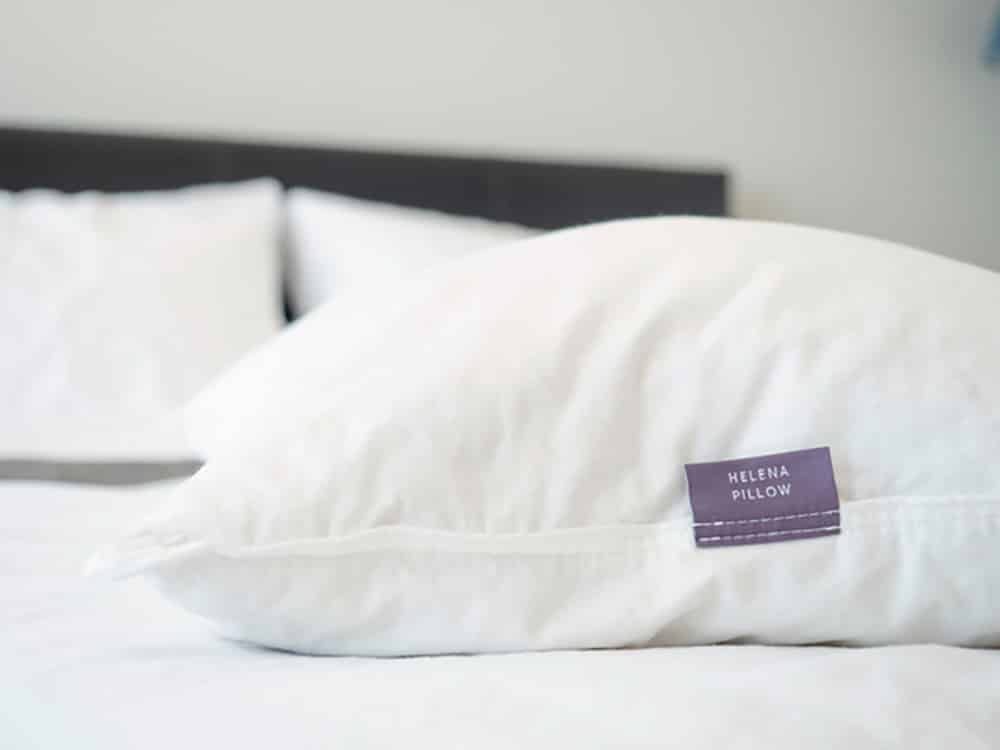 Pillow Construction
The Helena Pillow is pretty unique as it is filled with 50% kapok fibers and 50% latex ribbons. This mix makes for a dense and slightly lumpy/soft filling. The pillow actually provides more support than it may originally appear.
There is a zipper at the end of the pillow that allows the customer to rearrange or remove filling. –  be warned that the fibers stick to anything and everything and are prone to spilling out of the pillow. Also, be prepared to make a mess taking filling out and be careful letting little ones play with this pillow, too!
The cover is 100% organic cotton, has a soft, durable feel to it, and the name of the pillow is stitched on a tag to one side, as is the Brentwood Home logo.
It just looks like a very inviting and aesthetically pleasing pillow (although more likely than not sleepers will want to cover it up with a pillowcase!)
My Experience
The Helena Pillow came rolled up in a tight cylindrical package. When I unrolled it, it felt flat and I was skeptical about how firm it could actually be.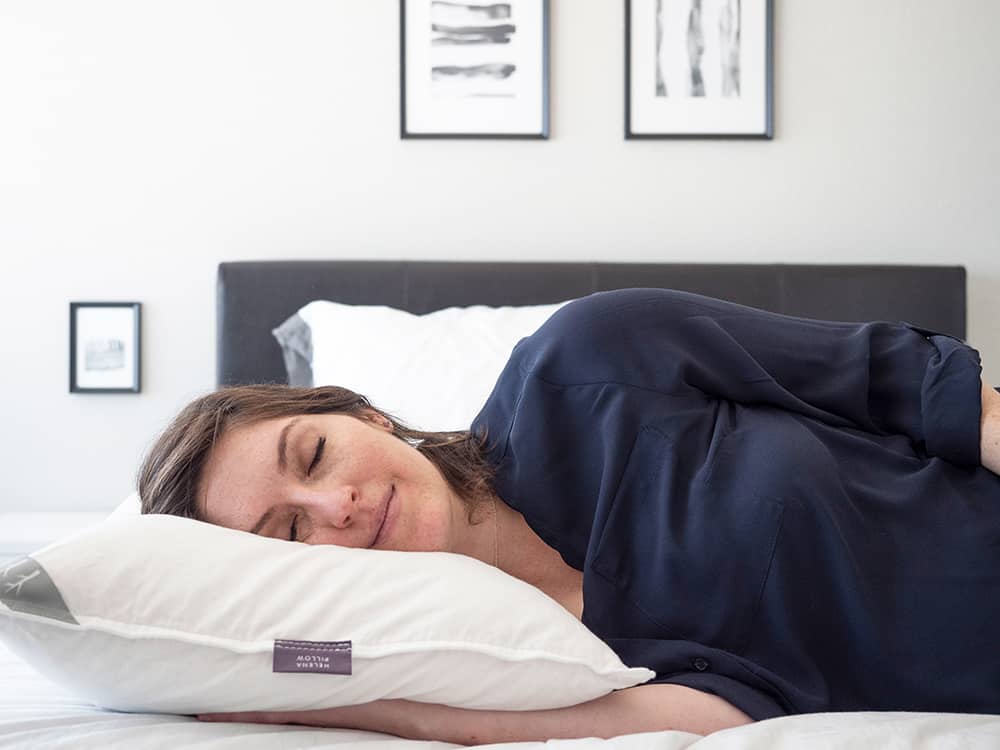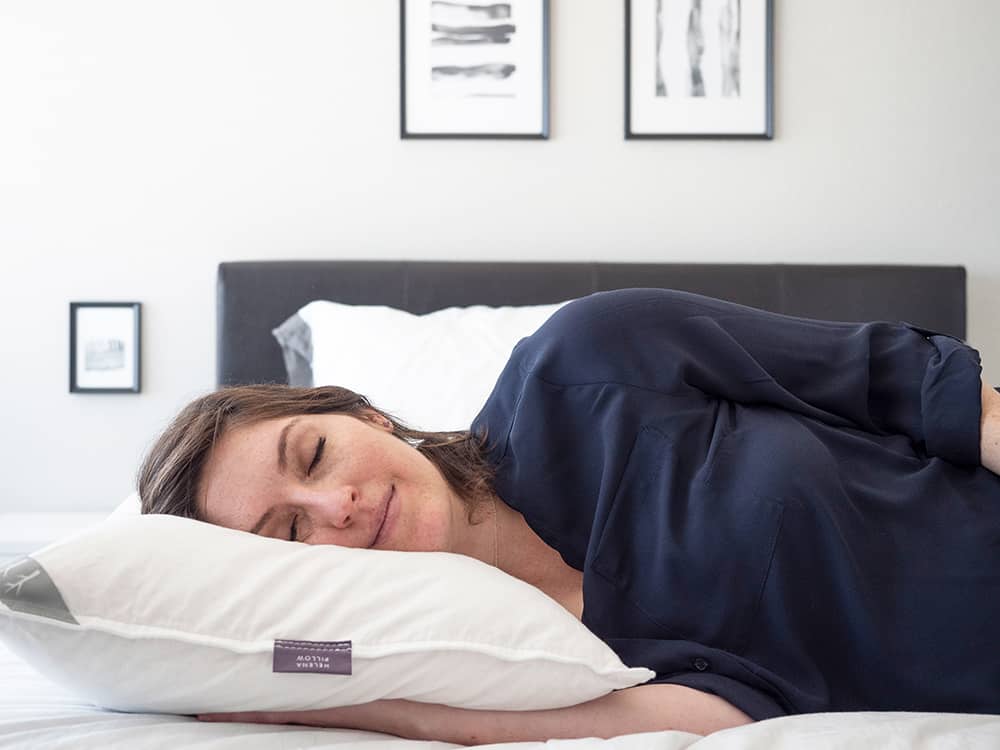 I let the pillow fluff up and air out per the instructions on the packaging. No weird chemical smells from this pillow thanks to its all natural materials!
It started to fluff up and take its shape relatively quickly. I let it stay out overnight and was ready to give it a try the next night.
The Helena Pillow was almost supportive enough for me to be comfortable sleeping on my side. I just needed it to be a touch thicker, maybe two or three more handfuls of filling and this would be the perfect pillow for me. I was most comfortable on my stomach with this pillow.
The filling itself is unlike anything I've slept on (but not in a bad way!). It's slightly lumpy because of the latex ribbons and the fibers – but not as bad as down filling – and it didn't stop me from sleeping well.
The only potential issue I noticed was that the filling did separate on me about two or three nights into my review. I ended up with a gap in filling right down the middle of my pillow and needed to re-fluff it for a few minutes to get it back into a good shape.
The filling is very cool but very messy. Pieces of fiber clung to my hands and clothes after dipping my hand into the pillow to test the filling.
If it spilled out, ripped open or a sleeper wants to take out some filling, be prepared to vacuum up some loose filling.
Final Recommendation
I personally really liked this pillow for many reasons and would recommend it to others. I think it's good for stomach sleepers – it just needs a little more filling to be supportive enough for back and side sleepers. I like that it's organic and made from natural materials.
The pillow is a little on the pricey side but for the value of the materials, I think it's worth it. Those who are in the market for organic cotton pillowcases to cover the Helena Pillow, check out my review of Brentwood Home's Sonoma Sheets.